Undercover Man (The) (Blu-ray) [Blu-ray]
Blu-ray B - United Kingdom - Powerhouse Films
Review written by and copyright: Rick Curzon (14th November 2020).
The Film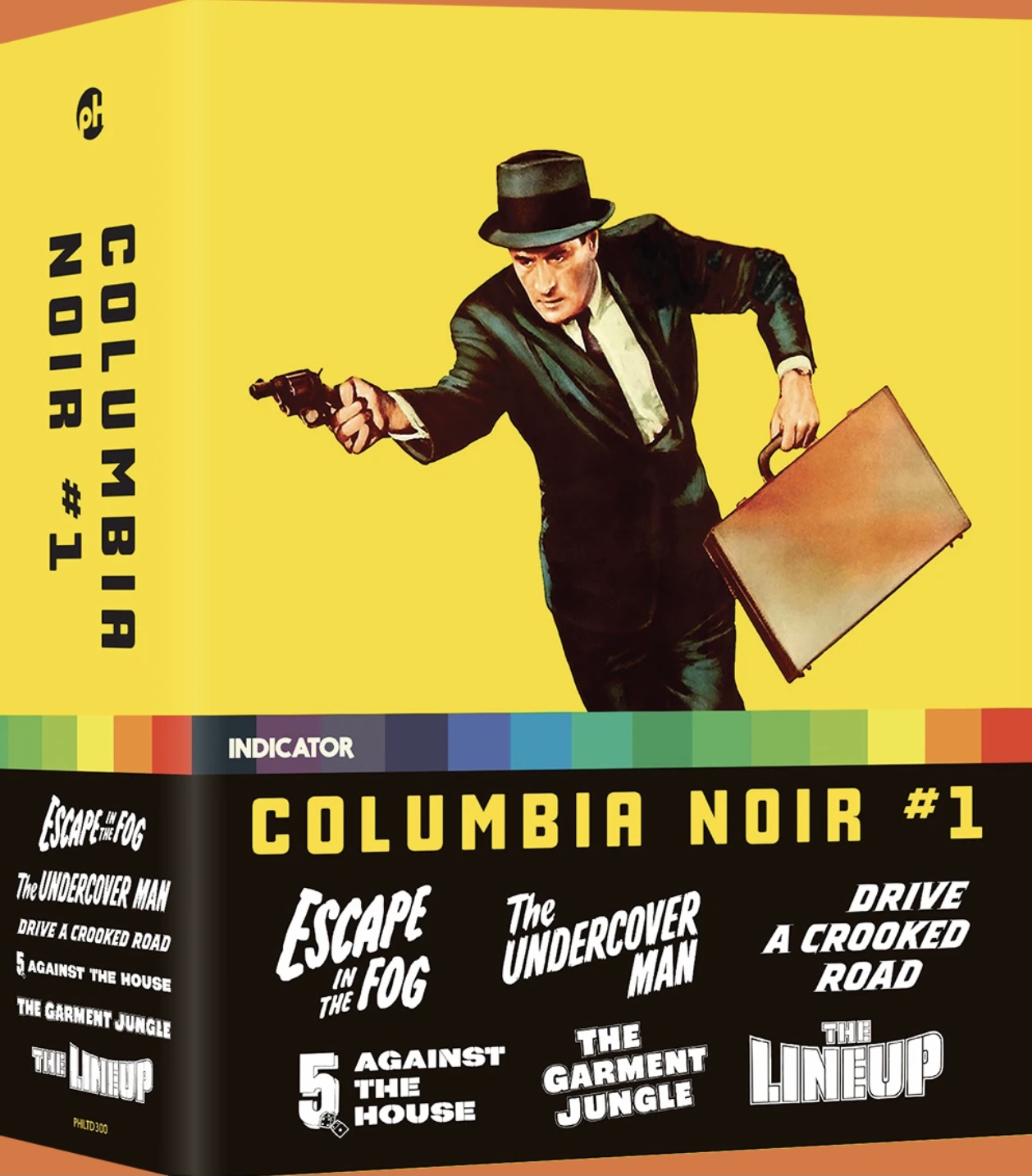 Six tough, no-nonsense noirs from six of the genre's toughest, no-nonsense directors: Budd Boetticher's Escape in the Fog, in which a nurse and a war veteran take on Nazi spies in San Francisco; Joseph H Lewis' The Undercover Man, inspired by the real-life case against Al Capone; Richard Quine's Drive a Crooked Road, which finds Mickey Rooney moving away from comedies and musicals to a tougher persona; Phil Karlson's 5 Against the House, starring Kim Novak as a nightclub singer embroiled in a casino heist; Vincent Sherman's The Garment Jungle, from which Kiss Me Deadly director Robert Aldrich was famously fired; and Don Siegel's police procedural The Lineup, based on the radio and television series, and as brutal a film as he ever made.

All six films are presented for the first time on Blu-ray in the UK, with The Undercover Man and Drive a Crooked Road making their world Blu-ray premieres. This stunning collection also boasts a 120-page book, and is strictly limited to 6,000 numbered units.

Video


The Undercover Man (1949)

Glen Ford, James Whitmore and David Bauer are tough as nails US Treasury agents after the mob. They encounter obfuscation, frightened witnesses and corrupt coppers at every step of the way. However, they get a new angle that allows them a way in ...

Vivid, realistic, tough-talking police procedural loosely based on the case that brought down Al Capone (here referred to as The Big Fella). It contrasts nicely lead agent Ford's moral dilemma with pursuing the case in the face of threats to his and his wife's (Foch) life and his desire to do the right thing. Lots of involving discussions of these dilemmas with plenty of great dialogue and crackerjack performances all round.

It's been restored by Sony in a 2K restoration supervised by the great Grover Crisp. A moody monochrome noir with not a shred of colour bias creeping in the perfectly balanced gamma.

This one looks a good deal sharper than Escape in the Fog bar one short section. Black levels are rich and deep with a stygian quality typical of the genre and nitrate film of the forties; lots of shadow detail comes through. Contrast is layered and and low key and given the generally dark visual nature of the cinematography allows for luminous highlights when they're present which in this case its frequently. It's less moody and more prosaic than the first film in the set.

Detail is exceptional throughout on all focal planes and a with real filmic texture to the image. In well lit moments skin and fabrics have plenty of fine detail, backgrounds are well defined. Grain is ever present and exceptionally fine with course textures only in scene lf low light and in skies.

I saw no signs of noise or digital tinkering and no print damage; the encode by Fidelity in Motion as as good as can be with no clumping or digital splats. I'd say the Sony 2K restoration if off a negative or perhaps an interpositive. Opticals are obviously softer but this is a top notch transfer overall despite a section seemingly taken from a lesser source. Probably looking as good as we're ever likely to see shy of a 4K UHD BD with HDR.

1080/24p / MPEG-4 AVC / 1.37:1 / 84:18

Audio


English LPCM 1.0
Subtitles: English HoH

The mono was restored at the same time as the image. A simple, basic mono track of the time which has limited range and is channelled purely through the front centre speaker. Dialogue is always clear, the score melodramatic but keeps it's place and sound effects are well rendered in the mix. The dialogue is the main thing and it's handled with skill and the lossless rendering does it proud. Obviously, it's not in the same league as a modern Dolby Atmos track but only a fool would expect it to do so. I noticed no distortions, no sibilant issues. This is as good as this track can be given when it was made so full marks ('A+'). Techno freaks would probably only give it a 'C' when laid against a modern track.

Subtitles for the hearing impaired are top notch and very welcome.

Extras


Audio commentary with Tony Rayns (2020)

Rayns is one of the most well known and respected of commentators and what he has to say is always brilliantly researched and on point. Lots of detail and trivia, you known the score. Lossy Dolby Digital 2.0 stereo.

"Man on a Bus" 1955 short film (28:53)

A rather dull, morally dubious pro-Israel docudrama featuring interviews with Jewish refugees and a fictional narrative about said regugees on a bus in Israel. It's also ironically dubious; the Jewish refugees are being rehoused but if course there's no mention of the Palestinians being forcibly evicted to accommodate them. It suffers from an uneven presentation with the stock footage in worse shape than the newer, specially shot footage; but even that is riddled with fine scratches at times. The presentation improves visually as it goes on but the sound is consistently annoying with lots of hiss and mild distortions. 1080/24p 1.37:1 with lossy Dolby Digital 1.0.

"Income Tax Sappy" 1954 short film (16:31)

The #153rd out of 190 of the Three Stooges shorts and looks and sounds absolutely perfect. 1080/24p 1.85:1 with lossy Dolby Digital sound.

The Undercover Man Image Gallery: Original Promotional Material (27 images)

Solid 1080/24p image gallery.

120-page liner notes booklet

The book is a typically superb Powerhouse booklet that covers all six films. The Undercover Man has fourteen pages devoted to it with a 2020 essay "The Passion of Joseph H. Lewis" by Paul Duane and an extract "Joseph H Lewis on The Undercover Man" in which director Joseph H. Lewis discusses the film. Pages 101-114 cover the various short films on the set.

Packaging


Each film has it's own Digipack and all five are housed in a hard card slipcase. Each Digipack has original art on all sides.

Overall


A good, tough as nails policier with persistent treasury agents dodging mob opponents and finding ways to bring them to book. The Undercover Man is the weakest image in the set but is still tops and the sound is on a par with the rest. Once again it has been afforded the deluxe treatment from Powerhouse Films as the second in their new, much anticipated Columbia Noir Boxed Set #1. Extras are not extensive but are choice with pride of place being the fine commentary followed by the booklet.
| | | | | |
| --- | --- | --- | --- | --- |
| The Film: B | Video: A | Audio: A+ | Extras: B | Overall: A |

---
DVD Compare is a participant in the Amazon Services LLC Associates Program and the Amazon Europe S.a.r.l. Associates Programme, an affiliate advertising program designed to provide a means for sites to earn advertising fees by advertising and linking to amazon.co.uk, amazon.com, amazon.ca, amazon.fr, amazon.de, amazon.it, amazon.es and amazon.se.