The Film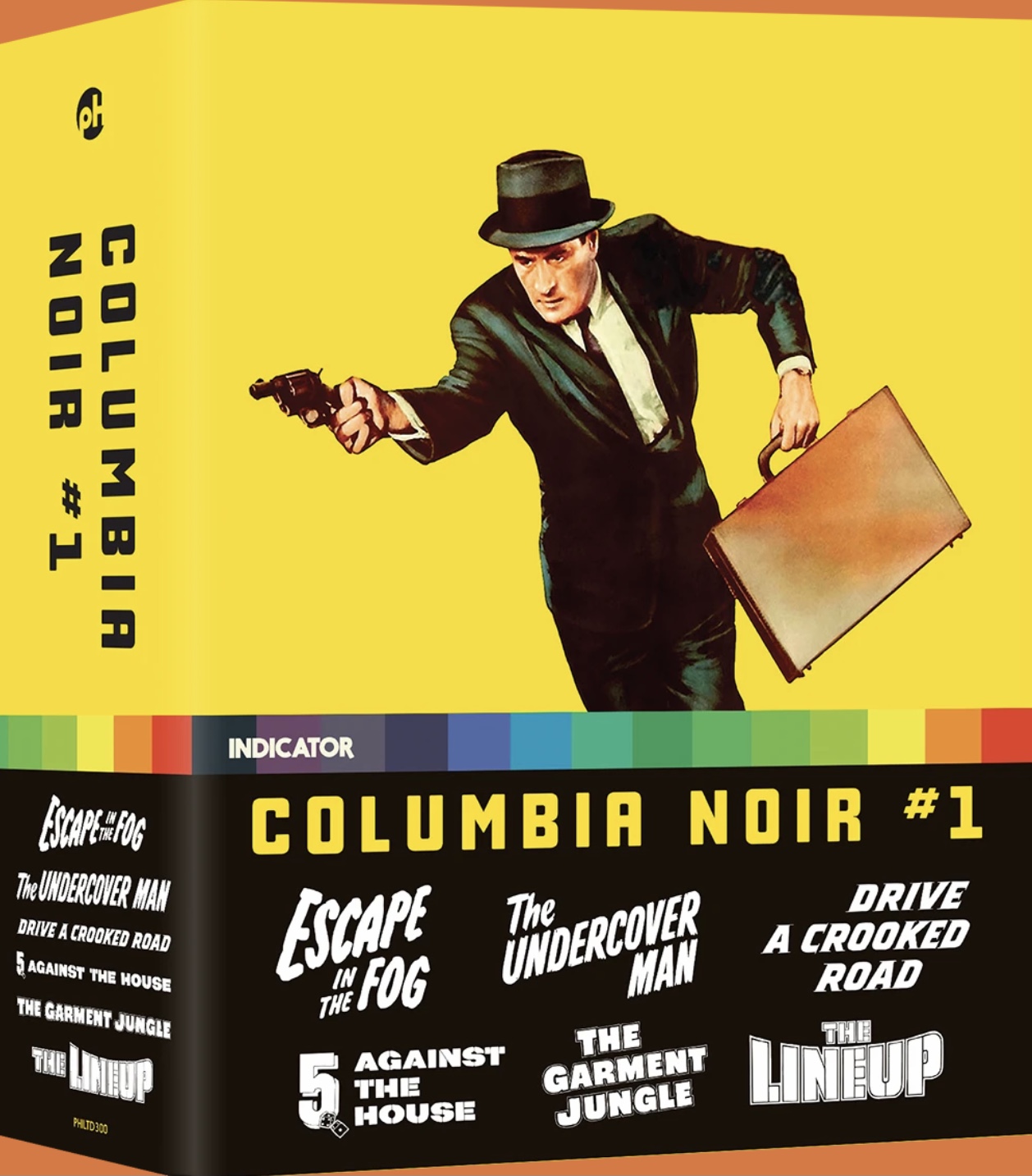 Six tough, no-nonsense noirs from six of the genre's toughest, no-nonsense directors: Budd Boetticher's Escape in the Fog, in which a nurse and a war veteran take on Nazi spies in San Francisco; Joseph H Lewis' The Undercover Man, inspired by the real-life case against Al Capone; Richard Quine's Drive a Crooked Road, which finds Mickey Rooney moving away from comedies and musicals to a tougher persona; Phil Karlson's 5 Against the House, starring Kim Novak as a nightclub singer embroiled in a casino heist; Vincent Sherman's The Garment Jungle, from which Kiss Me Deadly director Robert Aldrich was famously fired; and Don Siegel's police procedural The Lineup, based on the radio and television series, and as brutal a film as he ever made.

All six films are presented for the first time on Blu-ray in the UK, with The Undercover Man and Drive a Crooked Road making their world Blu-ray premieres. This stunning collection also boasts a 120-page book, and is strictly limited to 6,000 numbered units.

Video


Drive a Crooked Road (1954)

A nebbish, lonely, love-starved mechanic (Mickey Rooney) with dreams of raising enough money to allow him to race in Europe, gets targeted by three criminals (Diane Foster, Kevin McCarthy, Jack Kelly) to drive the getaway car for a bank robbery.

This is a quintessential noir: The credulous, dumbass patsy lead male, the femme fatale, the silky smooth villains and the caper plot. It's a very fifties film with a more wholesome, less stygian veneer than those in the forties that I've seen. Overall an enjoyable, if unremarkable film with a tense robbery and getaway sequence. Solid, good, well done with superb performances.

The excellent transfer is from Sony's HD remaster which - at a guess - is taken from a preprint element; most likely the OCN.

A brightly lit monochrome noir set predominantly in daylight with not a shred of colour bias creeping into the perfectly balanced gamma.

This is the first film in the set to be in a widescreen format and a matted format; the film was shot open aperture 1.37:1 but designed to be matted in projection to 1.85:1. Consequently, there's a layer of softness that the two Academy aspect ratio films lack, or at least The Undercover Man which was a notch sharper than Escape in the Fog.

As with the other films the black levels are rich and deep with a stygian quality typical of the genre when they're on screen; lots of shadow detail comes through at all times. This is a brightly lensed film mostly set in daylight and thankfully contrast is layered and and low key with no blown out highlights and plenty of detail allowed to shine through on all focal planes. Textures are tangible, skin and fabrics typically benefit the most with closeups being very detailed. Backgrounds are fine with the occasional 3D effect.

Grain is ever present and mostly fine turning rougher in exteriors, typically with skies; interiors, dark or otherwise, are carefully lit and controlled under studio conditions and come off beautifully crafted.

I saw no signs of noise or digital tinkering and no print damage; the encode by Fidelity in Motion as as good as can be with no clumping or digital splats. Opticals are obviously softer but this is a top notch transfer and has it's B&W source looking as good as we're ever likely to see shy of a 4K UHD BD with HDR.

In many ways the strongest transfer in the set thus far ('A+').

1080/24p / MPEG-4 AVC / 1.85:1 / 82:53

Audio


English LPCM 1.0
Subtitles: English HoH

A basic mono track of the time which has limited range and is channelled purely through the front centre speaker. Dialogue is always clear, the score typically lush and melodramatic but keeps it's place and sound effects are well rendered in the mix. The dialogue is the main thing and it's handled with skill and the lossless rendering does it proud. Obviously, it's not in the same league as a modern Dolby Atmos track but only a fool would expect it to do so. I noticed no distortions, no sibilant issues. This is as good as this track can be given when it was made so full marks ('A+'). Techno freaks would probably only give it a 'C' when laid against a modern track.

Subtitles for the hearing impaired are top notch and very welcome.

Extras


Audio commentary with Nick Pinkerton (2020)

Fact filled commentary with plenty of info and trivia; if you've heard Pinkerton's yaktraks before you known what to expect.

"The Guardian Interview with Mickey Rooney: Conducted by Tony Sloman at the National Film Theatre, London on 11 September 1988" plays as an alternate audio track over the film (82:23)

Excellent screen talk with Rooney who covers is career up to than point.

2014 Introduction by Martin Scorsese (1:56)

Short introduction from the famed director who sings the praises and discusses the significance of the film.

"Screen Snapshots Presents Series 32: Mickey Rooney, Then and Now" 1953 short film (9:51)
"Higher Than a Kite" 1943 short film (17:32)

As with the other discs a couple of short films in support of the main feature both adequate, lossy Dolby Digital mono sound. The first celebrates Rooney and is essentially is a an interview and has variable, largely unrestored image quality and is presented in standard definition; and the second another zany Three Stooges piece which is in pristine nick and 1080/24p.

Theatrical Trailer (1:56)

Vintage promo.

Drive a Crooked Road Image Gallery: Original Promotional Material (19 images)

Solid HD still gallery; what it says on the tin.

120-page liner notes booklet

The book is a typically superb Powerhouse booklet that covers all six films. Drive a Crooked Road has eighteen pages devoted to it with a 2020 essay "The Melancholy and Infinite Sadness of Mickey Rooney" by Jill Blake, a profile of star Dianne Foster "Glamour Treatment for Rooney's Star" and a profile of Rooney "The New ... and Great Mickey Rooney! Pages 101-114 cover the various short films on the set.

Packaging


Each film has it's own Digipack and all five are housed in a hard card slipcase. Each Digipack has original art on all sides.

Overall


has topnotch image and sound and has been afforded the deluxe treatment from Powerhouse Films as the third in their new, much anticipated Columbia Noir Boxed Set #1 and the first in a widescreen format (matted). Extras are not extensive but are choice with pride of place being the fine commentary followed by the booklet.
| | | | | |
| --- | --- | --- | --- | --- |
| The Film: B | Video: A+ | Audio: A+ | Extras: B+ | Overall: A |