5 Against the House (Blu-ray) [Blu-ray]
Blu-ray B - United Kingdom - Powerhouse Films
Review written by and copyright: Rick Curzon (15th November 2020).
The Film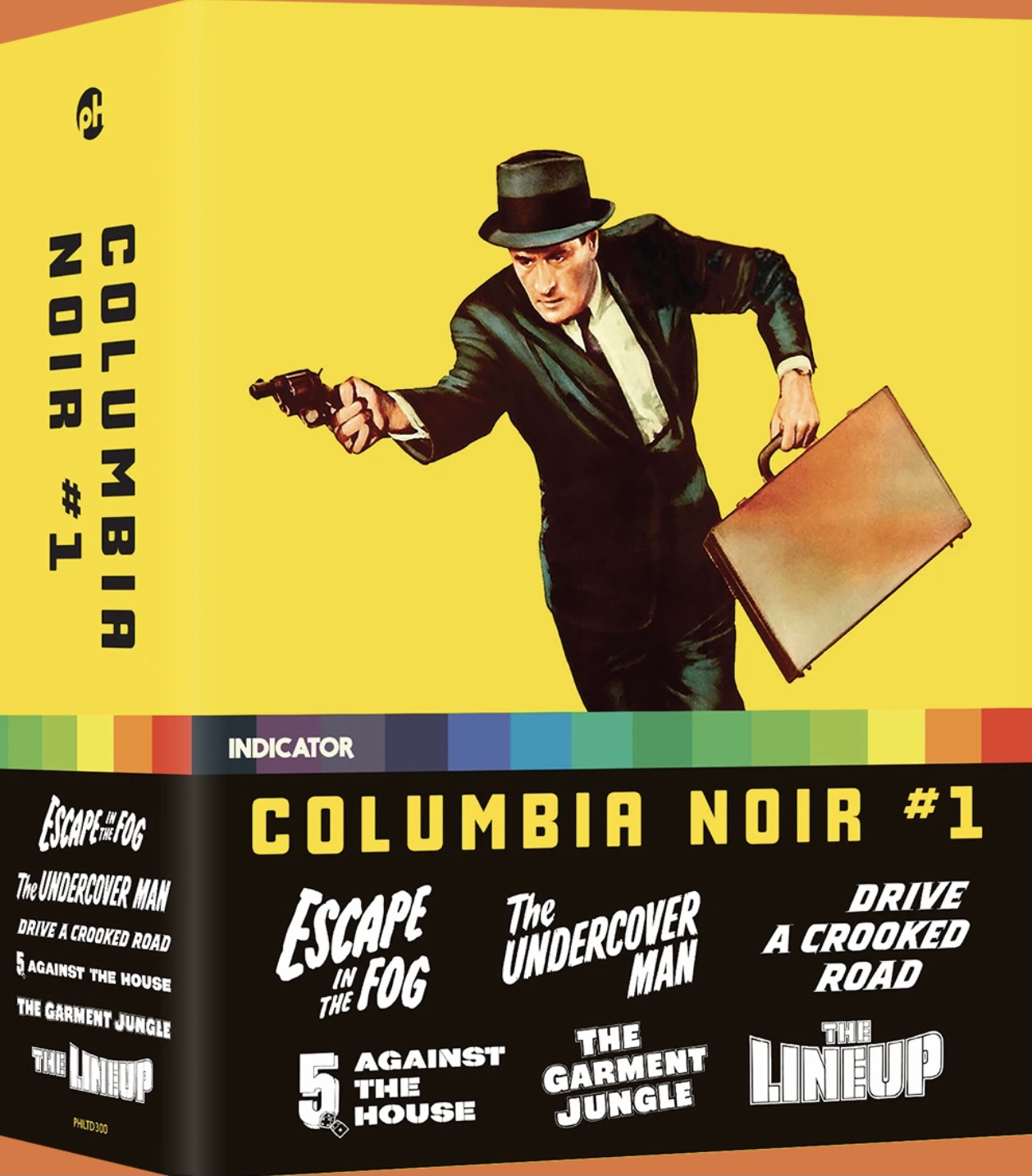 Six tough, no-nonsense noirs from six of the genre's toughest, no-nonsense directors: Budd Boetticher's Escape in the Fog, in which a nurse and a war veteran take on Nazi spies in San Francisco; Joseph H Lewis' The Undercover Man, inspired by the real-life case against Al Capone; Richard Quine's Drive a Crooked Road, which finds Mickey Rooney moving away from comedies and musicals to a tougher persona; Phil Karlson's 5 Against the House, starring Kim Novak as a nightclub singer embroiled in a casino heist; Vincent Sherman's The Garment Jungle, from which Kiss Me Deadly director Robert Aldrich was famously fired; and Don Siegel's police procedural The Lineup, based on the radio and television series, and as brutal a film as he ever made.

All six films are presented for the first time on Blu-ray in the UK, with The Undercover Man and Drive a Crooked Road making their world Blu-ray premieres. This stunning collection also boasts a 120-page book, and is strictly limited to 6,000 numbered units.

Video


Four college pals (Al Mercer, Brian Keith, Kerwin Matthews, Alvy Moore) hatch a plan to rob a casino in Reno. However, one of them (Keith) is seriously disturbed after serving in the Korean war and things don't go according to plan.

Good heist flick with decent production, fine script and direction with good performances all round. Slick production. The theme of a soldier with psychological issues (Keith is excellent) must've been fairly new in this kind of film at the time though (I stand to be corrected on that point I'm sure).

As with Drive a Crooked Road and The Lineup, the excellent transfer of 5 Against the House is from Sony's HD remaster which - at a guess - is taken from a preprint element; most likely the OCN or possibly an interpositive. My comments for the other matted 1.85:1 films applies here.

Yet another shadowy monochrome noir with not a shred of colour bias creeping into the perfectly balanced gamma. This is the fourth film in the set to be in a widescreen matted format and was shot open aperture 1.37:1 but designed to be matted in projection to 1.85:1. Consequently, there's a layer of softness that the two Academy aspect ratio films in the set. Being overall a darker production, it does have more potential issues although the encode handled it beautifully.

As with the other films the black levels are rich and deep with a stygian quality typical of the genre when they're on screen; lots of shadow detail comes through at all times; contrast is layered and and low key with no blown out highlights and plenty of detail allowed to shine through on all focal planes. Textures are tangible, skin and fabrics typically benefit the most with closeups being very detailed. Backgrounds are filled with detail.

Grain is ever present and mostly fine but it is much courser in process shots and exteriors but always maintains a film like appearance, never descending into digital mush. I saw no signs of noise or tinkering and no print damage; the encode by Fidelity in Motion as as good as can be with no clumping or digital splats. As I said above, opticals are obviously softer but this is still a top notch transfer and has it's B&W source looking as good as we're ever likely to see shy of a 4K UHD BD with HDR.

Another stellar transfer ('A+').

1080/24p / AVC MPEG-4 / 1.85:1 / 83:13

Audio


English LPCM 1.0
Subtitles: English HoH

A basic mono track of the time which has limited range and is channelled purely through the front centre speaker. Dialogue is always clear, the score typically lush and melodramatic but keeps it's place and sound effects are well rendered in the mix. The dialogue is the main thing and it's handled with skill and the lossless rendering does it proud. Obviously, it's not in the same league as a modern Dolby Atmos track but only a fool would expect it to do so. I noticed no distortions, no sibilant issues. This is as good as this track can be given when it was made so full marks ('A+'). Techno freaks would probably only give it a 'C' when laid against a modern track.

Subtitles for the hearing impaired are top notch and very welcome.

Extras


Audio commentary with David Jenkins (2020)

I don't recall hearing a Jenkins track before, but based on this I'll be looking out for more. I wasn't as impressed with the film as Jenkins but he certainly brings plenty of contextual added value and helps to increase any appreciation of the film. Jenkin's discussion of the inter-group dynamic provides the most interesting aspect his track.

"The Guardian Interview with Kim Novak: Conducted by David Robinson" 2 February 1997 National Film Theatre London (66:47)

Novak is on fine form playing to the crowd and has plenty of fascinating things to say about her career. Image quality is standard definition and decent enough considering it's from a good Hi8 camcorder source; the sound appears to be in stereo and is always clear. Optional subtitles are provided for the questions which can be a tad hard to hear so that's a welcome touch. I wish all labels would do this for Q&A extras like this from less that perfect sources.

"Sweet and Hot" 1958 short film (16:23)

Another pristine HD Three Stooges short; 1.85:1 and in 1080/24p. Ultimately you either like the Stooges or you don't; when I was younger I loved them, as a middle aged man I find them tolerable, occasionally funny, sometimes annoying.

Theatrical Trailer (1:53)

Vintage promo in HD.

5 Against the House Image Gallery: Original Promotional Material (33 images)

Very satisfying HD gallery.

120-page liner notes booklet

The book is a typically superb Powerhouse booklet that covers all six films. The Lineup has eleven pages devoted to it with a 2020 essay "Rounding Up the Usual Suspects" by Sergio Angelini and "Don Siegel on The Lineup" an extract from Don Siegel's posthumously released 1996 autobiography. Pages 101-114 cover the various short films on the set.

Packaging


Each film has it's own Digipack and all five are housed in a hard card slipcase. Each Digipack has original art on all sides.

Overall


A routine heist flick gets topnotch image and sound and has been afforded the deluxe treatment from Powerhouse Films as the fourth in their new, much anticipated Columbia Noir Boxed Set #1 and the second in a widescreen format (matted). Extras are not extensive but are choice with pride of place being the fine commentary followed by the booklet.
| | | | | |
| --- | --- | --- | --- | --- |
| The Film: B | Video: A+ | Audio: A+ | Extras: B+ | Overall: A |

---
DVD Compare is a participant in the Amazon Services LLC Associates Program and the Amazon Europe S.a.r.l. Associates Programme, an affiliate advertising program designed to provide a means for sites to earn advertising fees by advertising and linking to amazon.co.uk, amazon.com, amazon.ca, amazon.fr, amazon.de, amazon.it, amazon.es and amazon.se.