The Film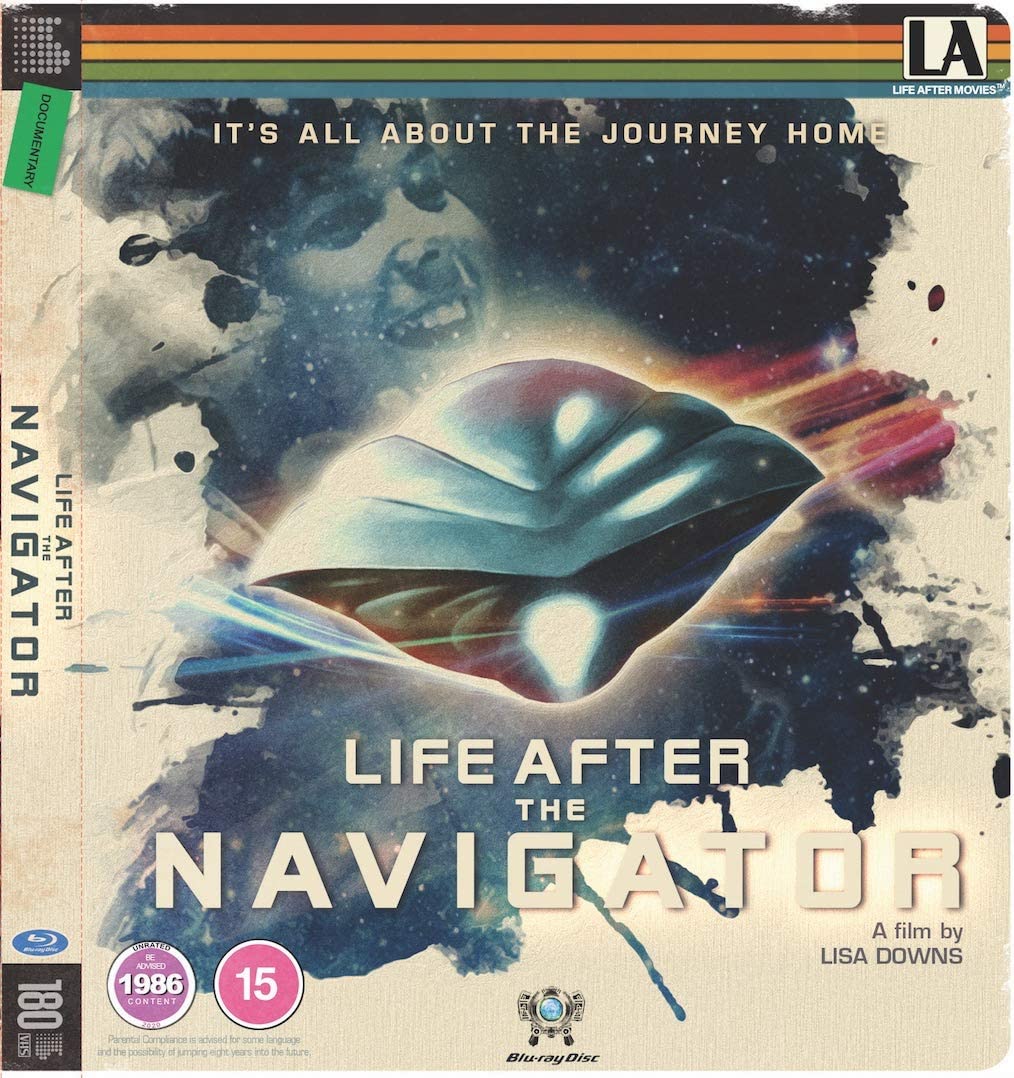 "Life After the Navigator" (2020)

On April 28, 2016, a disguised bank robber held up a Scotiabank branch in Sechelt, British Columbia. The robber was quickly identified by the authorities due to the his prior records and then recent run ins with the law. Joey Cramer was arrested for the crime and just after his 43rd birthday, sentenced to two years in a correctional facility and two years probation. His arrest came as a shock to film fans worldwide, as Cramer was a former child actor, best known for playing the lead role in the 1986 Disney co-production of "Flight of the Navigator".

Though Cramer had an active life as a child star on commercials, television, and in movies, from the 1990s onward he disappeared from the spotlight. The arrest was surprising and disappointing for fans of his work, and the big question was what led to this happening? "Life of the Navigator" is a documentary following Cramer during his rehabilitation, reflecting on his life as well as an encompassing look at the film that became a cult favorite in the video era. The documentary divides time equally between Cramer's personal life and struggles as well as the making of the 1986 film, and are intertwined wonderfully in this documentary directed by Lisa Downs, who previously directed the acclaimed 2017 documentary "Life After Flash". Like that film, it looked at the life of a star from a cult favorite film while also contextualizing how the film became a phenomenon. Like "Flash Gordon", the main feature of "Flight of the Navigator" was not a huge hit on its initial release, grossing $18 million theatrically. It was through video rentals and broadcasts on television that audiences were truly able to discover the film and for generations has continued to find new audiences. Personally, I remember seeing part of it at a friend's house as a child. I only saw about the first 20 minutes before having to go home and what I saw was something quite traumatic. A boy goes into the woods, falls and hits his head, wakes up to find out it's eight years later. He is still the same as he was, but his family has aged, including his younger brother who is now a teenager. As I missed out on what happens later with the spacecraft, the aliens, and the time traveling, it was like a horror film for a child. It wasn't until I was an adult that I saw the full film on DVD and the trauma was cleared up. Instead, it was a very memorable fantasy film with a great message about family bonding, and stood the test of time very well.

The character of David may have had a good traditional family bond with two parents and a younger brother that stuck together, Cramer's life was much the opposite. Born Deleriyes Joe August Fisher Cramer on August 23, 1973 in a hippie commune in Canada, he was raised by a single mother and had no siblings. Catching the acting bug at an early age, his first feature films were in 1984 in "Runaway" in a supporting role and "The Neverending Story" in an uncredited role as a bully. The following year he appeared in the Disney produced TV movie "I-Man" as the son of the main character played by Scott Bakula. And then at 12 years old he was cast in the lead for the first time in "Flight of the Navigator", produced by PSO and Walt Disney Pictures. Combining popular science fiction elements of "E.T." and "Back to the Future" as well as notes from "The Twilight Zone", "Flight of the Navigator" had its special effects, the adventure, and the mystery, but what held it all together was the shining performance by Cramer. From his scared scenes discovering his family was not how he remembered them, to him singing along to the Beach Boys while navigating the spacecraft, and even his silly insults against his younger brother were as natural as could be. But as the film was not a major hit financially and as he grew older, the roles were coming less and less, and eventually disappearing from productions entirely.

Bullying at school, drinking and smoking from an early age, stealing. getting hooked on drugs, becoming homeless. Cramer experienced quite a lot of downs during his young life after Hollywood, and things did not look up for him for the next few decades with troubles continuing again and again. Throughout the documentary, Cramer gives his side of the story from his childhood days all the way to his troubled adult years and how the dominoes stacked and stacked. Thing never became easy for him, but as it seems through his time at the correctional facility he was able to turn his life around for the better, by joining acting workshops, keeping clean, embracing his past and becoming an inspiration for others by revisiting the correctional facility. Cramer gives very honest messages in a series of interviews, shedding tears about his past while also smiling in many occasions as he guides the audience on various locations of his childhood. It's said that everyone deserves a second chance. But it's not about just giving someone a chance, but the person must earn it and must put their own effort into it. It's honestly inspiring to see where Cramer is now and how he looks and feels, being a far way from his 2016 mugshot. His story about his past life will bring audiences tears of sadness. His story about his current life will bring tears of joy.

The construction of the documentary is an interesting one. It starts off with "Flight of the Navigator" director Randal Kleiser about to meet Cramer in over two decades. But instead of showing the reunion, it establishes the film they worked on together with a series of interviews from costars Cliff De Young, Veronica Cartwright, Raymond Forchion and others, plus crewmembers such as Jeffrey Kleiser, Tim Blaney and more. There are also interviews with Cramer's mother, his friends, and there is brutal honesty about everything. Some of the pressures forced by Disney on the film, Cramer's painful advice given to him by his biological father, etc. are examples of how the documentary is not all about pats on the back. Structurally it may jump back and forth between the film and Cramer but it is very well constructed, well paced, and well shot throughout. While it could have focused just on Cramer, there is a great deal of information about "Flight of the Navigator" with special effects secrets, shooting stories, and the creativity and family nature of the cast and crew. "Life After the Navigator" is a very sad tale of a child actor's suffering emotionally and physically throughout the later years, but also one that brings genuine love and inspiration for anyone who has gone through a personal struggle.

Released via streaming on Amazon in late 2020, Life After Movies also self published a Blu-ray edition of the film with exclusive bonus material.

Note this is a region ALL Blu-ray

Video


Life After Movies presents the film in the original 1.90:1 aspect ratio in 1080p AVC MPEG-4. Shot digitally and mostly prior to COVID lockdowns, the controlled environments for the interview segments look excellent with great colors, depth, detail, and clarity. Some are in studio, some are in private residences of the subjects, and all look absolutely great. Outdoor locations are also well balanced. Film clips and vintage footage may not always be up to par but they are good and not distracting with the change of quality. Some interviews done post-lockdown can look a bit rough but nothing the world isn't used to seeing on the news or interview shows these days. Overall an excellent transfer on a BD-50, with enough breathing space for the film and its extras.

The film's runtime is 94:34.

Audio


English LPCM 2.0 stereo
The original stereo audio track is presented uncompressed. As the interviews were done in sometimes differing environments, there is a bit of inconsistency in clarity at times, but the voices are well balanced, easy to understand, with no major issues to speak of. Times when a person is hard to hear in the film (or extras) there are burned-in subtitles for clarity. The music by Toby Dunham is well balanced against the interviewees, with good stereo separation used. There are no audio issues like dropout or other errors to speak of.

There are no optional subtitles offered for the main feature.

Extras


Director's Interview (13:12)
Downs chats about the film's production, from the difficulty contacting Cramer, her love for "Flight of the Navigator", some of the troubles with the small budget production and more. She also talks about her upcoming third production in the "Life After…" series, which is yet another exciting project: "Life After Atreyu", a documentary on Noah Hathaway following "The Neverending Story".
in 1080p AVC MPEG-4, in 1.90:1, in English LPCM 2.0 with no subtitles

"Superman in Nanaimo" featurette (4:01)
Cramer guides viewers through downtown Nanaimo, including a large Superman mural on a real street named "Lois Lane", the Hubcity Cinema Society where he took part in a short film.
in 1080p AVC MPEG-4, in 1.90:1, in English LPCM 2.0 with no subtitles

"Veronica Cartwright's Prank" featurette (1:01)
Cartwright talks about a little prank pulled on the camera operator.
in 1080p AVC MPEG-4, in 1.90:1, in English LPCM 2.0 with no subtitles

"The Last Known Photo" featurette (1:29)
Cramer goes back to an old workplace at a hunting and fishing store where he was once recognized as the kid from "Flight of the Navigator" all grown up.
in 1080p AVC MPEG-4, in 1.90:1, in English LPCM 2.0 with no subtitles

"Jeffrey Kleiser's Biggest Challenge" featurette (1:17)
Kleiser talks about a time crunching special effects sequence at the end to have it done by Disney's release date.
in 1080p AVC MPEG-4, in 1.90:1, in English LPCM 2.0 with no subtitles

"Gastown Hangout: Extended Cut" scene (4:08)
An extended scene of Cramer guiding the audience through downtown Vancouver, by the world's first steam clock, and the locations where he participated as an extra in "The Neverending Story".
in 1080p AVC MPEG-4, in 1.90:1, in English LPCM 2.0 with no subtitles

"The Ferry Ride" featurette (4:28)
Cramer takes the ferry to visit his mother's home where he talks about some of his childhood memories as well as the geographical information.
in 1080p AVC MPEG-4, in 1.90:1, in English LPCM 2.0 with no subtitles

"Vancouver Hometown Visit: Extended Cut" scene (4:10)
In this extended scene, Cramer visits his old neighborhood, going to where his old home was as well as his schools as he talks about his memories both good and bad.
in 1080p AVC MPEG-4, in 1.90:1, in English LPCM 2.0 with no subtitles

Randal Kleiser & Joey Cramer Interview (7:43)
The star and director meet for the first time since 1996 when Cramer worked as a stand-in on one of Kleiser's films. They discuss memories from the "Flight of the Navigator" set, about the model ships and where they are now, and more.
in 1080p AVC MPEG-4, in 1.90:1, in English LPCM 2.0 with no subtitles

"The Invasion" 1988 short film directed by Heidi Newell (13:57)
Joey Cramer plays Nelson, a young kid in a rural farm town who befriends an alien in human form (played by Andrew Seebaran) who is looking to take over Earth. This short is a very interesting curiosity, as there is no IMDB page, not listed with Cramer or Seebaran's filmographies (with Seebaran being a former child actor that has not had an update for a few decades), so for it to appear here is quite a surprise. It was directed by Heidi Newell as a student film at the University of British Columbia in 1988 and most likely has not been screened since then. Joey Cramer's mother had a VHS copy which was later transferred to disc. Unfortunately as the disc wasn't burned properly and was unplayable, therefore the Life After team had to extract the files from the disc and use software to reconstruct it to a viewable state. The transfer is unfortunately pretty bad, looking extremely choppy for the first six minutes at least, like stillframes in fast-forward. It does get a little better after that, but some choppiness remains. As for sound, it is pretty clear without choppiness, but is flat in fidelity. In addition, due to copyright issues, music in one scene had to be muted along with blurring of the images on the TV. There is a disclaimer about the quality of the transfer at the start, and unless the UBC has an original copy stored in their student film archives, this seems to be the only way to see this extremely rare short. Downs searched for director Newell and by complete coincidence, found out that she worked at the same company of Downs' sister. Newell did not have a copy of the film herself, but gave the permission for the short to be included here.
(Thank you to director Lisa Downs who shared the information about the transfer and its history.)
in (upscaled) 1080p AVC MPEG-4, in windowboxed 1.33:1, in English LPCM 2.0 with no subtitles

"Tech Talk: Mother & Son" featurette (1:11)
Joey Cramer's talks to her son about some of the technical issues she's having with her smartphone.
in 1080p AVC MPEG-4, in 1.90:1, in English LPCM 2.0 with no subtitles

"Howard Hesseman" featurette (2:14)
The cast recall memories of Hesseman, intercut with comments from Hesseman himself.
in 1080p AVC MPEG-4, in 1.90:1, in English LPCM 2.0 with no subtitles

Joey Cramer Interview (15:49)
A remote interview with Cramer talking through an online video chat, in which he discusses the concerns he had before doing the documentary, the healing effect it had, the interactions with fans, and hoping his positivity could help others as well. The video and audio quality is not up to part with other extras due to the shooting condition (most likely due to COVID).
in 1080p AVC MPEG-4, in 1.90:1, in English LPCM 2.0 with no subtitles

Official Trailer (2:58)
The very effective trailer is presented here. It has also been embedded below.
in 1080p AVC MPEG-4, in 1.90:1, in English LPCM 2.0 with no subtitles

Collector's Booklet
A 12 page booklet is included, which has messages from Lisa Downs, Joey Cramer, and Randal Kleiser, plus production stills and personal stills. The cover looks like the top of a VHS tape while the back cover is a very nice looking poster of the film, differing from that of the main cover art. Very nice touches indeed.





Obviously due to rights issues, the main film "Flight of the Navigator" was not included in this set, as well as the original trailer for it. In 2019, Second Sight released a beautiful Blu-ray reissue of the film, featuring a new transfer, newly created extras, a vintage commentary, and an excellent 100 page book. Strangely the original trailer was not included within that package. There are a few other "Life After the Navigator" content that was created and not included on this Blu-ray, such as the teaser trailer, and are available on the Life After Movies presents The Web Show YouTube page. In addition there are clips and interviews related to their previous feature documentary "Life After Flash" as well as content from the upcoming "Life After Atreyu" and more.

Downs mentioned that there was another rare short film that Cramer appeared in that that was part of his mother's collection which was in much better condition than "The Invasion" was in. But unfortunately since the director couldn't be tracked down and therefore couldn't be included on this set.

Packaging


Packaged in a standard Elite Blu-ray case, the artwork by Bob Lindenmayer has a slightly faded look to mimic an old VHS tape's artwork and even has the VHS logo on the spine and back. The runtime is incorrectly labeled as 91 minutes.

Overall


"Life After the Navigator" is a truly emotional experience for the audience, from the honest look at the personal struggle of a former child actor as well as a trip back in nostalgia for a cult classic film that continues to bring joy. It may have a lot of sadness but it is also incredibly uplifting, and a very well produced documentary by the Life After Movies crew. The extras may be fairly short but there are some great and rare footage to be found, making this absolutely recommended.
| | | | | |
| --- | --- | --- | --- | --- |
| The Film: A | Video: A | Audio: A | Extras: B | Overall: A- |