The Film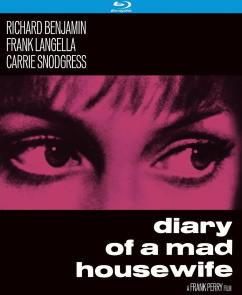 Oscar (Best Actress in a Leading Role): Carrie Snodgress (nominee) - Academy Awards, 1971
Golden Globe (Best Actress in a Motion Picture - Comedy or Musical): Carrie Snodgress (winner), Most Promising Newcomer - Female: Carrie Snodgress (winner), Best Motion Picture – Comedy or Musical (nominee), Best Actor in a Motion Picture - Comedy or Musical: Richard Benjamin (nominee), and Most Promising Newcomer - Male: Frank Langella (nominee) - Golden Globes, 1971

Manhattan housewife Tina Balser (Rabitt, Run's Carrie Snodgress) has all but checked out of life. Her careerist lawyer husband Jonathan (Westworld's Richard Benjamin) relentlessly picks at her appearance, her housework, her cooking, and her overall lack of energy or enthusiasm for his social climbing projects; all the while with a cheery tone and a smile on his face. Their young daughters follow his example. Dragged to a pretentious party by her husband ("She's nobody, Balser's wife," she overhears), Tina is temporarily roused by the boorish come-on from writer George Prager (Dracula's Frank Langela), while Jonathan is merely impressed that his wife seems to possess some social skills in being able to "hold her own" against Prager (who has slipped her his number). Over the holidays when the children are home and Jonathan is even worse after he comes down with the children's fever and malingers for weeks, Tina escapes from being a nursemaid, planning a more chic Thanksgiving, and an expensive catered Christmas dinner party in which Jonathan is hoping to break into the movies by hopping into bed with George. Over several weeks of stolen moments in George's apartment – as sparsely furnished to keep his brain free of distraction as to prove unwelcoming for his female conquests – Tina finds herself no better off with a man as big a narcissist as her husband who ridicules her when she attempts to engage him intellectually, and expresses not jealousy about her marriage but open disdain for her conventionality. Things come to a head at Christmas when she realizes just how little she matters to the men in her life as anything but an automaton and a sounding board.

As much a picture of the zeitgeist of the late sixties in the middle class domestic sphere as Rosemary's Baby, Diary of a Mad Housewife – directed by Frank Perry (The Swimmer) and scripted by his wife Eleanor Perry (David and Lisa) from the novel by Sue Kaufman – may be more likely to strike a nerve with its incisive depiction of emotional abuse, passive aggressive reactions, and juxtapositions that do not immediately register (Jonathan blames Tina for not walking the family dog which has defecated on the carpet, but his response to her defense that the dog is afraid of the dark shows that he finds both dog and wife equally abnormal). The tagline for the film reads "I, Tina Balser, housewife, did not do my chores today. I did...something else!" on the surface suggests that Tina will break free from her psychological bondage, but an extramarital affair is ultimately as much of a domestic trap as the group therapy session in which we find Tina in the end sequence being harangued as a "spoiled, middle class bitch" for having what others feel their own marriages lack materially, as a stand-in for a spouse on which to vent frustration, or by people who cannot relate their own spouse's similar behavior to her own ("My husband is a cannibal who is draining my life juices!") The characterizations of Benjamin and Langella as equally but differently monstrous characters overshadows a subtly brilliant one by Snodgress whose Tina seem less insulted by outright jabs as the fact that they only hear her assent rather than her disingenuous tone (despite her Oscar nomination and Golden Globe wins, Snodgress rarely had other opportunities to for such brittle characterizations apart from perhaps the spinster daughter of the horror film The Attic).

Video


Originally released with an R-rating and reissued with a PG rating – as well as an expanded 104-minute television version that reinstates material from the cutting room floor including dialogues between Tina, her housekeeper, and various laborers whose exchanges are only seen but not heard in the theatrical version under the opening credits montage – Diary of a Mad Housewife only had a DiscoVision laserdisc release in 1979 and a 1987 SLP-mode VHS release through Goodtime Home Video (a sell-through label that sublicensed the Universal catalogue in between Image Entertainment's earlier laserdisc and later DVD deals). Kino Lorber's 1080p24 MPEG-4 AVC 1.85:1 widescreen Blu-ray provides no information about the vintage of the HD master – the concurrently released Perry film Ladybug Ladybug is listed by Kino Lorber as a new 2K restoration – has a soft look that is not particularly appealing but may have as much to do with the circumstances of this independently-produced, location-heavy production as it does with stripping the characters and settings of the expected Hollywood glamour (presumably Indicator is working with the same master for their as yet unannounced UK edition).

Audio


Although the film is uncut and the clear DTS-HD Master Audio 2.0 mono track unexpurgated, Kino Lorber have used for their SDH subtitle track a transcript presumably belonging to the PG reissue, as Jonathan's many instances of "bloody" are subtitled as "damn" and George's "that lying cunt" is subtitled as "that lying tart."

Extras


In addition to the film's theatrical trailer (2:54) and trailers for other releases, the disc includes a new audio commentary by screenwriter Larry Karaszewski with critics Howard S. Berger and Steve Mitchell in which they discuss the basic fidelity of the screenplay to the novel, while also noting its departures – the first-person novel has its protagonist believing that she is going mad while the film depicts the world around her as mad – the context of the film adaptation with relation to ' The Graduate (which came out in 1967 but played in various reissues until 1972), and the knack of the Perrys for casting relative unknowns (noting that the studio suggestions of Natalie Wood and Barbra Streisand would have brought associations from other films with them to the role).

Overall


Kino Lorber's mining of Universal's back-catalogue turns up one of the truly subversive studio films of the seventies in Diary of a Mad Housewife.