The Film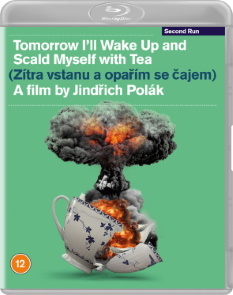 The remnants of the Third Reich are indeed hiding in South America; however, they have come up with a plan to win World War II all the way from the distance of 1994: by traveling back in time and presenting Hitler (The Key's Frantisek Vicena) with a hydrogen bomb heisted from a museum. Kept alive and relatively spry with the help of commercial cosmetic anti-aging pills, former General Klaus Abard (90 Degrees in the Shade's Jirí Sovák), engineer Bauer (The Mysterious Castle in the Carpathians' Vlastimil Brodský), and junior party member Kraus (Straw Hat's Vladimír Mensík) have bribed playboy pilot Karel Bures (The Death of a Fly's Petr Kostka) – who flies rockets back in time for tourists to experience "living history lessons" – to divert the course of his next trip from Prague to the dawn of time by way of Berlin, December 8th 1944 with the bomb as carry-on luggage. On the morning of the mission however, Karel chokes on a bread roll and dies; and his introverted twin brother Jan – one of the engineers who created the time-traveling rocket – unable to upset Karel's high-strung fiancée circus acrobat Eva (The Girl with Three Camels' Zuzana Ondrouchová), who he has placed on a pedestal, takes Karel's place and leads everyone to believe that Jan is the one who died. Although he had an inkling about Karel's social life and attempts to rehabilitate Karel's reputation with his boss Rousek (Palette of Love's Josef Bláha), he is completely caught off-guard by the affections of mistress Markéta (Thirty Maidens and Pythagoras's Marie Drahokoupilová), the threats of her jealous husband (Darling, Are We a Good Match...?'s Frantisek Peterka), the frosty reception of stewardess Helena (Romance for a Crown's Valerie Chmelová) who has been carrying a torch for Jan, and hijacking of the rocket by the German tourist trio who are just as dumbfounded at the pilot's seeming intent to sabotage their mission starting with allowing the last-minute boarding of brash American tourists Shirley and Patrick White (The Cremator's Marie Rosulková and The Fabulous Baron Munchausen's Otto Simánek) who do not know Waterloo from Watergate. When the mission goes balls up and they barely escape with their lives (and not all of them), Jan still posing as Karel negotiates his survival with the opportunity to return to the future the day before and redo the mission. He is actually hoping to save his brother's life, win Helena's heart, and foil the Nazis' plan; however, not even he is prepared for the chaos that erupts from multiple versions of themselves running around Prague attempting to undo time itself.

Although it is less of an Eastern Bloc science fiction film than director Jindrich Polák's more traditional science fiction-as-humanist drama Ikarie XB 1, Tomorrow I'll Wake Up and Scald Myself with Tea may use its science fiction trappings as a springboard for hilarious farcical comedy; however, it does in its latter half wrestle not only with some time travel concepts like doubles and new complications that could be introduced in attempting to redo the past. In the end, Jan seems to not only accepted the unpleasant truths that he has learned about his brother but also his own "interchangeability" when confronted with his own double who he seems to feel is more deserving of his happy ending than himself (in contrast to the Nazis who feel the need to destroy their doubles simply because two of them cannot live on one paycheck). Whereas science fiction films of the sixties conveyed the future through an exaggeration of the era's own pop art décor, Polák envisions 1994 in a spare manner of contemporary minimalist architecture, wardrobe, and a few fantastical touches from the time traveling rocket and a handheld video projector to a paralyzing spray and a washing soap that dissolves anything it touches from dirty dishes to corpses. Sporadic violence and death is treated as gallows humor – more so than the implied deaths of characters left behind without consideration – as Jan plays fast and loose with time travel, seeming to adapt a bit of Karel's caddish attitude, and the ending seems to have gone for a lighthearted wrapping up rather than the lingering questions it leaves behind. Whether an effect of the budget of this Studio Barandov production or a deliberate aesthetic choice, the location-heavy film's cinematography by Jan Kalis (Prague Nights) is rather nondescript with some harsh lighting that highlights the pallid foundation make-up on some of the performers – possibly to make Hitler look clownish – while the scoring of Karel Svoboda (Kein Pardon) has an aggressive disco flavor that seems at odds with the film's more intimate moments; perhaps also intentionally so in conveying Jan being out-of-step with the world around him, or possibly imposed to give the film more of a madcap momentum.

Video


Unreleased in the United States and apparently only screened once on BBC in the eighties – although that screening was apparently memorable enough for some people (see below) – Tomorrow I'll Wake Up and Scald Myself with Tea comes to 1080p24 MPEG-4 AVC 1.37:1 pillarboxed widescreen Blu-ray from an "new HD transfer from original materials by the Czech National Film Archive" and it seems indeed to be a straight transfer rather than one of their restorations where they attempted not to completely clean up the negative but remain true to how it would have looked when originally projected. Here we have the expected reel change marks but also some noticeable damage not only at the reel change but intermittently throughout the presentation. It is not really distracting once one becomes absorbed in the story, and there is literally nothing else to compare the transfer to, but one wonders if this is indeed the state of the materials held by the archive or if the film was not a high priority in terms of restoration.

Audio


The LPCM 2.0 mono track fares better, with the disco score and some exaggerate sound design possessing depth and umph while dialogue remains clear. Optional English subtitles are free of any obvious errors.

Extras


Besides the film's theatrical trailer (2:55), the disc also includes an audio commentary by The Projection Booth Podcast, here featuring film historians Kat Ellinger and Jonathan Owen, as well as podcast host Mike White, in which they discuss the aforementioned BBC screening and how the unwieldy title has made tracking the film down difficulty (along with the many varying translations). They compare the film to Polák's earlier science fiction effort, noting that it seems more like the work of comedy specialist Oldrich Lipský whose thematically similar I Killed Einstein, Gentlemen also originated in a story by the film's scenarist Josef Nesvadba as scripted by Milos Macourek, and noting in this case that Nesvadba had issues with the approach of Macourek and Polák to the adaptation which largely eschewed his philosophical concepts in favor of comedy. They also discuss how the sociopolitical climate of the time may have been why Studio Barandov favored comic treatments of science fiction as well as Polák's visualization of the future.

Packaging


Housed with the disc is a 15-page booklet featuring a new essay by writer and filmmaker Graham Williamson in which he contrasts the "grand and contemplative" space operas of the West (and Russia in the case of Solaris) with Czech and Slovak science fiction that is "unusually alert to the comic potential of the genre."

Overall


Long unavailable and hard to track down because of its unwieldy title, Tomorrow I'll Wake Up and Scald Myself with Tea deserves to be discovered (and rediscovered for those late night BBC viewers of the 1980s) on Blu-ray from Second Run.