The Film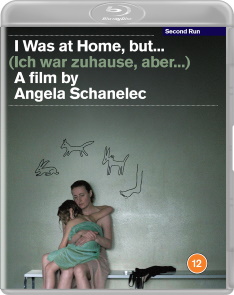 Silver Berlin Bear (Best Director): Angela Schanelec (winner) and Golden Berlin Bear (Best Film): Angela Schanelec (nominee) - Berlin International Film Festival, 2019
Bildrausch Ring of Film Art (Best Film): Angela Schanelec (winner) - Bildrausch Filmfest Basel, 2019
German Film Critics Award (Best Editing): Angela Schanelec (winner), Best Film: Angela Schanelec (nominee), Best Cinematography: Ivan Markovic (nominee), and Best Screenplay: Angela Schanelec (nominee) -

Thirteen-year-old Philip (Jakob Lassalle) vanishes and just as inexplicably reappears. His mother Astrid (Tatort's Maren Eggert) stresses out over trying to convince the school board to take her son back as if nothing had happened, tries to get her daughter Flo (Clara Möller) enthusiastic in a second-hand bicycle she has purchased, and tries to summon up her own enthusiasm for the app her younger boyfriend Finn (Jirka Zett) is trying to develop without the financial support of his wealthy parents. Astrid is very much "on the edge," helplessly insulting a filmmaker (filmmaker Dane Komljen) while trying to explain how she found his film project false in mixing actors and actual terminally ill people – one group who have trained their bodies to perform and the other who cannot help but be authentic as they lose control of their bodies – realizes the futility of trying to make her son's teachers see things from her perspective, and explodes with equal ferocity at the man who sold her the bicycle when he hesitates in returning her money as she does her daughter when she tries to cook unsupervised and her son when he tries to hug her after an outburst, seemingly only able to communicate with anyone in half-formed thoughts that end in ellipses. It is only late in the film that we learn that her theatre director husband has died two years previous and must then reflect on everything that has come before as the shaken core of a family dealing with loss, a discontinuity of communal existence no longer theoretical, no longer put off. We see that this has hit Astrid very hard, but we do not know necessarily if her son vanished because of his own grief or in reaction to her unbearable grief, or whether her daughter's emotional numbness stems from one or the other (and the uncomfortable semblance to Astrid's boyfriend's own passive reaction when she screams at her children and throws them out of the apartment). The entire film seems to look at a broken Berlin in which the couple of one of Philip's teachers Lars (Bedbugs' Franz Rogowski) and his pregnant girlfriend Claudia (Wild's Lilith Stangenberg) – who may or may not have taken Philip in during his absence – can debate the consequences of bringing a child into such a world more articulately than Astrid but still come up empty. Writer/editor/director Angela Schanelec (The Dreamed Path), who lost her own theatre director husband Juergen Gosch a decade before, does not seem to have stripped away expository detail in favor of showing over telling so much as attempted to show Astrid's experience as it happens as literal ellipses, stuck trying to explain her feelings through a series of arguments with others that have no continuity with one another (in her arguments with the school board, she seems to have already determined that shared meaning is impossible). Intercut with the narrative are scenes of a school class rehearsing William Shakespeare's "Hamlet" (in a translation written by Schanelec who had undertaken a series of newer translations with her husband before his death), merely reciting philosophical dialogue without interpretation or reflection, and going through the physical stage actions in the same robotic manner that Astrid moves through her own days.

Video


Second Run's 1080p24 MPEG-4 AVC 1.66:1 widescreen Blu-ray of this high definition-lensed production spots mostly naturalistic grading with a cool bias that is emphasized in the night scenes, with the only "creative grading" in the bookending sequences involving a dog and a donkey.

Audio


The default audio track is an LPCM 2.0 stereo track, but there is also a DTS-HD Master Audio 5.1 track. Second Run lists the discrete surround track as optional, and it may be the case that the multichannel track was a concession for sales as it is as front-oriented as the 2.0 track with subtle rear channel activity that ProLogic decoding could also pull from the stereo track. On the other hand, Second Run also list the 5.1 tracks on other films as optional when the 2.0 track was the downmix (Liberté, Vitalina Varela, and Neon Bull for instance), but one's choise should depend on their sound setup.

Extras


Extras consist of a trio of short films by Schanelec – "Lovely Yellow Colour [Schöne gelbe farbe]" (4:37), "Far Away [Weit entfernt]" (9:11), and "Prague, March '92 [Prag, März 92]" (14:45), as well as an interview with director Angela Schanelec (31:56) conducted by Second Run's Mehelli Modi in which she discusses the challenges of working with animals and children, experienced actors and non-actors, and her method of structuring her films based on an initial image, and realizing that if the next image does not come it is because the first is incomplete. Despite Modi's promptings, she is extremely reluctant to draw parallels between her own work and that of Robert Bresson, not out of arrogance but seemingly because it is not a "methodical" means of telling a story (which may be why her control over the story extends from the script and the direction to the editing of the final product).

Packaging


Packaged in the case is a 12-page booklet by critic and journalist Carmen Gray who provides us with some background on Schanelec as a filmmaker and in the theatre, as well as some helpful observations about the story.

Overall


Loosley plotted as to almost appear plotless to the casual viewer, I Was at Home, But... cannot help but hit the viewer where it hurts whether they have experienced loss or have been anticipating and fearing its inevitability.