Someone to Watch Over Me (Blu-ray) [Blu-ray]
Blu-ray B - United Kingdom - Powerhouse Films
Review written by and copyright: Rick Curzon (9th May 2021).
The Film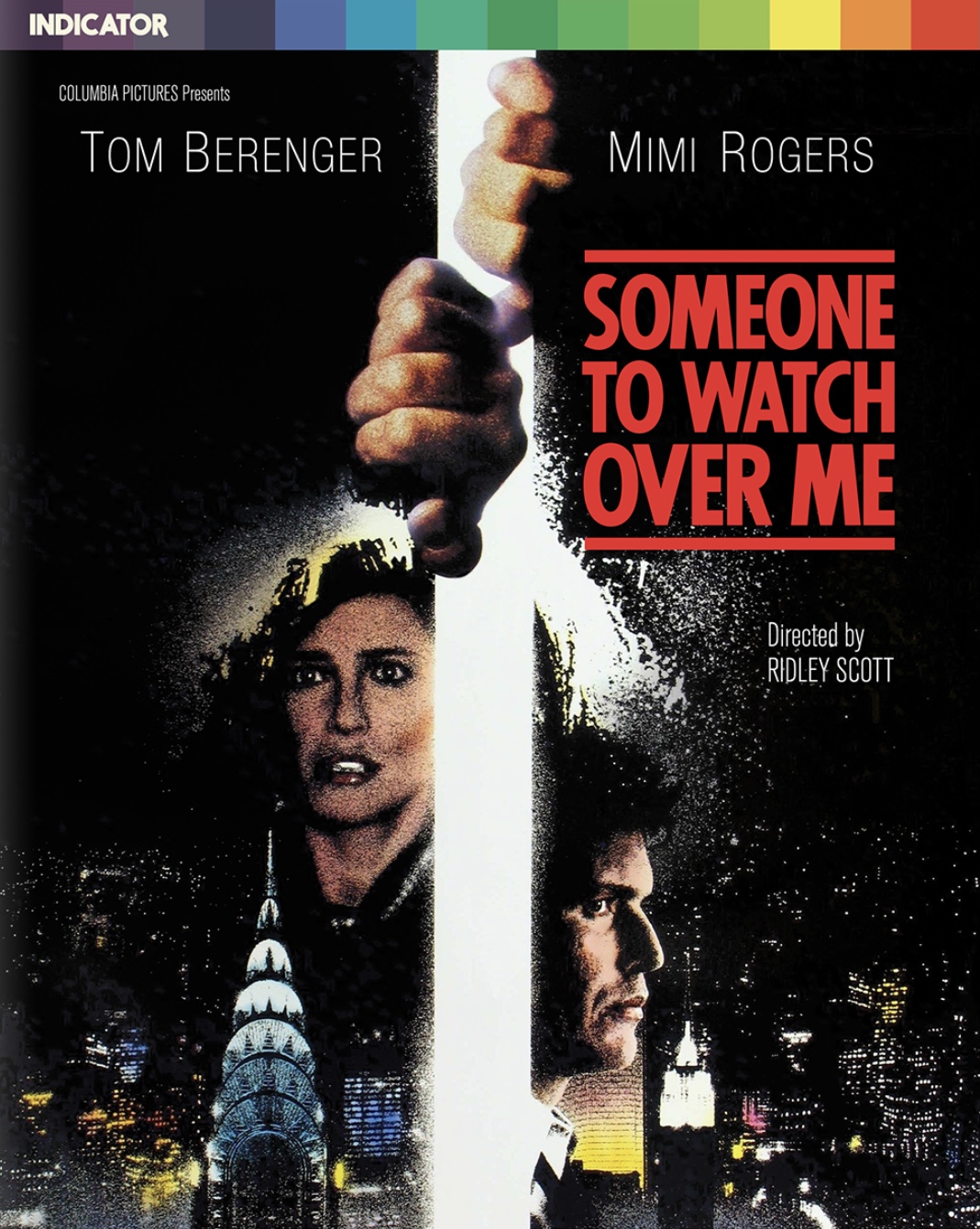 After exploring the science-fiction and fantasy worlds of Alien, Blade Runner and Legend, famed British director Ridley Scott turned to modern-day New York for Someone to Watch Over Me, one of a number of adult-orientated erotic thrillers, including Fatal Attraction, Black Widow and Jagged Edge, to appear in the late eighties.

Tom Berenger (Platoon, Inception) plays a blue-collar NYPD detective assigned to protect a wealthy murder witness (Mimi Rogers, The Rapture). Soon, the relationship becomes an affair, threatening Berenger's marriage to Lorraine Bracco (Goodfellas, The Sopranos), and the killer is still on the loose…

Stylishly shot by Steven Poster (Donnie Darko), Someone to Watch Over Me is glossy, high-concept filmmaking from start to finish.

Video


Ridley Scott's first film after the quadruple whammy of The Duelists (1977), Alien (1979), Blade Runner (1982) and Legend (1985) is this solid but unremarkable thriller-drama. It's a very stylish-looking '80s noir with a pretty traditional love triangle central structure. It's an agreeable enough film but is rather undistinguished when compared to his more elaborate productions.

Gorgeously shot by Steven Poster, Someone to Watch Over Me has always been a tough ask for home video with a dark, smokey, diffuse ambiance that suffered badly on VHS but benefitted much more from the higher resolution afforded by Laserdisc and the increasingly superior resolution with DVD and now BD. Sony's excellent master is the basis of an extremely strong disc presentation from Powerhouse Films and encoded with great expertise by Fidelity in Motion; the latter being no mean feat as we shall see. It looks at the very best it has ever looked in the home video arena and I suspect shan't look any better until the title gets the 4K treatment.

This is a dark film but black levels are extremely strong with no unintended crush and plenty of shadow detail although this is a fairly soft, diffuse looking production. The kind of look that is a nightmare for compression but the encode handles it all beautifully managing the grain and keeping it all very filmic. Contrast is also fairly lowkey and supportive of the noirish style. The image is only punchy in daylight and club scenes. No signs of print damage, digital tinkering or compression artefacts.

The colour palette is fairly naturalistic with solid if warm flesh tones. There are lots of blacks, greys and blues but primaries do show up and many interiors also favour creams and beiges in the production design. Given the soft look there is a pleasing amount of detail in closeups although although long shots do get subordinated to the visual ambiance.

The film looks as good as it's possible to given the master, which is strong, and the resolution. Top marks.

1080/24p / AVC MPEG-4 / 1.85:1 / 106:30

Audio


English LPCM 2.0 Surround
Subtitles: English HoH

A solid stereo track encoded for surround without having to switch one's amp over to ProLogic II or similar. It's front heavy track by design with score and ambiance taking up residence in the surround channels. Action scenes open up and spread out and along with the party and club scenes but this is not the kind of track designed to show off one's 5.1 system to it's fill advantage. This is by no means reason to mark it down because shy of a complete rebuild this is as good as it's possible to be and very faithful to how it played in cinemas back in '87.

The usual excellent hard of hearing subtitles are provided and comprehensive. Top marks all round!

Extras


Audio commentary by Jim Hemphill (2021)

Solid, interesting commentary track kicks off dealing with the Scott theme of class in his various films and continues covering all sorts of thematic analysis and his career although obviously the main emphasis is the film under discussion. I don't recall having heard a Hemphill track but he does a great job here. Newly recorded in February 2021 specifically for this release. Lossy Dolby Digital 2.0 stereo.

"Someone ... to Write a Script: A Look Back with Howard Franklin" 2019 featurette (10:39)
"Someone ... to Shoot a Movie: A Look Back with Steven Poster" 2019 featurette (14:02)

Two decent interviews with key creatives ported over from the 2017 US BD. presented in 1080/24p 1.78:1 with uncompressed LPCM 2.0 stereo sound.

Theatrical Trailer (1:49)

An open matte 1.33:1 presentation of the vintage promo that looks like it's standard definition upscaled to 1080/24p with uncompressed LPCM 2.0 mono sound.

Someone to Watch Over Me Image Gallery: Original Promotional Material (16 images)

Decent if limited HD still gallery.

32-page liner notes booklet by Jamie Graham, archival interviews with director of photography Steven Poster and actor Mimi Rogers, an overview of contemporary critical responses, and film credits


Typically excellent and invaluable; the interview with the cinematographer is especially interesting.

Packaging


Standard, clear BD Keepcase.

Overall


One of Ridley Scott's less well known and less well remembered films gets the deluxe treatment from Powerhouse Films as lart of their Indicator range. Sony's superb HD master coupled with David MacKenzie and Fidelity in Motion's superb encode ensure that this dark, smokey neo noir has never looked better outside of it's original theatrical run. Extras aren't extensive but are typically choice.

As usual for Powerhouse Films, an excellent audio-visual presentation with great added value. A no brainer must by for those so inclined.
| | | | | |
| --- | --- | --- | --- | --- |
| The Film: C+ | Video: A+ | Audio: A+ | Extras: B- | Overall: A- |

---
DVD Compare is a participant in the Amazon Services LLC Associates Program and the Amazon Europe S.a.r.l. Associates Programme, an affiliate advertising program designed to provide a means for sites to earn advertising fees by advertising and linking to amazon.co.uk, amazon.com, amazon.ca, amazon.fr, amazon.de, amazon.it, amazon.es and amazon.se.