The Film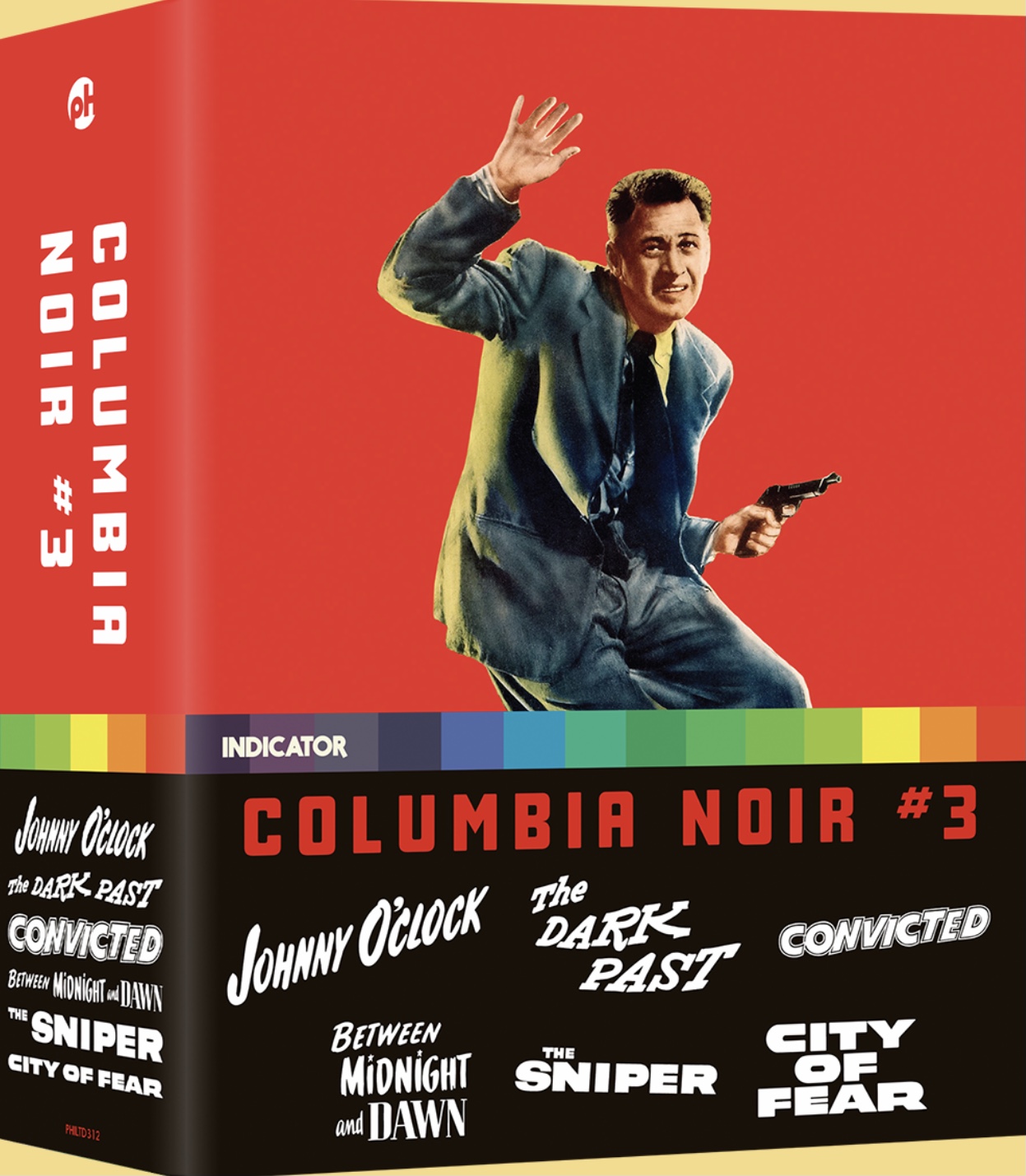 For the third volume in our ongoing Columbia Noir series, we return once again to the studio's archives for a sextet of films which brings together some of the great names of film noir – including Dick Powell, Lee J Cobb, Nina Foch, William Holden, Edmond O'Brien, Dorothy Malone, Glenn Ford, Broderick Crawford, Marie Windsor, and Vince Edwards – in stories of psychoanalysis and cynicism, racketeers and radioactivity, casinos and killing sprees, and cops and convicts.

Presenting all six films for the first time on Blu-ray anywhere in the world, this stunning collection includes a commentary on each film, critical appreciations and analyses, a range of documentary shorts from the forties and fifties, six Three Stooges comedy shorts lampooning the tropes and themes of the titles in the set, and a 120-page book. Strictly limited to 6,000 numbered units.

Video


Psychologist Lee J. Cobb is taken hostage by deranged criminal William Holden; the former psychoanalyses the latter trying to get to the root of his psychosis before the police close in.

Hoary psychology by today's standards but still well written with two great star performances, good direction. A remake of Blind Alley (1939) and both based on a 1935 play by James Warwick.

Powerhouse Films have brought their third collection of Columbia Noir films to Blu-ray and we have another strong collection of top notch transfers from the Columbia / Sony vault. All are taken from Sony's fine HD masters and look very good on these beautifully encoded discs courtesy of David MacKenzie and Fidelity in Motion. Grain is always present and filmic with no digital splats or signs of clumping.

All are in pristine monochrome with not a shred of gamma bias. Detail is strong on all focal plains with the more recent films faring slightly better. It's obvious the excellent HD masters have been lovingly restored and there's been no digital tinkering or manipulation. Obviously, optical process shots drop a generation, have the odd speck of baked in dirt; ditto stock footage. Grain on both can be a little courser, but mostly it's fine. City of Fear has a slightly grainier feel but that's down to being shot soft or hard matte and presented in 1.85:1; all lf the others are in Academy 1.37:1. Sony has looked after it's treasure-trove of noir cult classics and Powerhouse have done a bang up job of presenting these excellent masters on their best behaviour.

1080/24p / AVC MPEG-4 / 1.37:1 / Johnny O'Clock (95:43), The Dark Past (74:07), Convicted (90:50), Between Midnight and Dawn (89:03), The Sniper (87:57)

1080/24p / AVC MPEG-4 / 1.85:1 / City of Fear (75:10)

Audio


English LPCM 1.0
Subtitles: English HoH

Rock solid, limited range mono tracks presented fully restored and free of any distortions or signs of wear and tear. These obviously will not compare to modern Atmos tracks or any form of stereophonic, multi-channel sound-fields. Dialogue is always front and centre in priority with clarity being the watchword. Music is never intrusive and always supportive of the drama. These are as good as can be given the source so top marks.

Excellent hard of hearing subtitles are provided.

Extras


Audio commentary on Johnny O'Clock by Jim Hemphill (2021)
Audio commentary on The Dark Past by Eloise Ross (2021)
Audio commentary on Convicted with Troy Howarth and Nathanial Thompson (2021)
Audio commentary on Between Midnight and Dawn by Bryan Reesman (2021)
Audio commentary on The Sniper by Eddie Muller (2009)
Audio commentary on City of Fear by Adrian Martin (2021)
Audio commentary on "The Autobiography of a Jeep" by Jeremy Arnold (2021)

A collection of audio commentaries that reads like a who's who of behind the scenes commentators. I'm familiar (at least off hand) with Howarth, Thompson, Hemphill and Martin who've been especially active in providing added value to releases over the last half decade or so and I think that most who're reading these technical reviews of mine will be familiar with those names and the inherent quality of their work.

A new one for me (at least off hand - I review so many discs it becomes hard to track all the names commentating at times), Ross is Program Manager and President of the Melbourne Cinémathèque. She has a PhD in cinema studies from La Trobe University specialising on sound and embodiment, and writes and teaches about film. She is on the committee of www.sensencesofcinema.com; another new fascinating website for my favourites list.

Another new name is music and pop culture journalist Reesman who's website is www.bryanreesman.com ("Attention Deficit Delirium: The Darker, Heavier Side of Pop Culture"); which I have just added to my favourites.

Wikipedia informs me that Muller is the host of Noir Alley on Turner Classic Movies (TCM). Also, we have Arnold who "... is a writer, film historian, and commentator with particular expertise in the movies of Hollywood's golden era of 1930-1960 ..." All of the tracks are worth your while; I sampled them all and can attest that all are highly listenable and packed to the gills with information and contextual added value. Obviously, everyone's millage with yaktraks varies so ultimately everyone will have to make their own minds up about their lasting worth.

All are professionally recorded with no technical issues that I detected (this is a purely technical review after all) and presented in lossy Dolby Digital 2.0 stereo although frankly they're more like mono. One is from 2009, the remainder are new but the quality is equal across the board.

"The Poised Performance: Pamela Hutchinson on Nina Foch" 2021 featurette (13:47)
"Codes and Convictions: The Many Adaptations of Martin Flaven's The Criminal Code" 2021 featurette (29:22)
"Categorically Dependable: Kim Newman on Gordon Douglas" 2021 featurette (16:07)
"Martin Scorsese on The Sniper" 2009 featurette (3:17)
"Pulp Paranoia with Christopher Nolan" 2010 featurette (6:22)

68:55 worth of new and pre-existing featurettes. All are presented in 1080/24p 1.78:1 with LPCM 2.0 stereo sound that plays in full surround when channelled through an amp using ProLogic II (or similar). The vintage 2009-10 seem to be upscaled but the new 2021 featurettes are full on HD.

Johnny O'Clock Theatrical Trailer (1:37)
Between Midnight and Dawn Theatrical Trailer (2:20)
The Sniper Theatrical Trailer (2:14)
City of Fear Theatrical Trailer (1:54)

Vintage promos (totalling 8:05) in 1080/24p with the first three in 1.37:1 and City of Fear (like the main film) matted to 1.85:1. Sound is LPCM 1.0.

Johnny O'Clock Image Gallery: Original Promotional Material (39 images)
The Dark Past Image Gallery: Original Promotional Material (35 images)
Convicted Image Gallery: Original Promotional Material (64 images)
Between Midnight and Dawn Image Gallery: Original Promotional Material (46 images)
The Sniper Image Gallery: Original Promotional Material (42 images)
City of Fear Image Gallery: Original Promotional Material (29 images)

A hefty 255 images are in this collection of HD still galleries.

"The Autobiography of a Jeep" 1943 short film (9:29)
"La Forza del Destino Overture and Hymn of the Nations" 1944 short film (28:58)
"The Cummington Story" 1945 short film (20:01)
"Three Lives" 1953 short film (23:03)
"No One Shall Die" 1957 short film (29:28)

A collection (totalling 110:59) of vintage documentary shorts presented in 1080/24p and 1.37:1. All are in uncompressed LPCM 1.0. All show signs of age related wear and tear; especially the two supplied by the Steven Spielberg Jewish Film Archive (Three Lives; No One Shall Die) and the Jeep piece; which are rather soft and have the odd scratch and speck. All however look generally strong considering their rarity and the sources in which they survive which seem to have been from print sources at least one generation of the OCN.

"Whoops, I'm an Indian!" 1936 short film (17:24)
"So Long Mr. Chumps" 1941 short film (17:24)
"Dizzy Detectives" 1943 short film (18:36)
"Three Pests in a Mess" 1945 short film (15:20)
"Shivering Sherlocks" 1948 short film (17:29)
"Oil's Well That Ends Well" 1958 short film (16:13)

Six more Three Stooges shorts (totalling 102:46) that have been well looked after and restored. The last from 1958 is in matted 1.85:1 but all of the others are 1.37:1. All are in 1080/24p with uncompressed LPCM 1.0 sound and sourced from Sony's excellent HD masters. Older ones are slightly softer, newer sharper but that's to be expected. Prior to reviewing these Columbia Noir sets, I was not much of a fan of The Three Stooges but they have become a much anticipated highlight of these discs; keep'em coming!

"The Gulf Screen Theatre: Blind Alley" 25.2.1940 radio show (23:02)

Vintage radio instalment in uncompressed LPCM 1.0.

120-page liner notes book by Peter Stanfield, David Cairns, Michał Oleszczyk, Adam Scovell, Fintan McDonagh, Andrew Nette, Jeff Billington and Ramsey Campbell, archival articles and interviews and film credits

Another massive liner notes tome that brings a huge amount of contextual added value to the films in this set.

Packaging


Hard card outer with individual single-disc digipacks for each film.

Overall


Powerhouse Film's third trip to the Columbia Noir well is well up to the standard set by sets one and two. Sony's excellent restored masters are the backbone and they're beautifully encoded with strong mono sound and stunning image quality. Extras are a commentary on all six main features plus one of the documentary shorts; we also have 69 minutes of featurettes, eight minutes of vintage trailers, 255 HD images, 111 minutes of documentary short films, 103 minutes of the Three Stooges, a 23 minute radio show and to cap it off, a 120-page liner notes booklet. That's a lot of cake for your money! Highly recommended; need I say more?
| | | | | |
| --- | --- | --- | --- | --- |
| The Film: B | Video: A+ | Audio: A+ | Extras: A+ | Overall: A+ |