The Film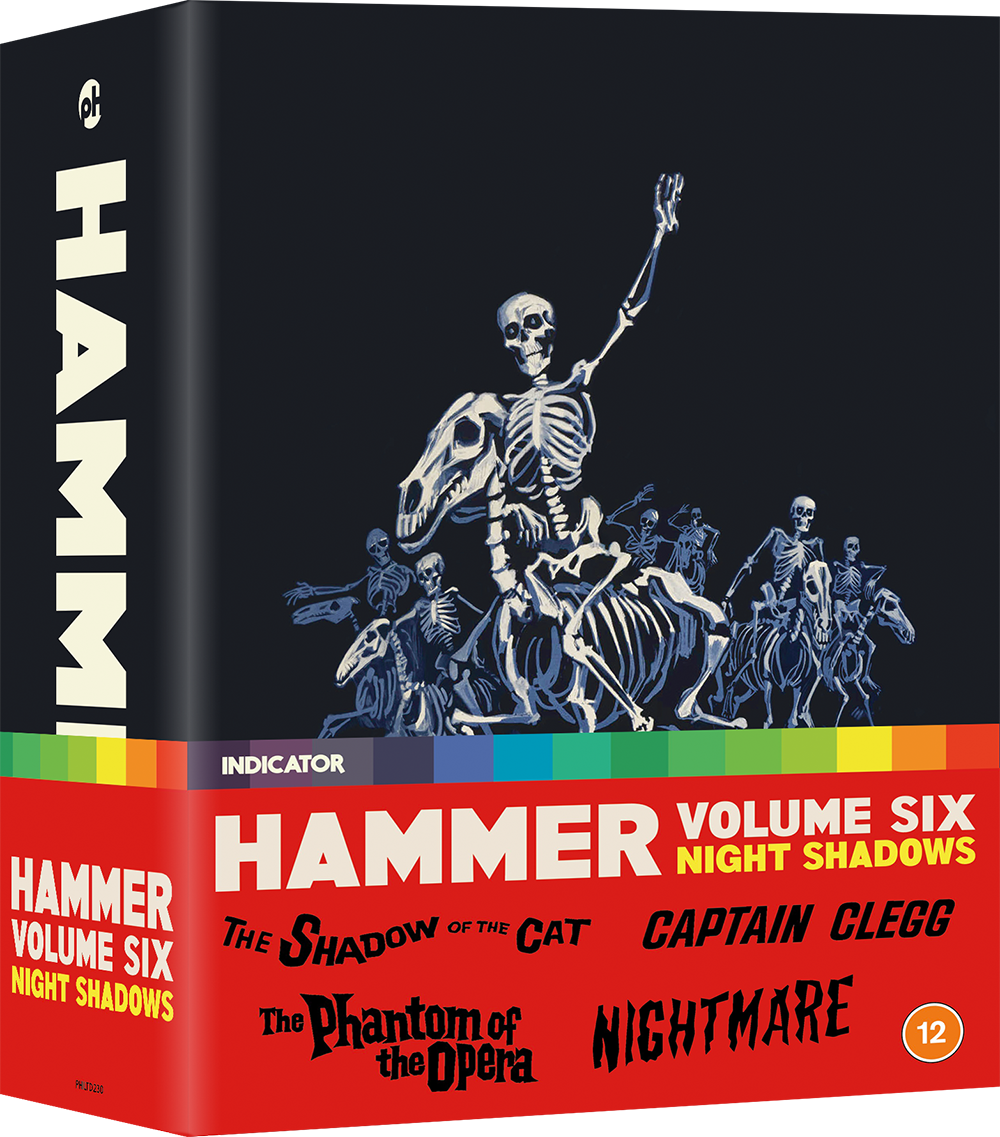 Hammer Volume Six: Night Shadows revives four consummate Hammer classics from the early sixties, exemplifying some of Hammer Films' best work in the horror and thriller genres. Edgar Allan Poe looms large in The Shadow of the Cat, a macabre 'old dark house' tale of feline revenge, starring André Morell (Cash on Demand) and Barbara Shelley (The Camp on Blood Island); Peter Cushing (The Gorgon, Corruption) and Oliver Reed (The Scarlet Blade) star in Captain Clegg, which sees Hammer fuse horror and adventure in an eighteenth-century-set tale of smugglers and marsh phantoms; Herbert Lom (Mysterious Island) stars as The Phantom of the Opera in Hammer's acclaimed production of Gaston Leroux's Gothic classic, whilst Freddie Francis (Torture Garden) directs Nightmare, a spooky psychological thriller in the Les Diaboliques vein, which benefits from full-blooded central performances by Moira Redmond (Jigsaw) and Jennie Linden (A Severed Head).

This collection contains a wealth of new and archival extra features, including documentaries and appreciations, interviews with actors and crew members, audio commentaries, and extensive booklets. Strictly limited to 6,000 numbered units.

Video


One of the rarest Hammer Horrors has over the decades not often been included in catalogues of their work. But, if memory serves, the 1981 reprint of Jack Hunter's House of Horror: The Complete Story of Hammer Films (1973) did mention it in passing but the filmography section at the back didn't. It's credited to BHP and not Hammer but it was made by Hammer.

A solid, enjoyable little film if not one of their very best; it has a fine cast of UK stalwarts of the era with Hammer veterans Andre Morrel Freda Jackson and Barbara Shelley taking centre stage with an appealing moggy. Director John Gilling, by all reports a difficult man, handles it all with skill but it's not in the same league as his classics: The Plague of the Zombies and The Reptile (both 1966). It's about on a par with his middling Mummy epic The Mummy's Shroud (1966). Shadow of the Cat suffers from a really daffy, tortured plot in which some murderer's want to kill a cat because it witnessed the murder. Still, it's handled superbly by the Hammer team and has that wonderful charm all their horror films have to varying degrees.

Shot in glistening monochrome by Arthur Grant this looks a peach on Powerhouse Film's new disc. In 2014 Final Cut released this on DVD stating that the original elements were in a poor state which precluded a Blu-ray release but I cry foul; I reckon they simply couldn't stump the cash to create a new HD master and Universal in the US weren't interested. Instead, they used Universal's off the shelf full frame master which was decent for what it was; an aged master created for 1.33:1 TVs. The Shadow of the Cat was shot hard matte 1.66:1 so the old master lost image left and right.

Shoot forward to 2020 and Shout! Factory, being an American company they have much deeper pockets and fund many restorations and newly minted masters, release this in a brand new HD 2K restoration. And this is what we have here only with a superb encode by Fidelity in Motion and David MacKenzie; I can't comment on the US disc but Shout! Factory have an uneven record for encodes.

This is a fine, filmic transfer handled beautifully by the encode with a natural grain field and no signs of digital tinkering or unnatural clumping or splats. Black levels and gamma handling ensure we get a pristine, icy monochrome image without a hint of bias on a properly calibrated display. Detail is always very strong on all focal planes with the usual uptick in fine detail handling such as patterns in wallpaper and fabrics. Contrast is lowkey, supportive but strong ensuring highlights have texture and no unintended black crush.

The only weaker moments, typical in the photochemical era, are with opticals; the "cat vision" bits suffer slightly in this regard and seem to have been created via a specialist lens; I must admit, my knowledge of camera lens is not the best. It looks a little like fishtpeye but with much more distortion.

I strong transfer that's probably about as good as can ever hope to get with no signs of damage nor digital jiggery pokery. Powerhouse have afforded this short, alight film a fair old whack of space on the BD50 and with a maxed out bitrate. Shy of a 4K release the best we can expect.

1080/24p / AVC MPEG-4 / BD50 / 1.66:1 / 78:43

Audio


English LPCM 1.0 (48K)
Subtitles: English HoH

A typical mono track from the period presented in uncompressed LPCM 1.0. It's naturally fairly limited in range by the standards of a 2021 Dolby Atmos track but is still robust and surprisingly strong with no distortions even at a high volume. About as good a mono track as I've heard from a '60s film. Very powerful when played via my amp.

Excellent hard of hearing subtitles are provided.

Extras


Audio commentary on The Shadow of the Cat by Bruce G. Hallenbeck (2020)

An excellent detail-filled track from Hallenbeck who's written several excellent books on Hammer down the years and many fine articles for Little Shoppe of Horrors magazine; Richard Klemensen's first-rate, long-lived Hammer fanzine (I've been reading and collecting this fine magazine since 1984 but it started in 1972!) . Ported over from the Shout! Factory BD and presented in lossy Dolby Digital 2.0 stereo.

"Shadow Play: Inside the Shadow of the Cat" 2014 featurette (25:31)
"The Shadow of the Cat: Special FX Catastrophe" 2014 featurette (3:58)

Two excellent retrospectives produced by Final Cut for their 2014 DVD release. Plenty of great anecdotes and thoughts from from Hammer historians Alan Barnes, Denis Meikle, Marcus Hearn and Jonathan Rigby and Andre Morell's son Jason. That said, Meikle doesn't half talk a load of fetid dingoes kidneys about Hammer not liking magic and the supernatural in their films. SPFX assistant Ian Scoones discusses the effects in the second, much shorter piece which has inferior sound due to being a phone interview (it's set to stills and posters). Presented in 1080/24p 1.78:1 with lossy Dolby Digital 2.0 stereo.

"In the Shadow of Shelley: A Retrospective Interview" 2020 featurette (24:29)
"Cat People: Memories of Making The Shadow of the Cat" 2020 featurette (4:34)

Two excellent featurettes ported over from the Shout! Factory BD release; nicely complementary alongside the two Final Cut pieces. Presented in 1080/24p 1.78:1 with lossy Dolby Digital 2.0 stereo sound.

"Catmotifs: David Huckvale on Composer Mikis Theodorakis and The Shadow of the Cat" 2021 featurette (17:21)
"Kim Newman Introduces the Shadow of the Cat" 2021 featurette (10:37)
"Hammer's Women: Lucy Bolton on Freda Jackson" 2021 featurette (9:05)

The first two new pieces are from UK stalwarts of DVD / BD extras; both endearingly cuddly and always massively informative. Bolton is on track to join that august community; a memorable character and equally informative and passionate about the subject. Thoroughly enjoyable and all three add plenty of contextual added value to this little film. Presented in 1080/24p 1.78:1 with lossy Dolby Digital 2.0 stereo sound.


Double-Bill TV Spot (1:01)

Vintage promo piece advertising the US release with The Curse of the Werewolf (1961). 1080/24p upscaled from SD; LPCM 1.0 sound.

The Shadow of the Cat Image Galleries: Production Stills (22 images)
The Shadow of the Cat Image Galleries: Promotional Material (41 images)

Very solid still galleries presented in HD.

36-page liner notes booklet on The Shadow of the Cat by Craig Ian Mann, excerpts from original press material, an archival interview with Barbara Shelley, an overview of contemporary critical responses, and film credits

Another sublime hardcopy companion well up to the usual high standards set by Powerhouse Films.

Packaging


Hard card outer case with four standard, clear BD Keepcases.

Overall


A very minor and deeply silly, albeit highly enjoyable Hammer programmer gets the deluxe treatment in this sixth, superb Hammer set from Powerhouse Films. Image and sound are as good as can be shy of a 4K UHD BD release so top marks each. Extras are well up to the same standard porting over everything from both the 2014 UK Final Cut DVD and the 2020 US Shout! Factory BD ... and we get yet more, new, excellent extras from Powerhouse! What more could any Hammer fan ask for? THE definitive release of this film on any home video format. Period. No contest.

I can't say enough how happy it makes me when such a marginal title as this, good silly fun though it is, gets the royal treatment. Bravo to Powerhouse Films and all who sail her ship! Hammer Volume Six: Night Shadows surely MUST be a contender for one of the discs of the year.
| | | | | |
| --- | --- | --- | --- | --- |
| The Film: B- | Video: A+ | Audio: A+ | Extras: A+ | Overall: A+ |