The Film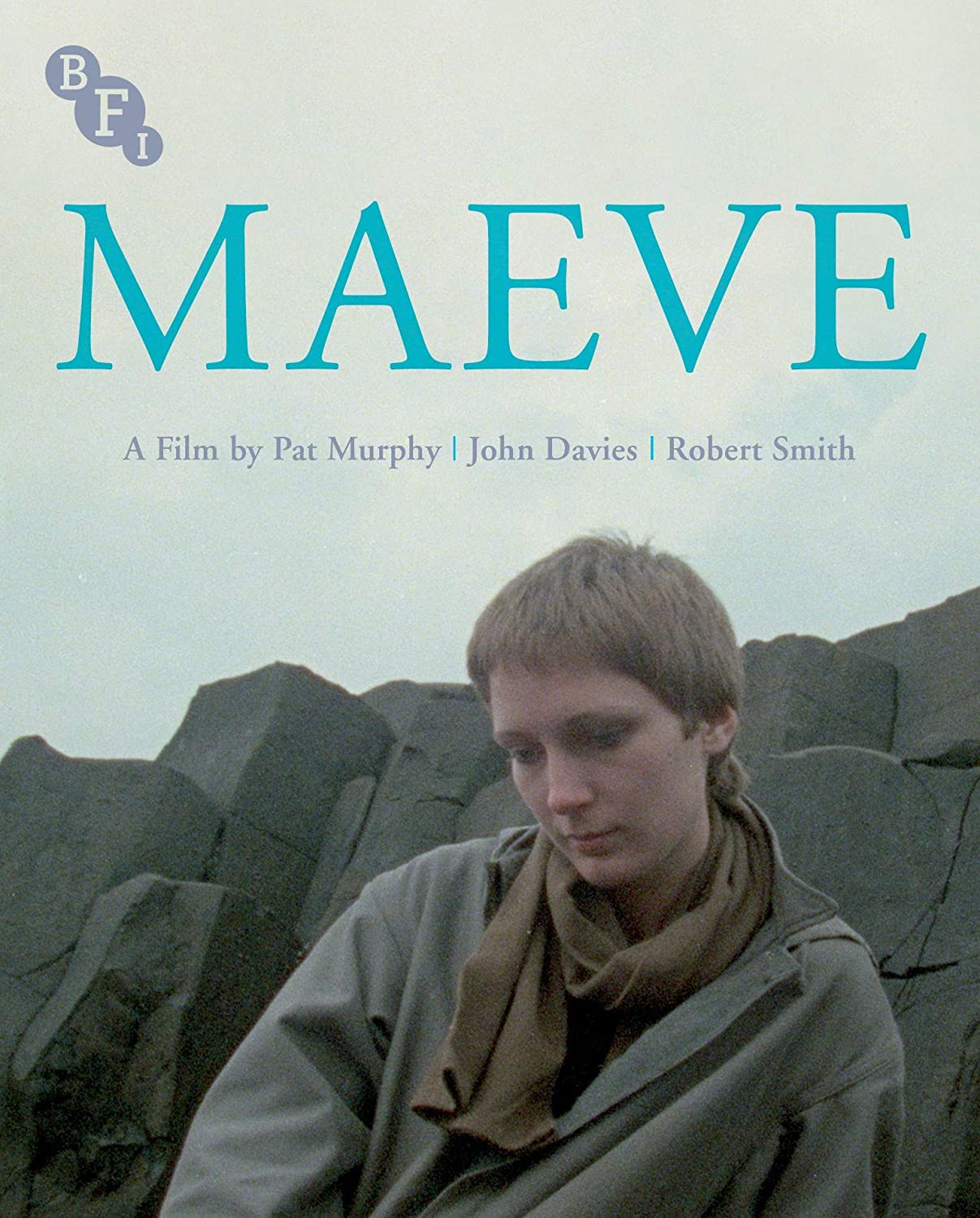 "Maeve" (1981)

Maeve (played by Mary Jackson) was born and raised in Northern Ireland, but currently lives in London. She returns to visit her family after a few short apart, while the Troubles is still brewing to a boiling point in her surroundings. She was not always a typical girl by obeying the gender norms. As a child she was not afraid to stand up to boy bullies that made her younger sister Roisin (played by Brid Brennan) come home crying. As an adult she was more comfortable having her hair cut short. She was always a feminist at heart and her time in London also gave her the opportunity to see the world in a broader perspective than what she and her family grew up with. Her time back together with her family at home brings back a full spectrum of memories that shaped her into who she is.

"Maeve" may have a lot of subtext but it is a film in which not a lot happens, nor does it give everything in a clear and linear manner, opting for a disjointed collage of flashback memories. Written and directed by Pat Murphy alongside producers John Arthur Davies and Robert Smith), the film is centers much around the title character and her family members, with the surrounding dangerous and violent situations as a tense backdrop around the family's dynamic. Each of the four family members are quite different in their approach to life. Maeve herself being a liberal feminist, seeing and experiencing the world in a much more broader spectrum that everyone else who have lived in Northern Ireland and never seen their world from outside. Her attitudes towards female roles, relationships, and social issues are centered with rational thought, confronting the norms and not conforming to what was and is. Younger sister Roisin on the other hand may have some of the ambition that Maeve does, but she is tugging towards what she sees as the inevitable. Getting married, having children, living locally, and being the standard wife and mother eventually. She is still young, and is using her time to go out and have fun, but she also knows that being out can cause a ruckus with the policing guards and leering men, which sometimes happen to be the guards that are the leering ones. Martin (played by Mark Mulholland) is their father who is disillusioned from the much of the happenings and intense environment surrounding the situation locally. He's more interested in staying home and watching TV rather than getting to safe ground, and doesn't seem to want to take sides or action in the politically charged environment around him. A storyteller that loves to talk, he is more nonchalant than one would expect, but still has a firm ground on being a man and a father foremost. Eileen (played by Trudy Kelly) is their mother, and one who was both frustrated and saddened by Maeve's move to London. She is basically the typical mother that Roisin seems to imagine herself to be in the future, and what Maeve wishes not to become.

For the characters to leave their home, whether to meet friends or go to the local pub is a hassle, crossing checkpoints where guards stand and keep a close eye out for the people. Not always for safety reasons. They might ask the girls to jump up and down so the men could stare and ogle over the bouncing breasts. They might put their arms around the women inappropriately. But with violence being a shot away and tense situations around every corner, no one is safe, especially when guns are drawn and shots are fired, which do happen from time to time. The internal conflict in Northern Ireland lasted from the 1960s into the 1990s, and the setting in "Maeve" is during a heightened time in which most of the young adult characters have only seen and experienced the mass divide amongst its own people, between the Protestant and Catholic sides. By the time the film was made in 1981, there was the infamous hunger strike the same year (which was gruelingly dramatized in 2008's "Hunger"). In 1978 the IRA was involved in the La Mon restaurant bombing killing 12 people and injuring 30. Numerous other attacks and bombings continued throughout the years and so what the characters felt and saw in "Maeve" more than just reenactments but closer to that of a documentary chronicling the time and place.

The disjointed narrative of the film is like that of memories coming and going with little in terms of linear construction. Maeve's arrival back and the "present" could be seen with her shortened hair while flashbacks to before her move would be showcased with Jackson playing the character with longer hair, or with a younger actress portraying her childhood times. Interesting moments come through some of the more subtle and quieter portions rather than the tense outside sequences. Maeve and Roisin taking a bath together and sharing their thoughts. Maeve's conversations with her ex boyfriend Liam (played by John Keegan) who has become more politically motivated, which obviously tears the two apart even further. The father's monologues which start and end with him breaking the fourth wall speaking directly to the camera. Some of the scenes flow with grace and it's surprisingly not confrontational, even the ones between the two exes. They may be charged, but things never break out into full argument, This includes sequences with the mother as well. There are some elements that are closer to fighting, such as a confrontational scene at a pub that erupts into a small ruckus. The film may be taking place within The Troubles, but it is clever not to look at the political turmoil from an outsider's perspective but instead look at the people who are affected the most, and that is the civilians who could care less, and the civilians who are brainwashed into taking sides.

"Maeve" is often looked at the first feminist Irish film, and is a landmark in terms of independent cinema for the country, which was far from having an identity of its own, instead being a backdrop for locations for international productions and the only glimpses seen of Northern Ireland were in the news rather than in artistic works. Shot entirely on location in Belfast with local actors and a minimal crew, it may have not been a hit in its theatrical run, nor was it a cult film either, but "Maeve" certainly should be seen by fans of experimental structure and drama.

Note this is a region ALL Blu-ray

Video


The BFI presents the film in the original 1.37:1 aspect ratio in 1080p AVC MPEG-4. The original 16mm A&B negative and 16mm interpositive held by the BFI were scanned at 2K resolution for this edition. The film does look very good but it is not without its faults. Colors seem to be accurately reproduced, with a good amount of detail in the image and framed properly. Damage is still frequently visible, from speckles, scratches, and tramlines, but much of it has been cleaned to more than adequate state. There are no signs of digital scrubbing and grain is still visible, keeping a very good film like quality to the image.

The film's runtime is 115:04

Audio


English LPCM 1.0
The original mono audio track is presented uncompressed. The audio was remastered using the original 16mm optical negative, and like the image is good, but not excellent. For the most part hisses and crackle have been removed but some minor hiss and damage can still be heard at times. There is also some flatness to the audio as is expected with a standard mono track. The dialogue is well balanced, and easy to hear without dropouts or synch issues.

There are optional English HoH subtitles for the feature.

Extras


"Being a Woman is a Nationality" video essay by Chris O'Neill (14:09)
In this new video essay by Chris O'Neill (and spoken by Claire Loy), it takes a look at the new Irish movement of filmmakers, Murphy's perspective, her background and the parallels the film has with her own life. In addition it looks at the particular feminist aspects seen throughout "Maeve". The essay has also been uploaded to the BFI's YouTube channel, which has been also embedded below.
1080p AVC MPEG-4, in 1.33:1, in English Dolby Digital 2.0 without subtitles

"Irish Cinema - Ourselves Alone?" documentary (51:19)
In this 1995 documentary directed by Donald Taylor Black, it includes interviews with a number of people in Irish and Northern Irish film including Pat Murphy, Neil Jordan, Joe Comerford, Donal Donnelly, Bob Quinn, Noel Pearson, Jim Sheridan, Margo Harkin and many more, discussing the evolution of Irish cinema from its infancy in the silent era, Hollywood's interjection, and later identity it made on its own, including international recognition. The quality varies from piece to piece, with vintage film clips being dirty or washed out in some cases, and in terms of the aspect ratio, it was made for standard definition broadcast. Clips of films are in their original aspect ratio, with widescreen clips being windowboxed in a 1.33:1 frame. The interview portions are also in widescreen and they too are windowboxed,
1080i50 AVC MPEG-4, in 1.33:1, in English Dolby Digital 2.0 without subtitles

Booklet
A 32 page booklet is included with the first pressing only. First is "Sites of Power - Memory, Storytelling and Identity" by Emmie McFadden, senior lecturer in film studies at Sheffield Hallam University as she discusses the background of the film and its themes. Next, filmmaker Lizzie Borden recalls the film and its filmmaker in "Maeve Reconsidered". "The Abstract Mirror" by Jack O'Dwyer is an essay about the film that first appeared in Film Ireland on November 28th, 2018. "Maeve: A Conversation with Pat Murphy, John Davies, and Robert Smith" is a text conversation between the three from March 2021, in which they recall some of the dangers and other fascinating elements of the film's shoot and more. There are also full film credits, special features information, transfer information, acknowledgements, and stills.



A clip of the film, courtesy of the BFI.



Overall


"Maeve" is a minimal film but certainly layered with drama and reality that stands out from the crowd, and puts a face on Northern Ireland during The Troubles that is more than just a reenactment. The BFI release has a very good transfer with video and audio, with some good extras. Recommended.

Note, the film is also available for rental on the BFI Player.
| | | | | |
| --- | --- | --- | --- | --- |
| The Film: A- | Video: B+ | Audio: B+ | Extras: B- | Overall: B+ |