The Film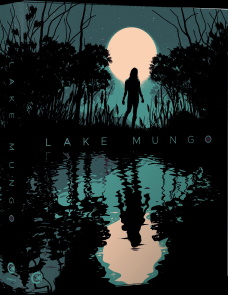 21 December 2003, Ararat, Southwest Victoria, Australia: When teenager Alice Palmer (Ned Kelly's Talia Zucker) goes missing after a swim at the local dam during a family picnic, the recovery of her body from the water by police divers after several days is only the beginning. When her family – office worker mother June (Cut Snake's Rosie Traynor), engineer father Russell (One Night Stand's David Pledger), and photography enthusiast younger brother Matthew (Martin Sharpe) – in the midst of falling apart are disturbed in their home by strange noises emanating from Alice's room, June starts to believe they are being haunted. When Alice's image turns up in a backyard photograph taken by Matthew and she also appears to turn up in the background of a couple's picnic video at the dam where she drowned, June starts to believe that Alice may still be alive. Having identified the body, Russell worries about wife's lack of closure but starts to believe he has made a horrible mistake when Alice's image turns up on a video camera set up by Matthew to document the disturbing occurrences in their home and in the background of a video recording of a sιance conducted with the family by local radio psychic Ray Kemeny (Fran's Steve Jodrell) who usually delivers comforting messages from the dead to their loved ones or counsels the dying, admitting that such a corporeal appearance is just as inexplicable to him. In spite of DNA results of the exhumed body confirming that it is indeed Alice, the family cannot help but wonder if they are being nudged from the beyond when a debunked video reveals clues to an Alice none of them ever truly knew – including her best friend (Macbeth's Chloe Armstrong) and boyfriend (Beneath Hill 60's Marcus Costello) – and the happenings at a fateful school visit to ancient Lake Mungo.

A mockumentary in the true crime mold, Lake Mungo underperformed domestically in Australia but became a sleeper hit internationally. While the film's positioning stateside in the 2010 After Dark Horrorfest and on DVD as part of the LionsGate's annual "8 Films to Die For" line may have caught horror viewers off-guard expecting a found-footage pic, it seems as oddly appropriate as it is aggravating that young contemporary reviewers have "discovered" this film through word-of-mouth and reddit lists, wondering if it was indeed a true story or at least had its basis in a factual even given director Joel Anderson's extreme attention to authenticity. From the patchwork texture of film and videotape formats, performances favoring naturalism over perfect delivery, and an emphasis on the interpretation of video evidence over analysis, Lake Mungo achieves its chills not in its understated visuals but in conveying how the emotional and psychological states of the characters may make them either vulnerable to contact with the supernatural or to intuit the supernatural out of a need to make sense of the inexplicable. Just as more than one character lacks the words to properly explain why they did something that can be seen as a betrayal, another character can perceive that there might have been other forces influencing their behavior. The film's is open to interpretation in which the supernatural can be either a force or a metaphor for attaining closure by reconciling one's image of a lost love one with unpleasant reality and moving on. Director Anderson has unfortunately not directed another feature, and his professional whereabouts are a mystery considering his lack of participation in any of the film's past or present physical media extras.

Video


Shot on now-primitive phone cameras, MiniDV, HDCAM, Super 16, and Super 35mm and finished in 2K, Lake Mungo was never a conventionally pretty film, cutting between available 16mm B-roll, low-lit 35mm reenactment footage, and various flavors of noisy HD and SD video – the lowest being the phone camera footage in which the variable framerate, blotchy pixellation, and painfully clipped highlights are part of the suspense-building mechanism as the viewer searches out what little detail there is to catch Alice and her date with destiny – looking fine on LionsGate's 2010 DVD. Second Sight offer no technical information, so one assumes that the HD master is derived from the 2K digital intermediate – the film may have been scanned to 35mm for festival screenings – that was also presumably the source for Germany's barebones 2011 Blu-ray. The bump-up from DVD is becomes apparent in the HD and film footage with an increased sense of depth in the shadows of the house – inviting one to peer deeper – and in separating the talking heads from their backgrounds. The video sequences are a bit more variable, with some bits seeming a bit sharper than the DVD version, although it may equally subjective to suggest that the phone video sequences are any clearer since they were shot that way and not simulated in post.

Audio


The sole audio option is a DTS-HD Master Audio 5.1 track that is generally front-oriented in its talking heads while the surrounds give spread to the subtle music cues and some atmosphere, although even that seems to be conservative in keeping with the director's interest in the versimilitude of the documentary style. Optional English HoH subtitles are included.

Extras


Ported over from the Australian DVD is the audio commentary by producer David Rapsey and cinematographer John Brawley in which they discuss Anderson's concept, shooting B-roll and cutting together some of it with narration to pitch to investors, funding, the casting of unknowns who could either improvise – Pledger was an experienced theater director and Jodrell a television director – and "baking in" mistakes in the performances by way of having Anderson "direct" the actors in the interviews by asking the questions off-camera himself, the different camera formats – which they determined were preferable to attempts by digital effects houses to simulate them with high definition video – and the roughly thirty-two edits the film underwent. They also note the influences of Blow-Up and Don't Look Now. There is also a new audio commentary by film historians Alexandra Heller-Nicholas and Emma Westwood in which they take the notion of the film being open to interpretation to some far-flung but intriguing extremes, citing Alice's buried secrets as a metaphor for Australia's uneasy relationship with its colonial past – noting the significance of the Lake Mungo setting and the local history of Ararat – as well as noting some other filmic influences, including Twin Peaks with its dead daughter with a secret life while also subverting some expectations with regard to what lies suburban veneer of the family and their home.

Cinematographer Brawley appears in a new video interview "Captured Spirits" (46:09) in which he muses on the virtues of the film's "lo-fi imagery" and how he was tasked not only with keeping track of the usage of the forty different cameras but also how they were operated by the different users (when they were not operated by the actors themselves), and Anderson's interest in authenticity extending to staging the dragging of the river for Alice's body with police divers and asking a local news station to cover and edit it as they would a real event which not only provided some more interview footage with the actors in character but also drummed up some local interest. Producer Rapsey appears in "Ghost in the Machine" (11:47) in which he discusses the means of securing funding through a competition, foreign pre-sales, and TV sales, his place mediating between producers and Anderson in the edits (along with his own input), a test screening in which the teenager viewers insisted they had heard about the case, and his belief that the film did poorly domestically because of bad distribution (the first distributor they courted wanted to do a viral campaign but had no idea how to do one). In "A Cop and a Friend" (28:33), actors Carole Patullo and James Lawson – who played, respectively, the police sergeant on the case and Russell's co-worker – discuss their backgrounds in improvisation and how their roles in the film made different demands of them.

Less satisfying among the extras are a series is "Kindred Spirits" (25:04) in which The Endless' Justin Benson and Aaron Moorhead recall how they discovered the "scariest movie of all time", distinguish the fake documentary and found footage modes, and their appreciation of the film's virtues. In "Hosting Spirits" (17:29), filmmaker Rob Savage (Host) recalls hearing of the film through world-of-mouth and how difficult it was to see in the U.K., as well as is effectiveness as a horror film and a "profound statement on loneliness." More interesting, if academic, is "Simulacra and Spirits" (20:44) in which film academic Josh Nelson dissects Anderson's titular statement about the film, discussing the supernatural element of unease with emerging technologies going back to the wireless and the Victorian spirit photography of the film's credits, as well as Anderson's talent in the film of achieving a simulacrum that is convincing enough to replace the real it represents. In "Autopsy of a Family Home" (8:14), filmmaker Joseph Wallace in which he discusses the modes of documentation and voyeurism, as well as pointing out that none of the footage of Alice in the film was shot with her consent. Lastly, there is a selection of deleted scenes (13:36) which include less effective, more overt apparitions of Alice and some more odd occurrences including the house being overrun by rats.

Packaging


Not provided for review was the rigid slipcase with new artwork by Thomas Walker or the 80-page softcover book with new essays by Sarah Appleton, Simon Fitzjohn, Rich Johnson, Mary Beth McAndrews and Shellie McMurdo; an interview with actor James Lawson by Alexandra Heller-Nicholas plus rare behind-the-scenes photos courtesy of John Brawley, or the three art cards with new illustrations by Thomas Walker.

Overall


While viewers expecting of Lake Mungo a "found footage horror film" will be disappointed, they are in for a rewarding experience while doing some of the same kind of peering into the depths of the screen associated with the genre.