The Film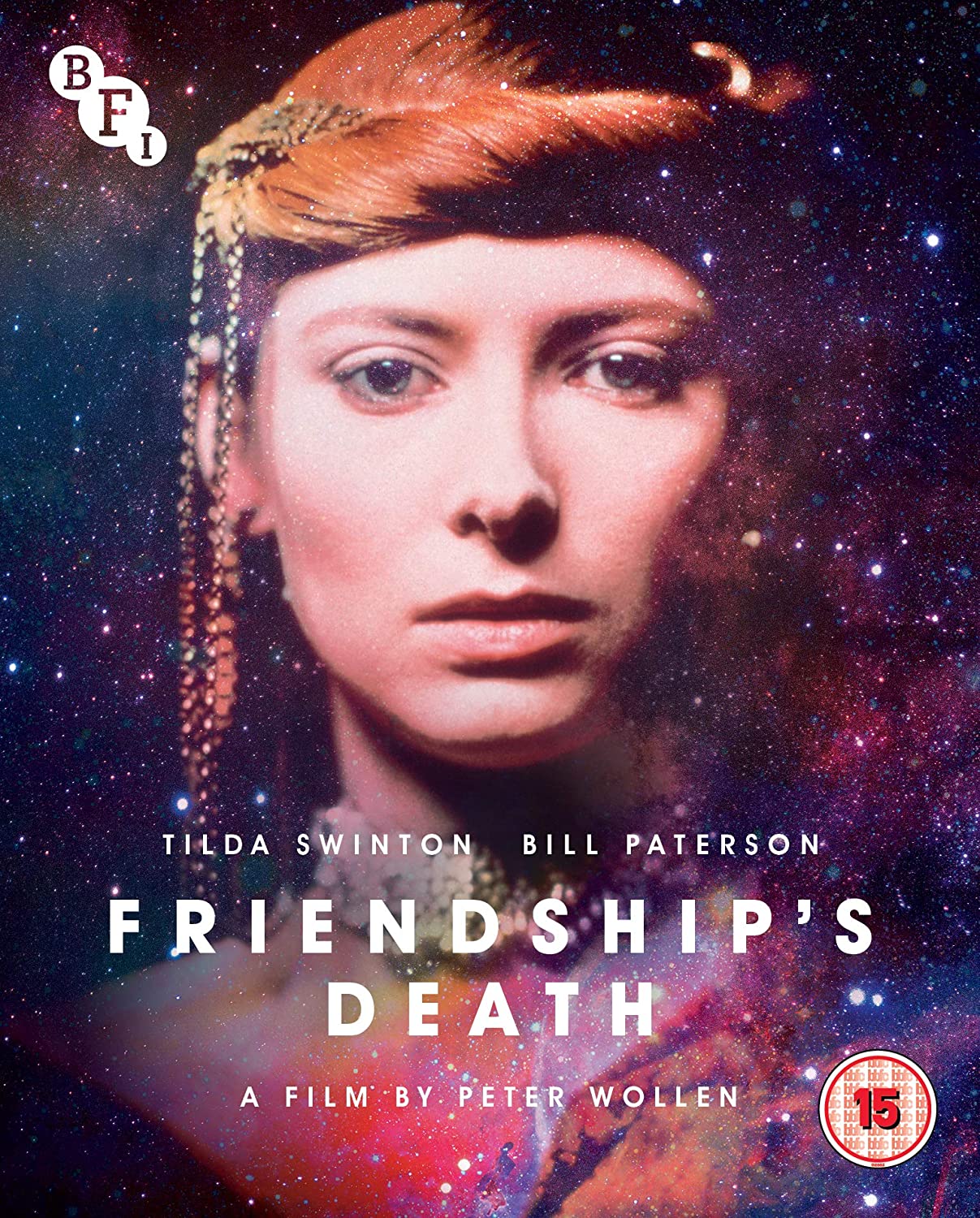 "Friendship's Death"

It is September, 1970 and Scottish journalist Sullivan (played by Bill Paterson) is in Amman, Jordan covering the Jordanian Civil War. He is ready to leave the dangerous environment filled with bomb blasts and gunfire at any time. It is there that he meets a mysterious woman named Friendship (played by Tilda Swinton). He thinks she is a fellow journalist covering the events of Black September, but she reveals that she is not a journalist. She is also not human. She is an alien creature, sent as a vessel from the Procyon galaxy on a peace mission. Her goal was to reach the Massachusetts Institute of Technology but with spacecraft malfunction she landed in Jordan, a far distance from her destination.

"Friendship's Death" seems like it could be the basis for an epic science fiction film, as tonally it shares a similar alien being with "The Day the Earth Stood Still", as well as "The Man Who Fell to Earth", both stories that are about alien visitors to promote peace, but find humankind far from reaching that goal. In addition there is the striking similarity between Tilda Swinton as the alien in "Friendship's Death" compared to David Bowie" as the alien in "The Man Who Fell to Earth". (See Tilda Stardust to see how similar these two performers are in real life.) But there are no epic scenes of spacecraft, alien technology, or a glimpse into their home world. Instead the entire film takes place for the most part within a hotel room, as the two leads talk about various issues, from the war going on outside, to football on television, alcohol consumption, love, and much more that are unknown concepts for the alien being.

Sullivan has seen a lot during his life and travels it seems, and yet when he hears from Friendship about her true nature, he is not one to question it with disbelief. He is an open minded journalist that does look for facts and also fascination along the way. He doesn't use his time to doubt her claims. They don't go looking for her spaceship, he doesn't ask anything for her to prove herself. Instead he sees this as an unusual opportunity to teach and also learn, from anything philosophical to trivial that no other person could ever do. And with that, the conversations between the two leads flow with ease, though the many questions asked and the many points raised. It's through their time together that she develops a change of plans for her mission. Is there a reason to escape from the battlefields they are surrounded in, if the people that are fighting for justice are not given any form of justice? She develops a sense of belonging with the Palestinians, causing a rift in conversations. They start with curiosity in the earlier days, but after time passes, the thoughts and ideas become more concrete and political rather than rational.

"Friendship's Death" was written by and directed by journalist, writer, and film theorist Peter Wollen, in his only feature film as a director. The film follows certain conventions such as a linear structure and character development, though it is not a conventional film to say the least. The entire production was shot on a soundstage with four setpieces. One being the interrogation room, two for the hotel rooms, and one more for the final sequence years later. The hotel is seen for most of the duration with the camera staying indoors entirely, with the scenes of Amman being only available as stock footage for bookends. Wollen himself was in Amman at the time and there is some autobiographical notes to the story. It's entirely possible that the two characters seen are basically that of Wollen's thoughts come to life. The one side being curious to the happenings around the warzone leading to leanings towards sides, while the other was one who has seen it all before and sees the cycle of human violence as a norm rather than that of a flag to wear. The conversations the characters have may be what was going on in his mind, and shows the conflict of human nature in mental and psychological terms while also looking at war in an objective way. There may be aliens, there may be war, but this is far from being a dumb action film. Cerebral, yet quite simplistic in its direction and storytelling. There is much more for the audience's brains to be working through the storyline in this film.

There is a lot happening visually for a film that has very few locations. Friendship's costume design by Catherine Cook is a standout, as her wardrobe changes from professional, to elegant, to tribal throughout the course of the story, as her garb and color tones reflect that of her changing nature. But with the wardrobe, much has to be said of the chameleon-like Tilda Swinton in only her second film role, taking command of the screen with her presence in almost every frame. Her androgynous look and fashionable wardrobe are at one with each other, and the decision to have her speak with an indiscernible accent completes her character wonderfully. The hotel room is filled with little details as well, and the colors and tones are vibrantly captured by cinematographer Witold Stok on 16mm film. The final sequence of the film shares it visual cues with "2002 A Space Odyssey", using manipulated colors and in this case video technology for a tripped out look which can be a little dated but fitting with the time period of the 80s in which the later sequence takes place in.

Shot for a very small £180,000 funded by the BFI, the filming took place over a two week period in later 1986, and released theatrically in the UK August 17th, 1987, followed by festival appearances in Toronto, Berlin, and New York months later. It was not exactly a huge hit but did appeal to a cult audience, in which one theater in New York had it playing for almost a year's time. Unfortunately in the digital age the film was not available at all on DVD, Blu-ray, or streaming anywhere. Finally, almost 24 years after the film's release and more than a year and a half since Wollen's death in December 17th, 2019, the film comes to Blu-ray and DVD from the BFI following a theatrical re-release.

Note this is a region B Blu-ray & region 2 PAL DVD set

Video


The BFI presents the film in the original 1.37:1 aspect ratio in 1080p AVC MPEG-4. The original 16mm negative was scanned and remastered in 4K and the results are wonderful. Colors are quite exceptional here, especially with Friendship's ever evolving wardrobe, details in the set designs are crisp and clear throughout. There is very minimal if any damage to be found in the frame, only so during some archival footage. Grain is left intact, though minimized for a filmic look without distractions. Overall an excellent looking transfer.

The film's runtime on the Blu-ray is 75:19 and 72:13 on the DVD, accounting for 4% PAL speedup.

Audio


English DTS-HD Master Audio 1.0 (Blu-ray)
English Dolby Digital 1.0 (DVD)
The original mono track is presented in lossless form on the Blu-ray and in lossy Dolby Digital on the DVD. The soundtrack was digitized directly from the original 35mm final mix magnetic master track. It is a film heavy on dialogue, though sound effects do make an impression such as in the gunfire and explosions occurring off screen. It is well mixed and balanced, with dialogue being clear and easy to hear and never being drowned out by other sounds. There are no examples of hisses and pops to be found.

There are optional English HoH and French subtitles for the main feature. Both are in a white font.

Extras


This is a dual format set with the film and extras in HD on the Blu-ray and the film and extras repeated in standard definition PAL on the DVD.

DISC ONE (Blu-ray)

Audio Commentary with producer Rebecca O'Brien cinematographer Witold Stok and BFI curator Josephine Botting
In this newly recorded commentary, Rebecca O'Brien and Stok have a remotely recorded chat with the BFI's Josephine Botting as the moderator. They discuss the rehearsal process, the costume design, the funding for the production, Wollen's concepts, the shooting on 16mm film in the limited location and budget, the remastering process, and more. There are a few times that O'Brien misremembers some details, but thankfully Botting is well researched on notes to bring corrections in during the conversation.
in English Dolby Digital 2.0 with no subtitles

"Reflection on Friendship's Death" interview with stars Tilda Swinton and Bill Paterson, producer Rebecca O'Brien and cinematographer Witold Stok with BFI curators Will Massa and Jo Botting (40:35)
This is a two-part interview conducted during the 2020 London Film Festival remotely. The first part has Massa moderating an interview with Swinton and Paterson, as they discuss the shooting of the film in late 1986, Mollen's direction, the choices made for the character of Friendship, and more. The second part has the participants from the commentary track, as they recall the shooting conditions, the cinematography, Mollen's work, and more.
in 1080i50 AVC MPEG-4, in 1.78:1, in English Dolby Digital 2.0 without subtitles

"Peter Wollen - Writing, Politics, Film" interview with academics and filmmakers Laura Mulvey and Kodwo Eshun with BFI archivist Wendy Russell (63:10)
Another remote interview from the 2020 BFI London Film Festival, this one focusing on Mollen's work with filmmaker and longtime partner and ex-wife Laura Mulvey along with critic Kodwo Eshun) Eshun speaks in quite a lot of detail about Wollen's ideas from his interests in technology, his background in journalism, his writings, and Mulvey also gives some insights into his creative and political work as well.
in 1080i50 AVC MPEG-4, in 1.78:1, in English Dolby Digital 2.0 without subtitles

"Frida Kahlo & Tina Modotti" 1983 documentary (30:11)
This 1983 documentary directed by Wollen and Mulvey looks at the lives and works of Mexican painter Frida Kahlo and Italian American photographer Tina Moditti, who were both groundbreaking female artists working in Mexico during the same period. While they worked in different mediums and had different styles of works, the two are shown linked in time and space, featuring biographies, montages of their works, and also archival footage. Though the documentary looks fairly good visually, the audio is a little on the crackly side.
in 1080p AVC MPEG-4, in 1.33:1, in English Dolby Digital 2.0 without subtitles



DISC TWO (DVD)

Audio Commentary with producer Rebecca O'Brien cinematographer Witold Stok and BFI curator Josephine Botting
"Reflection on Friendship's Death" interview with stars Tilda Swinton and Bill Paterson, producer Rebecca O'Brien and cinematographer Witold Stok with BFI curators Will Massa and Jo Botting (40:24)
"Peter Wollen - Writing, Politics, Film" interview with academics and filmmakers Laura Mulvey and Kodwo Eshun with BFI archivist Wendy Russell (62:59)
"Frida Kahlo & Tina Modotti" 1983 documentary (28:58)
The film and extras are repeated on the DVD copy.



Booklet
A 28 page booklet is included with the first pressing. "Aliens Like Me" is an essay by author So Mayer that looks at the film, its production and its themes. Next is "Two Weeks on Another Planet", a written conversation of Peter Wollen with Simon Field in which he discusses topics from politics to human nature and more. A review of the film by Thomas Elsaesser first printed in Monthly Film Bulletin in 1987 is reprinted, and there are full film credits, special features information, stills, transfer information, and acknowledgements.


While there is a great deal of information in the extras on the disc, there is surprisingly not a printed biography of Peter Wollen, nor is there a dedicated interview on his life or interviews with him except for the text piece.


A clip of the film has been embedded below, courtesy of the BFI.


Also embedded below are the two BFI Film Festival remote interviews mentioned above in the extras, courtesy of the BFI.




Overall


"Friendship's Death" is quite an unusual piece of cerebral filmmaking that is both easy to watch, yet hard on the viewer's minds with their own thoughts coming into play. Swinton gives a fantastic performance in one of her earliest film works here, and the new 4K restoration by the BFI looks and sounds great. Recommended.
| | | | | |
| --- | --- | --- | --- | --- |
| The Film: A- | Video: A | Audio: A | Extras: B+ | Overall: A- |