Sublet
R1 - America - Kino Lorber
Review written by and copyright: Eric Cotenas (8th July 2021).
The Film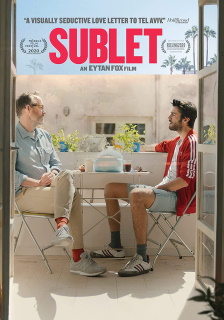 In Israel to do a story for his gay travel column for the New York Times – the gimmick of which is what a five day stay in a given location can offer the intrepid traveler willing to leave maps and tour guides behind – middle-aged Michael (Love! Valour! Compassion!'s John Benjamin Hickey) has rented an apartment in an ostensibly gay-friendly neighborhood but finds his host – handsome young film student Tomer (Niv Nissim) – unprepared for his arrival, having missed an entire day due to his engrossment in his latest short horror film. Michael is prepared to go find a hotel but Tomer begs him to stay because he needs the money. Michael's first two days consist of aimless wandering and people watching, having been seemingly thrown off by a call from a fertility doctor who has apparently been in contact with Michael's boyfriend David (Call Me By Your Name's Peter Spears) behind his back. When Tomer drops by to pick up his marijuana stash, the pair strike up a conversation and Tomer offers to show him his Tel Aviv, an offer somewhat soured when Tomer's bike is stolen and sold to the neighborhood shop whose owner refuses to let him reclaim it without recompense. When it becomes evident to Michael that Tomer has not lined up a place to stay when his other plans fall through, Michael offers the younger man the use of his own sofa which soon also hosts Tomer's performing artist friend Daria (Lihi Kornowski) who has broken up once again with boyfriend Kobi (Tamir Ginsburg) even though both still plan to emigrate to Berlin. In the remaining days of Michael's working vacation – which includes a visit to a kibbutz run by Tomer's accepting mother (Miki Kam) – the two get to know each other, potentially complicating what could have been just a brief encounter.

The latest film of Israeli gay auteur Eytan Fox – whose followed up his turn-of-the-millennium gay cinema milestone effort Yossi & Jagger with the the decade-later sequel Yossi, the more somber Walk on Water, and the fluffier Cupcakes – Sublet on the surface feels rather slight and conventional in the old guy gets a new outlook on life after meeting someone who seems to be his complete opposite. We can tell from the start that Michael is running away from something, but we learn pretty quickly that his boyfriend is still alive and the moving revelation of the nature of his personal tragedy later in the film is telegraphed through his numb reactions to the subject matter of Tomer's horror film (which initially offends the younger man who quips that the older man probably prefers Judy Garland movies) and the performance piece by Daria and her boyfriend in which she tries to shrug him off and he responds by jumping into her arms more like a child than a lover. The plot machinations to get the two into bed and part ways both changed are also not particularly novel. What keeps the film watchable are the more subtle ways in which both interrogate each other's lives, deflecting their own insecurities with Michael coming across as condescending in his bafflement at Tomer's lack of direction and desire for emotional and physical escapism to Tomer querying Michael on the frequency of sex in a monogamous relationship after fifty. While the ending sees Michael off on what will presumably be a happy ending, more interesting are the subtle ways in which Tomer seems to see his neighborhood anew through Michael's eyes (after mocking the older man early on for having the temerity to recommend to him a local bakery based on his pre-trip internet research). Sublet does little new with a familiar scenario but it does offer Hickey and newcomer Nissim some fine moments.

Video


Shot in high definition, Sublet's bright and colorful imagery presents no serious issues for standard definition anamorphic 1.78:1 widescreen DVD. A Blu-ray presentation might eke out more shadow detail and more textures in hair, skin, and clothing, but Kino Lorber may have thought the film's audience too limited for the added expense.

Audio


Audio options include a Dolby Digital 5.1 track and a 2.0 stereo downmix option, both being generally front-oriented with reserved use of the surrounds for atmosphere and music. Subtitles are burnt-in for Hebrew dialogue while SDH subtitles are available for the English dialogue (there is also a Closed Caption track).

Extras


There are no extras apart from the theatrical trailer (2:30) and trailers for other Kino Lorber releases.

Overall


Sublet does little new with a familiar scenario but it does offer Hickey and newcomer Nissim some fine moments.

---
DVD Compare is a participant in the Amazon Services LLC Associates Program and the Amazon Europe S.a.r.l. Associates Programme, an affiliate advertising program designed to provide a means for sites to earn advertising fees by advertising and linking to amazon.co.uk, amazon.com, amazon.ca, amazon.fr, amazon.de, amazon.it, amazon.es and amazon.se.