Luz AKA Luz: The Flower of Evil AKA Luz, la flor del mal (Blu-ray) [Blu-ray]
Blu-ray B - United Kingdom - Fractured Visions
Review written by and copyright: Rick Curzon (5th August 2021).
The Film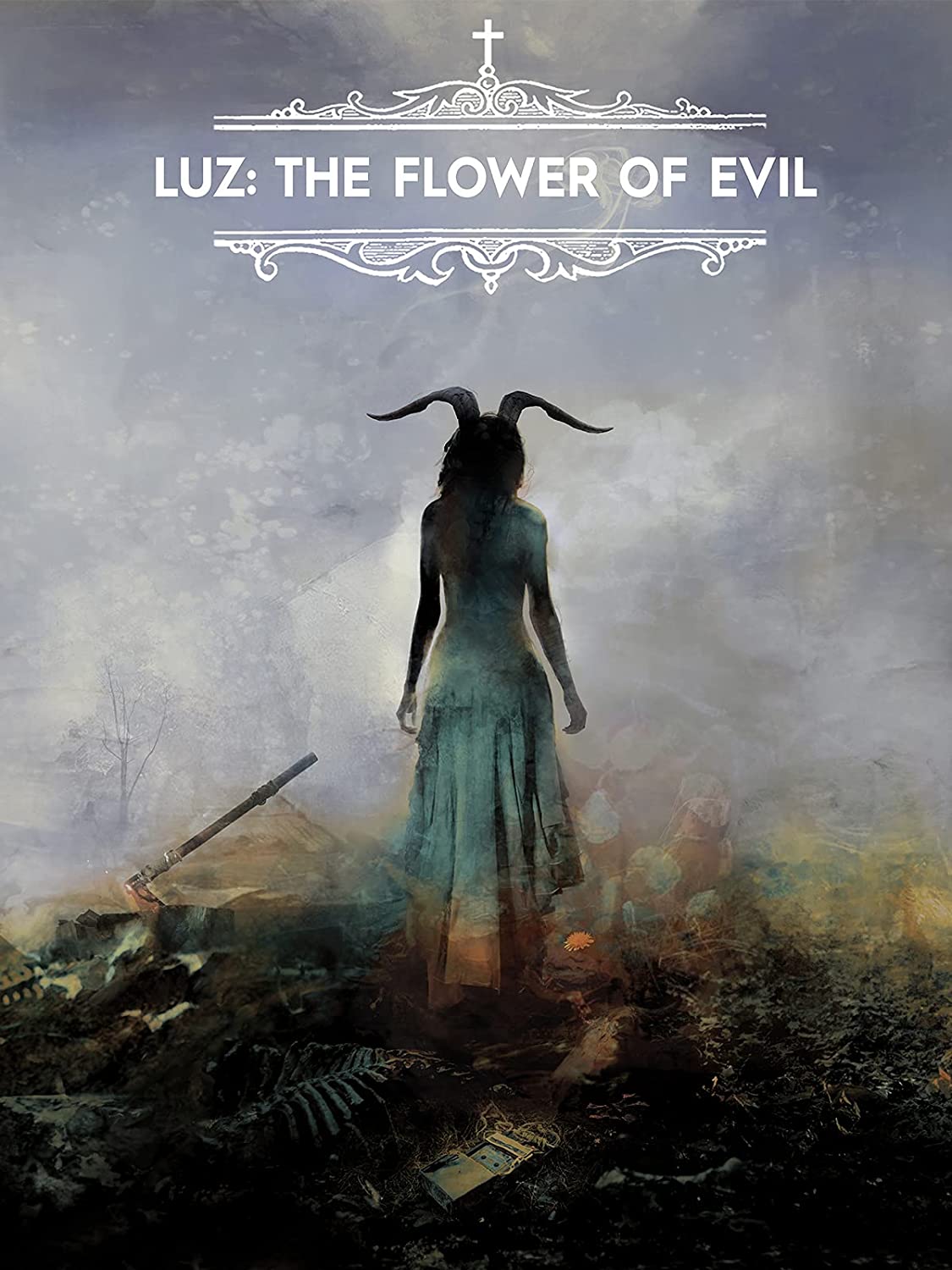 Far into the Colombian mountains, a small farming community is rocked by the arrival of a mysterious young boy. Their leader, El Señor, claims that the child is the new Messiah, there to save their land, yet his three daughters start to question their father's beliefs when the community starts to dissolve into madness and violence. Is this boy God? The Devil? More importantly, is there a difference?

Luz: The Flower of Evil marks the arrival of a stunning new cinematic voice. Juan Diego Escobar Alzate's harrowing yet beautiful take on Good versus Evil is unlike anything that has come before it and is essential viewing for any folk horror, acid western and dark arthouse film aficionados. Brace yourself.

Video


The title 'Luz' is pronounced looz. Gorgeous looking Columbian film has been compared to Terrence Malick and Alejandro Jodorowsky but I would also add a visual influence, Guilermo del Toro. My initial feeling was that it felt very much like The Devil's Backbone (2001) and Pan's Labyrinth (2006).

This is a grim film about a religious cult seemingly stuck in the 19th century but in the opening scene a character finds a cassette tape deck, bringing it closer to our time period. The score also reminded me at times of Phillip Glass and its use of Mallick. It currently has 93% from critics on Rotten Tomatoes; 75% from audiences. It's much more of a critics film than one for the the public as it's designed to be arty, grim and rattle cages.

I liked the rich palette which gives the film the feel of something older from the '80s-'90s which is a style I can relate to. I'm not a fan of the 21st century obsession with desaturation or the orange and teal look when we do seem to get colour ... which we do get some here but happily not much. The look varies according to locations.

Lensed in digital utilising the Scope ratio but given a faux filimic sheen with grain (confirmed in the commentary). Colours are very rich and intense with some obviously digitally augmented fairytale vistas. Flesh tones are warm and reddish but with decent delineation; no bleeding. Primaries are legion and very, very bold and strong.

Black levels are also very well defined and dark with plenty of shadow detail in evidence; contrast works well alongside so plenty of fine detail along all focal plains and there's no crush nor blowouts. The faux digital grain, which is designed to make the viewer feel they're watching a photochemical film is suitably filmic and well handled by the excellent encode.

A top notch image that is demo quality; 'A+'.

1080/24p / AVC MPEG-4 / BD50 / 2.39:1 / 104:09

Audio


Spanish DTS-HD Master Audio 5.1
Spanish DTS-HD Master Audio 2.0 Stereo
Subtitles: English

A strong soundtrack with both 5.1 and 2.0 stereo* options. A track mostly concerned with building atmosphere rather than rattling the viewer's cage; this isn't an action film but a human drama. Surrounds are mainly left to score and atmosphere but there are some moments of heavy use where everything kicks in in an immersive way. Obviously, the 5.1 is stronger, deeper and more involving.

Excellent subtitles are provided. A very effective track; 'A-'.

* To get surrounds, play via ProLogic II or similar (I used Sony's HD-D.C.S. set to studio) otherwise the track remains firmly in the front.

Extras


Audio commentary with director Juan Diego Escobar Alzate and film critic Kurt Halfyard (2021)

In English with American Halfyard essentially interviewing Alzate via an online connection as they watch the film. We learn that the influences on the film were Spaghetti Westerns, folk horror and giallos. Argento, Tenebrae, Phenomena and Suspiria get a big mention with Phenomena being Alzate's favourite. Also discussed is the fact the colour values are important and why a colourist is credited and that given a choice Alzate would've shot the film in 16mm but being crowd funded budgets were tight. An excellent, gabby, active, informative track presented in lossy Dolby Digital 2.0 stereo.

"Luz: Behind the Scenes" 2019 documentary (57:23)
"Luz: The Sitges Experience" 2019 documentary (49:00)

Interesting behind the scenes pieces presented in pillarboxed 1.33:1 SD upscaled to 1080/24p and stylised to look like '80s video tape complete with dropout and other artefacts. The sound is in lossy Dolby Digital 2.0 stereo that is mainly front centric but when played through ProLogic II (etc) channels crackle and pop and other occasional sounds to the surrounds. The first piece focusses on on-set B-roll footage and interviews, the second with the film playing at the Sitges film festival.

"The Colors of Hope & Wonder" 2016 short film (27:16)

Onscreen title is "Los colores de la esperanza y el olvido" (The Colours of Hope and Oblivion) with the English title printed just below the Spanish one in smaller text.

Short film made by Juan Diego Escobar Alzate about a young lad coming to grips with his fears, specifically clowns. Like Luz, a richly coloured, vivid visual experience very much of a piece with Luz stylistically if slightly different. Existential and filled with a genuine sense of wonder; I enjoyed this much more than the main feature. This has also been lensed in digital HD and treated to appear as if it were shot on photochemical film. Presented in 1080/24p 2.39:1 with Spanish DTS-HD Master Audio 2.0 stereo.

"The Scum: Dead Eyes" 2020 music video (has burned in yellow subtitles in English) (5:41)

This starts with that vintage "Our Feature Presentation" intro followed by a US R-rated card before cutting loose with heavy / thrash metal! Presented in 1080/24p 2.39:1 with (what's listed as) Spanish DTS-HD Master Audio 2.0 stereo* but the song is sung in English with burnt in yellow English subtitles (diction is not good). Directed by Juan Diego Escobar Alzate; this has no other relevance to Luz.

Trailer 1 (1:25)
Trailer 2 (1:42)
Trailer 2 (1:11)

Promo pieces presented in 1080/24p 2.39:1 with Spanish DTS-HD Master Audio 2.0 stereo*.

Soundtrack CD by Brian Heater
Slipcase with new art by Christopher Shy
Liner notes booklet by Diego López Fernández and Abraham Castillo Flores
6 Art Cards

Sadly, not provided for review.

Packaging


Unspecified at this time.

Overall


A highly regarded Spanish language arthouse horror film given the deluxe treatment by UK Boutique label Fractured Visions. Image and sound are predictably very strong and the extras package is also full. Not provided for review were the CD soundtrack and hard copy materials listed in the extras section. It's a stunning looking film well encoded on a BD50 with a high bitrate.

Topnotch job and highly recommended to those to whom this film will appeal; overall 'A' rating. Bravo as this is a distinct improvement on Fractured Visions first release, Silent Action (1975) due to a superior source transfer.
| | | | | |
| --- | --- | --- | --- | --- |
| The Film: C+ | Video: A+ | Audio: A- | Extras: B+ | Overall: A |

---
Rewind DVDCompare is a participant in the Amazon Services LLC Associates Program and the Amazon Europe S.a.r.l. Associates Programme, an affiliate advertising program designed to provide a means for sites to earn advertising fees by advertising and linking to amazon.co.uk, amazon.com, amazon.ca, amazon.fr, amazon.de, amazon.it and amazon.es . As an Amazon Associate, we earn from qualifying purchases.