The Film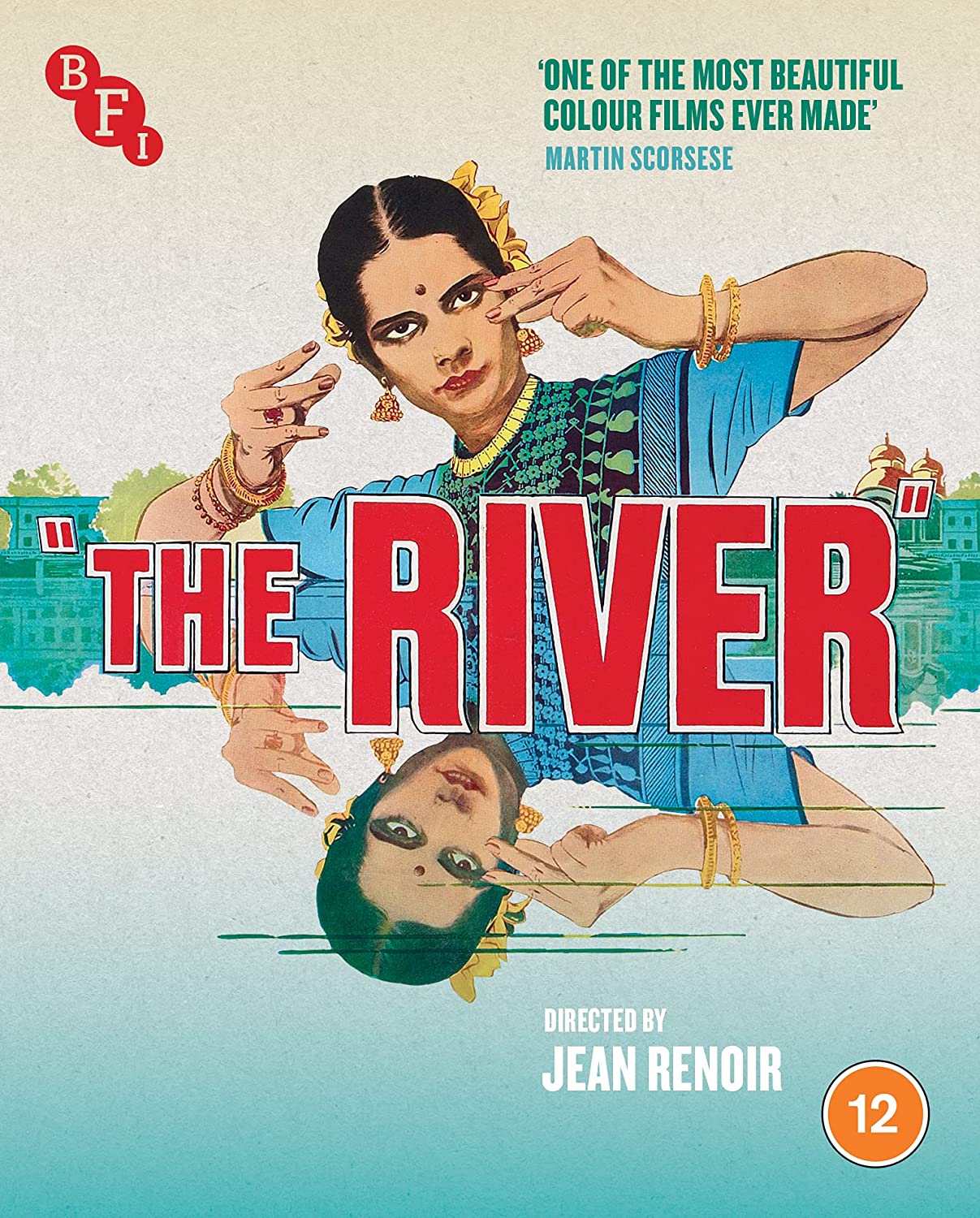 "The River" (1951)

Harriet (played by Patricia Walters) is a young teenage English girl living with her family in India near the Ganges river. Her father (played by Esmond Knight" runs a jute mill and the family of seven are able to live a nice and comfortable life in a fairly large home which includes the children's nanny Nan (played by Suprova Mukerjee) where they grow up with both English and Indian traditions. One day, their neighbor's cousin Captain John (played by Thomas E. Breen) arrives to stay for some time. An American pilot who lost a leg in battle, the young man captures the heart of Harriet who for the first time sees a male figure through the eyes of love. Though he is more closer in age to her older sister, she doesn't give up on the thought of one day falling for him.

"The River" was a novel written by Rumer Godden and published in 1946. Based heavily on her own life in India as a child, it was a coming of age story with family values in an exotic location, but was not particularly an easy sell for a film adaptation. Godden was not interested in any film adaptation, as the adaptation of her book "Black Narcissus" in 1947 was a critical success, though in her eyes not how she envisioned the story. Vowing never to license her works for film, her mind was changed when she received a call from Jean Renoir stating how much he loved the book and was hoping to make it into a film. He wanted her to be the screenwriter to adapt the story, and have her as a consultant and partner rather than hiring outsider writers, and his research by traveling to India to visit the locations made her more comfortable with having the work in his hands. But funding and backing for the production was proving to be a more difficult manner, as Renoir was in a slump in Hollywood, as his works were not attracting audiences and Hollywood studios were not seeing his works as bankable, and the project had nothing exotic like tigers and elephants which the producers wanted. Meanwhile, Kenneth McEldowney, a successful California florist had a discussion with his wife, who worked for Fox Studios, that he could make a film, much better than something MGM could make. She dared him on the challenge and he set his sights on producing a film. Fascinated with India and its culture, he flew to India and set up negotiations for a film production, where he was suggested the book "The River" to be made. McEldowney met with Renoir and Godden, and it was decided to have the production be greenlit and made on location in India.

Without studio support, the production was cast mostly with unknowns and local talent. Esmond Knight and Nora Swinburne who played the father and mother were actually married in real life, and were established English actors. Arthur Shields who played the neighbor father Mr. John was also an English actor with many credits to his name. But for the rest of the cast, from Harriet to her siblings to Captain John, they were newcomers to the screen. Harriet's best friend and neighbor's daughter Melanie (played by Radha Burnier) was not cast for her acting skills but for her dancing skills which would be showcased in a central scene. Because of this, one of the weaker points of "The River" is the acting. With many not experienced for some of the more emotional scenes, it obviously would've made a difference with more professionals but at the same time creates a type of natural performance for some scenes. Patricia Walters must carry the film as she is the central character, and while she does an admirable job, she is basically average to say the least. That is both good and bad, as her character is supposed to be average - not particularly pretty, not ugly, curious but not annoying, fairly smart but inexperienced in life. She doesn't play her with awkwardness, nor does she poise with grace. Having a very average girl to be the lead is not the strongest way of grasping the audience, and so the film shines with the surroundings rather than the lead.

Melanie, who is half Indian and her relationship with Anil (played by Trilak Jetley) and the reflection of white and Indian cultures mixing, the bitter rivalry between Harriet and her older friend Valerie (played by Adrienne Corri) for Captain John's attention, Harriet's younger brother Bogey (played by Rchard R. Foster and his fascination with frogs and snakes, as well as traditional Indian culture being represented, from the Diwali sequence, the workers, and the surroundings. As the film is told through "colonial eyes", there are explanations about the culture and traditions through narrated voiceover (by Harriet as an older woman reflecting back), which may have some slight awkwardness, but granted the film and book were made for western audiences unfamiliar with India and its culture. It may not represent India entirely, but is a fascinating piece for cinema at a time when people couldn't see the other side of the world so easily.

While the backdrop is India, at its core the story is a young girl coming of age. Walters was only 15 when the film was released and her character goes through what any young teenager would at that age. Sexual awakening is what drives her towards Captain John, and like any girl her age, she is fascinated by a man slightly older and unattainable. For older viewers, some might question what Captain John's intentions are. What he is doing in India, where he is going, and where his heart is focused on. He does have postwar trauma and is uncertain of his direction in life. But why Harriet falls for him may be a weaker element. He's not the most interesting character and Breen doesn't particularly play him with grace. This has nothing to do with the real actor also having only one leg, as for the most part it's hard to tell that he has a prosthetic leg. It's been noted that the film went through an extensive re-editing process with Renoir as test screenings led to a lot of rearranging of scenes, cutting certain scenes, and bridging the gaps with narration for the final cut.

Shot entirely in India in three strip Technicolor, this would be the first time Renoir would have his nephew Claude Renoir be his cinematographer, as well as the director to shoot a film in color. Logistically this proved to be a challenge, as the cameras were extremely heavy and extremely loud, yet Renoir would insist on recording dialogue on set rather than dub them later in studio. There are very few tracking shots, and many cuts rather than long takes. What may sound like static shots throughout, Renoir and Renoir use colors beautifully, from the various setpieces with vibrant colors of the landscape to the homes, to the wardrobes to the makeup effects in the dance sequence all to pure delight. The exotic nature of the locations are fully brought to light in many glorious scenes, and even more than a half a century later looks and feels exquisite.

"The River" is quite simple in nature, seeing a young girl mature through circumstances, but the setting of the English family in India living life as usual rather than feeling "foreign" is a wonderful touch. Renoir put a lot of effort into bringing an authentic work to the screen with the help of the original author at his side, and thankfully the gamble paid off. The film premiered at the Venice Film Festival on August 30th, 1951 where it was nominated for the Golden Lion and won the International Award. It opened theatrically in the United States on September 10th, 1951 in New York where it ran for 34 straight weeks and was a critical and commercial success. Listed on numerous best films of the year lists, the film was a major turnaround for Renoir who would return to Europe for his next productions, for the first time after the war. Godden would continue her career as a writer, and a few more film adaptations were to follow.

Note this is a region B Blu-ray set

Video


The BFI presents the film in the 1.33:1 aspect ratio in 1080p AVC MPEG-4. The film was restored by the Academy Film Archive in 2004, in association with the BFI and Janus Films, with funding provided by the Hollywood Foreign Press Association and The Film Foundation. For the restoration, the 35mm nitrate three-strip original camera negatives held at the BFI National Archive and a 35mm IB Technicolor print for reference. First the positive points. The image is stable, colors are vibrant, major damage has been removed or corrected, and has a naturally filmic look throughout. As for the negative points, there is some color fluctuation, speckles and other damage still visible, and some colors look a little too strong in the reds, with skin tones looking a bit too pink at times. While the restoration results were great back in 2004, seeing that restored version in 2021 in 2021 does seem weaker than expected. We have been spoiled by 4K restorations of many classic films and "The River" is one that could definitely benefit if it were to happen. Maybe someday though, as the elements are available.

The film's runtime is 98:59.

Audio


English LPCM 2.0 mono
The original mono track is presented here uncompressed, which was also restored. The music is one of the key portions of the film and thankfully it is well presented here, sounding great considering the age and the fidelity. Dialogue is always clear and easy to hear considering the recording issues on set with the loud cameras at the time. Damage such as cracks and pops have been removed, the levels are well balanced between dialogue, music, and effects. Overall a very pleasing track.

There are optional English HoH subtitles for the main feature in a white font, which are well timed and easy to read.

Extras


DISC ONE

2006 Introduction by Kumar Shahani (16:17)
Filmmaker Kumar Shahani gives this lengthy introduction to the film, as he recalls his first viewing the film, the use of color by Renoir, the natural presence of the locations rather than artificial, the documentary style used, the dance sequence and more. This was originally available on the BFI DVD edition.
in 1080p AVC MPEG-4, in 1.33:1, in English LPCM 2.0 without subtitles

"Around the River" 2008 documentary (59:41)
This documentary by Arnaud Mandagaran looks back at the making of "The River", featuring interviews with many that were influenced by it as well as surviving cast and crew members. Included are producer McEldowney recalling how the project came to be, Burnier discussing her role and the later promotional tour, the difficulties of the shoot, the troubled post production and re-editing, its eventual critical and commercial success and much more. This documentary was originally available on the French Carlotta Blu-ray and the US Criterion Blu-ray.
in 720p AVC MPEG-4, in 1.33:1/1.78:1, in English LPCM 2.0 without subtitles

Gallery (5:04)
An automated silent slideshow with posters, behind the scenes stills, and promotional stills.
in 1080p AVC MPEG-4

Trailer (2:36)
The original trailer is presented here. Colors are not restored like the feature so some skin tones are off and dark colors are crushed and lacking detail. The sound is a bit hissy, but overall it does look fair, considering its age.
in 1080p AVC MPEG-4, in 1.33:1, in English LPCM 2.0 without subtitles


DISC TWO

"India Matri Bhumi" 1959 film by Roberto Rossellini (90:13)
In 1954, acclaimed filmmaker Roberto Rossellini directed four feature films, including "Journey to Italy", "Fear" and "Joan of Arc at the Stake" starring his wife Ingrid Bergman. It would take a full five years until he returned with two projects set in India. "L'India vista da Rossellini", a 10-part television documentary series and "India Matri Bhumi", a feature length docudrama. It was in between these years that he had an affair with Bengali screenwriter Sonali Das Gupta who he then married, as well as divorcing Bergman in yet another tabloid heavy part of his life. Das Gupta helped with the writing process of "India Matri Bhumi", which showcases the India in quite a different light in comparison to other travelogues. Not focusing on the wonders or the hustle and bustle of the country, but the rural villages, the workers in the countryside, the treatment and use of elephants, as well as focusing closer on certain individuals who were locally hired for the production in the dramatic sequences. The presentation here is from the 2011 restoration of the film in 2K by Cineteca di Bologna. Colors have seriously faded over time but was restored to the best of their abilities, while also cleaning dust, scratches, debris, and other damage, as well as resynchronizing the narrated Italian audio track.
in 1080p AVC MPEG-4 in 1.33:1, in Italian LPCM 2.0 with optional English subtitles

"Around India with a Movie Camera" 2018 film (72:52)
"Around India with a Movie Camera" is a documentary compilation film by Sandhya Suri, using archival films to create a historical visual essay with images of India and India related films shot between 1899 and 1947, the time of British colonial rule. Mostly made up of silent films with music accompaniment with English text for specific explanations, there are also some sound elements such as an interview with famed Indian actor Sabu.
in 1080p AVC MPEG-4, in 1.33:1, in English LPCM 2.0 without subtitles

"Villenour (French India: Territory of Pondicherry)" 1914 travelogue short (4:20)
This silent travelogue is notable for being in color using hand painted tints to the film, showcasing a European family's arrival in the country.
in 1080p AVC MPEG-4, in 1.33:1, Music LPCM 2.0 with English Intertitles

"Manufacturing Ropes and Marine Cables at Howrah, Near Calcutta" 1909 instructional film (7:39)
This black and white film features jute weavers working by weaving and carrying the handmade ropes for mass production.
in 1080p AVC MPEG-4, in 1.33:1, Music LPCM 2.0 with optional English subtitles for German Intertitles


Booklet
A 36 page booklet is included with the release for the first pressing. First is an essay on the film by David Thompson, giving a general overview of the film and where it stands in Renoir's career. A text interview with Rumen Godden by Thompson is 1993 follows next, focusing on "The River" and its making. "Renoir in Calcutta" is a 1950 article by Satyajit Ray who would later go on to become one of the most influential directors in Indian cinema, about his meeting with Renoir and about the films production. "Can the Indian Speak?" is an essay by Dina Iordanova, looking at both "The River" and "India Matri Bhumi" and their themes including some criticism of the colonial eyes the films are seen with. There are also special features information, film credits, acknowledgements, and stills.


The film has received Blu-ray releases in France by Carlotta and the United States by the Criterion Collection in 2012 and 2015 respectively. Both feature the "Around the River" documentary, an interview with Martin Scorsese, and the trailer. The Criterion also has an introduction by Renoir, an audio interview with McEldowney, and a visual essay. Note that the original Criterion DVD release did not have the above documentary but instead had the fascinating BBC documentary "Rumer Godden: An Indian Affair" instead, which was not ported over to the Blu-ray edition and dropped from the DVD reissue. Interestingly the film has never received an audio commentary. The film has a lot of discussion points and it's surprising that no one has been commissioned with that task yet.


The BFI has uploaded a visual essay by Hanna Flint on their YouTube channel, which is not on the Blu-ray set, which can be found below.



Overall


"The River" is an absolute classic of independent cinema. Even if it has its shortcomings with some of the performances and the simplistic nature of the basic story, there are many wonderful elements with the visuals and the music especially. The BFI's Blu-ray set has a good transfer with the video and audio, with a great number of extras. Highly recommended.
| | | | | |
| --- | --- | --- | --- | --- |
| The Film: B+ | Video: B | Audio: A- | Extras: B+ | Overall: B+ |