The Film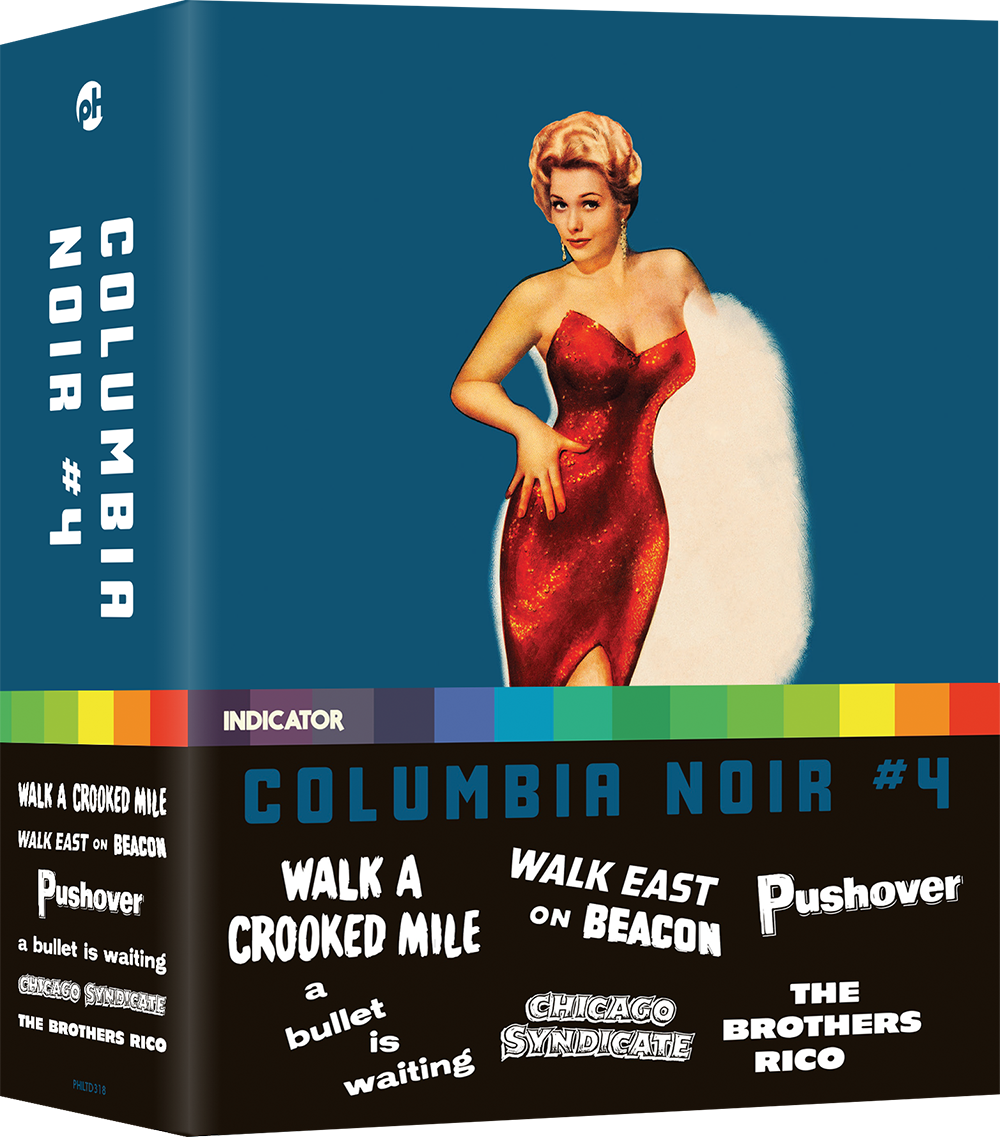 Indicator's ongoing series of Columbia Noir box sets returns with its fourth instalment, once again delving into the studio's archives to select six films which plunge the viewer into a dark world of crime. Featuring Kim Novak, Fred MacMurray, Jean Simmons, Rory Calhoun, Abbe Lane, Louis Hayward, and Richard Conte – not to mention gangsters, G-men, foreign spies, criminals on the run, and corrupt cops – Columbia Noir #4 continues the series in fine style.

Presenting all six films on Blu-ray for the first time anywhere in the world, this stunning collection includes newly recorded commentaries and critical appreciations, archival documentaries, six Three Stooges comedy shorts which lampoon the tropes and themes of the titles in the set, and a 120-page book. Strictly limited to 6,000 numbered units.

Video


Career criminal Harry Wheeler (Paul Richards) kills a guard in the process of successfully robbing a bank. The police target his girlfriend Lona McClain (Kim Novak) for a stakeout; getting career, true-blue cop Paul Sheridan (Red MacMurray) to make contact and pretend interest in her. Unfortunately, he falls for her and she him; they hatch a plot to get the money from Wheeler when he shows up.

Smoothly made programmer owes more than bit to Double Indemnity (1944) which also starred MacMurray. Given that Hollywood in this era was strictly governed by the Hay's Code you know going in that people who do the wrong thing must never get away with it and so this is a very predictable story every step of the way. It also has the classic Film Noir staple: the leading man who's a dope led astray. I'm not a fan of this trope becuse I find it hard to build interest in a lead who's a fool for a lover and does dumb things. Also, in the case of this film the characterisation is fairly perfunctory and the screenwriters never convinced me that a career cop who has always been a straight arrow would suddenly at age 46 (I assume MacMurray is playing his real age) go off the rails in the way depicted here.

They should have explored the bond and friendship between Sheridan and his partners Rick (Phil Carey) and Paddy (Alan Nourse). Built up the depth and range of their characters so that when Sheridan takes the path he does we'd be more invested in him and maybe more sympathetic and understanding. As is, his relationship to Lona isn't interesting because we don't really see what he sees in her that's worth throwing away his career, pension, social circle and life for. Sure, both he and she want the money but it's made obvious by the end of the film that Lona was never going to betray him.

The film is beautifully produced, directed and acted but unconvincing and obvious so - for me at least - uninvolving once the lead goes down the wrong path because I didn't know or care enough about our leads to mitigate the obviousness of the story.

Disc three in Powerhouse Film's Columbia Noir #4 set is a return to form after the slightly lesser presentation on disc two. Consequently my comments on disc #1 and Walk a Crooked Mile apply here as well:




It's been taken from a typically superb HD master from the Sony vault. Nice, crisp monochrome with perfectly balanced gamma so no colour bias creeping in. The image is incredibly film like with a sheen of fine grain across the whole film which is handled beautifully by the encode. I could see no signs of digital tinkering but Powerhouse's transfers rarely have flaws like that.

Black levels and contrast ensure we have plenty of lovely deep, dark shadows with lots of detail; this film could've been shot yesterday it looks that good. No unintended crush and no blowouts. A great transfer so 'A'. It's as good as the format will allow with a maxed out bitrate on a BD50 so we shan't see better until UHD BD.



It's a sharp, crisp top of the line transfer of a monochome '50s film. The main difference here is that the film is shot spherical 35mm 1.37:1 on the negative but being post 1953 it's designed to be matted to 1.85:1 and that's what we get. Overall as a result the transfer is s sliver less sharp than the one for Walk a Crooked Mile which was open matted and full frame. Thus far this is the most enjoyable film in the set.

1080/24p / AVC MPEG-4 / BD50 / 1.85:1 / 87:44

Audio


English LPCM 1.0
Subtitles: English HoH

My comments for the first disc will more or less apply to all six in this set so are reproduced here. The mono track is robust without any issues that you wouldn't expect. Dialogue is to the fore and the stock music tracks never interrupt. Being a track from the '50s it's reasonably dynamic with no distortions. Florid, forceful and generally very satisfying with a decent range considering the technology of the period and the restoration team have done a bang up job in ensuring it's clarity.

Hard of hearing subtitles have been provided and as is usual are superb with all dialogue being accounted for; at least for the various sections I tested. I must clarify: Most studio subtitle streams tend to streamline the dialogue which means much of the nuance can be lost, but with a curated release as we have here from a small independent like Powerhouse Films you can tell that those responsible for these subtitles love what they do and take great care.

Extras


Audio commentary with Alexandra Heller-Nichols and Josh Nelson (2021)

Australian academics, critics, writers Heller-Nichols and Nelson are a lively duo full of vim and they give us plenty of interesting detail with humour and intelligence. Presented in lossy Dolby Digital 2.0 stereo.

"Partners in Crime: Glenn Kenny on Richard Quine and Kim Novak" 2021 featurette (18:19)

Newly made piece covers Pushover plus the other three films director Quine and star Novak made together (Bell Book and Candle, Strangers When We Meet, The Notorious Landlady). Image is 1080/24p 1.78:1 and sound is lossy Dolby Digital 2.0 stereo.

"Blunder Boys" 1955 short film (15:58)

As with the other Stooges shorts, a fully restored pie e with excellent image and sound. Gamma is perfect with no bias and the image is clean and without and damage. On all of the shorts in the Columbia Noir sets from Powerhouse the encoding is as strong as the main features. Filmic with nice grain and presented in 1080/24p 1.85:1 with LPCM 1.0 sound.

Theatrical Trailer (1:50)

Vintage promo in 1080/24p 1.85:1 with LPCM 1.0 sound.

Pushover Image Gallery: Original Promotional Material (29 images)

Hefty HD gallery.

120-page liner notes book by Beth Ann Gallagher, Bob Herzberg, Sophie Monks Kaufman, Omar Ahmed, Jen Johans, Monica Castillo, and Jeff Billington, archival articles and interviews and film credits

Another excellent book supports these six films. Pushover gets the usual 18 pages devoted to it: "Money Isn't Dirty, Just People" by Sophie Monks Kaufman, "The New Rita Hayworth and the Cast of Pushover" which presents quites and excerpts from articles from 1954.

Packaging


Six small single-disc digipacks in a hard card box with a outer slip.

Overall


An enjoyable noir, best thus far in this set, gets the usual topnotch treatment. The original Sony master is superb and seemingly taken from the OCN and has been well looked after. The handling by Powerhouse is also superb with great image and sound. Extras are also of a high standard and offer fantastic contextual added value.
| | | | | |
| --- | --- | --- | --- | --- |
| The Film: C+ | Video: A- | Audio: A | Extras: A- | Overall: A- |