The Film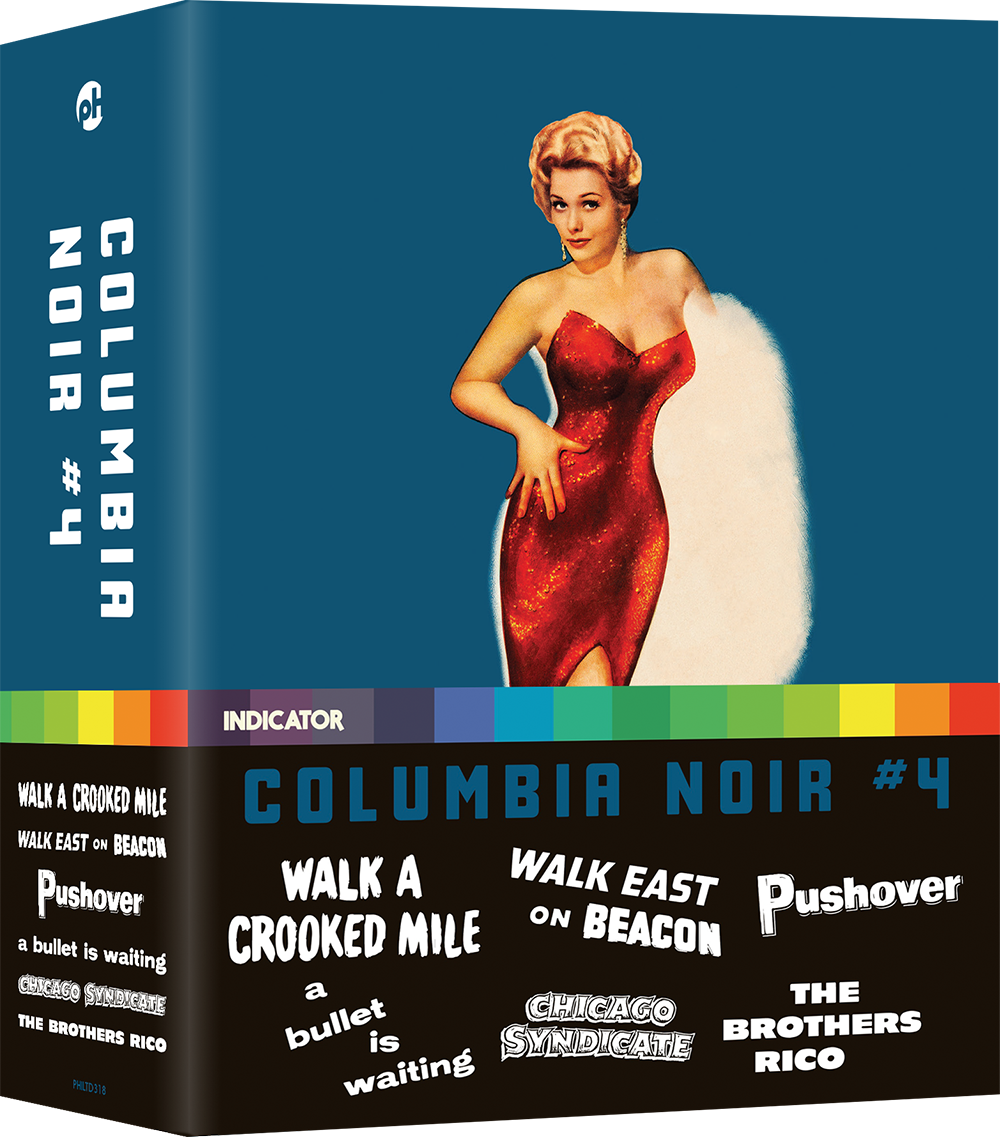 Indicator's ongoing series of Columbia Noir box sets returns with its fourth instalment, once again delving into the studio's archives to select six films which plunge the viewer into a dark world of crime. Featuring Kim Novak, Fred MacMurray, Jean Simmons, Rory Calhoun, Abbe Lane, Louis Hayward, and Richard Conte – not to mention gangsters, G-men, foreign spies, criminals on the run, and corrupt cops – Columbia Noir #4 continues the series in fine style.

Presenting all six films on Blu-ray for the first time anywhere in the world, this stunning collection includes newly recorded commentaries and critical appreciations, archival documentaries, six Three Stooges comedy shorts which lampoon the tropes and themes of the titles in the set, and a 120-page book.

Strictly limited to 6,000 numbered units.

Video


Walk a Crooked Mile (1948)

Early post-WWII Cold War spy hunt thriller given a nice noir sheen. It's got one of those declamatory voice overs which was later made famous by TV's Dragnet (1951-59) doesn't really work but overall it's a solid if unexceptional view and not a top flight noir for me. The film was shot in 35mm with spherical lens in the Academy ratio of 1.37:1.

The first film in Powerhouse Film's Columbia Noir #4 set is from 1948. It's been taken from a typically superb HD master from the Sony vault. Nice, crisp monochrome with perfectly balanced gamma so no colour bias creeping in. The image is incredibly film like with a sheen of fine grain across the whole film which is handled beautifully by the encode. I could see no signs of digital tinkering but Powerhouse's transfers rarely have flaws like that.

Black levels and contrast ensure we have plenty of lovely deep, dark shadows with lots of detail; this film could've been shot yesterday it looks that good. No unintended crush and no blowouts. A great transfer so 'A'. It's as good as the format will allow with a maxed out bitrate on a BD50 so we shan't see better until UHD BD.

1080;24p / AVC MPEG-4 / BD50 / 1.37:1 / 91:16

Audio


English LPCM 1.0
Subtitles: English HoH

The mono track is robust without any issues that you wouldn't expect. Dialogue is to the fore and Paul Sawtell's music never interrupts; mind you, the score is used comparatively sparingly when stood against modern scoring. Being a track from the '50s it's reasonably dynamic with no distortions. Florid, forceful and generally very satisfying with a decent range considering the technology of the period and the restoration team have done a bang up job in ensuring it's clarity.

Hard of hearing subtitles have been provided and as is usual are superb with all dialogue being accounted for; at least for the various sections I tested. I must clarify: Most studio subtitle streams tend to streamline the dialogue which means much of the nuance can be lost, but with a curated release as we have here from a small independent like Powerhouse Films you can tell that those responsible for these subtitles love what they do and take great care.

Extras


"Routine Job: A Story of Scotland Yard" 1946 short film (22:12)
"The March of Time - Volume Fifteen, Number Nine: Policeman's Holiday" 1949 short film (19:19)
"Dunked in the Deep" 1949 short film (16:54)

The Scotland Yard piece and the March of Time are from the BFI's HD masters and look pretty good considering they're most likely taken off prints. The Three Stooges shirt looks peachy keen as it's off the OCN and from Sony's HD master; all are presented in 1.37:1 1080/24p with LPCM lossless 1.0 sound.

Walk a Crooked Mile Image Gallery: Original Promotional Material (23 images)

Fine HD gallery.

120-page liner notes book by Beth Ann Gallagher, Bob Herzberg, Sophie Monks Kaufman, Omar Ahmed, Jen Johans, Monica Castillo, and Jeff Billington, archival articles and interviews and film credits

18 pages are devoted to Walk a Crooked Mile. We have the usual cast & crew page followed by an excellent 2021 essay "Cold War Comrades vs the FBI and Scotland Yard" by Beth Ann Gallagher; then, "An Interview with Gordon Douglas" from 1968 by Michel Ciment, Roger Tailleur and Bertrand Tavernier. As usual, another excellent hardcopy companion to the films involved.

Packaging


Six small single-disc digipacks in a hard card box with a outer slip.

Overall


The first film in the Columbia Noir #4 set is a middle of the road Hollywood noir but it's been given a topnotch Hd Master from Sony and Powerhouse have worked their usual magic with superb Fidelity in Motion encode. As good a transfer and mastering job as I've ever seen for a '40s monochrome 35mm film taken off the OCN; sound is as good as it can be for a 1.0 track of the era. Extras are the usual collection of lively shirts - also looking and sounding great, and a still gallery. We also get a comprehensive booklet with approximately ten pages on each of the six films. Another sweet package from Powerhouse; highly recommended.
| | | | | |
| --- | --- | --- | --- | --- |
| The Film: C+ | Video: A | Audio: A | Extras: B+ | Overall: A |