Terrified [Blu-ray]
Blu-ray ALL - United Kingdom - Acorn Media
Review written by and copyright: Eric Cotenas (23rd September 2021).
The Film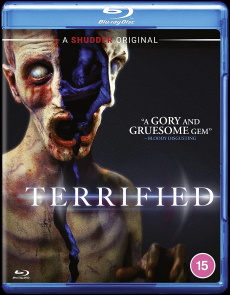 Best Film (Secció Oficial Fantàstic): Demián Rugna (nominee) - Sitges - Catalonian International Film Festival, 2018
Chainsaw Award (Best Foreign-Language Film): Demián Rugna (winner), Best Director: Demián Rugna (nominee), and Best Make-up FX: Marcos Berta (nominee) - Fangoria Chainsaw Awards, 2019
Horror Features (Best Picture): Demián Rugna (winner) - Austin Fantastic Fest, 2018
Award of the Argentinean Academy (Best Make Up): Marcos Berta (winner) - Academy of Motion Picture Arts and Sciences of Argentina, 2018

The home life of office worker Juan (Agustín Rittano) has become stressful. As soon as he comes home, his wife Clara (Natalia Señorales) is claiming to hear voices in the kitchen sink drain threatening to kill her, and his nights are sleepless since his frazzled neighbor Walter (Demián Salomón) has decided to do remodeling work in the middle of the night. Juan, however, is the one institutionalized when his wife is brutally murdered by what he claims to be an invisible assailant. Juan seems to be all but forgotten until he is visited by forensic doctor Jano (Norberto Gonzalo) and paranormal researcher Dr. Mora Albreck (Elvira Onetto) who are seeking to prove his innocence after an increasingly strange series of unusual occurrences in his neighborhood, including the Walter's disappearance after pleading with Albreck to help him get rid of a malevolent presence in his home that he has captured on video, and the corpse of a young child that has inexplicably crawled out of his grave and taken up residence in his kitchen, much to the shock of his grieving mother Alicia (Julieta Vallina) and the consternation of her ex-boyfriend police commissioner Funes (Maximiliano Ghione). Funes, Jano, Albreck, and her American colleague Rosentock (George L. Lewis) obtain the permission of Juan and Alicia to stay in their homes – and that of Walter in his absence – overnight to capture evidence of the paranormal; and they soon discover that the presence is not so spectral and quite capable to carrying out its threats.

Although blessed with an eye-catching poster and the usual festival laudits suggesting an original and scary take on the usual horror scenarios – along with a handful of awards – Terrified is incredibly disappointing and even insulting to the viewer. After subverting expectations with the abrupt and brutal exit of a just-introduced character victimized by strange occurrences and the sidelining of the apparent protagonist given abrupt proof of his wife's and neighbor's fears, the film's middle becomes a series of tiring digressive flashbacks to fill out events too briefly referenced in the opening to resonate. The structure seems no less incoherent as it cuts between the three houses and their respective hauntings, continually requiring verbal clarification that seems wordier than believable in the midst of a paranormal attack: ranging from Albreck's incredibly ludicrous theory about the nature of the hauntings to a character in excruciating pain having to explain what has happened to him since it is too dark to see it. Performances range from wooden to hammy in the original Spanish while the film feels like a parody on the poorly-voiced English track – on the former American Rosentock stumbles over Spanish words and phrases while the latter makes him seem like he has a speech impediment – and overall fail to convey the fear required of the characters to imagery which we have seen time and time again (enlivened only by some novel creature designs that are generally harder to see on film than on the poster art). It is just as well that the film's most disturbing creation – the decayed corpse of the child sat upright in his mother's kitchen – is effective enough in spite of the poor attempts of Ghione and Gonzalo to convey their fear of it. The film feels less like a passion project of director Demián Rugna than a government-financed show reel of the next Hollywood-recruited director to helm another Grudge, Paranormal Activity, Insidious, The Conjuring, Annabelle, or The Nun sequel or reboot.

Video


Digitally-lensed and edited, Terrified's 1080p24 MPEG-4 AVC 2.39:1 widescreen Blu-ray looks spectacular in brighter scenes and some wider shots where obscuring shadows are artfully placed in the background while darker scenes are deliberately murky and a little grainy but not noisy. Some of the creature designs are obscured by the darkness, possibly an intentional choice if the creations moved less convincingly than they photographed in stills (it's impossible to make out much of the transformed Alicia that runs up on Funes' car window for a jump scare). The Blu-ray artwork uses the DVD template with a Region 2 logo and PAL timing but the disc is HD 24p and all-region. Since the video and audio attributes are identical to the recently-released American Blu-ray, it is quite possible that they are indeed the same disc since RLJ Entertainment distributes the Shudder titles in both countries.

Audio


Original Spanish and English dubs in DTS-HD Master Audio 2.0 stereo are provided. The Spanish track is the way to go despite some wooden acting because the English dub is just a terrible joke. Unfortunately, only English SDH and French subtitles transcribing the English dub are provided.

Extras


There are absolutely no extras.

Overall


Starting out well but deteriorating quicky, Terrified less like a passion project than a government-financed show reel of the next Hollywood-recruited director to helm a horror sequel or franchise reboot.

---
Rewind DVDCompare is a participant in the Amazon Services LLC Associates Program and the Amazon Europe S.a.r.l. Associates Programme, an affiliate advertising program designed to provide a means for sites to earn advertising fees by advertising and linking to amazon.co.uk, amazon.com, amazon.ca, amazon.fr, amazon.de, amazon.it and amazon.es . As an Amazon Associate, we earn from qualifying purchases.