The Film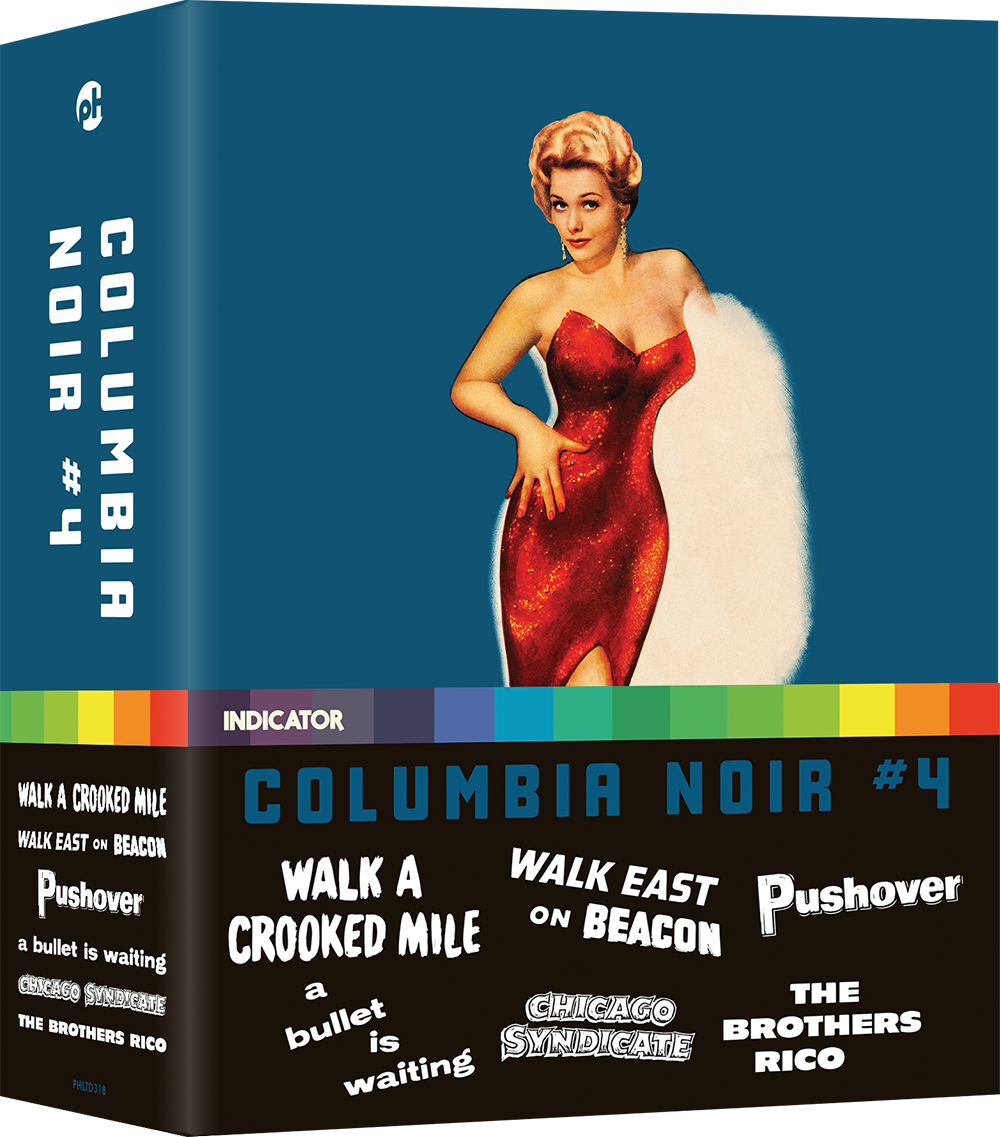 Indicator's ongoing series of Columbia Noir box sets returns with its fourth instalment, once again delving into the studio's archives to select six films which plunge the viewer into a dark world of crime. Featuring Kim Novak, Fred MacMurray, Jean Simmons, Rory Calhoun, Abbe Lane, Louis Hayward, and Richard Conte – not to mention gangsters, G-men, foreign spies, criminals on the run, and corrupt cops – Columbia Noir #4 continues the series in fine style.

Presenting all six films on Blu-ray for the first time anywhere in the world, this stunning collection includes newly recorded commentaries and critical appreciations, archival documentaries, six Three Stooges comedy shorts which lampoon the tropes and themes of the titles in the set, and a 120-page book. Strictly limited to 6,000 numbered units.

Video


FBI agents vs Communist spies working for the Soviet Union loosely inspired by the Rosenberg case. Run of the mill espionage / cold war thriller (not really a noir) has declamatory narration which kills the mood whenever it appears and isn't very surprising in any way. It's well made with a great deal of technical polish as per the Columbia usual with decent performances et al, but I found that it was a tad draggy. Those who love thrillers of this ilk will most likely get more out of it than I did; both my wife and I felt the same: Happy to have seen it, but unlikely to rush to pull it off the shelf any time soon.

Disc #2 in Powerhouse Films lovely new Columbia Noir #4 set.

Another good-looking transfer from the Sony vaults shot in monochrome 35mm in the Academy ratio (1.37:1). I felt this one was a trifle softer than Walk a Crooked Mile on disc #1 in the set. Walk East on Beacon is another enjoyable if clunky cold war anti-Communist flick with that overgearing declamatory narration popular at the time.

Visually it's a little less contrasty and more flatly lit. Either that or the source was a generation off the OCN. Gamma is perfectly balanced as usual so no colour bias to fret about. Black levels are strong although there is some evidence of minor unintended crush, possibly baked into the source; more evidence of a source a step off the OCN maybe? Many dark scenes will naturally have some built in crush but here I did feel that on a couple of occasions detail had been lost.

Contrast is generally supportive but I did feel that the image was a tad flat with few bright whites. Detail is present and generally good as is grain throughout. It's still a film like transfer and beautifully presented by the encoders.

1080;24p / AVC MPEG-4 / BD50 / 1.37:1 / 97:42

Audio


English LPCM 1.0
Subtitles: English HoH

My comments for the first disc will more or less apply to all six in this set so are reproduced here. The mono track is robust without any issues that you wouldn't expect. Dialogue is to the fore and the stock music tracks never interrupt. Being a track from the '50s it's reasonably dynamic with no distortions. Florid, forceful and generally very satisfying with a decent range considering the technology of the period and the restoration team have done a bang up job in ensuring it's clarity.

Hard of hearing subtitles have been provided and as is usual are superb with all dialogue being accounted for; at least for the various sections I tested. I must clarify: Most studio subtitle streams tend to streamline the dialogue which means much of the nuance can be lost, but with a curated release as we have here from a small independent like Powerhouse Films you can tell that those responsible for these subtitles love what they do and take great care.

Extras


Audio commentary with author and academic Frank Krutnik (68:18) (2021)

An academic track from Krutnik who teaches Film Studies at the University of Sussex and states up front his credentials concerning Film Noir; he write a book In a Lonely Street: Film Noir, Genre and Masculinity (1991) and coedited a book Un-American Hollywood: Politics and Film in the Blacklist (2008) which explores specifically the films during the late '40s - early '50s in the "blacklist era" to which Walk East on Beacon belongs. It's a solid track and not being familiar with Krutnik I'm looking forward to more from him. Presented in Dolby Digital 2.0 mono.

"The March of Time, Volume 7, Number 2: G-Men Combat Saboteurs" 1941 short film (20:49)
"The March of Time, Volume 8, Number 5: G-Men at War" 1942 short film (20:01)
"Commotion on the Ocean" 1956 short film (16:37)

The March of Time shorts have surprisingly strong images although the blacks tend towards greyish occasionally but that's fair enough considering the sources used. The sound is sometimes tinny sometimes strong but typical of a 1.0 track for a newsreel. Damage is fairly minimal although there are some speckles here and there. Both are 1080/24p 1.37:1. The Three Stooges are shorts thoroughly restored and look and sound peachy. 1080/24p 1.85:1 and like the newsreels are in LPCM 1.0 only the sound is consistently clean and strong if obviously lacking the range of stereophonic.

Walk East on Beacon Image gallery: Original Promotional Material (23 images)

120-page liner notes book by Beth Ann Gallagher, Bob Herzberg, Sophie Monks Kaufman, Omar Ahmed, Jen Johans, Monica Castillo, and Jeff Billington, archival articles and interviews and film credits

18 pages are dedicated to Walk East on Beacon with the usual cast & credits info followed by "Cold War Kitsch: The FBI and Walk East on Beacon" by Bob Herzberg and "'The Crime Worse Than Murder' –The Rosenberg Spy Ring" by Jeff Billington. Excellent, valuable stuff offering plenty of insight.

Packaging


Six small single-disc digipacks in a hard card box with a outer slip.

Overall


Another clunky propaganda thriller from the era with overbearing narration. It's all very slickly done and well made but the transfer is a mild step down from the one on disc #1 (Walk a Crooked Mile). Some of this may be down to the way the film was shot but it also may be down to the source which struck me as softer than usual. Extras are great with a solid commentary, pages in the booklet dedicated to the film and some more wonderful shorts. Mana from heaven for the noir addict and film buff.
| | | | | |
| --- | --- | --- | --- | --- |
| The Film: C+ | Video: B+ | Audio: A | Extras: A- | Overall: A- |