The Film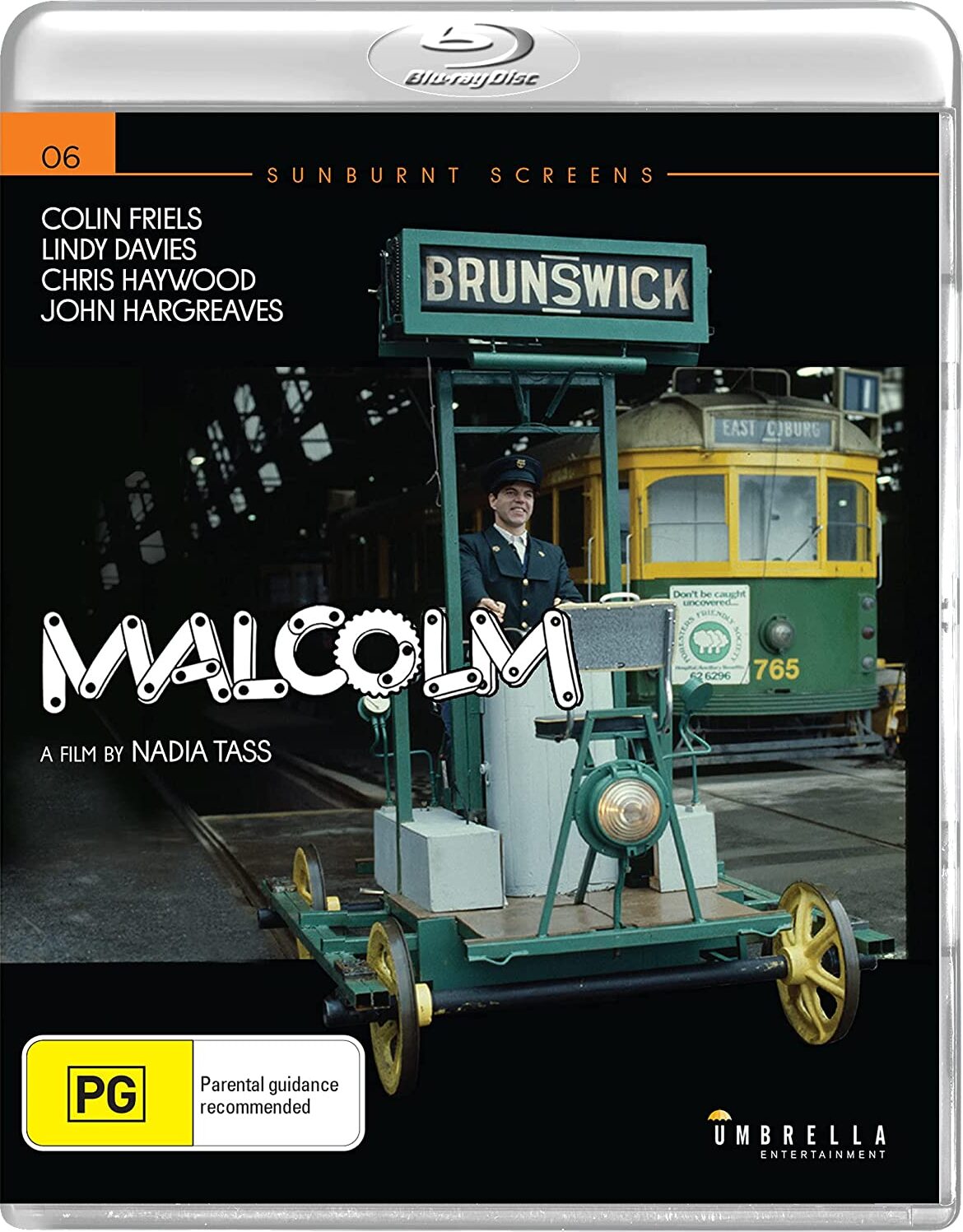 "Malcolm" (1986)

Malcolm (played by Colin Friels) is going through a troubling time in his life. An autistic man in his thirties who is now living alone after his mother's passing, he loses his job at the tram station and now has no income to support himself. Neighbors suggest that he should rent out a room and become a landlord, and his first tenant is Frank (played by John Hargreaves), an ex-convict. He, along with his girlfriend Judith (played by Lindy Davies) start living in Malcolm's place which is riddled with extensive and intricate model trams and various gadgets that he built over the years on his own. While Malcolm may be on a completely different wavelength in comparison to Frank and Judith, the three end up becoming an unusual team together in the most unlikely way: as bank robbers.

David Parker was working in the Australian film industry as a stills photographer, but wanted to move up to becoming a cinematographer. Receiving advice that he shouldn't wait for a production to come to his lap but instead make his own production instead. "Malcolm" became his first script, based on his wife Nadia Tass' younger brother, a shy and reclusive individual who died a few years earlier after suffering an epileptic seizure after being hit by a car. The character was built around the conditions of Aspergers and autism, but instead of focusing on the difficult nature of taking care of one with those conditions, "Malcolm" takes things in a very different direction. The script would be directed by Tass and lensed by Parker as a husband and wife team. It would be Tass' first feature as a director and Parker's first as a writer and cinematographer.

The film is obviously centered around the title character, in which Colin Friels does an excellent job. The way he moves and walks is stilted and awkward, eye contact is mostly avoided whenever possible, and conversation is kept to a minimum. The way his mind operates is slightly askew, with some of his logic not being quite up to where society stands. Not at all played for humor, there are certainly a few cases where the humor comes from his unintentional misunderstandings, such as when he interviews Frank and Judith with a questionnaire. But there are also smiles to be found. When he is at home with his gadgets and trams, he is confident and smiling, and this also applies to the memorable opening sequence, in which Malcolm operates for the very first time a makeshift tram he had built on his own and gets him in trouble. He has a pure charming innocence about him that Friels portrays wonderfully in each scene, and it's easy to love the character even if he may not be the most personable person out there. But his innocence is also what gets him into trouble, and that is with helping Frank and his schemes.

Eventually Frank and Judith become more or less surrogate parents to Malcolm, who has had to life along for some time. Frank may be an ex convict, but he immediately is set on doing robberies for work. He doesn't particularly care about Malcolm, but is just satisfied that Malcolm is more on the clueless side about what goes on. Judith on the other hand is straight, who had a job as a waitress but gets fired due to Frank starting a fight in the pub she works at. She basically is the central figure between the two men. She actually cares for the well being of Malcolm and at the same time her heart is still set to Frank even if his life isn't on the right track.

It's when Malcolm first shows his most intricate invention that the relationship between Frank and Malcolm change for the better. He builds a fully functioning automobile from spare parts, but not just an ordinary car. One that splits into two in the middle for the car's driver and passenger to drive individually like motorbikes. It's from here that Malcolm's creativity with gadgetry becomes more complex and interesting. Malcolm, like wanting a father's approval, starts building machinery to help with robberies remotely, from using radio controlled cars, cameras, and microphones, he is able to make an impact with Frank's robberies in a new way. And with Judith being jobless and being the "sane" one in the group, she gets in on the action as well for the unlikely team of robbers. Played with many great comical moments and fun banter between the three leads, there is a lot of laughs to be had in "Malcolm", while also having heart and soul as well.

While there is a lot to celebrate about "Malcolm", there are some weak points as well. Some minor characters such as Malcolm's neighbor Jenny (played by Judith Stratford) being underwritten. She has known Malcolm for some time and has genuine affection for him which is never returned, but there really isn't much to be said with her character being in only a few scenes. The sexual nature, such as Frank and Judith giving Malcolm hints about "the birds and the bees" doesn't gel quite well either, making things more awkward than they should. A possibly controversial subject would be the ending (and spoilers come here!). The trio take part in an intricate heist for the finale which is both comical and exciting, and in the end they don't get caught. There is no consequence from the law, no arrests, but they get away with it and head to their next big location, in Lisbon, Portugal of all places as they go international. But this could be equated in a similar stance to something like "Lupin the Third" or the "Ocean's..." series where the heist is exciting enough and the consequences is not where the moral fabric is. It's the team building, family building aspect of it all which set them apart from being just another robbery.

For a first time film from the filmmakers and a very small budget to work with, "Malcolm" actually works quite well. Not only with the great performances from the leads, but also with the great inventions that were created for the film by David Parker himself, along with Tony Mahood, Ian McClay, and Steve Mills. From the miniature trams that criss cross the house to the remote controlled contraptions, the works are wonderfully fun to watch on screen come to life. But the film was a hard sell in its native country. Channel Seven and Film Victoria helped with some of the funding for the film but a lot came from Parker and Tass themselves independently. But no film distributor in the country was particularly interested in releasing the film theatrically. It was after taking the film on the festival circuit in America that that American distributors were in a bidding war, with Vestron receiving the US rights. It opened in America on July 20th, 1986 to positive reviews and becoming an indie hit before the Australian distributors came crawling back. Released theatrically from October 2nd, 1986 in its home country by Hoyts Distribution, the film became an instant cult comedy classic which connected with both critics and audiences.

The film was nominated for eight awards at the 1986 AFI Awards: Best Film, Best Direction, Best Original Screenplay, Best Actor, Best Supporting Actor, Best Supporting Actress, Best Editing, and Best Sound. It won every category it was nominated for.

Note this is a region ALL Blu-ray

Video


Umbrella Entertainment presents the film in the theatrical 1.85:1 aspect ratio in 1080p AVC MPEG-4. The restoration here looks absolutely great, with colors and detail really being given a new lease on life. Colors look quite good, though there is a bit of a faded look at times. Dark portions can also look a bit crushed, but brighter colors like the makeshift getaway car's yellow and the tramline's bold greens look wonderful, as does skin tones in most sequences. Film grain is always visible and there are very little, if any damage to be found in the transfer, looking very clean and without any digital tinkering like sharpening of the image. This is probably the best the film has ever looked and is quite a revelation on Blu-ray.

The film's runtime is 85:36.

Audio


English DTS-HD Master Audio 2.0 mono
The lossless original mono has also been restored, There is still some hiss that can be heard at times, but for the most part the track is quite clean and well balanced. The dialogue, effects, and score are evenly balanced without any dropouts or other major damage to be found.

There are optional English HoH subtitles in a white font.

Extras


Audio commentary with Nadia Tass and David Parker
This audio commentary features Tass and Parker recalling the production of the film. From the visual metaphors, the original locations, the characters and how their relationships expanding during the story, the godawful smell of the house for Malcolm which they scouted and rented, the mechanical challenges, and more, Though there is much to be said, it could have helped with a moderator involved, as there are some blank spaces especially towards the end. Note this was previously available on the Umbrella Entertainment DVD release.
in English Dolby Digital 2.0 without subtitles

"A Quieter Time" interview with David Parker (10:30)
This new interview with Parker has him discussing about the film, its inspiration with Tass' brother, the distribution troubles initially and more,
in 1080p AVC MPEG-4, in 1.78:1, in English Dolby Digital 2.0 without subtitles

"Malcolm" at the AFI Awards (3:19)
This vintage interview at the 1986 ceremony is a quick talk with Friels, Tass, and Parker after their wins.
in 1080p AVC MPEG-4, in 1.33:1, in English Dolby Digital 2.0 without subtitles

"Where Was It Filmed?" featurette (15:16)
Paul Hagl has made some fun before and after location featurettes which are available on his YouTube channel, Phagl Productions. This one from 2018 looks at various locations around Melbourne where "Malcolm" was filmed over thirty years prior, with many things changing and some things being left untouched. The featurette has also been embedded below.
in 1080p AVC MPEG-4, in 1.78:1, in English Dolby Digital 2.0 without subtitles



"NFSA Malcolm Car" featurette (2:16)
This new featurette showcases the legendary getaway car, which is the largest piece held at the NSFA archive, as it is moved from the archives to an exhibition gallery. There is no narration or interviews, with only text explanations.
in 1080p AVC MPEG-4, in 1.78:1, Music Dolby Digital 2.0 without subtitles

Popcorn Taxi Q&A with Nadia Tass and David Parker (6:52)
This undated Q&A from Popcorn Taxi has clips of Tass and Parker discussing the film, about the filmmaking process and about the Malcolm character. It is not the full Q&A and unfortunately the questions are not heard either.
in 1080p AVC MPEG-4, in 1.33:1, in English Dolby Digital 2.0 without subtitles

Interview with Colin Friels (7:04)
This vintage undated clip has Friels discussing the script, the character, and his thoughts on the film. There is text explanation at the start about the poor quality of the interview, and yes it is true. The video shoot has poor audio in which Friels is not properly miced, and the interviewer sounds louder than the interviewee. The video quality is a bit low as well, not looking or sounding very professional at all. Was this a fan interview?
in 1080p AVC MPEG-4, in 1.33:1, in English Dolby Digital 2.0 without subtitles

SBS Movie Show Interview with Lindy Davies (1:36)
This vintage interview with Davies has her happy with winning the Best Supporting Actress award, as she talks about the film and its humor and her character.
in 1080p AVC MPEG-4, in 1.33:1, in English Dolby Digital 2.0 without subtitles

David Parker and Nadia Tass Archival NFSA Interview (0:54)
This interview from NFSA seems to have been shot on a smartphone very quickly without setup, again as Parker and Tass are not miced and the interviewer sounding much louder than the subjects. The two have some words for the 30th anniversary celebration of the film, so it seems to have been from 2016. Much too short and not a very professional interview.
in 1080p AVC MPEG-4, in 1.78:1, English Dolby Digital 2.0 without subtitles

"More Malcolm Gizmos" featurette (1:26)
A vintage news clip of the getaway car and tram in a Melbourne parade is seen here.
in 1080p AVC MPEG-4, in 1.33:1, in Dolby Digital 2.0 without subtitles

Theatrical Trailer (2:18)
The restored original trailer is presented here, with some unique animation scenes that are not part of the film. The trailer can also be seen below, courtesy of Umbrella Entertainment.
in 1080p AVC MPEG-4, in 1.85:1, in Dolby Digital 2.0 without subtitles




The Blu-ray collects all the vintage extras from the DVD release and adds quite a bit more. Some are very good. Some are actually not so good. Whether too short or poorly filmed, it would have been nice to get a more concise new interview session from Tass like they did with Parker or if a scholarly interview could have been done.

Packaging


This is the third release in the "Sunburnt Screens" line from Umbrella Entertainment and it has the number "6" on the cover and the spine.
The artwork is reversible, with the opposite side having identical cover art minus the "PG" rating logo, and the back side replaced with original poster artwork.

Overall


"Malcolm" is a comedy classic that is inventive as it is awkwardly funny, with an excellent cast with a unique story. The Umbrella Entertainment Blu-ray has a great transfer with video and audio with a good, but not great selection of extras, making this recommended.


The Blu-ray can be purchased at various retailers and also at Umbrella Entertainment directly.
| | | | | |
| --- | --- | --- | --- | --- |
| The Film: A- | Video: A | Audio: A- | Extras: B | Overall: A- |