The Film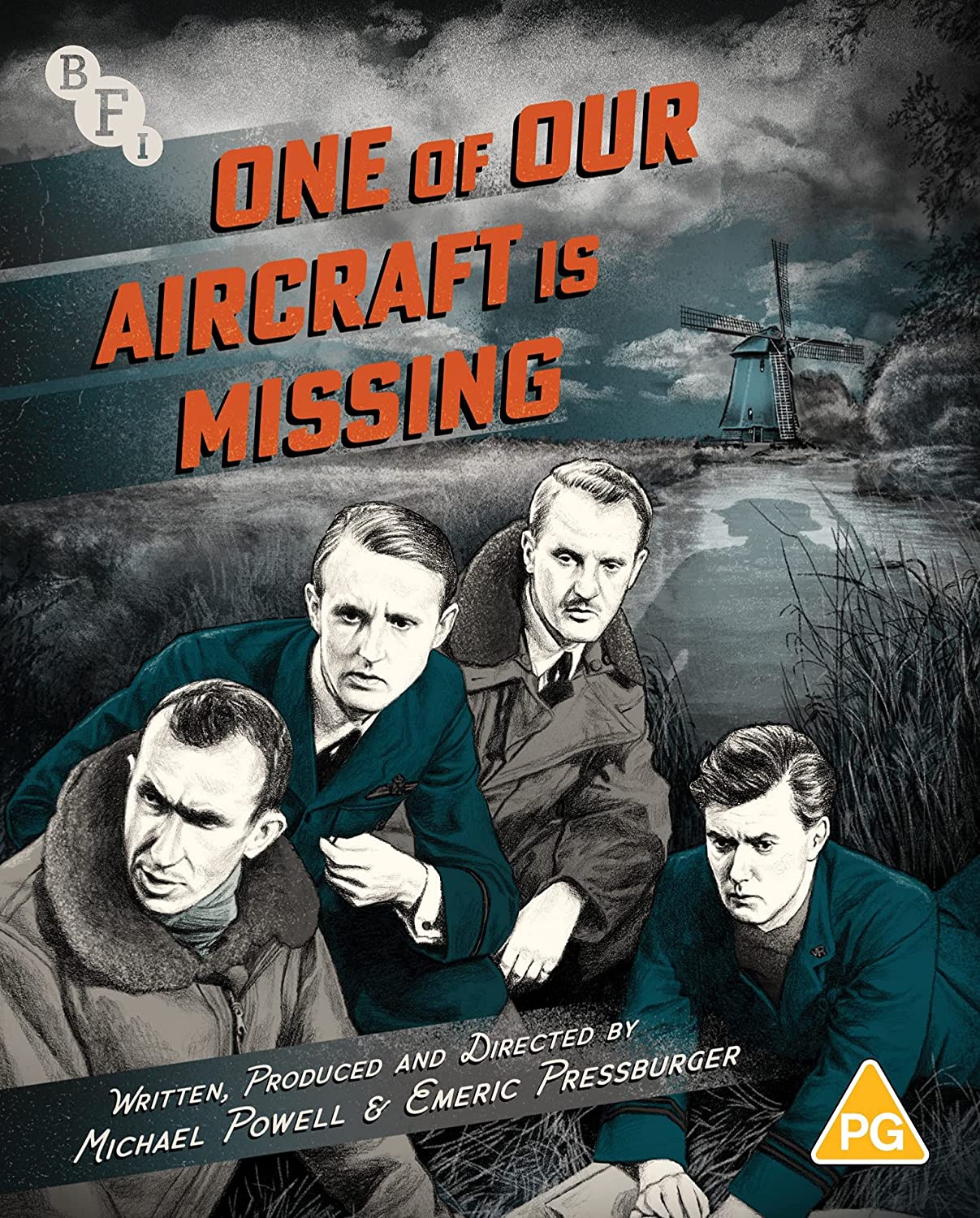 "One of Our Aircraft Is Missing" (1942)

B for Bertie, a Royal Air Force bomber is shot down over Nazi occupied Holland. The six airmen on board, pilot John Glyn Hagard (played by Hugh Burden), co-pilot Tom Earnshaw (played by Eric Portman), navigator Frank Shelley (played by Hugh Williams), wireless operator Bob Ashley (played by Emrys Jones), front gunner Geoff Hickman (played by Bernard Miles), and rear gunner George Corbett (played by Godfrey Tearle) all manage to escape by parachute, though Ashley gets separated from the other five on landing. The group of five come into contact with some local Dutch children, who lead them into town where some English speaking adults could help the stranded soldiers. But the Dutch civilians must be sure they can trust that the men are actual allied soldiers that are stranded before offering to help them escape to the north, back to the English shores.

Filmmaking team Michael Powell and Emeric Pressburger's previous film, 1941's "49th Parallel" was a WWII propaganda film which showcased a German U-boat crew stranded in Canada, in which their morale took a deep dive with quarrels and disagreements, showcasing the low morale of the Nazi soldiers to the allied audience eyes. For "One of Our Aircraft Is Missing", they took things in the opposite direction, instead having an English crew stranded, but this time showing their camaraderie. their smarts, as well as the trust and hearts of the locals to help them to safety. A propaganda film which observed the strength of the British military and the soldiers, it might just be a standard fare if put into other hands. Instead, Powell and Pressburger put in layers of content from character development, striking visuals, and true filmmaker masterwork for a standout film that stands above the rest of the propaganda films of the period.

The film has some interesting use of flashbacks including right at the start. The audience is given the information about a military plane gone missing, and then the events from fifteen hours prior are established. We are given backgrounds into the airmen before the mission, a bit of their personalities and their traits, but only just enough rather than full character biographies. From hereon out, these men are not just random airmen in uniform, but individuals, each with their own stories. From Corbett being the oldest and doing one last run, Ashley's football skills, Shelley's wife being a radio personality. Each are distinct characters and throughout the runtime more information is shared, giving a true sense of three dimensions to these usually two dimensional soldier roles. The script, also written by Powell & Pressburger is excellent in not just giving the British airmen leads some character, but also giving some of the female characters some personality and depth as well which is unusual in a period war film. Els Meertens (played by Pamela Brown is a Dutch schoolteacher who becomes a liaison between the airmen and the local town, as she is an English speaker able to communicate with them as well as being very intelligent, being able to carefully identify that the men could be trusted. Joyce Redman plays Jet van Dieren, a mayor's daughter who is also of vital help for them men to cross through enemy occupied territory. Lastly, Googie Withers as Jo de Vries takes the men on through the final journey where she proves her wit as well as her seductive ways to distract the Nazi soldiers.

The film has all the elements of a war thriller, but not everything is played with seriousness and heartpounding thrills. There are at times comical moments, such as the back and forth banter between the airmen, the men having to disguise themselves as Dutch locals with clogs and even women's clothing, or God forbid - pretending to be Catholic and attend church. These moments are sprinkled throughout, having a more uplifting tone considering the serious matters that the film showcases, as it was filmed and screened while the world was still at war. The cast does an excellent job with these little moments as well as in the more tense escape scenes, and there is little to fault with any of the major players to be seen. Sure the dramatic element may be on the flatter side mostly, but this is a positive propaganda film and an incredibly entertaining one at that.

It is also important to note that this was the first Powell & Pressburger production as "The Archers", their production company that was completely independent in their productions, giving complete artistic freedom in their works. Nineteen features were produced by The Archers, with many of them being bonafide classics of cinema that were as entertaining as they were innovative in technical merit and creativity. "One of Our Aircraft Is Missing" also had some incredibly notable crew members that worked on the production. Ronald Neame was the cinematographer. David Lean was the editor. Both would eventually become major directors in later years. One incredibly unusual decision in this film compared to its contemporaries was to not have a musical score at all. There are no music cues to accent the action and the emotional portions, playing closer to a documentary rather than a dramatic film. But if not being stated, it might be hard to notice as the performances, the writing, the editing, and directions does everything quite right to move things forward and keeping the audiences at their toes.

The film premiered on April 24th, 1942 in London and had a general release a few months later from June 27th, to high acclaim from audiences and critics. The US release came on October 16th, but the distributors cut 20 minutes out for an 86 minute version. Even with a truncated version being screened, it as still a critical hit, being nominated for two Academy Awards, with one for Best Screenplay and Best Special Effects. In addition, Googie Withers won Best Actress from the National Board of Review. Compared to other Powell & Pressburger productions of the 1940s such as "The Life and Death of Colonel Blimp" (1943), "I Know Where I'm Going! (1945), "A Matter of Life and Death" (1946), "Black Narcissus" (1947), and "The Red Shoes" (1948), "One of Our Aircraft Is Missing" is not as talked about. It's certainly one of the best war propaganda films of WWII and stand tall as on of The Archers best works in a long string of masterpieces. With this BFI Blu-ray edition, it's an easy way to rediscover another master work.

Note this is a region B Blu-ray

Video


The BFI presents the film in the 1.37:1 aspect ratio in 1080p AVC MPEG-4. A 35mm fine grain duplicate positive held by the BFI National Archive was remastered in 2K by Paramount Pictures. There are of course positives as well as some negatives to be said about the presentation. The black and white image looks quite good for the most part but there are scenes that have significantly more damage than others for an inconsistent look. Obviously the stock footage scenes are very grainy and have embedded scratches and other marks, but as for the studio and location shoots, there are some scenes that have noticeable damage such as tramline scratches and speckles. Other scenes can look extremely clear with very few if any damage marks to be found. While the quality may seem inconsistent in terms of damage markings, the black and white image itself has been color corrected for a consistent balance of black and white and the greys in between. Detail is fairly good, and grey levels are also fair, though not extremely detailed. Surely it is to do with the element used which is a generation away from the original negative.

The film is uncut with a runtime of 102:55.

Audio


English LPCM 1.0
The original mono track is presented uncompressed. Like the picture, the audio has also been restored. Dialogue is fairly clear throughout, as are the effects and well balanced with each other. There is a bit of a hiss that can be heard in some sequences, though it is not overly distracting. Pops, crackle are also removed for the most part for a consistent sounding track throughout. Note that there are some portions of the film with Dutch and German dialogue.

There are optional English subtitles for the Dutch/German portions and English HoH subtitles, both in a white font. Both are well timed, easy to read, and without errors to speak of.

Extras


Audio commentary by film scholar Ian Christie
This is a newly recorded commentary by Professor Ian Christie who has written several books on the works of Powell and Pressburger. During this commentary, he talks not only about the film and its production but also about World War II, where Britain and Holland stood at the time of production, with the royals being in exile and the encroaching Nazi regime. For the production he discusses about the founding of The Archers, working with a small budget, the creative elements, the English locations used to double as Holland and more.
in English Dolby Digital 2.0 without subtitles

"An Airman's Letter to His Mother" 1941 short (5:46)
In June 1940, The Times published a heartfelt, emotional, and incredibly moving letter, written by a serviceman to his mother. The letter was written by the serviceman who detailed his will to fight and being prepared to die for his country, and was intended to be given to his mother if he were to be killed in battle. After it was published in the paper, over 10,000 requests were made for a copy of the letter, and eventually a published form sold over 500,000 copies by the end of the year. While there was some criticism and doubt that the letter was real, it was eventually revealed to be entirely true. It was written by Flying Officer Vivian Rosewarne, who was 23 when he was killed in the battle of Dunkirk. The station commander who found the letter, was so touched by the contents that he requested the mother, who lost her only son to have it published for the rest of the country to read. It was done anonymously and the rest is history. Well, that is until it became a short film in 1941, directed by Michael Powell in an uncredited part. "An Airman's Letter to His Mother" might only be six minutes long, but is an incredibly powerful piece, not just with the words but with the visuals as well. The voice of John Gielgud is heard, as he reads the letter, with the visuals showing a mother receiving the letter as the camera looks through her home and the remnants of what used to be, with the lost son's room and his belongings. The mother's face is never seen fully (and therefore the actress is unknown). The short powerfully has a only one visible face, and that is of Vivian Rosewarne, seen in a photograph. The picture and audio quality of the short is fairly good, though there is damage marks that can be found as well as some crackly audio.
in 1080p AVC MPEG-4, in 1.33:1, in English Dolby Digital 2.0 without subtitles

"The Volunteer" 1944 short (44:11)
"The Volunteer" was directed by Powell and Pressburger at the tail end of the war as a propaganda piece for the Ministry of Information. Pat McGrath plays Fred, a dresser and stagehand for Ralph Richardson (playing himself), but finds destiny calling for him in the time of war. For him to enlist, become a naval soldier to protect his country, while also using his knowledge from behind the scenes at the stage to give joy to his fellow soldiers. The film blurs the line between documentary and fiction, with more of a leaning towards the documentary, giving a much more positive vibe to enlistment. The picture and sound is also fairly good here, but does have some damage with both the visuals and the soundtrack with speckles, scratches, pops, and hiss throughout. The film can be watched on the BFI Player here for free.
in 1080p AVC MPEG-4, in 1.33:1, in English Dolby Digital 2.0 without subtitles

"Target for Tonight" 1941 documentary (50:02)
Target for Tonight" is a documentary film detailing a Royal Air Force raid against Germany, though they do state at the beginning that not all the details are revealed in the film, due to secrecy and to not let information like that end up in enemy hands. As the film has real servicemen playing themselves, the "acting" in the scripted portions are a bit stilted and dull, but for the documentary portions, it is certainly powerful to see. Unfortunately many of the men that are shown in the film would not live to see the end of the war, and some would not see the success the film would have, both in Britain as well as America, where it was a box office success and won an honorary Academy Award in the United States.
in 1080p AVC MPEG-4, in 1.33:1, in English Dolby Digital 2.0 without subtitles

"The Biter Bit" 1943 short (14:19)
This Royal Air Force propaganda film features narration by Ralph Richardson focusing on Britain's bombing campaign over Germany, that is an interesting counterpoint in comparison to German propaganda films, taking some elements and footage from their films and making it Anglicized for the British masses.
The film can be watched on the BFI Player here for free.
in 1080p AVC MPEG-4, in 1.33:1, in English Dolby Digital 2.0 without subtitles

Stills and Publicity Gallery (3:54)
An automated silent slideshow featuring production stills and the original poster art.
in 1080p AVC MPEG-4

A clip of the film is embedded below, courtesy of the BFI.


Booklet
A 36 page booklet is included with the first pressing. The first essay is "Inaugurating The Archers" by Ian Christie, which looks at the film and how it should be praised more than it is has been. "Women and the Spirit of Resistance in One of Our Aircraft Is Missing" is the next essay, by Professor Sarah Street focusing on the strong female characters that were critical to the film's plot and the actresses that portrayed them. "Casting One of Our Aircraft Is Missing" by director Michael Powell from 1986 is a look back at the cast and their backgrounds. There are also full film credits, two short film reviews from 1942, special features information, transfer info, acknowledgements, and stills.

"One of Our Aircraft Is Missing" storybook
The first 3000 copies include a reproduction of the original 32 page storybook based on the film written by Emeric Pressburger, being a condensed version of the film featuring photos from the production.


The film was first released on Blu-ray in the United States in 2016 by Olive Films, which was unfortunately a barebones affair. This BFI release is obviously the better choice for the amount of contextual material included.

Overall


"One of Our Aircraft Is Missing" is a masterwork of positive wartime propaganda by The Archers, with excellent characters, technical skills, writing, and direction. The BFI Blu-ray features a good transfer, with a very nice selection of extras making this highly recommended.
| | | | | |
| --- | --- | --- | --- | --- |
| The Film: A | Video: B+ | Audio: B+ | Extras: B+ | Overall: B+ |