Hellfighters (Blu-ray) [Blu-ray]
Blu-ray B - United Kingdom - Powerhouse Films
Review written by and copyright: Rick Curzon (2nd October 2021).
The Film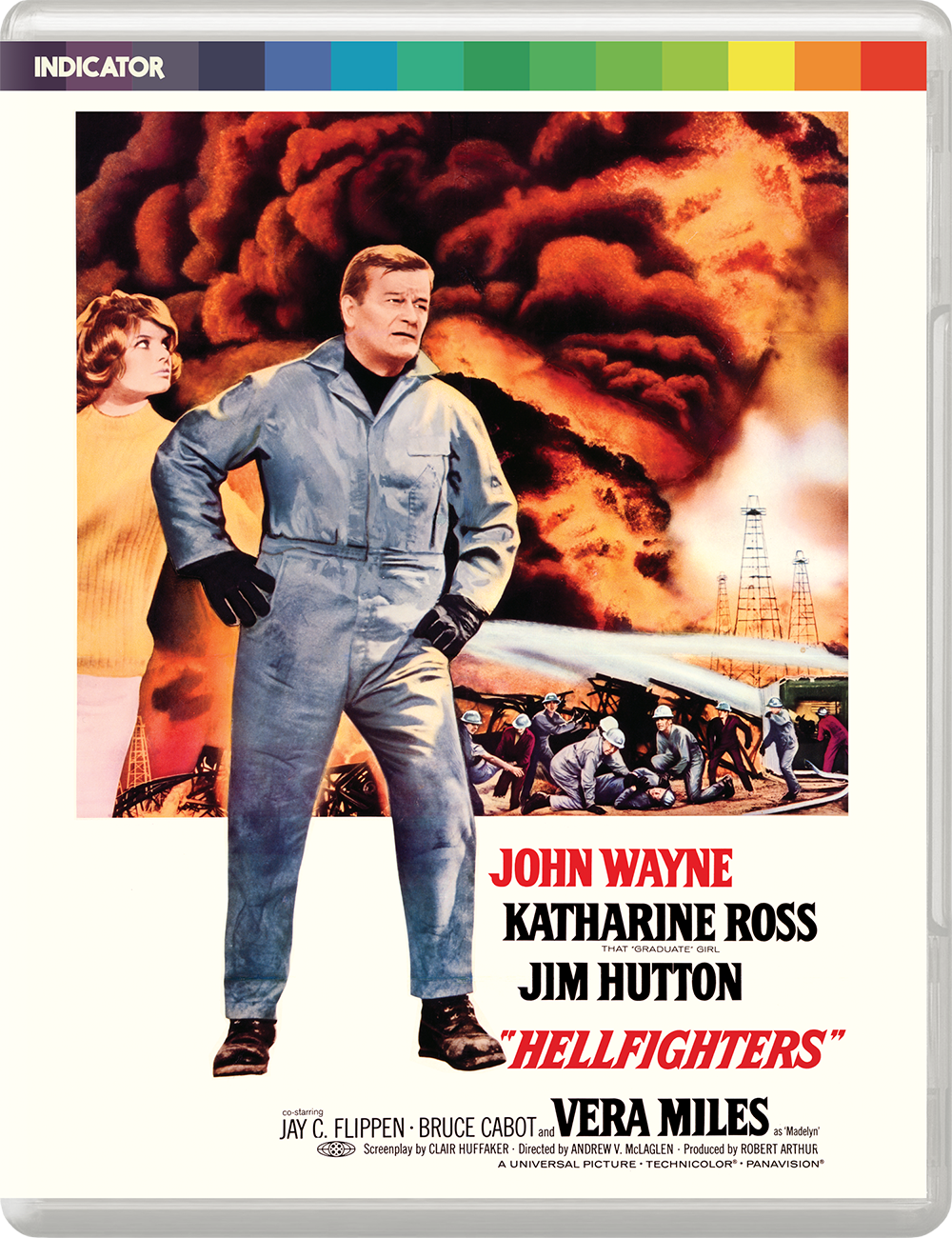 In Hellfighters, the legendary embodiment of no-nonsense stoicism, John Wayne, plays heroic firefighter Chance Buckman who combats oil-field blazes across the world. Based on the exploits of Red Adair (who acted as technical adviser on the film), this explosive actioner is directed with solid efficiency by Andrew V. McLaglen (The Wild Geese, North Sea Hijack).

Video


A lesser example of the John Wayne star vehicle from his penultimate decade. It's all very slickly produced but the script is pure cliche and the action scenes lack energy and punch. Given it's inspired by the true-life exploits of the legendary Paul Neal "Red" Adair (1915-2004) it's all very soapy and dull focussing much more on it's Red Adair analogue Chance Buckman's (Wayne) family.

It's an intensely macho film designed for male audiences. Some of the characters, particularly Greg Parker (Jim Hutton) are intensely annoying. Katherine Ross does her damndest with a thankless role (she's very good). Best viewed with one's expectations lowered and one's brain left in neutral ... and some handy alcohol of choice. That's the best mindset in which to enjoy this very dated relic. If you like scenes of manly men and womanly women shouting at each other with massive oil fires raging in the background you'll love this cornball melodrama.

Hellfighters was shot on 35mm photochemical film in Technicolor using Panavision anamorphic lenses. There is mild distortion occasionally at the far left and right edges but that's baked into the format and is to be expected. Also, during optical effects bits like scene changes, fades and during the credits the image will get softer. Again, par for the course.

That said, this presentation from Powerhouse Films using an excellent Universal master is a complete and utter peach! It's very vividly coloured film with the emphasis on browns and especially reds, lots of reds! Wayne and his colleagues all wear red jumpsuits when on the job and that's lot in this film. Flesh tones are strong and naturalistic with red in their cheeks! Did I say that red is a big part of this film's colour palette?

Black levels are strong with satisfying depth and plenty of shadow detail. I could see no signs of unintended crush and extremely limited mounts of intended crush; it's a great looking film, done lavishly on a big budget with tons of filmmaking craft and skill behind the camera. Contrast is also strong and supportive with no blown out whites. Gamma is seemingly well balanced with no particular bias that I could detect. Grain is very fine and ever present and beautifully rendered by the top notch encode. No digital artefacts like spats it all looks very filmic, organic and well defined. The print is free of any damage; looks new.

Top marks - A+!

1080/24p / AVC MPEG-4 / BD50 / 2.35:1 / 120:58

Audio


English DTS-HD Master Audio 5.1
English LPCM 2.0 Surround (48 kHz)
Subtitles: English HoH

Originally made in mono for the mainline 35mm engagements with a 6-track stereo boost for 70mm screenings. What we have on this disc are taken from that original 6-track. Putting both through the ringer there isn't a huge mount of difference in general terms, but the 5.1 kicks the 2.0 into the wings with it's LFE subwoofer activity; especially all of the scenes of fires.

The 2.0 is encoded for surround and plays that way without setting one's 5.1 amp to ProLogic II or similar. Both tend to be very front centric with the surrounds mainly being used for Leonard Rosenman's robust score; there's very little sound effects activity in the rears on either track. The odd bit in the action but that's it. Dialogue is always the main concern and it's always clear. Scoring is supportive and typically of this era used fairly sparingly.

Subtitles for the hearing impaired are excellent and seemed to me to translate all of the dialogue.

A great soundscape that represents the film very well just don't expect a 2021 style sound mix; 'A'.

Extras


Audio commentary with C. Courtney Joyner and Henry Parke (2021)

These two old hands know the Duke's work very well and kick off discussing the production as very typical of Universal at the time. It was their film and not a negative pickup from Wayne's BATJAC productions. They cover all aspects one could care for from the hevily featured SPFX to the cast and crew. Presented in lossy Dolby Digital 2.0 mono.

"The BFI Interview with Andrew V. McLaglen: Conducted by David Lewin at the National Film Theatre, London on 7 September 1999" plays as an alternate audio track over the film (60:59)

McLaglen was one of the great journeyman directors on the Hollywood scene throughout the '50s, '60s and '70s. He began with Gun the Man Down (1955), made classics like McLintock! (1963) and Shenandoah (1965) and finished his career in the making entertaining films like The Wild Geese (1978), Breakthrough, North Sea Hijack (both 1979), The Sea Wolves (1980), The Return to the River Kwai (1989) and his last film was the more obscure Eye of the Widow (1991). This is a wide ranging career retrospective starting with him entering the film business in 1945. Sound quality is excellent free of imperfections and presented in lossy Dolby Digital 2.0 mono.

"The Rare Breed: Tom Vincent on Andrew V. McLaglen" 2021 featurette (28:21)
"The Director and the Duke: Andrew V. McLaglen in Conversation with Mary McLaglen" 2021 featurette (3:26)

In the first of these two excellent new featurettes Vincent gives us the lowdown on Hellfighters and the career of McLaglen. The second has the director being interviewed by his daughter at some time before his death in 2014. It has McLaglen recounting his initial career as assistant director on The Bullfighter and the Lady (1951) for Budd Boetticher and how he started working with Wayne; it's brief but nice. Both are presented in 1080/24p 1.78:1 with lossy Dolby Digital 2.0 stereo sound.

Audio Interview with Edward Faulkner by C. Courtney Joyner (21:02)

C. Courtney Joyner Interviews his friend and star of the Hellfighters Faulkner. Plenty of trivia and stories from Faulkner in this good listen but he's phoning in his contribution and so his voice isn't as strong as Joyner but is always clear and understandable. Presented in lossy Dolby Digital 2.0 mono.

"Desert Inferno" 1962 newsreel (1:39)
"News Report from Ekofisk Oil Field" 1977 news report (1:23)

Two brief news vintage reports; the first is monochrome 1080/24p 1.37:1 and in excellent condition with only some very, very minor speckling and dirt. The second is in colour, 1.37:1 and looks rather soft; I'd guess it's an upscale of a standard def source. Both are presented with lossy Dolby Digital 1.0 sound.

Super 8 Version (7:22)

Extremely soft, panned and scanned monochrome digest of the film containing key dramatic moments and confrontations. It's essentially an extended trailer with very reedy, tinny sound. The image has various age related issues. Presented in 1080/24p 1.37:1 with lossy Dolby Digital 1.0 sound.

Theatrical Trailer (2:50)

Vintage promo presented in a cropped 2:1 aspect ratio and 1080/24p with uncompressed LPCM 1.0 sound.

Hellfighters Image Gallery: Original Promotional Material (58 images)

Excellent HD gallery.

36-page liner notes booklet by Andrew Nette, archival articles on the film and the events that inspired its screenplay, an overview of critical responses, and film credits

The usual incisive new essay followed by excellent contextual material.

Packaging


Standard, clear, BD Keepcase.

Overall


A cheesy, cornball Duke Wayne action melodrama gets the deluxe treatment from Powerhouse Films in the UK. Given the minor nature of the film the extras are pretty extensive and valuable; probably with more lasting repeat value than the film itself. The commentary, the 1999 chat with McLaglen and the featurettes are all superb and the booklet is typically amazing as we're unlikely to see much devoted to this film elsewhere. An excellent disc worthy of the Duke!
| | | | | |
| --- | --- | --- | --- | --- |
| The Film: C- | Video: A+ | Audio: A | Extras: A | Overall: A |

---
Rewind DVDCompare is a participant in the Amazon Services LLC Associates Program and the Amazon Europe S.a.r.l. Associates Programme, an affiliate advertising program designed to provide a means for sites to earn advertising fees by advertising and linking to amazon.co.uk, amazon.com, amazon.ca, amazon.fr, amazon.de, amazon.it and amazon.es . As an Amazon Associate, we earn from qualifying purchases.