The Film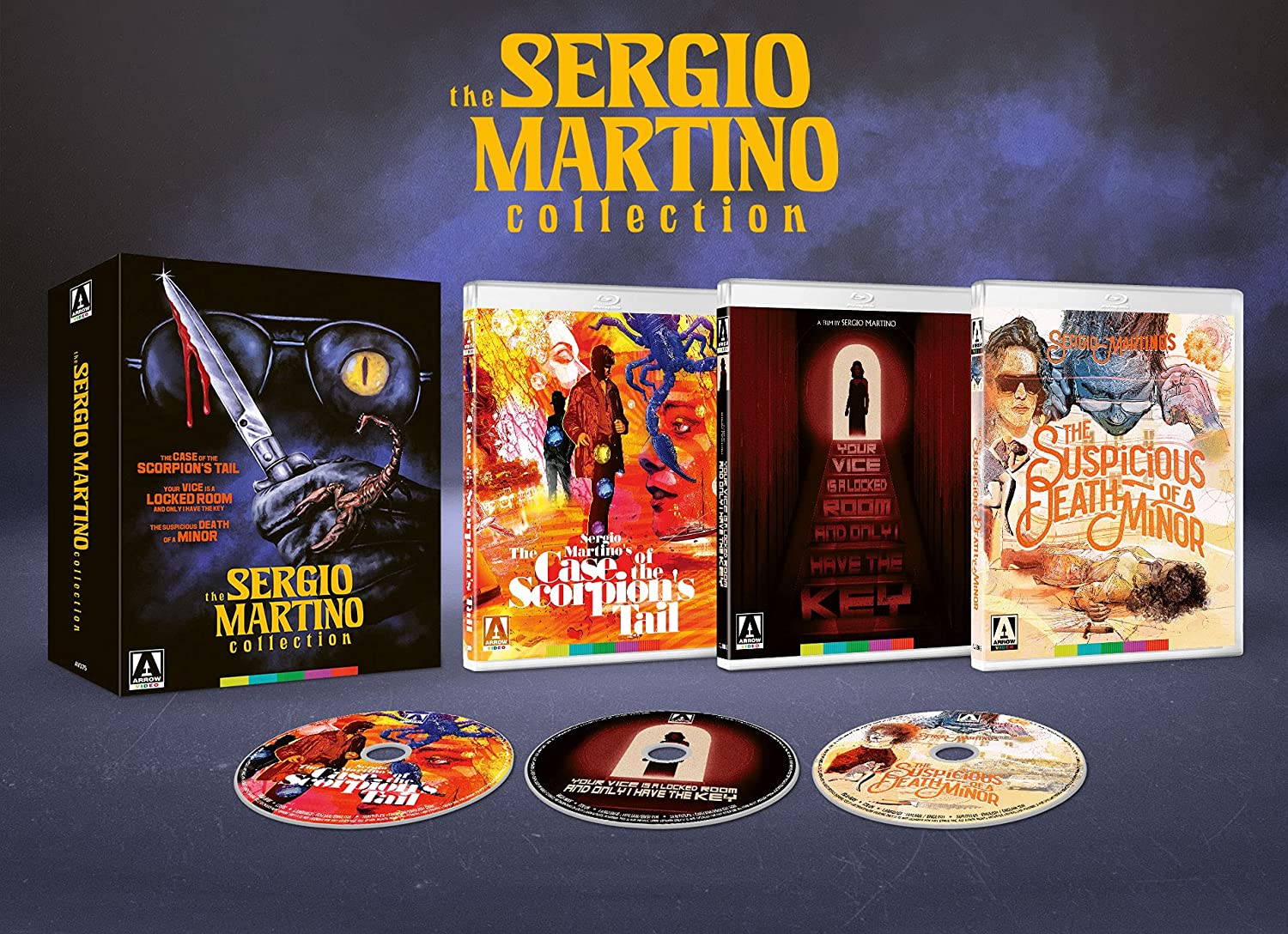 The Sergio Martino Collection, featuring The Case of the Scorpion's Tail (1971), Your Vice Is a Locked Room and Only I Have the Key (1972), and The Suspicious Death of a Minor (1975)

I was delighted to receive this Giallo box set from our friends at Arrow Video, and it is an excellent introduction for those that are intrigued by the Giallo genre, but don't know where to begin. Sergio Martino was one of Italy's most celebrated and prolific filmmakers and he was known for his vast output as a director, mixing and blending many genres together, however it is with the Giallo that he truly reached his peak. Martino was born on July 19, 1938, in Rome, Italy, into a family already firmly established in the Italian cinema business. His grandfather was the noted director Luciano Martino and became a second unit director working on a Mario Bava production, The Whip and the Body (1963). In 1969 he received the opportunity to direct a mondo documentary Wages of Sin. In the 1970's Martino struck gold when he helmed a series of Giallo murder mysteries that often-starred Edwidge Fenech. Martino worked in many types of genres, but it is within the Giallo genre that Martino established himself as a notable craftsman. Amongst his films of note are the following: The Strange Vice of Mrs. Wardh (1971), All the Colors of the Dark (1972), and Torso (1973). These tales are populated by complicated characters that lead aggressive sex lives, plots are dominated by red herrings and black gloved killers, typical death scenes are aggressive and brutal. Liquor of choice is always J&B Scotch. Hemlines are high, nudity is necessary, and Edwidge Fenech is often starring as a member of the cast. Don't try to strain your brain making sense of the convoluted plots, simply pour yourself a cool one and press play.


We start off with the acclaimed (and lengthy title) Your Vice is a Locked Room and Only I Have the Key aka Il tuo vizio è una stanza chiusa e solo io ne ho la chiave. For ease of use, I shall refer to the film as Vice. The plot starts out at a funeral wake of serious literary star Oliviero (Luigi Pistilli) an abusive drunk that likes to take out his frustrations on his wife, attractive Irinia (Anita Strindberg). The house is filled with various young people that are from a nearby commune and one quickly gets the feel that they are there looking for good carefree times. The mood turns sour as Irinia enters the main room of the villa wearing the same ornate dress that Olivero's mother was wearing for her portrait as Mary, Queen of Scots. The plot is a cross over with Edgar Allen Poe's short story "The Black Cat" but Martino still manages to put his own complicated brand on it. Murder soon occurs by a masked black gloved killer with what looks like a linoleum knife and the first victim is a clerk, Faustina, in a bookstore that Olivero was seeing on the side. While we don't get a clear look at the killer, his handiwork is clearly on display. Of course, we are led to believe that the monstrous husband Olivero is the killer, but that would be much too obvious. As the film progresses, we witness numerous other murders but then halfway through the film, it is announced by the lead detective (Franco Nebbia) that the killer was accidentally slain while murdering yet another young lady. This throws our armchair investigation off course, and we are forced to reexamine the remaining suspects. Entering into the film is cheeky Edwidge Fenech as Olivero's niece Floriana, easy on the eyes and notably all sexual, as she easily seduces Irinia into her bed. Watching from afar is someone unidentified; the voyeuristic element is always present in the Giallo. This character, who remains unnamed until the film's conclusion, arrives at the isolated villa delivering the freshly dry-cleaned dress that the maid was wearing when she was killed. Shortly afterwards Olivero is repeatedly stabbed with a large pair of shears yielded by none other than his abused wife, Irinia. The two women are now in cahoots and make plans to stow the body away down in the wine cellar; the typical Poe style of concealing the corpse behind a wall is utilized. As the film progresses, we are constantly shown a quick cut of the maimed one eye feline; the black cat acting as both as a guilty consciousness and also as a partial character who was named Satan, who was the author's mother's favorite pet. Irinia, who is slowly losing her grip on sanity loses it and attacks the cat with a large pair of shears, gouging out it's one eye. In the ultimate reveal we see Floriana being offered the family jewels by Irinia; but she refuses and makes plans to run away with her motorbike riding delivery man. Red herrings abound in this film and the many plot twists and turns will have you second guessing right up to the Poe inspired ending when the killer is revealed and the bodies in the cellar are discovered. I have purposely avoided revealing who the actual killer is so have no fear.


Next up in the collection is the head scratching Giallo, The Case of the Scorpion's Tail. Director Martino was a quick study of cinematic trends, and he took advantage of the upshot of Western Europe's post-war Economic Miracle by utilizing the proliferation of international travel. This film reads more like a travels of the rich and famous docudrama as Martino sets this film in several exotic locales including London and sun-drenched Greece. The film begins with several shots of an attractive women wearing a distinct red hat as she makes her way through London. After receiving a phone call from her lover, the woman breathlessly tells him that her husband has departed and that she cannot wait to be in his arms again. The woman is Lisa Baumer (Ida Galli, billed as Evelyn Stewart) and Martino is paying homage to Alfred Hitchcock by pulling a Psycho (1960) like move with a quick bait and switch by having us believe that Baumer is the focus of the film. After a quick cut to the two lovers embracing and going to bed, a severely cheesy shot of an obvious model airplane flying through the air explodes. The phone rings and Baumer is informed that the plane contained a bomb within its cargo and that everyone on board was instantly killed. Martino quickly leads us to believe that the plot is actually about an insurance fraud and that though tentative, hints that Baumer was somehow responsible for the bombing. But viewer beware because as we shall see, these are all red herrings. The first 30 minutes of the film tell us about Baumer and her affair, the death of her husband, and the surprise of a million dollars inheritance. However, this is all merely smoke and mirrors as we proceed; Martino and his screenplay writer, the talented Ernesto Gastaldi, are akin to master chess players and are merely populating the film with disposable characters whose purpose is to distract the viewer from the true intent of the film.

The husband's tragic death triggers a series of investigations by two different individuals: Peter Lynch (George Hilton) is a private detective sent by the insurance company and unknown to the others, Inspector Stavros (Luigi Pistilli) are observing them; he is from Interpol. Also keeping a close eye on Baumer is her ex-boyfriend, a junky in need of some quick cash. Quickly, as often is the trend in Giallo, bodies start to accumulate swiftly; both Baumer and her junky ex are dispatched without any further comment. The method of killing involves the use of a hooked blade, like the sort to cut linoleum, and the killer is methodical in his execution. The audience is sure to be wondering what they have gotten into. Welcome to the murky waters of the Giallo. We are shown the killer and he is clad all in black with some type of object disguising his face; the black leather driving gloves completes the creepy costume. This landmark disguise was first utilized by Mario Bava in his monumental Giallo film, Blood and Black Lace (1964) and will be copied by countless other film makers. The word Giallo is Italian for yellow and in the Italian markets all mysteries were identifiable by their trademark yellow jackets. As the film progresses, so does the cast and everyone acts suspicious and could be the killer.

Introduced and thrown into the mix is Lara Florakis (Janine Reynaud) a woman that claims to be Kurt Baumer's lover; she tells Baumer that he was planning to leave her. Florakis is accompanied by a knife carrying lawyer named Sharif (Luis Barboo) and he is looks like a tough customer. The trio meets in an empty theatre and then a chase scene ensues. To the rescue comes Lynch, who took the privilege of following Baumer, and he manages to whisk her to safety. Baumer collects the cool million dollars and quickly books a flight to Japan for later that night, but in true Giallo style, she encounters the killer in her hotel room and is slain and robbed of the cash. The dueling detectives enter the scene and quickly adapt a serious investigative mood, but first we have yet another character introduced to the film, and she is Cléo Dupont (Anita Strindberg), a reporter that wants a hot scoop. It isn't long before Cléo and Lynch are an item and end up together in the sack. The genuine attraction between the two shines through and it is easy to understand the alure of the beautiful Strindberg. However, the romance is interrupted for more ghastly interventions by the black gloved killer as he tracks Lara to her apartment and in a lengthy suspenseful scene, he makes her his next victim. Before meeting a bloody end, Lara makes a hasty call to the thuggish lawyer and pleads for him to come save her. This, of course, does not go as planned and Sharif is plunged from the rooftop to the pavement below. The Interpol inspector seems to be favoring Lynch as the main suspect, but he always has an alibi somehow. The mystery of who the killer is takes center stage, but there are plenty of red herrings and misleading clues as Martino shows us why he is considered the master of the genre.

The cinematography of the film is certainly atmospheric, and the suspense is continually ratcheted up as the body count grows exponentially. The soundtrack by Bruno Nicolai is most appropriate, haunting at times and suspenseful during the chase scenes. The palette of the film is most interesting with one scene in Cléo's apartment lit a cool shade of green. For purists, I shall not spoil the surprise ending, but see if you can manage to figure out who the killer is.


Rounding out the set is a third film and yet it does not appear to be a Giallo film at all. Next, we have what I believe is called a Poliziotteschi, an Italian police drama. The film in question is entitled The Suspicious Death of a Minor (1975) (aka "Suspected Death of a Minor" or "Too Young to Die") and it is oddly structured film that feels like it was added to the boxed set as a last-minute addition instead of the more appropriate Giallo, Torso (1973). Whatever. I was not too keen on this film simply because I was expecting more blood and gore and what I ended up with was this hodgepodge of a film that felt like the director couldn't decide what genre he was going for. Once again working from a script by Ernesto Gastaldi, this film is supposedly based on a real incident. A teenage prostitute Marisa (Patrizia Castaldi) is brutally slain, and it is up to the unconventional Detective Paolo Germi (Claudio Cassinelli) to get to the bottom of the case. By going undercover, Detective Germi circumvents the usual rules that apply to other lawmen, and so he poses as a john in search of underage teens. Joining forces with a local purse snatcher named Giannino (Gianfranco Barra), the duo pair up for an unusual serving of slapstick comedy and an endless series of car chases that does little to advance the plot of this odd comedy-police drama. Germi is a frontrunner to the type of detectives that Clint Eastwood would go on to portray in the 70's; he isn't opposed to breaking the rules in favor of getting results. Germi's investigation leads him to a Milanese domestic agency that doubles as a front for a prostitute ring. Mudding the waters is also a subplot that concerns the kidnapping of a local politician's son which figures in the overly complicated ending of this entry. Featuring Mel Ferrer as a pushy police captain, this film packs in plenty of cheap thrills but overall left me glancing at my watch wondering when it was going to limp to an end. Essentially what we have here is a mish mash of several different types of genres: lame slapstick comic moments, zany car chase scenes, a few blood thirsty murders, but none of it gels the way it should. This may satisfy the lesser curious fans, but as far as I was concerned, this one truly stunk. For collector's only.

Video


Arrow has done an excellent job with the transfers and the picture quality is outstanding. The colors are strong and the black levels are uniformly solid. The use of the 4K masters really shines through in this collection.

Audio


The soundtrack is balanced and the dialogue is clear and undistorted. All three films are decidedly improved from prior releases. I preferred the Italian language versions but some may prefer the English tracks overall.

Extras


There are plenty of extras included on all three discs and included on "The Case of the Scorpion's Tail" are the following:

Through the Keyhole a brand-new interview with director Sergio Martino (34:42).

Unveiling the Vice: a making-of retrospective featuring interviews with Martino, star Edwidge Fenech and screenwriter Ernesto Gastaldi (23:07).

Dolls of Flesh and Blood: The Gialli of Sergio Martino a visual essay by Michael Mackenzie exploring the director's unique contributions to the Giallo genre (29:04).

The Strange Vices of Ms. Fenech: film historian Justin Harries on the Your Vice actress extensive career (29:42).

Eli Roth on Your Vice and the genius of Martino (9:17). Unnecessarily needed commentary by Tarantino's pal.

Reversible sleeve featuring original and newly commissioned artwork by Matthew Griffin.

Brand new 2K restoration of the film from the original camera negative.


Extras on the "Your Vice Is a Locked Room and Only I Have the Key" disc include the following:

Audio commentary with writer Ernesto Gastaldi, moderated by filmmaker Federico Caddeo (in Italian with English subtitles). Fans will not want to miss this chance to listen to the master screenwriter as he discusses this production and the genre in general.

New interview with star George Hilton, "Under the Sign of the Scorpion" (20:57). General fluff that is included as filler.

 New interview with director Sergio Martino "Scorpion Tales" (47:10). Martino comments on filmmaking in general and is insightful as always.

"Jet Set Giallo" Sergio Martino's films by Mikel J. Koven, author of La Dolce Morte: Vernacular Cinema and the Italian Giallo Film (20:06) in English. I have read Koven's book prior to this and even though he is a bit of an academic, his opinions are interesting.

"Case of the Auteur Screenwriter" a video essay by Troy Howarth, author of So Deadly, So Perverse: 50 Years of Italian Giallo Films, in English (15:35). Howarth knows his stuff as he displays plenty of knowledge here.

 Theatrical trailer (2:31), original Italian trailer.

Comes with a reversible sleeve featuring original and newly commissioned artwork by Chris Malbon.


Extras included on the "The Suspicious Death of a Minor" disc:

 New audio commentary by Troy Howarth, author of So Deadly, So Perverse: 50 Years of Italian Giallo Films; Howarth is once again the expert in the field of the genre.

 Violent Milan: New interview with co-writer/director Sergio Martino (42:55). Martino is always interesting, and he speaks at length here about the film and the decline of the genre.

Original Trailer (3:27).

 Reversible sleeve featuring original and newly commissioned artwork by Chris Malbon.

Overall


The third film brings the ratings down a tad but overall this is a pretty good purchase for your dollar. An excellent introduction to the Giallo genre by a man that made his reputation by producing some excellent examples.

So, there you have it. Those looking to indulge their tastes in the Giallo genre certainly could do worse than snagging this exquisite, boxed set. And don't forget to pick up some J&B when at the store!
| | | | | |
| --- | --- | --- | --- | --- |
| | Video: A | Audio: A | | Overall: B+ |