The Film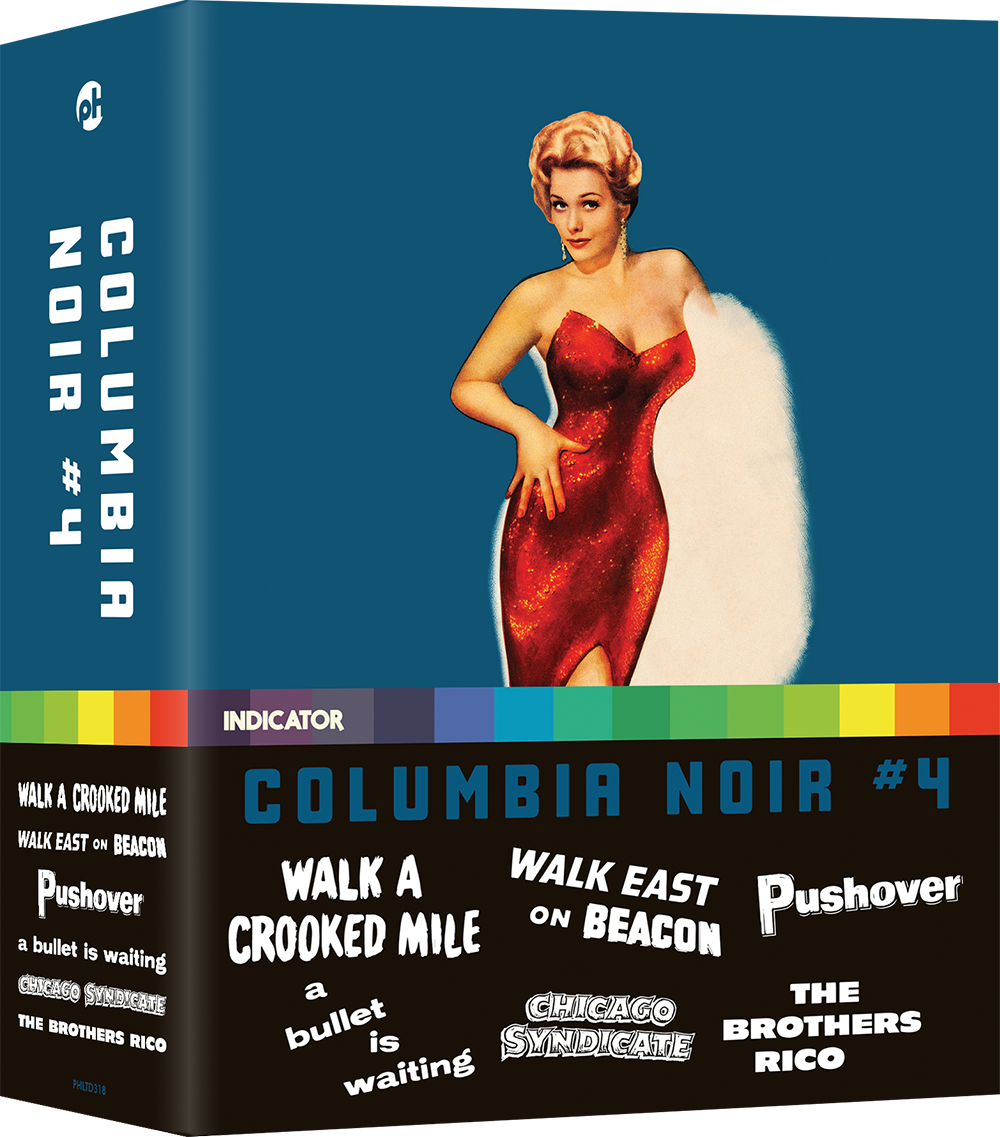 Indicator's ongoing series of Columbia Noir box sets returns with its fourth instalment, once again delving into the studio's archives to select six films which plunge the viewer into a dark world of crime. Featuring Kim Novak, Fred MacMurray, Jean Simmons, Rory Calhoun, Abbe Lane, Louis Hayward, and Richard Conte – not to mention gangsters, G-men, foreign spies, criminals on the run, and corrupt cops – Columbia Noir #4 continues the series in fine style.

Presenting all six films on Blu-ray for the first time anywhere in the world, this stunning collection includes newly recorded commentaries and critical appreciations, archival documentaries, six Three Stooges comedy shorts which lampoon the tropes and themes of the titles in the set, and a 120-page book.

Strictly limited to 6,000 numbered units.

Video


Former Mob accountant Eddie Rico (Richard Conte, superb as usual), now a private business man unconnected to organised crime, tries to find his brothers Johnny (James Darren) and Gino (Paul Picerni) before assassins do. They're marked for death by supposed family friend and gang boss Sid Kubik (Larry Gates).

Decent crime drama isn't really a film noir despite being packaged as such in this new Columbia Noir #4 set. It's well made, well acted and fairly engrossing but also fairly obvious in it's trajectory.

Apparently it's been keenly sought on BD; fans will be happy as it has finally been given the BD treatment and it's another monochrome 1.85:1 film that looks stunning on this new disc. On a par with the other 1.851 B&W films released in this Noir #4 and in the other three sets. There's always a slight aiftness to matted films when set against open aperture academy films (1.37:1) due to the zoom cropping and that's the same here.

Grain is ever present and beautifully encoded by Fidelity in Motion with no signs of wither print damage or digital tinkering. Gamma is perfectly balanced to no bias creep in and contrast is strong, low key and makes the well shot film look even punchier. No crush, no blowouts. A great transfer.

1080/24p / AVC MPEG-4 / BD50 / 1.85:1 / 91:34

Audio


English LPCM 1.0 (48 kHz)
Subtitles: English HoH

The mono track is robust without any issues that you wouldn't expect. Dialogue is to the fore and music never interrupts; mind you, score is used very sparingly. Being a track from the '50s it's reasonably dynamic with no distortions. Florid, forceful and generally very satisfying with a decent range considering the technology of the period and the restoration team have done a bang up job in ensuring their clarity.

Hard of hearing subtitles have been provided and as is usual are superb with all dialogue being accounted for; at least for the various sections I tested. I must clarify: Most studio subtitle streams tend to streamline the dialogue which means much of the nuance can be lost, but with a curated release as we have here from a small independent like Powerhouse Films you can tell that those responsible for these subtitles love what they do and take great care.

Extras


Audio commentary by Jason A. Ney (2021)

I'm not familiar with Ney but based on this excellent yak trak I shall be looking out for his name on extras to come. As you'd wish, filled with facts and trivia about the film, it's underlying themes and it's cast and crew. With lossy Dolby Digital 2.0 stereo sound.

"A Bracing Brutality: Nick Pinkerton on Phil Karlson and the Brothers Rico" 2021 featurette (29:54)

Excellent career overview of another unsung American filmmaker. Presented in 1089/24p 1.78:1 with lossy Dolby Digital 2.0:stereo sound.

"A Merry Mix-Up" 1956 short film (15:55)

Another wonderful Three Stooges short with excellent image and sound. Presented in 1080/24p 1.85:1 with lossy Dolby Digital 1.0 sound.

"Martin Scorsese on the Brothers Rico" 2010 featurette (3:31)

Vintage extra ported across in which Scorsese passionately discusses and waxes lyrical The Brothers Rico. Presented in 1080/24p 1.78:1 with lossy Dolby Digital 2.0 stereo sound.

Original Theatrical Trailer (2:25)

Vintage promo presented in 1080/24p 1.85:1 with LPCM 1.0 sound.

The Brothers Rico Image Gallery: Original Promotional Material (35 images)

Excellent HD gallery.

120-page liner notes book by Beth Ann Gallagher, Bob Herzberg, Sophie Monks Kaufman, Omar Ahmed, Jen Johans, Monica Castillo, and Jeff Billington, archival articles and interviews and film credits

16-pages are given over to The Brothers Rico; "The Brothers Rico: Family Over Business" by Monica Castillo and "Simenon on Screen and the Brothers Rico" by Jeff Billington. Two fine, thorough articles.

Packaging


Six small single-disc digipacks in a hard card box with a outer slip.

Overall


Apparently The Brothers Rico has been a heavily anticipated title and Powerhouse Films using an excellent Sony HD master have done it proud. Excellent image and sound with the usual fine extras package sound off yet another first class Columbia Noir boxed set. Bravo Powerhouse!
| | | | | |
| --- | --- | --- | --- | --- |
| The Film: B- | Video: A | Audio: A- | Extras: A+ | |