Ape Woman (The) AKA La donna scimmia (Blu-ray) [Blu-ray]
Blu-ray ALL - United Kingdom - Cult Films
Review written by and copyright: Rick Curzon (29th September 2021).
The Film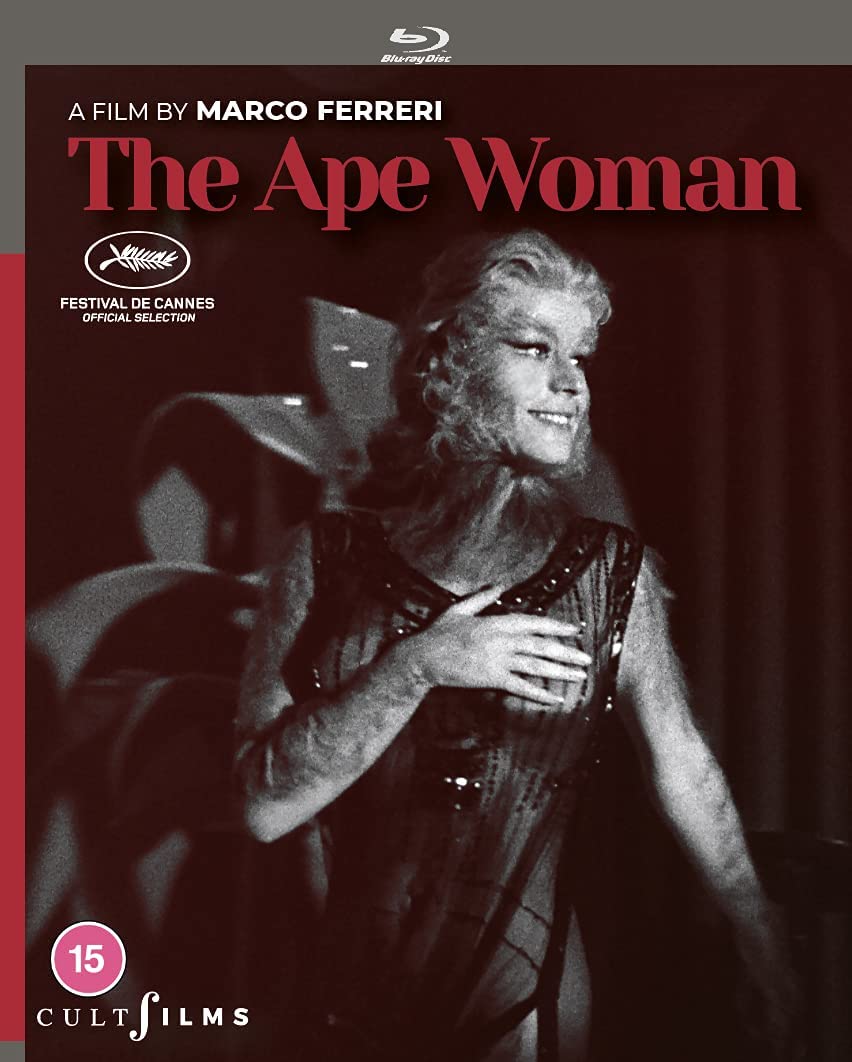 THE APE WOMAN is the highest-praised film by Marco Ferreri, the over-the-top iconoclastic director known for 'La Grande Bouffe'. His signature edginess was revered by the Cannes Festival who screened and awarded many of his works. And as his epitaph Cannes pronounced that "No one was more demanding nor more allegorical in showing the state of crisis of contemporary man".

Famed to be irreverent, Ferreri dissected our societal mores in all his masterful films, and he was so off-beat and scathing as an author that the Establishment even labelled him 'dangerous'!

The Ape Woman is inspired by a true story of the cruel exploitation of a young carnival performer, Julia Pastrana, whose body was completely covered in hair.

She is brought to life here by an extraordinary Annie Girardot - France's highest-paid actress at the time - in a natural measured and elegant performance from which emanates the ambiguous emotion of being alluring yet devastatingly poignant as "the ape woman".

An unscrupulous hustler (the magnificent Ugo Tognazzi) discovers the young woman in a convent and marries her in order to get her on the freak show circuit and to cash in on the distinctive appearance of her body and face fully covered in hairs.

For this world 1st ever Blu-ray release, CultFilms is showing all versions of the film recently restored in 4K for the Venice Film Festival finally doing justice to the previously condemned film.

First is Ferreri's own original edit now shown complete and uncut. And second is the Producer's longer, upbeat ending version which garnered a Palme D'or nomination at the 1964 Cannes Films Festival.

Video


Marco Ferrari (1928-97) seems to be much more well known and respected on the continent than in English-speaking territories. His films seem to have been less widely distributed and less well received in those territories. His 1977 film Bye, Bye Monkey was heavily shortened when released in the US and the UK for instanced and it received notably lesser reviews perhaps as a result.

Cult Films have one of his most highly regarded but more obscure films, The Ape Woman, and have given it an excellent new BD release. Restored in 2017 and 4K from an inter-positive by L'Immagine Ritrovata this is a well encoded disc that has a perfectly gamma balanced (no colour bias) monochrome transfer. Grain is natural, course and filmic.

Black levels are very satisfying and strong with no unintended crush and plenty of shadow detail. Contrast is low key and supportive allowing lots of texture and detail to come forth. It's strongest on closeups and medium shots rather than in backgrounds but that seems to be the nature of the original production. Greyscale is generally excellent. This is a very film like transfer and image and collectors and fans should be very pleased.

Both versions of the film share the same transfer and are seamlessly branched. An excellent presentation ('A+').

1089/24p / AVC MPEG-4 / BD50 / 1.85:1 / 94:03 (director's cut), 98:24 (producer's cut)

Audio


Italian LPCM 2.0 Mono (48 kHz)
Subtitles: English (optional), English HoH (both in yellow)

As with the vast majority of Italian films of this era - high and low brow - The Ape Woman was shot silent and the entire soundtrack was created in post-production. The language spoken on set was Italian and the ADR is exceptional with the sound matching lip movements 99.9% of the time. It also doesn't sound very echoey and hollow; Ferreri and his team have created a very good, carefully crafted soundtrack. It's typical of a mono track from the mid '60s in that by today's standards it lacks range and depth and it you crank the volume too much mild distortion and hiss can be heard ... it has that slightly closeted sound when this is done. But, at normal listening levels through my 5.1 amp is sounded excellent for track of this type and as good as I've ever heard ('A-').

Extras


"Marco Ferreri: The Director Who Came from the Future" 2007 documentary (98:49)

An excellent feature-length Italian language documentary that covers Ferrari's life and career (primarily the latter). Features plenty of talking head interviews and testimonials. It has a slightly odd way for the narrator to present - hushed tones - when he appears onscreen but is a great piece of work otherwise. Presented in upscaled standard definition 1080/24p 1.33:1 with forced English subtitles and uncompressed LPCM 2.0 mono sound.

Startup Trailers:
- 8˝ (3:48)
- Story of a Love Affair (1:17)
- Yesterday, Today and Tomorrow (0:53)

Promos for other Cult Films' releases presented in 1080/24p with uncompressed LPCM sound.

Packaging


Standard, thick, clear BD case.

Overall


A relatively obscure Italian arthouse drama gets the lavish treatment from Cult Films in the UK. Topnotch image and sound present the 2017 4K restoration on it's best behaviour. Extras are very good indeed (feature-length doc on director Marco Ferreri). A very solid 'A' and highly recommended.
| | | | | |
| --- | --- | --- | --- | --- |
| The Film: B+ | Video: A+ | Audio: A- | Extras: B+ | Overall: A |

---
Rewind DVDCompare is a participant in the Amazon Services LLC Associates Program and the Amazon Europe S.a.r.l. Associates Programme, an affiliate advertising program designed to provide a means for sites to earn advertising fees by advertising and linking to amazon.co.uk, amazon.com, amazon.ca, amazon.fr, amazon.de, amazon.it and amazon.es . As an Amazon Associate, we earn from qualifying purchases.