Our Ladies [Blu-ray]
Blu-ray ALL - America - Sony Pictures Home Entertainment
Review written by and copyright: Eric Cotenas (1st December 2021).
The Film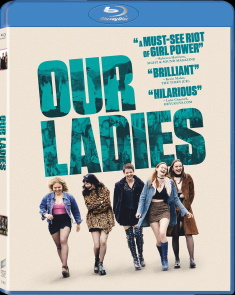 "It's more like hello, Edinburgh, open your legs," when the choir of Our Ladies of Perpetual Succour in the Scottish Highlands village of Fort William take a day trip to the city to compete in a national competition. Out of eyesight of Sister Condron (Red Road's Kate Dickie) – nicknamed "Sister Condom" – however, the choir's head clique have other plans. Part-time garage band singer Kylah (Anna and the Apocalypse's Marli Siu) and social outcast Chell (Ready Player One's Rona Morison) want to visit a brothel. Unofficial "head girl" Manda (Allied's Sally Messham) is distracted from her quest for a shag by the sudden distance of sardonic best friend Finnoula (The Man with the Iron Heart's Abigail Lawrie) who encounters the unpopular official head girl Kay (Eve Austin) when she slips away from the group to visit a lesbian bar. Orla (Millie Inbetween's Tallulah Greive), miraculously cured of leukemia after a pilgrimage to Lourdes, wants a bit of "the bondage" as part of her first time. Shopping, drinking, and meeting up with the kind of guys who think nothing of shagging a schoolgirl on either side of the age of majority – including drug-supplying lounge lizard Terry (Late Bloomers' Stuart Martin), unhappily-divorced Bobby (The Outlaw King's Jack Greenlees), shifty stutterer Danny ('s ), and a bouncer (Crawl's Ross Anderson) affectionately nicknamed "sheep shagger" – the quintet may not make it to the competition in time and, even worse, back to local haunt The Mantrap which is supposed to be crawling with sailors from the submarine that has surfaced in the bay.

Based on the 1998 novel "The Sopranos" by Alan Warner – whose debut novel "Morvern Callar" had been the recipient of a well-received film adaptation – and scripted by director Michael Caton-Jones and writer Alan Sharp (Night Moves) whose death in 2013 should be indicative of how long the project was in development, Our Ladies (the title itself an abridgement of the stage play adaptation "Our Ladies of Perpetual Succour") is not quite a coming-of-age dramedy or an American Pie-esque bit of teen raunch (although the "women can be gross too" zeitgeist that was Bridesmaids may have had something to do with finally getting this film into production); indeed, the film does not seem to be sure what it wants to be. The scripting gives the principal ensemble cast few opportunities to shine individually and stylized flashbacks to the backstories of the principal four girls are more distracting than illuminating because they really tell more than the story proper actually conveys of character. Only Orla's recollection to potential love interest Stephen (Martin Quinn) of an aborted intimate encounter with a comatose man (T2 Trainspotting's Lewis Gribben) managing to make the inclusion of a cancer could conveniently come back at any moment seem less gratuitous and actually affecting.

The choir performance seems anticlimactic not only in terms of action but the film's lesser musical performance, but the film's third act is extended to show the viewer both the continuing development of two sudden attractions and that the other characters have not been chastened by their mishaps in the city and are indeed defiantly pursuing pleasure in anticipation of their expulsion. While this part of the film slows the pace considerably, it features some moments of warmth and reconciliation that make up for the last minute attempt at tear-jerking. One of the few genuine amusements comes from the contrived series of events that causes one of the characters to literally "see stars" during orgasm. Set in 1996 but looking more modern with cinematographer Denis Crossan's of lens flares, the film features topical elements like Leonardo DiCaprio's teen idol status with a glimpsed poster for The Basketball Diaries, a cameoing David Hasselhoff's latter day sex symbol Baywatch days ("You don't shag the Hoff. You pump him. In slow motion. While you're running down the beach"), a pre-primetime Rob Lowe, and a montage set to Scottish singer Edwyn Collins' nineties hit "A Girl Like You". Had the film been set in 1999 rather than 1996, the production presumably would have ironically tossed in Vitamin C's bewilderingly popular earworm "Graduation Song" rather than two covers of Big Country's one hit wonder "In a Big Country" (an enervating one by Eddi Reader and a more impressive cast music video over the end credits). Long in gestation, Michael Caton-Jones' film adaptation of Alan Warner's novel "The Sopranos" and the stage play "Our Ladies of Perpetural Succour" - shortened to Our Ladies - does not seem sure what it wants to be amidst the current crop of female-centric comedies – including many actually helmed by women – as such, it feels like one more bit of filler in the filmography of Caton-Jones which has had some highs (Scandal, Rob Roy) while lesser efforts are generally more middling (Basic Instinct 2, The Jackal) than low.

Video


No complaints about Sony's 1080p24 MPEG-4 AVC 2.39:1 widescreen transfer of this slickly-lensed and digitally-finished feature.

Audio


The sole audio option is an English DTS-HD Master Audio 5.1 track that is generally front-oriented with subtle rear channel atmosphere during the relatively sedate city scenes. The mix is a bit more enveloping during several interior scenes from clubs and bars to choir halls as well as the musical segments including the ending montage. Optional English SDH, English, and French subtitles are provided.

Extras


There are no extras.

Overall


Long in gestation, Michael Caton-Jones' film adaptation of Alan Warner's novel "The Sopranos" and the stage play "Our Ladies of Perpetural Succour" - shortened to Our Ladies - does not seem sure what it wants to be amidst the current crop of female-centric comedies (including many actually helmed by women).


---
Rewind DVDCompare is a participant in the Amazon Services LLC Associates Program and the Amazon Europe S.a.r.l. Associates Programme, an affiliate advertising program designed to provide a means for sites to earn advertising fees by advertising and linking to amazon.co.uk, amazon.com, amazon.ca, amazon.fr, amazon.de, amazon.it and amazon.es . As an Amazon Associate, we earn from qualifying purchases.