The Film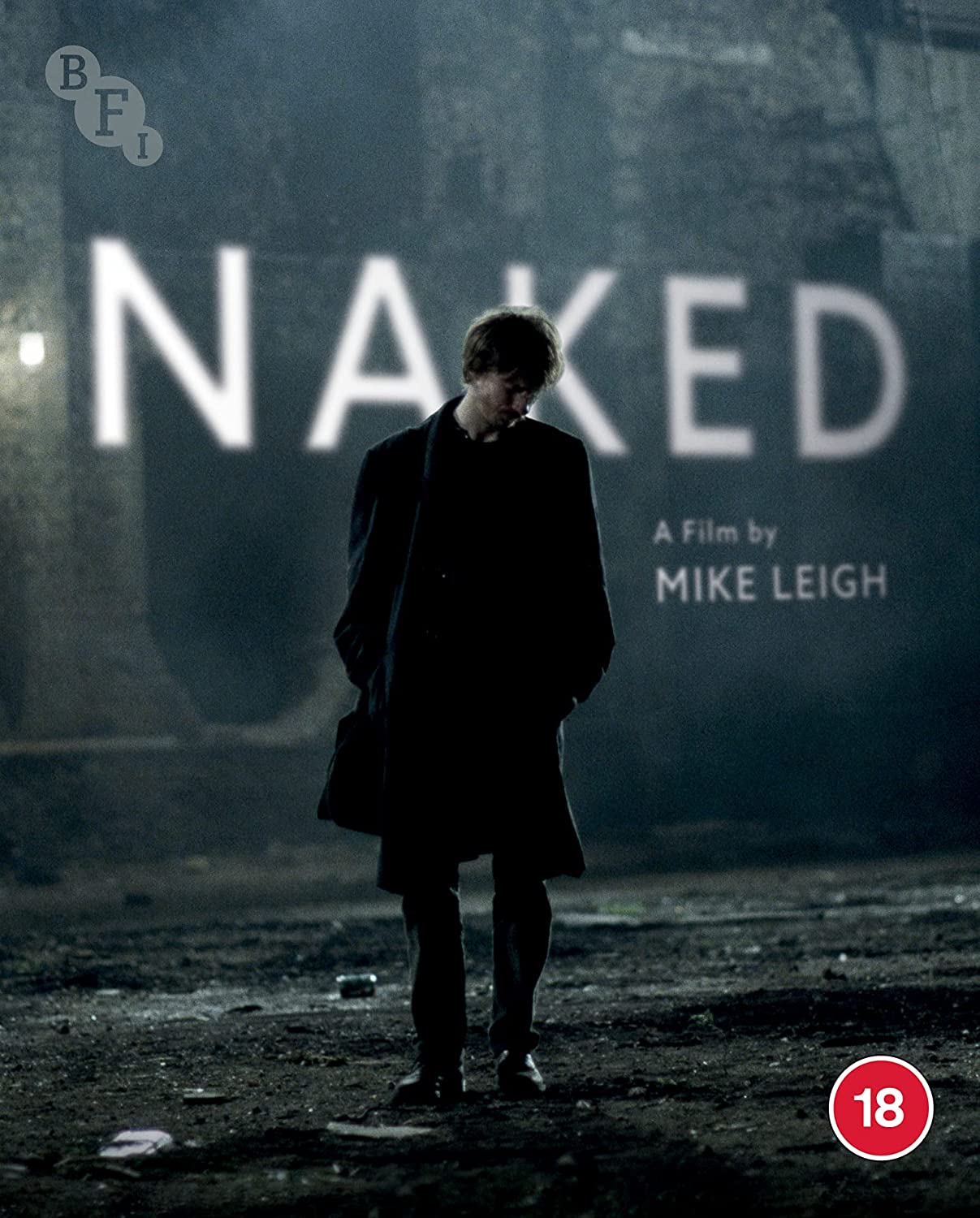 "Naked" (1993)

After a lewd encounter in an alleyway and then stealing a car, Johnny (played by David Thewlis) winds up at his ex's house where her flatmate Sophie (played by Katrin Cartlidge) lets him in. His ex Louise (played by Lesley Sharp) is not at all excited to see him lying on the sofa and laughing it up with her out of work flatmate. Johnny is a drifter, unclean and unshaven, chain-smoking and with quite a mouth on him. He's a man of intelligence, able to reference literary, philosophical, and religious works in heated conversations, though he has the urge to sometimes bring things towards conspiracy theories and madness as well. As he wanders around London for the next few days, he encounters some interesting individuals, though none of them particularly hold a candle up to Johnny and his his existence on the fringe of society.

Filmmaker Mike Leigh was making a name for himself in his native UK as well as internationally with his unique take on slice of life stories with awkward yet fascinating characters, created through intense improvised rehearsals which lead to a collaborative effort between the director and the performers in the writing process. With "Naked", Leigh took things in a darker direction. A journey of a madman through the streets of London over the course of a few nights. But what is he exactly mad about? Where and how can he express his anger and frustration?

The character of Johnny is repulsive, violent, and selfish, yet audiences can barely take their eyes off him and that is a very uncomfortable yet fascinating feeling. From the opening shot, he is having sex with a woman in an alleyway. Is he raping her? Is it consensual? It's never answered, though it's from this first encounter that audiences will either see him as a misogynistic and uncontrollable individual, or see him as a person looking for a connection with others but cannot achieve that goal. When he sees Louise again, she does look surprised and confused, but she is not angry or in a rage at all that he is in her home. As she states later on, she and Johnny had a relationship for a few months, but there doesn't seem to be much ill will between them. She does have feelings for him, and those feelings are possibly similar to what her roommate Sophie eventually has. Once Sophie and Johnny hook up, she becomes intensely lovey-dovey towards him but that only irritates Johnny completely. Johnny is not looking for a traditional relationship, and his time with Sophie is entirely sexual in his eyes and mind. But is this how he would like it? Or did the aggressive sex with Sophie put his mind at ease?

Throughout the few nights in London, he encounters Archie (played by Ewan Bremner) and Maggie (played by Susan Vidler), a young Scottish couple on the run, building security guard Brian (played by Peter Wight) whose lonely time guarding and empty building reflects his lonely home life, a woman (played by Deborah Maclaren) who dances alone in her apartment while drinking heavily, and a suicidal girl (played by Gina McKee). Each person he comes across has a story to tell, but only glimpses are seen and all are through conversations in short pieces. Archie and Maggie are not a very intelligent couple and they are examples of juvenile delinquents without positive parental figures, especially with Archie admitting that he beat up his father. Brian is a person that is older, wiser, but has a hole in his heart, as he has been separated from his wife for many years and finds comfort in just being able to talk to someone. The two unnamed women that Johnny comes across later are also missing something from their lives. Again it seems to be love, but even Johnny knows that he is not able to give that to either of them in a positive capacity. So what is Johnny's purpose? Well, like many in this world he doesn't have one. He is fueled with anger but has no pedestal to scream it from. He is frustrated with people, the government, and the world in general, but there is little he can do to change the course of things. He isn't a product of the social system but is a person that has seen the darker elements of humans surviving in the post-Thatcher world of the United Kingdom. But the film is not only about him.

On the opposite side of the spectrum there is Jeremy (played by Greg Cruttwell), who is a rich and successful man in the real estate business. He takes care of himself by vigorous exercise to keep physically fit, and lives in a lavish apartment. But when it comes to women, he sees them as mere objects. He frequently takes women out on dates to fancy restaurants but he has absolutely no charm. He asks degrading questions and taunts his dates, yet the women are fine with going to his apartment after that. And why is that? He looks good and he is very rich. The materialism is the pure attraction. In bed, he also sees the women as basically objects, as the aggressive sex is almost frightening to the women to say the least. His sight towards life is to get rich and die young without regrets, and there is no stopping him.

There is a balancing act in "Naked" between Johnny's story and with Jeremy's story until they eventually collide, but this happens to be one of the weaker elements of the film. Most of the screentime is dedicated to Johnny, so when it cuts to Jeremy's story it can sometimes feel sudden and awkward rather than a smooth transition. Even their eventual encounter seems more like an add on rather than having their worlds truly collide. If they had set up some background that the two actually knew each other or had a past, that may have deepened the final act to a stronger conclusion. But even though there are flaws to the film, it's certainly a powerful tale of lonely people and the world they inhibit.

Leigh constructed the story and characters through improvised rehearsals where the actors took part in creating the backstories and personalities. The outline of the story was expanded as a feature length story, and this is his method for almost all his productions. With "Naked" he was able to push the mental and psychological boundaries of the various characters, and the actors do a wonderful job in giving each person a lasting impact. From the twitching neck of the character of Archie, the quiet yet sad eyes and mannerisms of the suicidal girl from the cafe, even the minor characters have a good amount of attention to details. But of course what makes "Naked" stand tall is the central performance by Thewlis, who is easy to hate yet fascinating to watch. If one were to see him on the street, he would be easily avoided by the general public. Yet on screen, he becomes a character that one cannot dismiss. From his matter of fact cadence in speaking, his ability to say what is on his mind without thinking of the consequences, and utter disregard for order is almost like if current social media was in human form. It would be interesting to see if Johnny would have gone on to have a raving Twitter account in the future, or would he have seen the issues that social media has caused to provoke people, rather than connecting people?

Leigh has used London as a backdrop to many of his productions, and "Naked" is filled with great sequences of London, shot by his longtime cinematographer Dick Pope. In order to achieve a cold and dreary look throughout, bleach bypass was used in processing the film, resulting in a pale, cold, and gritty look to the film, lacking warm tones or bright colors. Shooting on the streets of London with real onlookers rather than paid extras, the visuals are as natural as can be, and showcase a non-touristy look to the big city in areas that were not exactly the main draws for people to see.

"Naked" premiered at the Cannes Film Festival on May 14th, 1993, where it won Best Director and Best Actor awards. Playing at various film festivals such as Toronto, New York, and Chicago over the next few months, it opened theatrically on November 5th, 1993 in the United Kingdom where it was met with mixed reception. Some were taken back by the lowlife characters and violent aspects, others praised the writing and the performances. Playing theatrically worldwide in later months and into 1994, the film received much better notices internationally. The film put Leigh's name higher on the list of auteur directors and Thewlis' career hit a milestone with his intense performance, which led to a lengthy career in both independents and big budget features. Over the years, "Naked" would only gain in notoriety and in critical acclaim, as a film that is divisive as it is loved. In the post #MeToo movement, it is sometimes hard to watch some of the sequences of the men and how they are taking advantage of the situations seen, but it is also interesting to see how the female characters handle things and the flaws within their characters as well. It may not be a perfect movie, but it's intelligent, thought provoking, and disturbing all at the same time. And not many films can do that.

Note this is a region B Blu-ray

Video


The BFI presents the film in the 1.66:1 aspect ratio in 1080p AVC MPEG-4. The original 35mm negative was used for the 4K restoration. As the film was processed using bleach bypass, the color palate is very pale with blues and browns being quite strong and bolder brighter colors being subdued. For the color timing, an original release print from 1993 was used for reference, and the color grading was approved by Leigh and Pope for this release. The previous HD transfer, done by The Criterion Collection from the 35mm interpositive element looked great, but this new 4K restoration is a leap beyond in clarity in comparison. Damage marks are basically gone, color stability is improved, and the framing has been opened up as well. The Criterion was in 1.85:1 while the BFI transfer is in 1.66:1. Pope states in the disc's interview that this new 4K restoration is how the film was intended to look and presents that for the first time on home video. An absolutely fantastic transfer.

The film's runtime is 131:14.

Audio


English DTS-HD Master Audio 5.1
English LPCM 2.0 stereo
English Audio Descriptive Dolby Digital 2.0 stereo
There are three audio tracks available. A newly remixed 5.1 track, the original stereo track, as well as an audio descriptive track. The film is very dialogue driven so the center channel does most of the work while the surrounds are used effectively for the occasional music cues for the 5.1 track. Dialogue does also bleed into the surround channels, though at a very low level. Dialogue is always clear and easy to hear, and there are no errors to speak of for any of the audio options. Music and effects are also well balanced throughout. Though compared to the 2.0 stereo track, there really isn't much difference. The stereo track sounds quite similar on a surround setup, with the dialogue being centered and the left and right being used for the music and effects. Both sound great and should be pleasing for audiences, but one shouldn't expect the 5.1 to be some sort of new revelation.

There are optional English HoH subtitles for the feature in a white font.

Extras


Audio Commentary with director Mike Leigh and actors David Thewlis and Katrin Cartlidge
In this commentary from 1994, Leigh and Cartlidge are recorded together while Thewlis is recorded separately. Discussed are the creation of the script and characters through extensive rehearsals by the actors, the shooting of the film in many real setting instead of studio sets, the bleach bypass process for the image, as well as information on specific scenes. Some interesting tidbits include the shoot in the empty office space and the 26 takes for the lengthy silhouette scene, the police being called in the scene featuring Thewlis and Bremner on the street, and more. Also commented on is how the film was received with both positive and negative reactions, and how the reactions differed overseas. This was originally recorded for US Laserdisc from The Criterion Collection, which was then later featured on their subsequent DVD and Blu-ray releases, as well being licensed for some non-US DVD editions. As with many spliced together Criterion commentaries of the period, there is a narrator that introduces the name of the speaker when the speaker changes, but as for the opening moment with "Welcome to the Criterion Collection audio commentary..." has been removed on this BFI release.
in English Dolby Digital 2.0 without subtitles

"Mike Leigh and Dick Pope on Naked" interview (26:14)
In this newly recorded interview, Leigh and Pope sit together to discuss their second collaboration together nearly thirty years later. Discussed are the look of the film using bleach bypass, about the locations used, the final Steadicam shot sequence, the backlash the film received for some of its themes, the unusual choices made such as a harp being used in the musical score, and more. The interview portion is in 2.40:1 while the shots of the film is in 1.66:1.
in 1080p AVC MPEG-4, in 2.40:1/1.66:1, in English Dolby Digital 2.0 without subtitles

"The Short and Curlies" short film directed by Mike Leigh (18:05)
Betty (played by Alison Steadman) is a hairdresser and a single mother to her grown daughter Charlene (played by Wendy Nottingham). Betty is more preoccupied with the happiness of her frequent customer Joy (played by Sylvestra Le Touzel), a young girl who starts a relationship with the nerdy and awkward yet sweet Clive (played by David Thewlis). This short comedy from Leigh is quite a lighter tone in comparison to "Naked", with two different relationships - a slightly distant one between a mother and daughter and a new relationship between a young couple. Steadman, who was Leigh's wife at the time is wonderful as Betty who sees Joy as a surrogate daughter as their conversations together as she does Joy's hair is much more enjoyable for her than when she is at home with her real daughter Charlene. Charlene is depressed and in a rut, as she is ready to go into motherhood herself, but without a male figure in her life, just like her mother. The mother and daughter may not be able to communicate as they should, and sadly the arrival of a baby will probably not change things between them. As for the relationship between Joy and Clive, it is fun to see this slightly awkward couple at the start of their time together. Clive is silly and communicates through jokes, which in fact are pretty hilarious, but might be annoying if this is the only way he speaks all day. Even though Joy might be a bit annoyed that Clive's words are rarely true and honest, she is able to hear the sweeter comments in between the riddles and gags. Thewlis is almost unrecognizable with his nerdy portrayal of Clive, who would take on the aggressive character of Johnny in "Naked" six years later for Leigh. The short was produced by Channel Four, and played at various festivals, premiering at the Cork International Film Festival in 1987, and eventually being broadcast on television in December 1988. The film has been transferred in HD from the original film materials and it looks absolutely impressive here. The colors are bright and beautiful, detail is very crisp, and damage is virtually non-existent. Compared to the transfer that was on the Criterion DVD and Blu-ray, which came from a videotape master in a windowboxed aspect ratio, this is a revelation and is absolutely the best way to experience it. Although the new 1.78:1 aspect ratio is not how it was originally broadcast, the framing does not seem at all odd at all and looks very natural. There is no mention in the booklet or packaging that the short is remastered so this was a surprising touch.
in 1080p AVC MPEG-4, in 1.78:1, in English Dolby Digital 2.0 without subtitles

The Guardian Interview: Mike Leigh (44:57)
In this on stage interview at the National Film Theatre, Leigh talks to Derek Malcolm after the screening of his film "All or Nothing", though more is discussed than just that film. Included are some behind the scenes information on "All or Nothing", reactions and reflections to "Topsy-Turvy", the use of colors in his work including in "Naked", the scriptwriting and rehearsal process, the differences between working in television in the 1970s compared to the present, and more.
in 1080p AVC MPEG-4, in 1.33:1, in English Dolby Digital 2.0 without subtitles

Image Gallery (2:31)
A series of production stills, promotional stills and posters in this silent automated slideshow.
in 1080p AVC MPEG-4

Trailer (1:39)
This is the newly made trailer for the 4K restoration screened in 2021. The trailer has also been embedded below.
in 1080p AVC MPEG-4, in 1.66:1, in English Dolby Digital 2.0 without subtitles



Booklet
A 24 page booklet is included with the first pressing. First is the essay "Naked Truth by film critic Caitlin Quinlan, which analyzes the film's happenings and themes with many spoilers to be said. "Leigh in London" is the next essay, written by Lou Thomas, the digital production editor of bfi.org.uk, which looks at the life and career of Leigh. There are also special features information, transfer information, acknowledgements and stills.


The film was previously released on Blu-ray in the US by The Criterion Collection in 2011, an upgrade from their Laserdisc and their DVD. The Laserdisc included the audio commentary, "The Short and Curlies" with optional commentary by Leigh, excerpts from other films by Leigh, the complete radio drama of "Too Much of a Good Thing" directed by Leigh and a text introduction to chaos theory and barcode conspiracies. For the DVD and Blu-ray editions, the extras included the commentary, "The Short and Curlies" with optional commentary, an interview with critic Neil Labute, "The Art Zone: The Conversation" a 2000 BBC2 program with author Will Self interviewing Mike Leigh, and the original theatrical trailer. The BFI release has mostly different extras, but thankfully were able to license the excellent vintage commentary for the film. Unfortunate that the commentary for the short couldn't also be included.

Overall


"Naked" is not an easy watch with the hard hitting drifter on a journey into bleakness, but it is a fascinating watch that has not lost any of its power after nearly thirty years. The BFI's release gives the film a fresh coat of life with a new and excellent 4K restoration transfer, with a great selection of extras, making this highly recommended.
| | | | | |
| --- | --- | --- | --- | --- |
| The Film: A- | Video: A+ | Audio: A | Extras: A- | Overall: A |