The Film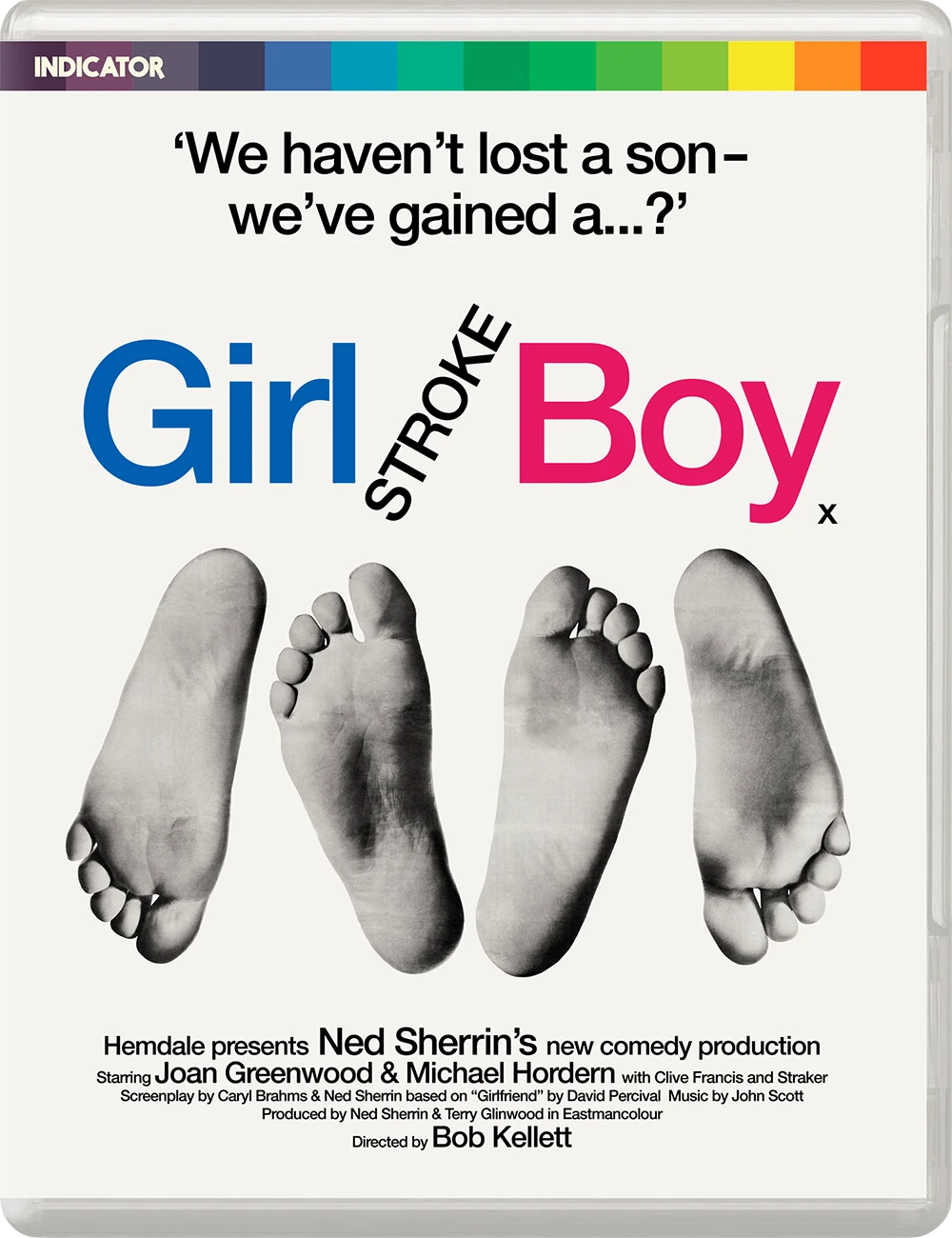 Based on David Percivalís acclaimed play Girlfriend, Girl Stroke Boy is a one-of-a-kind comedy which tells of two everyday, middle-class parents who are confounded when their son brings home his new partner: an elegant, confusingly androgynous West Indian (actor and pop star Peter Straker in a pioneering performance).

Directed with an affectionate, light touch by Bob Kellet (Up Pompeii, Space: 1999) and featuring a superb cast, including Joan Greenwood (Mysterious Island, Kind Hearts and Coronets), Michael Hordern (The Missionary, Barry Lyndon), Patricia Routledge (To Sir, with Love), and Clive Francis (A Clockwork Orange), Girl Stroke Boy still packs a punch today thanks to Strakerís flamboyant performance (British cinemaís first gay leading role to be played by a black actor) and the prescient subject matter. Long out of circulation, this new, restored edition marks the filmís worldwide Blu-ray premiere.

Video


A largely forgotten but groundbreaking film about sexual politics, based on a stage play "Girl Friend" by David Percival, gets the deluxe treatment by Powerhouse Films in the UK.

According to the booklet:


Girl Stroke Boy was restored by Powerhouse Films at Final Frame Post, London. As the filmís original 35mm camera negative could not be located, a rare positive element was scanned at 4K. Restoration work was undertaken at 2K to remove dirt and unstable frames. The filmís mono audio was remastered from the original 35mm optical soundtrack element.

A Couple of Beauties was restored by the British Film Institute.


A fairly straightforward production shot using spherical lens and presented theatrically in the matted ratio of 1.85:1 (not sure if the film was hard or soft matte, or a mixture of both). Girl Stroke Boy has the standard look of a relatively low budget British film of the period with strong, if natural colour values. If I had to guess I'd say there is a slight purple bias with flesh tones looking ruddy and slightly pinkish. Primaries are strong when they appear but overall the look of the film favours browns and blacks with the occasional red kicking out. Shadow detail is excellent in well lit scenes, murkier in darker.

Black levels are deep and satisfying with no unintended crush. Contrast is punchy but low key with detail shining through nicely. No blowouts. Encoding is - as always - excellent with plentiful film like grain all handled naturally with no signs of clumping etc ('B+').

1080p24 / AVC MPEG-4 / BD50 / 1.85:1 / 85:58

Audio


English LPCM 1.0
Subtitles: English HoH

Very limited mono track of the period. Range is naturally not terribly dynamic but is more than adequate for the purposes of the film keeping dialogue to the fore and the low key, sparsely used score in support.

The usual comprehensive and excellent hard of hearing subtitles are present and welcome ('A-'j.

Extras


"The British Entertainment History Project: John Scott, Interviewed by Alex Gleason and Martin Sheffield on 12 July 2018" 2018 interview (98:35)

Feature-length career-spanning interview with composer John Scott with topics covered including working in Hollywood, the Hollywood Symphony Orchestra, rejected scores, film scoring in the 21st century and ongoing, working with Ron Goodwin, Robert Farnon, Henry Mancini, Jacques Cousteau, Harry Allen Towers, Norman J. Warren, Phillip Green, Bernard Hermann, John Barry, Nelson Riddle, George Martin, Johnny Spence, David Snell, working for EMI who employed Scott as a composer rather than as just a player and working on productions Shellarama, A Study in Terror (both 1965), The Prisoner (1967-68), Anthony and Cleopatra (1972), England Made Me (1973), Hennessy (1975), The People That Time Forgot (1977), Timebomb at Fifty Fathoms (1978), Inseminoid (1980), Greystoke: The Legend of Tarzan, Lord of the Apes (1984), The Shooting Party (1985), King Kong Lives (1986), A Prayer for the Dying (1987) and Ruby (1992). Presented in 1080p24 1.78:1 with lossy Dolby Digital 2.0 stereo and with no subtitles for the hearing impaired.

"Ahead of It's Time: Alex Davidson on Girl Stroke Boy" 2022 interview (16:17)
"As Simple as That: Peter Straker on Girl Stroke Boy" 2022 interview (13:39)

The exceptionally well spoken Straker covers how he got the role, screen testing for Ned Sherrin, kissing people in front of the entire crew whilst they focussed on you, kissing a man, Ramon Gow the hair stylist, the nature of the role, fluid sexuality and breaking down of of sexual stereotypes at the time, the script, the cast, Bob Kellet amongst plenty of other interesting points if discussion. Davidson discusses the radical nature of the play and the film, the exploration of gender, race and class within the text, how comedy can be a good lens for satire, the roles of the characters within the narrative and the interpersonal dynamics. Presented in 1080p24 1.78:1 with lossy Dolby Digital 2.0 stereo and with no subtitles for the hearing impaired.

Girl Stroke Boy Image Gallery: Original Promotional Material (19 images)

"A Couple of Beauties" 1972 short film (29:00)

Richly coloured supporting short thriller about someone who disguises themselves in drag when they witness a gangland hit. Presented in 1080p24 1.37:1 with uncompressed LPCM 2.0 (48 kHz) sound. It looks generally excellent with rich colour values, deep black levels and good contrast. There is some crush but I would suggest most of that is down to the way it's shot and also baked into the source used. Detail is decent if a tad soft which suggests that this is from a source a generation off the OCN. Grain is fine, encoding is strong.

36-page liner notes booklet by Jane Giles, archival interview with Peter Straker, a look at the reception of the source play Girlfriend, an overview of contemporary critical responses, new writing on A Couple of Beauties, and film credits

Typically excellent hardcopy companion to the film covers most bases one would want for this film and it's accompanying short.

Packaging


Standard clear BD Keepcase.

Overall


A long forgotten adaptation of a controversial stage production gets the royal treatment from Powerhouse films. Pleasing image and sound with some choice extras (especially the 99 minute John Scott interview) makes for a package that'll please the buffs. Highly recommended.
| | | | | |
| --- | --- | --- | --- | --- |
| The Film: B | Video: B+ | Audio: B+ | Extras: A+ | Overall: A- |