The Film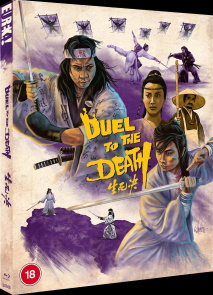 Every ten years, representatives from Japan and China meet to determine who is the best of the best. After taking part in seemingly foiling a heist on his temple by suicide bomber ninjas, scholar monk Ching Wan Bo (Royal Tramp's Damian Lau) decides that the competition would be the best way to test his abilities. Although the Abbot disapproves, Ching Wan's own mentor encourages him and the Abbot leaves the decision up to the younger man. The monastery hosts the visiting Japanese master Kaneda (Heroes Shed No Tears's Eddy Ko) who expresses nothing but contempt for Shaolin Kung Fu, and is certain that his swordsman Miyamoto Ichrio (The 36th Chamber of Shaolin's Norman Chu) will triumph in the competition. While Ching Wan and Miyamoto are given hospitality by Hsia-Hau (Police Story's Paul Chang Chung) whose family has held the competition for generations in the Zhu King Cave – this year being the exception despite the accomplished sword-fighting abilities of his only daughter Sing Lam (Life After Life's Flora Chong-Leen) – they are repeatedly attacked by ninjas, and Miyamoto seems just as puzzled and suspicious of his own master who demands that he focus on winning. Little do the two fighters know that their other Chinese competitors are mysteriously vanishing in the days leading up to the competition, and Ching Wan and Sing Lam may be next on the hit list. When Miyamoto discovers who is behind these attacks and disappearances, his (and others') national loyalty and sense of personal honor conflict, and the Duel to the Death is no longer just a deadly sport.

Duel to the Death is another variation on the "Japanese Kung Fu is superior to Chinese Shaolin Kung Fu" storyline; however, in this case, not only is that revealed to be a boast considering the Shogun's plot and the opening heist in which nothing is stolen but they "Lost Manual on Breaking the Swordplay Stances of All Clans" scroll is copied and hidden to be retrieved later. What sets the film apart is just how impressively it excels in its execution, from compelling plotting and good lead performances to the exciting and spectacularly gory fight scenes that often include some goofily surreal elements like a severed head impaled through the temples on a broken branch that utters defiant last words – which appear to prefigure the actors' appearance in John Woo's Heroes Shed No Tears years later – before exploding. As usual, the climactic battle takes place when Ching Wan has no one left to lose; however, in the blood-hemorrhaging stalemate, we are left uncertain as to whether Ching Wan has truly adapted his opponents notions of competition and honor, or if he is simply in despair when he realizes that there is nothing or no one left to fight for (and the losses are more deeply felt here than in some Shaw output). Lau and Chu are compelling leads dramatically and in terms of physicality – Lau had already appeared in the popular wuxia television series Luk Siu-fung and Woo's Last Hurrah for Chivalry while Chu was already a veteran of many Golden Harvest competitor company Shaw Brothers genre output from the previous decade – and Chong-Leen is given the opportunity to be more than a love interest, while Ko and Chung also lend depth to their plot-driving secondary roles. While most of the film's genre contemporaries had moved away from wuxia wires and swords in favor of hand-to-hand combat, director Siu-Tung Ching (The Swordsman) revels in such superhuman acrobatics just a few years before the fantasia of Tsui Hark like Zu: Warriors from the Magic Mountain and A Chinese Ghost Story which Hark produce and Siu-Tung directed. The abduction scenes are also deliriously entertaining set-pieces involving a "giant", ninjas who burrow under the sand like something out of Tremors (or maybe Bugs Bunny), and assailants that fly on kites like moths while the chamber in which the fighters are held captive looks like something out of a seventies Japanese exploitation film. Duel to the Death was action director Siu-Tung Ching's directorial debut but he would continue working concurrently as director and action director – including the Woo's The Killer and Jackie Chan vehicle City Hunter – with 2019's Jade Dynasty (which featured Chu in a supporting role) being his most recent project in both roles.

Video


Duel to the Death did not get an official US release until Tai Seng's 1997 VHS and laserdisc and a U.K. tape from Made in Hong Kong in 1998. Tai Seng's non-anamorphic 2000 DVD – presumably utilizing the laserdisc master – was easily eclipsed pictorially by Fox's remastered 2003 DVD although the 5.1 DTS and Dolby Digital remixes of Cantonese and English dubs featured altered sound effects. Hong Kong Legends' U.K. 2005 DVD offered the Cantonese mono track in addition to the 5.1 remixes as well as some brand new extras.

The film made its Blu-ray debut earlier this year in Hong Kong from Panorama, and presumably there is less of a question here as to whether it is an upscale or not since the 2K master for Eureka boasts of for their 1080p24 MPEG-4 AVC 2.35:1 widescreen Blu-ray is also of recent vintage. The combination of the very un-Shaw-like cinematography and locations along with the vivid saturated colors and impressive detail in the textures of hair, wardrobe, natural settings, and the woodwork of the interiors make this truly one of the best-looking Shaw remasters in quite some time (although what Arrow has done with their Shawscope Vol. 1 set remains to be seen).

Audio


As usual, Eureka have dropped the remixes in favor of original mono Cantonese and English LPCM 2.0 tracks, both of which sound quite clean; however, the Cantonese dub is definitely recommended not only because of the better voice casting – the English dub can be unintentionally funny (although the talking parrot was just as silly an inclusion on the Cantonese track) – but also because it preserves the closing theme song which is replaced with an instrumental on the English track. The optional English subtitles are free of obvious errors and also translate the aforementioned song.

Extras


Forgoing the Hong Kong Legends commentary by Bey Logan, Eureka's disc instead includes a brand new audio commentary by Asian film expert Frank Djeng, NY Asian Film Festival who notes the use of Korean and Cambodian locations rather than Taiwan – as well as the telltale Korean architecture used for the Japanese scenes – some of the common plot elements utilized here including the temple raid and the Chinese versus Japanese martial arts, how Western audiences first became familiar with this film through clips in the bestselling Golden Harvest video documentary The Deadliest Art, and the "TV roots" of the film. Djeng also notes that the translations of the scroll title only specify the stances but that it is also a list of the fighters who will be stalked and abducted later – it is unclear if this is a fault in the subtitles or if domestic audiences would understand that such a list would be part of the manual – as well as some points that are famililar from other commentaries and across these productions, including making the main character a "scholar monk" so that the working actor would not have to shave their head.

Also new to the release is an interview with screenwriter Manfred Wong (32:28) which is oddly overdubbed in English rather than subtitled. He recalls dropping out of college (or just not showing up) to work for the network TVB, getting $150 per written gag that ended up getting used, and then moving to RTV who offered a salary of $1,200 per month for writing two one hour scripts monthly, and then to CTV (who were doing wuxia programs) where he met Siu-Tung Ching, and their move into film. He assesses Duel to the Death as "not a classic" but admires Siu-Tung's visual style. He also notes that he would never work with the director again because he knew exactly what he wanted but never conveyed that to him during the writing process. Ported from the UK DVD is "Duel Identity: Reflections on Duel to the Death" (18:57), an interview with actor Norman Chui Siu-keung (aka Norman Chu) who notes that he started out as an accountant at the stock exchange when he was "discovered" and then going to an audition and joining Shaw's training program in various martial arts (which he notes is very different from modern stunt training), his work at Shaw where he usually played heroes, along with some recollections from the feature presentation.


Also ported over is "Flora Cheung on Duel to the Death" (8:26), an interview with actress Flora Cheung who recalls doing a television special at the last moment when the original presenter revealed she was pregnant and then immediately being offered contracts for movies. She recalls how her dance experience helped with learning martial arts for the films, being virtually the only woman on the production of Duel to the Death, and having to leave filmmaking entirely when she broke her contract because of the stressful pace. The disc also includes the alternate English opening/closing credits (3:55), two still galleries as well as the original Hong Kong theatrical trailer (3:20) and a U.S. home video trailer (1:48) for the Tai Seng DVD.

Packaging


Housed with the disc is a 31-page booklet including "Ninja Snaps: On Ching Siu-Tung, Wirework and More..." by James Oliver, an expansive appreciation of the film in all its facets (plotting, visuals, audacity), pretty much of the same opinion of the film's singularity as Frank Djeng's "The Masterpiece That Few People Know: Ching Siu Tung's Duel To The Death" included here as originally published as the liner notes for the Tai Seng laserdisc release.


The first 2,000 copies come with an O-Card slipcase featuring new artwork by Darren Wheeling.

Overall


On paper, Duel to the Death seems as "generic" as its title, but it is actually a very atypical Shaw Brothers wuxia from the future director of A Chinese Ghost Story.