Dalgliesh: Series 1
R2 - United Kingdom - Acorn Media
Review written by and copyright: Eric Cotenas (2nd January 2022).
The Show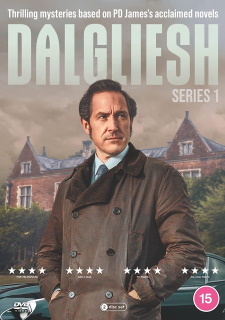 Previously brought to the small screen by ITV between 1983 and 1998 with Roy Marsden (The Squeeze) in the lead – as well as two more series for the BBC in 2003 and 2005 with Inspector George Gently's Martin Shaw – P.D. James' poet/police detective Adam Dalgliesh returns to TV via Channel 5 with Bertie Carvel (Jonathan Strange & Mr. Norrell) in the lead in a series of streamlined adaptations with a heavy period bent.

First up is James' fourth novel Shroud for a Nightingale (45:17 and 45:46) in which recently-widowed Dalgliesh is called to a country private clinic at the request of well-connected Dr. Stephen Courtney-Briggs (Argo's Richard Dillane) to investigate the death of trainee nurse Heather Pearce (Derry Girls' Beccy Henderson) who ingested a caustic solution apparently substituted for milk during an intubated feeding demonstration. While Courtney-Briggs is eager to have the death ruled as a stupid prank gone wrong due to a high-profile patient coming in for an operation at the end of the month, Dalgliesh believes the nature of the crime was very personal given the fervently-religious victim's tendency towards judging and blackmailing her colleagues. He and brash local Detective Sergeant Charles Masterson (Beyond the Reach's Jeremy Irvine) are stonewalled by Matron Mary Taylor (Mr. Nobody's Natasha Little) and Sister Brumfett (Jane Eyre's Amanda Root) acting in loco parentis with the other trainee nurses, as well as the nurses' scapegoating meek colleague Dakers (Helen Aluko) who acts as if she has a guilty conscience while equally suspicious Sister Gearing (Bright Young Things' Fenella Woolgar) similarly deflects attention onto "not all there" kitchen assistant Morag (Solo: A Star Wars Story's Lily Newmark). When another nurse is murdered, Dalgliesh realizes that someone is trying to keep a deadly secret from being uncovered.

In "The Black Tower" (45:08 and 45:22), Dalgliesh travels to the coast at the request of elderly family friend Father Michael only to discover that he has died weeks before of apparent natural causes. Accepting the hospitality of the residents of Toynton Grange – whose owner Wilfred Antsey (The Jacket's Steven Mackintosh) has converted the estate into a care home and overseas it as a spiritual advisor after himself being miraculously-cured of his ailments with a pilgrimage to Lourdes – Dalgliesh suspects that not only was Father Michael's death unnatural but so was the apparent accidental death of belligerent wheelchair-bound patient Victor Holroyd (Darren Swift) who not only openly abused the staff and his fellow patients but also sent them poison pen letters to them averring to his knowledge of their secrets including one that would blow the lid off of Toynton Grange (possibly endangering the sale of the estate to a moneyed care firm). Local sergeant Kate Miskin (The Feed's Carlyss Peer) puts her position in the otherwise all-male constabulary at risk to investigate leads for Dalgliesh even though her superiors have already determined that both are grasping at straws.

Finally, in A Taste for Death (44:56 and 45:45), Dalgliesh is called to a London church where two bodies have been discovered in the vestry: tramp Harry Mack and disgraced politician Sir Paul Berowne (Andrew Steele) – recently resigned after a scandal involving the drowning death of an actress who may have been pregnant with his child – in what at first appears to be a murder-suicide. Neither his mother Lady Lavinia (Crescendo's Jane Lapotaire) nor his widow Lady Barbara (Lily Sacofsky) appear particularly saddened by his death, but Lady Lavinia's faithful chauffeur (Anaconda 3: Offspring's Patrick Regis) and meek housekeeper (Military Wives' Laura Elphinstone) as well as Lady Barbara's lover Stephen Lampart (Downton Abbey: The Motion Picture's James Cartwright) and her actor brother Dominic (Animals' Fra Fee) are eager to point fingers at one another when the cause of death is revealed to be murder. Chauvinist, racist careerist Masterson and chip on her shoulder Miskin repeatedly clash professionally while chasing leads for Dalgliesh while a latchkey child (Sami Amber) becomes the killer's next target after innocently palming a shiny object found at the crime scene.

The new Dalgliesh series adaptations move at a good clip, running roughly an hour to an hour-and-a-half shorter than the ITV adaptations of the same sources; however, this is at the expense of the rich and diverting backstories that gave James' mysteries a sense of character and place so lacking here. All of the suspects are two-dimensional caricatures and soon forgotten in spite of the ways the script wants to depict Dalgliesh as connecting with them on some level, and Dalgliesh himself is only slightly more lifelike. The Dalgliesh of the novels had been widowed for well over a decade when the series started, but the series making his tragic loss more recent actually feels like lazy writing to underline his "Nordic Noir" demeanor since it is only trotted out at convenient moments ("You stink of grief") and otherwise forgotten. Dalgliesh's sergeants are actually the more interesting characters here, and one hopes that both have more to in the next series. On the surface, Masterson seems to have been conceived as part of the boys' network embodying period racism and sexism, but in all three cases his snap judgements and intimidation tactics do shatter the visages of suspicious characters – even if their guilt is not directly related to the crime – while it will be interesting to see just when Miskin will no longer turn the other cheek. The seventies milieu is more visually-distinctive than the bland eighties/nineties contemporary look of the Marsden adaptations but it feels more like dress up, as if racism and sexism were a thing of the past and it is more progressive to have characters confronting back then when the same things still happen in spite of overtures of addressing such issues. Rather than bringing new viewers to James' work, the show's exploitation of the literary property seems more motivated by Acorn TV needing filler for their streaming channels to compete with Britbox (the British TV mystery section of which is most popular with American audiences).

Video


Acorn places the first two stories (roughly three hours) on one disc and the third (an hour and a half) on the second disc with extras. The anamorphic 1.78:1 image generally contends well with the lit flat, digitally-graded image and its emphasis on neutral and drab environments spiked with occasional saturated colors, although some bad CGI in "The Black Tower" does not quite blend in well with the live action.

Audio


The Dolby Digital 2.0 stereo audio is clean with crisply-recorded dialgoue and an emphasis on atmosphere over directional effects for the most part. What the mix ultimately highlights is just how much Dalgliesh fans will miss Richard Harvey's theme from the ITV series. Optional English HoH subtitles are provided.

Extras


Extras include "The Making of Dalgliesh" (23:52) which may make fans of the original series seem less inclined to give the show's creative staff the benefit, with the cast making reference to James' role as "social historian" and co-directors Andy Tohill and Ryan Tohill stating that the original series fell short of James' vision while revealing that they obviously never watched it by noting that it was from the "maybe seventies." Similarly, the section devoted to the period setting focuses on clothes and art direction rather than the cultural and social aspects shallowly invoked earlier on in the piece. More interesting is discussion of the use of Northern Ireland to stand in for seventies England, the casting of actual disabled actors to play the patients of Toynton Grange, and actor John Hollingsworth (1917) revealing that he worked for James publisher Faber & Faber early on in his career, and that the popularity of James' work kept the company afloat, allowing it to continue developing its specialization in poetry. The shorter "Who is Dalgliesh?" (4:32) is composed of sound bites from the other piece focusing primarily on the show's casting. A picture gallery (1:39) is also included.

Overall


Rather than bringing new viewers to P.D. James' work and her popular detective character, Dalgliesh's exploitation of the literary property seems more motivated by Acorn TV needing filler for their streaming channels to compete with Britbox's library of British mystery series.

---
Rewind DVDCompare is a participant in the Amazon Services LLC Associates Program and the Amazon Europe S.a.r.l. Associates Programme, an affiliate advertising program designed to provide a means for sites to earn advertising fees by advertising and linking to amazon.co.uk, amazon.com, amazon.ca, amazon.fr, amazon.de, amazon.it and amazon.es . As an Amazon Associate, we earn from qualifying purchases.