The Film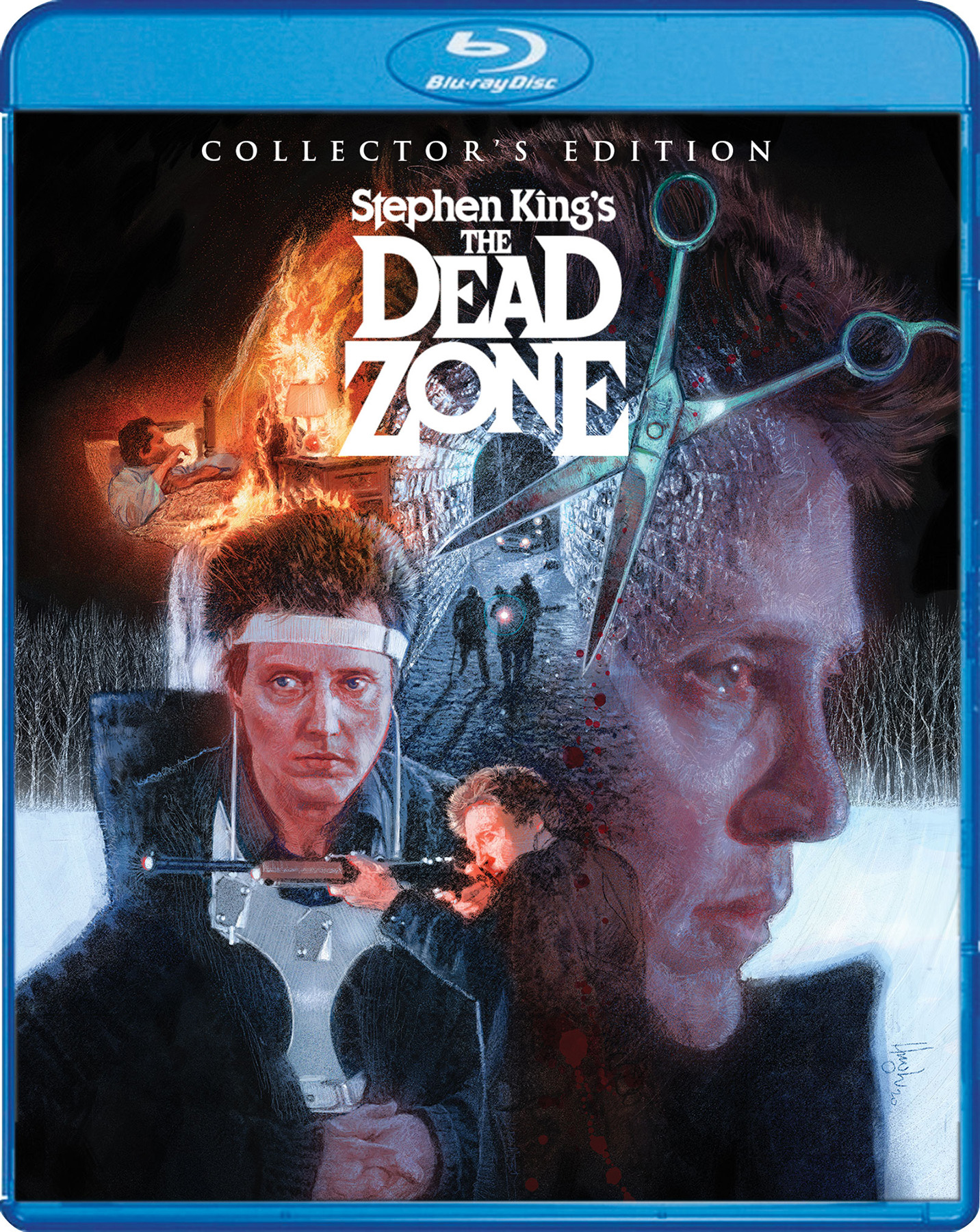 Long before Christopher Walken became the caricature he has embraced today the man had a string of strong dramatic roles that came to define him as an actor capable of great range and untethered emotion. These strengths were matched by a murderer's row of above-the-line talent in 1983 when director David Cronenberg and producers Dino De Laurentiis and Debra Hill came together for an adaptation of Stephen King's 1979 novel, The Dead Zone. King's work is ubiquitous on screens these days but back when this feature started production it was only the fifth project created from his work, the previous four being Carrie (1976), The Shining (1980), Creepshow (1982), and Cujo (1983) – nearly all directors with big shoes to fill. But Cronenberg is also in a league of his own, and along with Walken's grounded, human performance the film manages to maintain King's tone and succeed as a worthwhile adaptation even with numerous (necessary) changes to the story.

Walken stars as Johnny Smith, a schoolteacher in Castle Rock, Maine who is in the midst of courting Sarah (Brooke Adams) when a sudden car accident leaves him in a coma for five years. When Johnny awakens his world has changed – not only is Sarah now married with kids but he has attained some strange new ability to see visions through time simply by touching a person's hand. The past, present, future… all clear to Johnny due to this enhanced sense. Once word of his powers gets out, he attracts all manner of people desperate for answers; the film takes a closer look at three such encounters. First, a stumped policeman, Sheriff Bannerman (Tom Skerritt), pleads for Johnny's help in catching a serial killer. Next, an upper class father (Anthony Zerbe) asks Johnny to tutor his son and get him out of the depressive state in which he lives. Finally, a political candidate, Greg Stillson (Martin Sheen), shakes Johnny's hand at a rally and immediately Johnny glimpses a future with Stillson as President – and it is a future he cannot allow to come to pass.

At the point news of Johnny's arcane abilities is revealed it feels like the world has changed because suddenly here exists a man who can answer life's biggest questions… but all Johnny wants is to be left alone. He feels burdened with this miraculous gift and there's enough material in that revelation alone to fuel multiple seasons of a television series (which they did, although I don't know the direction that show went) so the idea of breaking up these encounters into three acts allows the film to focus on different uses of Johnny's "dead zone". His decision to assist Sheriff Bannerman has a utilitarian appeal to the community, and his efforts save lives… at great cost. When he tutors the young boy it shows Johnny's altruistic nature and his gifts are used sparingly but smartly, especially toward the end of their relationship. He nearly feels normal again. Finally Johnny's encounter with Stillson showcases the global reach of this "dead zone" and how one man truly can make a difference – if he knows the future. It plays with the age-old question, "If you could go back in time and kill Hitler, would you?"

Walken is simply fantastic and this might just be his best work. Johnny feels like a real man with relatable hopes and simple aspirations that are put on hold not only because of his coma but, now, because of this unwanted power. Walken presents Johnny as a person uncertain of his own future, delicately balancing tending to his own life alongside the needs of almost literally every other person on the planet – that's a tall order for anyone. Johnny's true tragedy lies in the loss of his relationship with Sarah, and Brooke Adams is up to the task of meeting Walken's emotional range, expressing her own frustration with having a new life when the man of her dreams suddenly comes back to the world. The only other big name doing work of note here is Martin Sheen, giving a performance I found to be a bit too over the top and cartoonish at times. I don't doubt this is how some career politicians run their teams but Sheen doesn't add much nuance to the man; he's just slimy and power-mad.

In addition to the performances there's just so much more to enjoy. David Cronenberg's taut direction. Mark Irwin's cool, cloudy New England cinematography. The brilliant score by Michael Kamen. The film doesn't overstay its welcome either, running for just over 100 minutes. Given the other heavy hitters in both Cronenberg's and King's filmographies this is a film that gets a tad overlooked (it did take forever to get this on Blu-ray) but it is clearly a product of both these tremendous talents and one of the earliest examples of how well King's work can be translated when given the right elements.


Video


Paramount first released this onto Blu-ray in 2020 as part of a "Stephen King 5-Film Collection" set and that transfer was soundly bashed for being dated and ugly. No such concerns here, as Scream Factory has gone back to the original camera negative for a 4K restoration that has yielded a perfect 1.85:1 1080p image. Clarity, depth, the muted color palette, black levels, film grain – all exemplary; there is nothing to be nitpicked. Easily some of the best work Scream Factory has done and the disc certainly blows away Paramount's attempt.

Audio


Audio comes in two flavors: English DTS-HD MA 5.1 or 2.0 stereo, which was the original mix. Both tracks sound excellent, and I'd even give the stereo track a slight edge when dialogue is heard, though the multi-channel track obviously offers a wide soundfield and more room for discreet effects. This isn't a terribly active film anyway and either option will sound more than satisfactory. Subtitles are available in English.

Extras


Three audio commentary tracks are included:

- Director of Photography Mark Irwin
- Author/Film Historian Steve Haberman and Filmmaker/Film Historian Constantine Nasr
- Film Historian Michael Gingold

"Isolated Score with Intro by Film Music Critic David Schweiger" is also available.

"Sarah's Story – Interview with Actress Brooke Adams" (1080p) runs for 10 minutes and 37 seconds.

"Cold Visions – Producing The Dead Zone" (1080p) runs for 20 minutes and 32 seconds, featuring interviews with Production Manager John M. Eckert and Associate Producer Jeffrey Chernov.

"Trailers from Hell – The Dead Zone" (1080p) runs for 2 minutes and 11 seconds.

"Memories from The Dead Zone" (SD) is a featurette that runs for 12 minutes and 19 seconds.

"The Look of The Dead Zone" (SD) is a featurette that runs for 9 minutes and 25 seconds.

"Visions from The Dead Zone" (SD) is a featurette that runs for 9 minutes and 44 seconds.

"The Politics of The Dead Zone" (SD) is a featurette that runs for 11 minutes and 34 seconds.

A theatrical trailer (1080p) runs for 2 minutes and 16 seconds.

Two TV spots (SD) run for a total of 1 minute and 5 seconds.

"Behind-the-Scenes Gallery" (SD) runs for 13 minutes and 10 seconds.


Packaging


The single disc comes housed in a standard Blu-ray keepcase. Cover art is reversible and first pressings come with a slipcover.

Overall


Although The Dead Zone wasn't a major hit like some of King's other early adaptations it is certainly in the top tier of his adapted films and is one of Cronenberg's best features, too. Scream Factory's release hits high marks across the board. Buy it.
| | | | | |
| --- | --- | --- | --- | --- |
| The Film: A | Video: A+ | Audio: A | Extras: A- | Overall: A |