The Film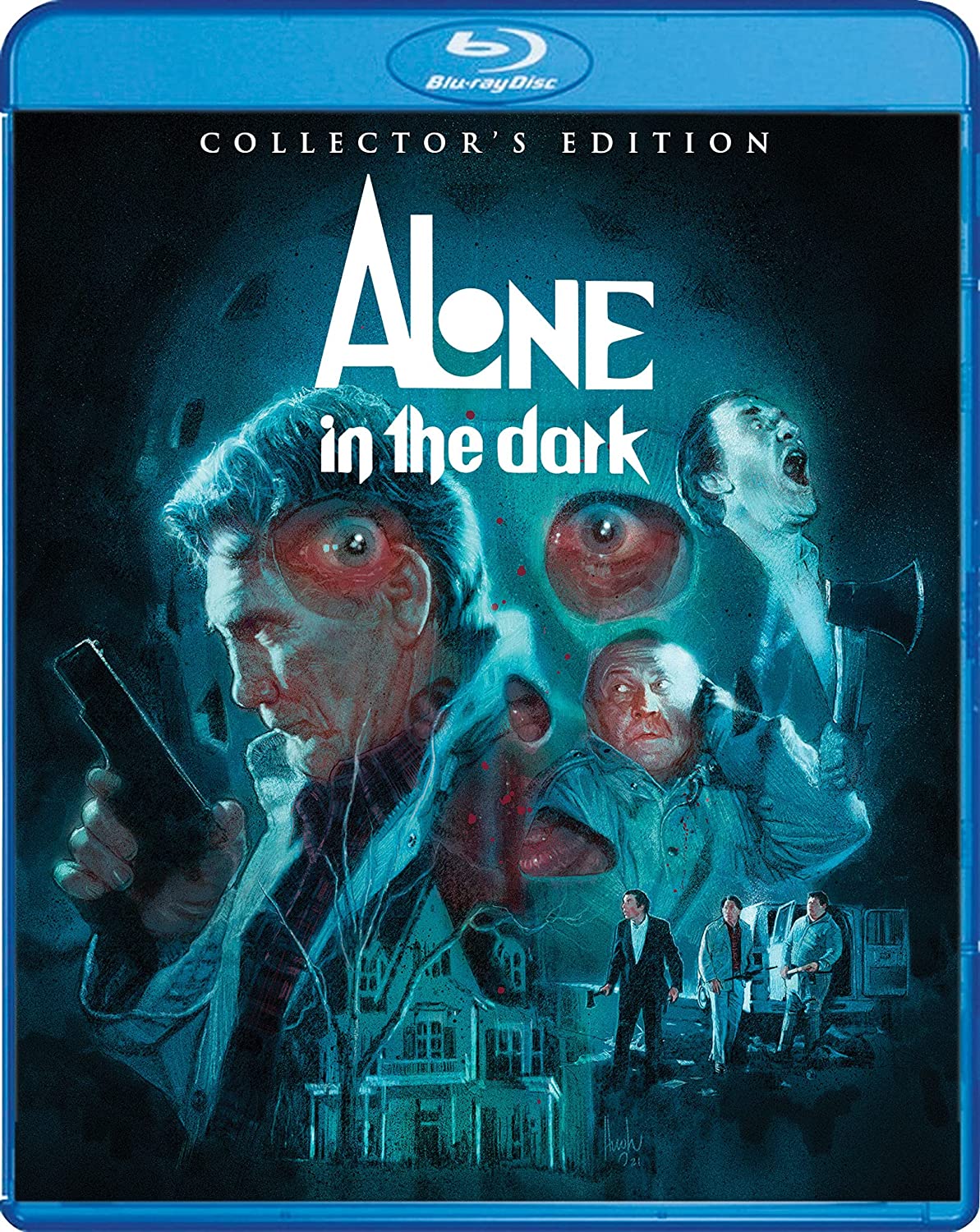 There was a real clamor back in the early days of DVD collecting to have director Jack Sholder's Alone in the Dark (1982) released, with many citing it as their favorite slasher – and it was one I, a slasher fan, had never heard of let alone seen. Image finally put it out in a loaded special edition in 2005 and I can remember being less than impressed after watching it. Flash-forward to my second viewing, this past week, and it still plays like an average-at-best slasher. My hunch is most of the love this film gets is due to the casting because it is jam-packed with highly acclaimed actors – Donald Pleasence, Jack Palance, Martin Landau. There's also Dwight Schultz, best known as Murdock on The A-Team (1983-1987). Plus, one of the psych patients, Erland Van Lidth, is familiar to genre fans as Dynamo in The Running Man (1987); he only made four films before dying at the age of 34. So, yea, plenty of recognizable faces to be seen; but as far as the film goes? It's a mess.

Dr. Leo Bain (Donald Pleasence) runs Haven, a psychiatric hospital in the countryside of New Jersey. When Dr. Merton, one of his resident doctors, leaves for another position in PA, Dr. Bain recruits Dr. Dan Potter (Dwight Shultz) to take over Merton's role. Unfortunately for Dr. Potter, four of Merton's patients – Frank Hawkes (Jack Palance), "Preacher" (Martin Landau), "Fatty" (Erland Van Lidth), and "Bleeder" (Phillip Clark) – assume Merton has been killed by Potter so he could take his job, and the men decide they must avenge Merton's assumed death by killing his successor.

Luckily for them, Haven runs entirely on electricity (duh, but also it's a main security feature) so when the power goes out one night the men find a way to escape their confines and head straight for Dr. Potter's home. The outage also inspires the town's residents to go wild, with looting and riots breaking out almost immediately. While the melee rages in town the four escaped lunatics head to Dr. Potter's home, intent on killing the man and anyone else inside or in their way.

The frustrating thing about Alone in the Dark is that it gets plenty of things right… except for the script. Pleasence, Palance, Landau, Schultz – all give strong performances. But outside of Schultz's Dr. Potter, and to a lesser extent Dr. Bain, none of the characters gets any level of development – and even Potter doesn't get much. For example, the four psychos upon which the film is centered have zero depth outside of the Bleeder, and that's only because we need to know his nose bleeds when he kills. Otherwise, they're just famous faces in empty roles. Palance is almost totally absent from the final siege though he does help to end the film on a strange note.

That third act siege is so painfully, awkwardly, sloppily directed, too. Every single character turns full moron and practically stands still, waiting to die. That's a constant frustration for me in horror – characters with absolutely no agency, standing and screaming as something walks up to kill them. Everything about the finale is a mess – and this is where most of the action occurs.

On the subject of amusing coincidences and ironies in the film: seeing Dwight Schultz play a doctor working in a sanitarium, just one year prior to when he'd famously play a patient in one on The A-Team, is pretty funny. During the riots downtown Bleeder briefly dons a hockey mask before running off to wreak havoc; this, just two months after Jason first got his hockey mask in Friday the 13th Part III (1982). The town of Springwood is mentioned twice, two years before the man who "built" New Line Cinema, Freddy Krueger, appeared in A Nightmare on Elm Street (1984), and this film's director, Jack Sholder, went on to direct the first sequel in that series. Finally, for fans of Tom Savini, whose FX work contributions are touted on this film, know that he created a nightmare demon that appears on screen for about 1.5 seconds.

Video


A 2K scan from the inter-positive provides the 1.85:1 1080p image. This is one of the stronger catalog efforts from Scream Factory, offering a refined image that is an immediately apparent upgrade over the old DVD. The picture is clean and beautiful, with sharp detailing and a filmic image. Black levels are inky and rich. Colors are well suffused and appear natural. Everything appears crisp right from the start.

Audio


Audio is supplied via an English DTS-HD MA 2.0 stereo track. I love composer Renato Serio's main theme; it's the kind of lush early '80s synth-driven score many composers are now trying to replicate. Dialogue is always prioritized in the mix. There's a slight hiss to some scenes though it isn't persistent. The action kicks up considerably in the third act and with it comes a dramatic uptick in volume. Subtitles are available in English.

Extras


There are two audio commentary tracks – one, with director Jack Sholder; two, with genre film critic Justin Kerswell and film historian Amanda Reyes.

"Out of the Dark – Interview with Director/Co-Writer Jack Sholder" (1080p) runs for 39 minutes and 45 seconds.

"Mother Choppers – The Sic F*cks Remember Alone in the Dark" (1080p) runs for 9 minutes and 38 seconds.

"Sites in the Dark – The Locations of Alone in the Dark" (1080p) is a featurette that runs for 211 minutes and 38 seconds.

"Bunky Lives! – Interview with Actress Coral Levy" (SD) runs for 16 minutes and 24 seconds.

"Still F*cking Sick – Catching Up with the Sic F*cks" (SD) runs for 16 minutes and 30 seconds.

A theatrical trailer (1080p) runs for 2 minutes and 11 seconds.

A TV spot (1080p) runs for 33 seconds.

Two radio spots run for a total of 1 minute and 22 seconds.

A Still Gallery (SD) runs for 2 minutes and 34 seconds.


Packaging


The single disc comes housed in a standard Blu-ray keepcase. The cover art is reversible. A slipcover with newly created art is available on first pressings.

Overall


Not nearly as good as its reputation suggests, Alone in the Dark is notable for having a stellar cast but there isn't much more beyond that. Scream Factory have given this a substantial special edition, however, featuring new content alongside legacy material from the old DVD.
| | | | | |
| --- | --- | --- | --- | --- |
| The Film: C+ | Video: A | Audio: B+ | Extras: B | Overall: B- |