The Film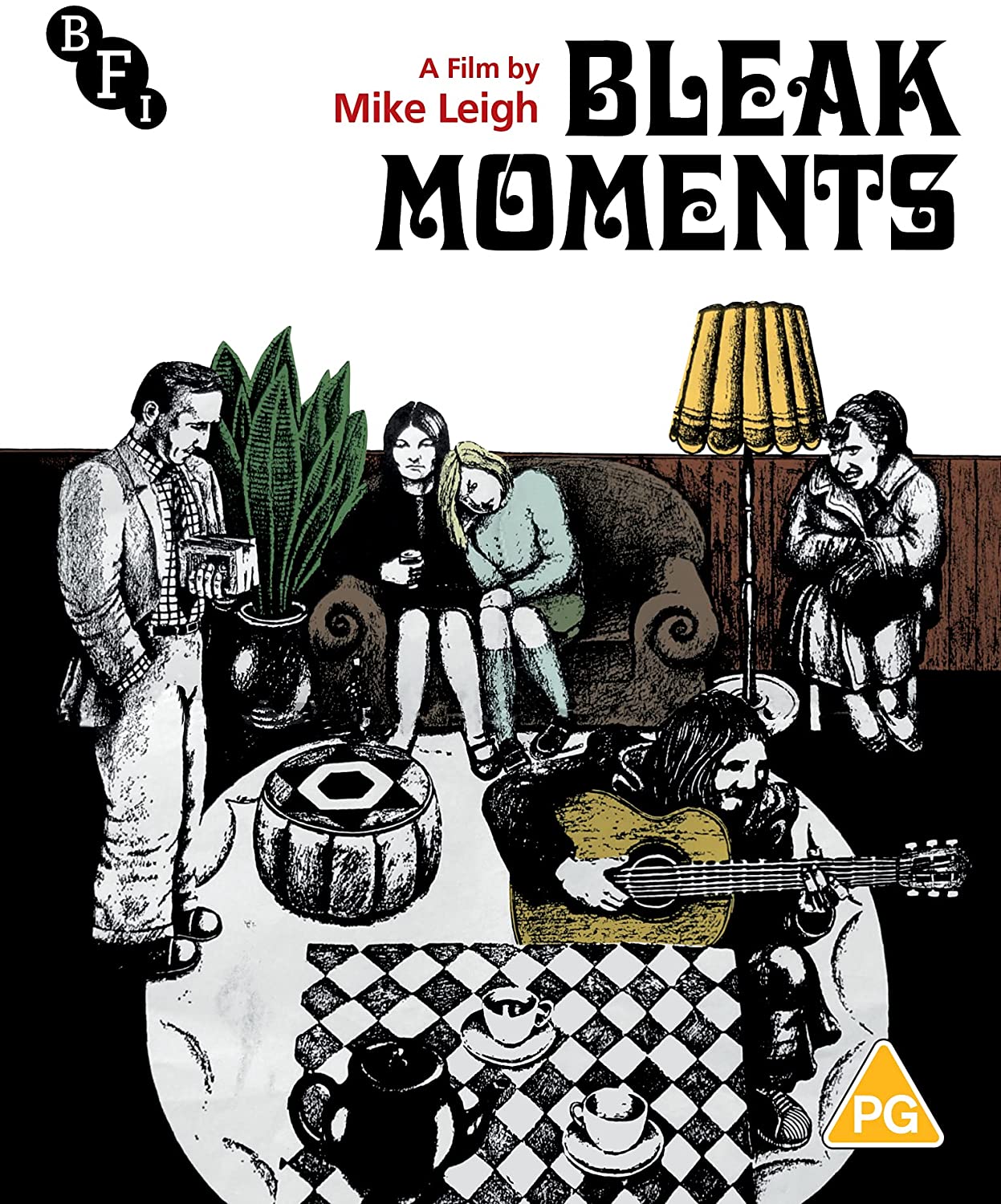 "Bleak Moments" (1971)

Sylvia (played by ) and her younger sister Hilda (played by (played by Sarah Stephenson) live together in a quant home in south London. It's not an easy life together, as Hilda's mentally handicapped condition stunts Sylvia's social life even though both are grown adults. The only close friend in Sylvia's life is her secretary coworker Pat (played by Joolia Cappleman) who is more on the talkative side than the listener side. But there are others as well. Local teacher Peter (played by Eric Allan) has a keen interest in Sylvia, and he knows that getting her trust and also means being able to befriend Hilda, a difficult chore. In addition there is Norman (played by Mike Bradwell), a guitar playing hippie that is renting out the garage from Sylvia.

"Bleak Moments" was written as a stage play by Mike Leigh, first performed at the the Open Space Theatre in London on March 16th, 1970. The short production with five cast members in a single setting received positive reviews, and it led to Leigh expanding it for an adaptation for cinema, with the help of schoolmate Les Blair who would produce it, and most of the funding coming from established actor Albert Finney, at a budget of £18,000. Finney would also help with getting leftover 35mm film stock for the inexperienced Leigh and Blair to use. For the adaptation from stage to screen, all of the principle actors from the stage would reprise their respective roles, with a few additions made, with Pat's mother played by Liz Smith and Sylvia and Pat's boss being played by Christopher Martin for supporting roles. Locations were expanded to not be contained in one place, with Sylvia and Pat's workspace, outdoor locations, corner shops, and others to be included, and for extended scenes, the actors and Leigh workshopped ideas together in rehearsal sessions for a collaborative work environment.

"Bleak Moments" as a feature film has a heavy strain just with the title alone. The main character is stuck in life. She cannot leave home since she must take care of her sister. It's difficult for her to have a night out, fun with friends, or have a social life. She is socially quiet, and even if someone of interest were to appear in front of her eyes, she would not know what to do, as is the case when Peter asks her out. This is the main character. A woman of few words, a woman who would like to have a better life but cannot even imagine what that would be like. She might be easy for audiences to sympathize with, yet as she does not open up her feelings towards others or the audience, it's truly difficult for people to truly connect. In fact, it's hard to connect with any of the characters in "Bleak Moments". But it's the guilt that the audience feels of wanting to help her that makes us connect. Sylvia is a beauty, one with heart and not abandoning family. A pure human being that has only felt a crushing weight upon her even though it is not at all her fault. She can't be blamed for her younger sister's condition, even at 29 years old. But whatever it is that we want for her to have, she doesn't know it either.

Peter is close to being a surrogate for the audience. He is an intelligent and warm person who only wants the best for Sylvia. He is not just after sex like the standard male character that most may perceive, as seen in the sequence of him trying to make Hilda feel happy with sweets, only to have them swatted away. He could get angry, but he reserves his frustration with a smile, knowing that dealing with Hilda is not as easy as anyone could expect. The audience may not completely trust Peter's intentions so quickly as there is not a lot of information given about his character, but it's easy to see what he sees in Sylvia, and all he wants is for the betterment of her life, and even sharing responsibilities with her.

Things might only seem serious in "Bleak Moments" by looking at the relations between those three characters, but there are actual light hearted and even funnier moments in the story, courtesy of the characters of Pat and Norman. Pat's talkative nature at the workplace which deals with anything but work is an escape for Sylvia. Even if the stories, such as the cult-like group she's gotten involved with or anything else is a window to another world for Sylvia's narrow imagination. In addition, Pat has been a friend long enough and positive enough that she has gained the trust of Hilda, who smiles at her arrivals each time. Norman may be a newcomer to the home, but he is quick to find a way to Hilda's heart and that is through the eardrums. His songs with the guitar literally strikes a chord for Hilda, who is infatuated immediately. His hippy attitude and stoner-like qualities make him the relaxing and laid back member of the main characters, and is always fun to see and hear even if he isn't featured in many scenes.

As expected, dialogue is quite minimal considering the runtime, leaving space in between and silent moments take time. There are no major arguments or constant bickering. Leigh makes the audience focus on the characters and setting when not much is happening, and that also applies to the sets and costumes. The visuals in "Bleak Moments" may seem unremarkable. The color palate is almost entirely pale with rare if any use of bold or bright colors. Earth tones are constant, skies feel grey, and anything red seems to be filtered out entirely. But somehow that seems to be a calculated notion, to not have the audience focus on minor details, and take everything as a whole. The spaces in between, the characters in the foreground, the quiet conversations that may not lead anywhere. There are certainly nods to Éric Rohmer's use of characters, Yasujiro Ozu's sense of framing and sets, as well as Michaelangelo Antonioni's sense of emotion (even if Leigh has stated that he wasn't a fan of Antonioni). Leigh may not be reinventing the language of cinema, but "Bleak Moments" was a subtle yet unique work in independent British cinema at the time of its release. With praise coming from critics, one would think Leigh's career in cinema would have taken off immediately. But no.

Winning the Golden Leopard at the Locarno International Film Festival and nominated for Best Feature at the Chicago International Film Festival, "Bleak Moments" found acclaim in critical circles but it was largely ignored by audiences as it received very little marketing push from the distributor. Leigh moved into the television medium as a writer and director, It would take Leigh a full eighteen years to return to feature films, where he would make his mark in the 1970s and 1980s with episodes for "Play for Today" and standalone television films such as "Meantime (1984), before returning to cinemas with "High Hopes" in 1988. Even though "Bleak Moments" is decades apart from his central period as a filmmaker, there are Leigh-isms already at play in his debut feature with the way he crafted the script, worked with the actors intimately to create unique characters, creating an environment, and focusing on realism. There are still some frustrating moments in "Bleak Moments" and it's not an easy film for repeated viewing, but there are interesting surprises to be found in this quaint yet deep little film.

Note this is a region ALL Blu-ray

Video


The BFI presents the film in the original 1.66:1 aspect ratio in 1080p AVC MPEG-4. The original 35mm negative held by the BFI National Archive was scanned and remastered in 4K, with the restoration approved by Leigh and long time cinematographer partner Dick Pope. The transfer here is quite wonderful, with image stability being excellent with colors and the framing, damage being virtually non-existent, film grain being visible for a natural look, and basically looking probably better than its initial cinema screenings. Colors are on the pale side, with few examples of rich colors, focusing more on blues, browns, greys and all are registered wonderfully. A solid transfer from the BFI.

The film's runtime is 110:38.

Audio


English LPCM 2.0 stereo
English LPCM 1.0
The original mono track is available as well as a newly created stereo mix, both in uncompressed form. There is very little difference between the mono and stereo tracks, with the new stereo mix slightly opening up the soundscape for the few music cues, but even then they are not spread out very widely but only subtly. A dialogue driven film with fairly little dialogue compared to most, the difficulty comes with the source material, which was not particularly recorded in ideal environments, and without ADR for post production. Not to say anything sounds too hard to hear, but clarity can be an issue in some sequences. Gladly the remastered tracks have done away with unwanted noise such as hiss, pops and crackle, leaving a clean and fairly quiet soundtrack, with both the stereo and mono options. This is a film that will not give the speakers a full workout, though the results here should be more than satisfying.

There are optional English HoH subtitles for the feature in a white font.

Extras


Audio Commentary by Mike Leigh
Leigh is always great in his commentary tracks, and this one is no exception. He discusses the shooting of the production in southeast London, the restrained characters, the differences between the original play and the finished film, the rehearsal process and scriptwriting process, the songs created, and many more behind the scenes facts. Strangely, he cuts the commentary short by about two minutes, saying his goodbye before the film's end. The commentary was originally recorded for the 2008 UK Soda Pictures DVD release, and I'm not sure if the abrupt early leave is the same or not. Note that in the booklet it is wrongly credited as being a commentary from 2015.
in English Dolby Digital 2.0 without subtitles

In Conversation: Mike Leigh and Les Blair (1972) (27:41)
This never before released interview has Leigh and Blair discussing the film with David Sharp at the University of London, with the miniscule budget they worked with, their reaction to the release, the problem with theatrical distribution and marketing at the time, and more. Shot on video, the analogue tape source has been upscaled to 1080p here.
in 1080p AVC MPEG-4, in 1.33:1, in English LPCM 2.0 without subtitles

2019 interview with Mike Leigh (35:40)
This on stage interview with Leigh moderated by Neil McGlone is after a screening of "Nuts in May", the "Play for Today" episode directed by Leigh in 1976. The discussion is focused on his television years, along with how he feels about modern television productions compared to the works during his period in the 1970s, the casting process, and more.
in 1080p AVC MPEG-4, in 1.78:1, in English LPCM 2.0 without subtitles

"Bleak Moments: 50 Years On" 2021 interview with Mike Leigh (9:08)
In this newly recorded on camera interview, Leigh discusses his extensive work with the actors to craft the characters and the story, the involvement of Albert Finney, the hardships of a low budget production, as well as the 4K restoration.
in 1080p AVC MPEG-4, in 1.78:1/1.66:1, in LPCM 2.0 without subtitles

Image gallery (1:43)
An automated silent slideshow featuring on set stills in black and promotional artwork.

Booklet
A 20 page booklet is included. First is the essay "Never Heard of Mike Leigh?" by film writer and lecturer Ellen Cheshir, which is partially a biography and filmography of Leigh. There is a good amount of information on "Bleak Moments" but it does cover quite a lot with his entire career, from his television works to his international acclaim in cinema. There is also a reprint of the 1972 Sight and Sound review of the film written by critic David Wilson, plus full film credits, extras information, transfer information, acknowledgements, and stills are included.

Packaging


The packaging states region B only, but is in fact a region ALL disc.

Overall


"Bleak Moments" may not be the easiest watch due to the slow pace and minimal dialogue, but it's an essential work from Mike Leigh at the very start of his filmmaking career, showcasing his talents and attention to detail. The BFI Blu-ray has an excellent transfer and some great extras both new and vintage, making this highly recommended.
| | | | | |
| --- | --- | --- | --- | --- |
| The Film: B | Video: A | Audio: A | Extras: A | Overall: A- |