Patrick (Blu-ray) [Blu-ray]
Blu-ray B - United Kingdom - Anti-Worlds Releasing
Review written by and copyright: Rick Curzon (19th January 2022).
The Film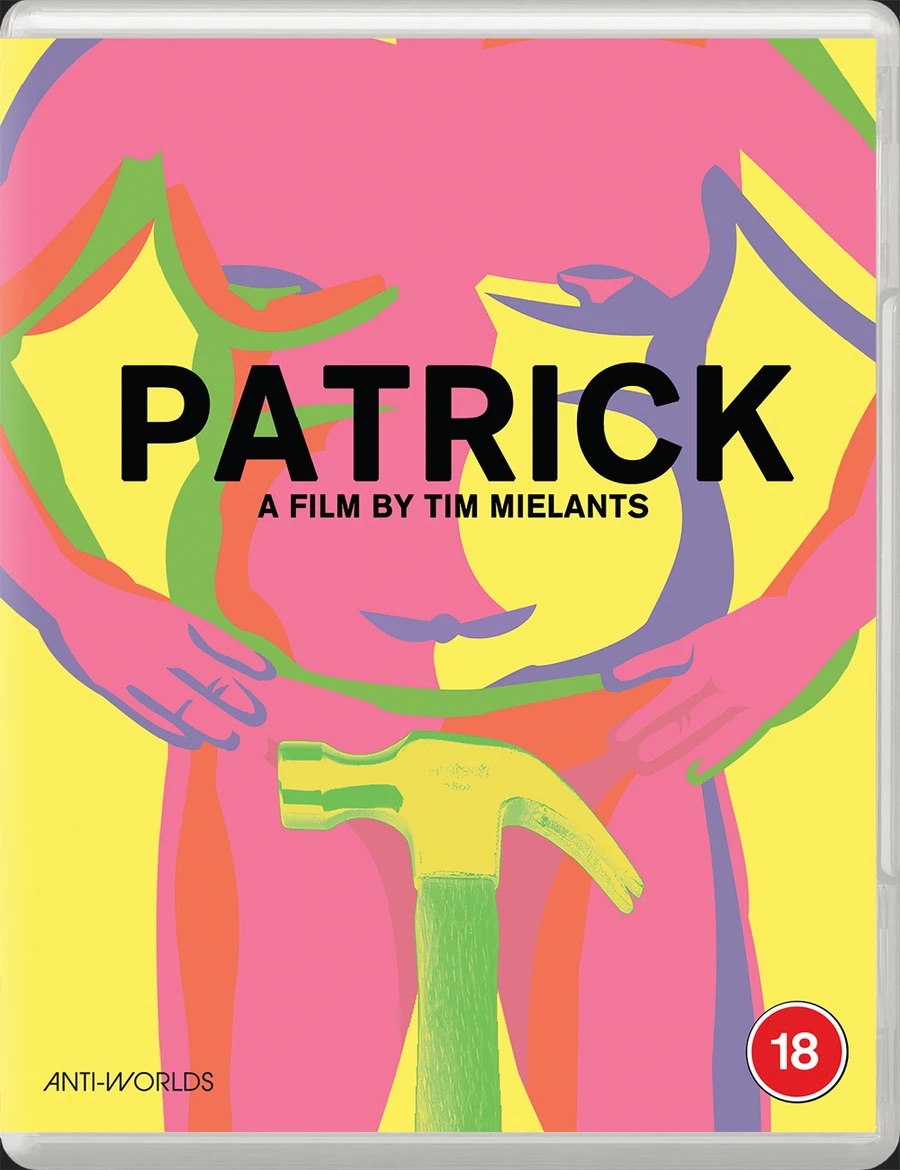 Patrick is a 38 year old handyman at his parents' naturist campground. When his prize hammer is stolen, Patrick's quest to solve the mystery of its theft leads to a much deeper mystery – who is he himself?

An hilarious yet poignant tale of the human condition – and hammers.

Patrick is a tragicomedy about people's peculiarities, about letting go and about being happy with who you are.

Video


Oddball arthouse drama-black comedy-mystery is popular with critics (87% on Rotten Tomatoes) but a little less so with audiences (60% on RT). Not really surprising when you read the synopsis as it ought to be evident if it's your bag from that. I tend to feel that critics usually want to see things that take them into new avenues of experience and abhor formula and repetition. Well, this film is certainly a different experience.

I'm not sure about the technical specifications of Patrick because IMDB has nothing useful to say but I suspect like the vast majority of features and television made in the 21st century it'll be digital production. Shot in the scope ratio of 2.39:1 this is a very lovely looking film that has a rich colour palette favouring greens and browns ... and warm flesh tones.

Colour delineation is exceptional in this stunningly shot film with strong primaries and a great deal of solid dynamic range. Black levels and true and deep with no crush intended or otherwise and contrast is equally supportive allowing detail to shine through on all focal planes and with no blowouts. Detail is very strong and grain is exceptionally fine. The encode is also of high quality ensuring a film like appearance even if this is a digitally lensed film.

A superb image and about as strong as the format allows ('A+').

1080p24 / BD50 / 2.39:1 / 96:01

Audio


Flemish DTS-HD Master Audio 5.1
Subtitles: English (optional)

Ambiance is the name of the game here alongside keeping dialogue clear and to the fore. The score is supportive but never intrudes. It's not a showpiece soundtrack, not the kind of Dolby Atmos track a film like Dune, Part One (2021) has which rattles the foundations of the building you're viewing in. It's very strong in a low key way building a subtle sound field that quietly envelopes.

Excellent subtitles are provided for those who don't speak Flemish ('A').

Extras


Audio commentary by director Tim Mielants and co-writer Benjamin Sprengers (2021)

Engaging track filled with information about how the film came to be, and anecdotes concerning filming. Presented in Dolby Digital 2.0 stereo.

"Tettebakkes: The Making of De Patrick" 2019 featurette (15:56)

Straightforward piece about how the film was conceived (at one point geing about a terrorist!) with a lightness of touch and humour about it. Presented in 1080p24 1.78:1 with lossy Dolby Digital 2.0 stereo sound.

2021 interview with director Tim Mielants (10:08)

Interesting piece where Mielants discusses his film having been asked a series of questions that appear as captions on screen. Presented in 1080p24 1.78:1 with lossy Dolby Digital 2.0 stereo.

2021 interview with producer Bart Van Langendonck (8:48)

This one focusses on Van Langendonck's wide ranging types of material he produces and then settles down to focus on Patrick. Once again, onscreen questions appear. Presented in 1080p24 1.78:1 with lossy Dolby Digital 2.0 stereo.

A Tale of Three Trailers:
- Original Version (2:02)
- Failed Attempt at Lower Certificate (1:41)
- Successfully Censored Version (1:37)

An amusing collection of attempts to produce a trailer acceptable to the BBFC in which nudity had to be heavily reduced to get a 15. Presented in 1080p24 2.39:1 with LPCM 2.0 sound.

Funeral Music (1:39)

A full length cue from Geert Hellings' score. Presented here in a version that hasn't been shortened for inclusion in the film. Set to clips from the film presented in 1080p24 2.39:1 LPCM 2.0 surround (48kHz). This is encoded for aurround even when the amp is set to straight. A beautiful piece of music.

A 32-page liner notes booklet by Wendy Ide and David Flint and also contains film credits and technical details

The usual comprehensive hardcopy companion to the film that provides lots of contextual added value.

A double sided sleeve with choice of artworks

What it says on the tin.



Packaging


Standard clear BD Keepcase.

Overall


A real oddball comic-drama-mystery about deep seated grief and loss gets the deluxe treatment from Anti-Worlds here in the UK. Gorgeous image and sound quality expertly encoded with some nice supplements. Another highly recommended addition to Anti-Worlds Releasing's growing catalogue of oddball films on exquisitely crafted and presented Blu-ray.
| | | | | |
| --- | --- | --- | --- | --- |
| The Film: B+ | Video: A+ | Audio: A | Extras: B | Overall: A- |

---
Rewind DVDCompare is a participant in the Amazon Services LLC Associates Program and the Amazon Europe S.a.r.l. Associates Programme, an affiliate advertising program designed to provide a means for sites to earn advertising fees by advertising and linking to amazon.co.uk, amazon.com, amazon.ca, amazon.fr, amazon.de, amazon.it and amazon.es . As an Amazon Associate, we earn from qualifying purchases.