The Film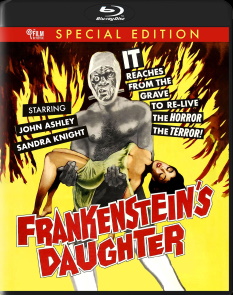 Just around the same time that the newspapers are reporting hysterical cases of female monster sightings, young Trudy Morton (Track of the Vampire's Sandra Knight) starts suffering from vivid dreams in which she believes she is the monster. Her scientist uncle Carter Morton (The Curse of the Faceless Man's Felix Locher) is too wrapped up in his progress on an experimental drug that can destroy malignant cells and extend life to do more than suggest she throw a sleepover party, her boyfriend Johnny (The Mad Doctor of Blood Island's John Ashley) also thinks she needs to loosen up, her best friend Suzie (The Unearthly's Sally Todd) who saw the monster first thinks Trudy is trying to steal her thunder, and the attentions of Morton's younger lab assistant Dr. Oliver Frank (Swamp Girl's Donald Murphy) are more lecherous than concerned.

Dr. Oliver Frank is actually the grandson of the famous Dr. Frankenstein and has been using Morton's wine cellar and laboratory equipment behind his back to build a creature of his own with the help of creepy gardener Elsu (Homicidal's Wolfe Barzell) who was his father's servant in the old country. He too has been experimenting with Morton's serum for a means of sustaining his creature's life. His guinea pig has been Trudy whose outer flesh disfigures temporarily as a side effect of the drug. No sooner does he set about getting rid of Morton and gaslighting Trudy than his patchwork creation is on a murderous rampage that threatens to expose his experiments to the police (The Time Tunnel's John Zaremba and Horror Of The Blood Monsters' Robert Dix).

A budget-impoverished quicky that brings the gothic monster to the suburbs, Frankenstein's Daughter is overall pretty terrible; however, it is not without interest in what it reveals about sexual attitudes of the period in which it was made. Whereas something like Frankenstein Created Woman went for sex appeal, Frankenstein's Daughter – which as more in common with the likes of Daughter of Dr. Jekyll – has two beautiful women transformed in hideous monsters (if only temporary in the case of one). Although constantly rebuffed, Frank essentially roofies Trudy nightly but not to make her more pliable to his advances. Transformed, she is no more desirable to him than his piecemeal monster that Frank views as a mere experiment rather than life he has created without sexual reproduction; indeed, he says that using the brain of a woman "is conditioned to a man's world, and it therefore takes orders where the other ones didn't." When the libidinous Frank proves to "fast" for Suzie, he does not kill her because she rejected him. She merely becomes convenient when she happens to reveal that no one knows she is with him. It is also as easy for Suzy's boyfriend Don (Mutiny in Outer Space's Harold Lloyd Jr.) to dismiss her stories about seeing a monster as it is for Johnny to buy Frank's explanation about Trudy's emotional strain when she too claims to have been a monster and then to have seen a different one. There is no tragic relationship between creation and creator, and the latter is inadvertently killed during the climactic fight between the monster and the "juvenile" lead.

It is difficult to tell if the script by the pseudonymous H.E. Barrie and director Richard Cunha (Missile to the Moon) were inspired to work this angle from a reading of Mary Shelley's work (and the strain of criticism that tries to discredit her with the authorship of "Frankenstein") or if it was just a hasty concoction of various elements from then-popular films like The Curse Of Frankenstein, How to Make a Monster, I Was a Teenage Frankenstein, and the ReelArt reissue of the Universal films. In keeping with the AIP films of the time, the film does include a truly horrific musical number in which Lloyd joins the Page Cavanaugh and his trio; however, it also seems to have taken after Hammer with some surprising moments of gore including some severed body parts and some bloodshed when the monster crushes a man to death between a wall and a steel door.

Video


Released theatrically by Astor Pictures and a public domain staple ever since with the better examples being Rhino Home Videos' nineties cassette and the 2000 Image DVD utilizing print material from the Wade Williams Collection. The Film Detective's 1080p24 1.85:1 widescreen Blu-ray utilizes the outdated MPEG-2 codec but looks quite gorgeous throughout with few signs of light damage and close-up detail that reveals both some gruesome textures and one of the most laughable special effects ever during a climactic acid disfigurement.

Audio


The DTS-HD Master Audio 2.0 mono track is pretty clean and optional English SDH and Spanish subtitles are fairly faithful to the dialogue. As with other recent Film Detective releases, the subtitle options are also provided for the commentary and the video extras.

Extras


A disappointing misstep with this release is the back cover that cites the presence of two audio commentary tracks, one with film historian Tom Weaver and one with filmmaker Larry Blamire (The Lost Skeleton of Cadavra). The Blu-ray menu, however, credits the single commentary track to film scholar Dr. Jason Ney (who provided commentary for The Film Detective's The Amazing Mr. X). The track on the disc is indeed with Weaver and features input from Blamire and film music historian David Schecter who has appeared on some of Weaver's Universal genre commentary tracks. Weaver and Blamire note the effect the film had on them as children by setting a monster movie in the recognizable suburbs, the TV and film career of Cunha and his string of low budget monster movies funded by distributor Astor Pictures who picked up Giant of the Unknown and then greenlit She Demons as its co-feature. They also provide production anecdotes – including an instance or two of Weaver's habit of celebrity voice impressions for long quotations – including Cunha's desire for Jack Pierce (The Bride of Frankenstein) to do the monster make-up and that Harry Thomas (Killers from Space) was not told that the monster was supposed to be female and the production did not have enough money to do a new design. Weaver also discusses tracking down co-producer Marc Frederic only to discover that he had passed away; however, the man's son – a well-to-do Florida chain restaurant owner – leant him a treasure trove of behind the scenes photographs which have been the source of all such materials since then.

In 1983, Weaver tracked down Cunha who owned a video rental store and mailed him a list of questions at the filmmaker's request. Cunha surprised him by sending back his answers on a VHS tape which has been re-edited into "Filmmaker of the Unknown" (36:00) in which Cunha shows off his video store and includes a special guest in his producing partner Arthur A. Jacobs (The Dirt Gang) – who had parted ways with him after She Demons and before Frankenstein's Daughter – but they discuss Cunha's move from the army film unit to Los Angeles where the army was using the old Hal Roach Studios, and learned directing, photography, and editing on a TV show built around a cowboy singer and a package of Bob Steele flicks before mounting Giant from the Unknown and then She Demons and Frankenstein's Daughter for Astor Pictures. While an interviewer posting the question of how a filmmaker from the fifties or sixties feels about modern gory and violent horror films usually feels like it is treating the filmmaker as living under a rock and suddenly encountering big change, the question is actually pretty apt her when one recalls that Weaver was asking it of Cunha back in 1983 when violence in cinema was a social issue and his profession as a video store owner exposed him to such films. Later in his life, Cunha gave up the video business to travel in a mobile home with his wife until his death in 2005.

The disc also includes "John Ashley: Man from the B's" (10:15), an interview with filmmaker/film historian C. Courtney Joyner (The Lurking Fear) who discusses Ashley's move to Hollywood and how John Wayne noticed his Elvis-like looks, getting a contract at AIP and being considered for the lead in I Was a Teenage Werewolf which went to Michael Landon – producer Herman Cohen (Horrors of the Black Museum) got Ashley a guest role as himself in How to Make a Monster – as well as Ashley's disenchantment not only playing second fiddle to Frankie Avalon in the Beach Party movies but also playing a teenager into his thirties, his sojourn in the Philippines which transitioned from acting in the Blood Island films to working behind the scenes on Apocalpypse Now before hitting it big as a producer with the pilot for The A-Team.

Packaging


Package with the disc is a ten-page booklet by Weaver who covers the same ground as the commentary in a more concise manner.

Overall


The Film Detective's Blu-ray of Frankenstein's Daughter does not rehabilitate this silly flick but it does paint a portrait of the threadbare circumstances in which the film came together and just why it resonated with adolescent monster fans of the time.