The Film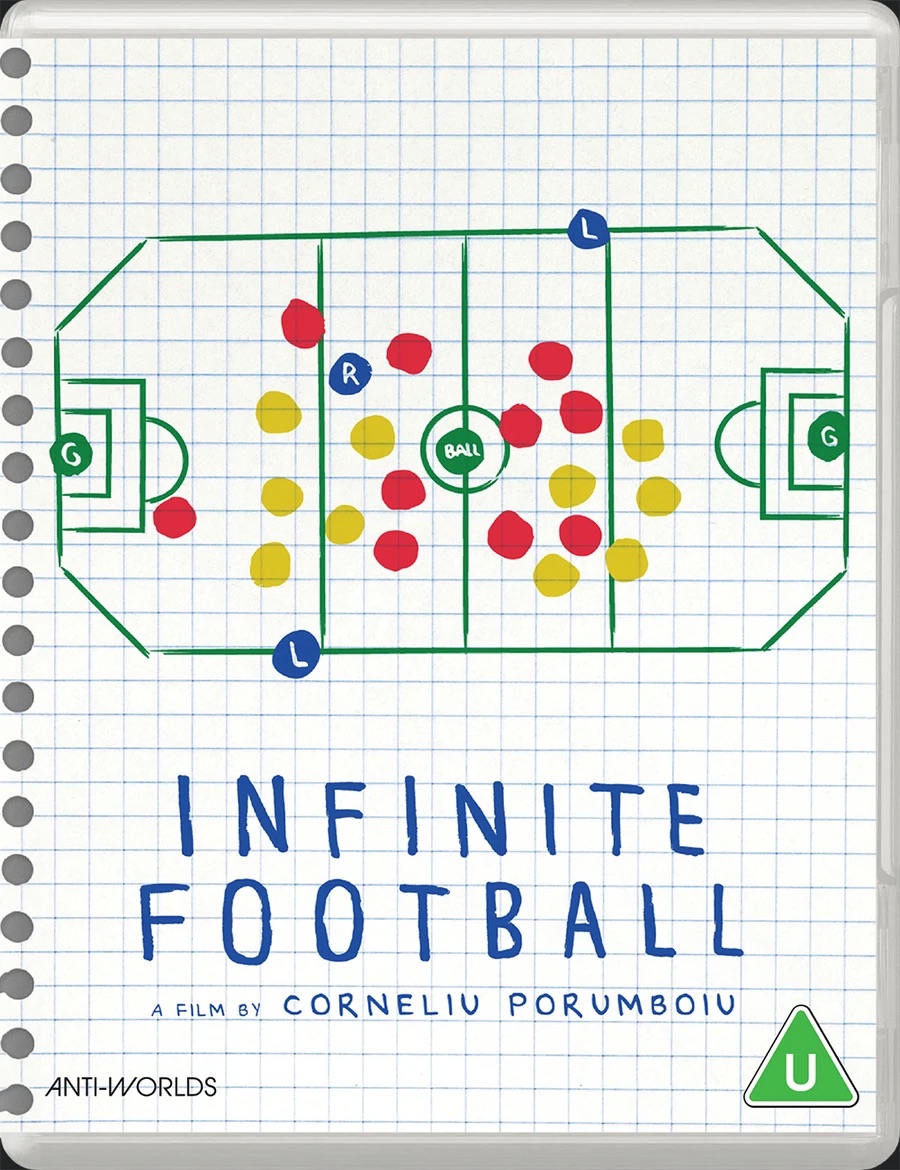 "Last fall, a good childhood friend of mine, Florin, told me that his brother, Laurențiu, invented a new sport by changing the rules of the football game. One month later I went to my hometown, Vaslui, with a small film crew, to learn more about the new sport …"

Acclaimed director Corneliu Porumboiu's moving and hilarious documentary premiered at the Berlin Film Festival before successfully going on a festival run across the world.

They talk about the beautiful game, but for Laurențiu Ginghină, it's not enough. Football must be modified, streamlined, freed from restraints; corners are to be rounded off, players assigned to zones and subteams, norms revised. All roads lead to football, but all roads lead away from it too, to land ownership issues, to orange farms in Florida, to political utopia and the traces left by life, to version 2.0, 3.1, 4.7, to infinity.

Video


Infinite Football

Digitally lensed documentary has a matter of fact look with the colour palette being natural but and desaturated with flesh tones that are fairly pallid. Colours are well delineated and naturalistic according to lighting conditions which is to say rather dull. Not much to say beyond the fact that this is extremely well encoded and presented as is. This isn't going to wow anyone ('C+').

1080p24 / AVC MPEG-4 / BD50 / 1.85:1 / 73:16

The Second Game: A Film by Corneliu Porimboiu

The opening credits are crisp white text on black and presented 1.78:1 but the film is essentially a fuzzy 1.33:1 VHS (or an aging broadcast master - a caption at the beginning says the former) of a match between the Romanian Army team and the Romanian Police / Secret Police team. There are all sorts of issues with the core image such as a lack of detail, moire patterns, faded colours, dull contrast etc etc. Again, beautifully encoded but the source is of limited visual quality ('D+')

1080p24 / AVC MPEG-4 / BD50 / 1.78:1 (pillorboxed 1.33:1) / 101:14

Audio


Romanian LPCM 2.0 Stereo (48kHz)
Subtitles: English (optional)

Infinite Football:
A fairly limited track that when played via ProLogic II kicks some of the the score to the surround field, although it remains strongest at front. Dialogue is always at the front although there is lowkey ambiance if you really listen. If played straight, then it's all from the front. Apart from that, it's a strong track that gets the job done for what this: An unusual, lowkey commentary about footie and one man's own unique take on the beautiful game ('B').

The Second Game: A Film by Corneliu Porimboiu:
Much the same as the my comments for the primary film in this set but the original TV sound remains front and centre, and whilst the commentary is in stereo it's at the front. The surrounds barely get a look in until the end credits and even then it's very much to the front ('C')

Excellent English subs are provided for the films and the extras.

Extras


"Questions and Interruptions: Interview with Director Corneliu Porumboiu" 2021 featurette featuring a 2019 interview (24:33)
"Infinite Football: Q&A with Director Corneliu Porumboiu" 2021 featurette (30:05)

A couple of interviews with the writer-director which is a wide-ranging discussion about rules and how they should be followed or not, whether rules are a good thing etc. The second piece is a screen talk that accompanied a screening of the film. That focuses on Porumboiu's feelings about football, his father and his father's attitudes to the game. We also get questions from the audience. Bith are 1080p24 1.78:1 with lossy Dolby Digital 2.0 stereo.

Infinite Football Theatrical Trailer (1:35)

Promo piece presented in 1080p24 1.85:1 with lossy Dolby Digital 2.0 stereo sound.

A 24-page booklet containing new writing on the film by Kaleem Aftab and Evrim Ersoy, and film credits and technical details

The usual, excellent Anti-Worlds Releasing hardcopy companion to the film.

A double sided sleeve: one side for Infinite Football one for The Second Game

What it says on the tin: You get a choice of which film gets the emphasis with each taking a side of the sleeve with their own key art.

Packaging


Standard clear BD Keepcase.

Overall


Two oddball Romanian documentaries with the titular one about one man's obsession with football and with the supporting film being about how the local communist dictatorship politics of the late '80s intersected with the game. Both are presented on a BD50 disc and offer good value for money. Anti-Worlds Releasing continues to soldier on producing deluxe, beautifully presented and encoded editions of some very niche films. Extras are limited but choice. Highly recommended for those who'll be interested.
| | | | | |
| --- | --- | --- | --- | --- |
| The Film: B | Video: C+ | Audio: B | Extras: B- | Overall: B- |