Survive the Game AKA Killing Field
R2 - United Kingdom - Signature Entertainment
Review written by and copyright: Rick Curzon (18th January 2022).
The Film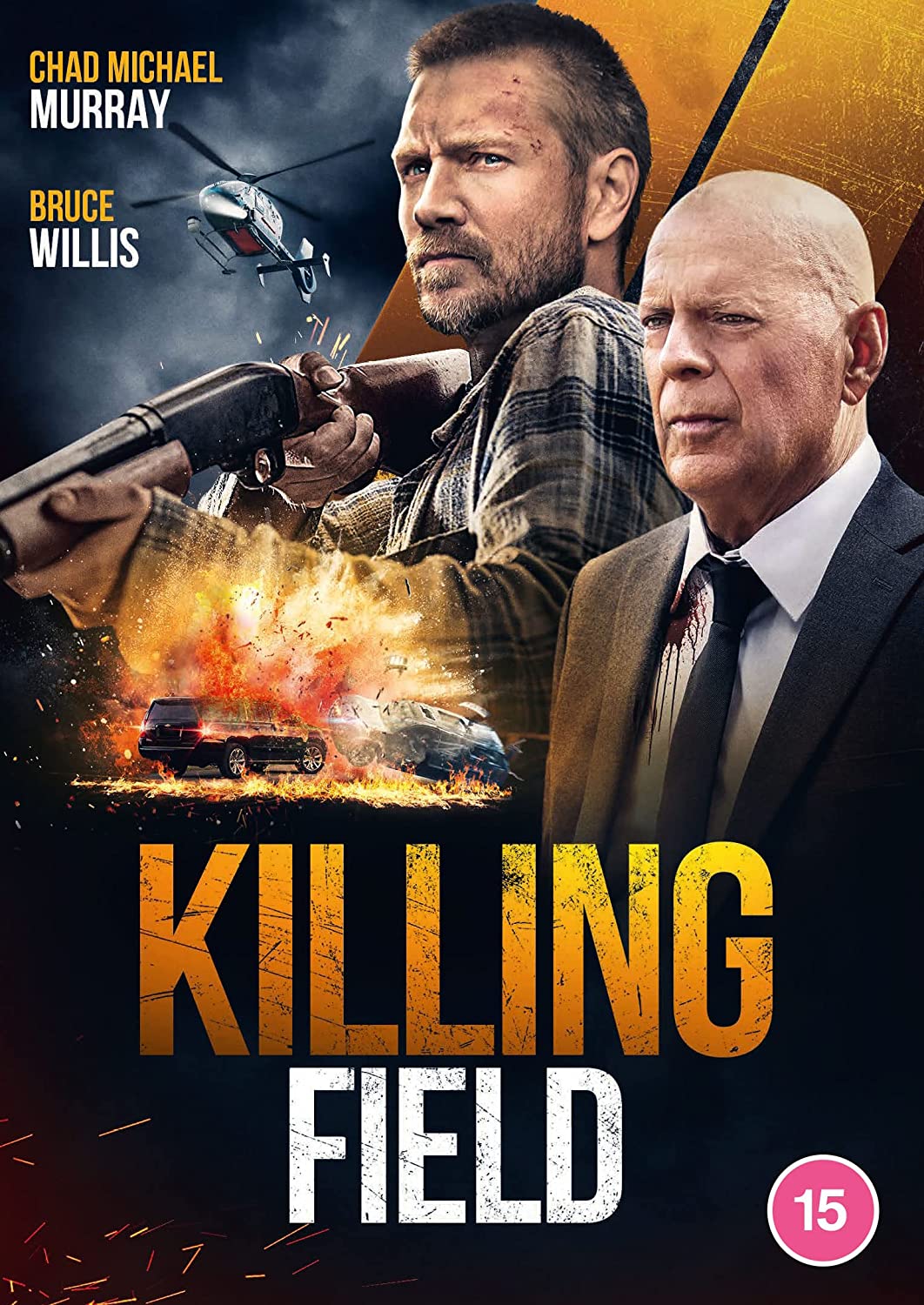 Drugs. Money. Greed. Death.

When a drug bust goes horribly wrong, David (Bruce Willis - Die Hard) , a decorated cop, finds himself at the mercy of a drug cartel. As the violent gang seeks refuge on farmland they soon discover one man (Chad Michael Murray - Riverdale) with a deadly aim who stands between them and freedom.

Video


By the numbers Bruce Willis star vehicle with Chad Michael Murray along for the ride gets a barebones DVD release from Signature Entertainment in the UK. It's a cheap looking production but gets the job done on a slow night although the action is a little chaotic and muddy. Neither the bottom of the barrel nor the cock of the walk.

IMDB has very little technical information alas, but this is obviously a digitally lensed production shot fast and cheap. It has naturalistic colour values but ones that have a healthy palette. None of your desaturated, flat look so favoured by so many 21st century filmmakers and no muddy definition. Flesh tones are healthy and there are plenty of bright skies, lush greens and some primaries really pop. Red is pretty vivid (blood, lipstick).

Black levels are solid with no unintended crush, contrast supportive and detail isn't bad for DVD. The encode is decent but as with most digital productions don't expect much if any grain. Decent for the format and I suspect faithful to the source ('B').

MPEG-2 / DVD5 / 2.39:1 / 92:45 PAL

Audio


English Dolby Digital 5.1
English Dolby Digital 2.0 Stereo
Subtitles: None.

It's a low budget action film that's gone straight to VOD and home video. The 5.1 is the way to go with good delineation and some decent separation activity with action scenes and score kicking the rears into action. It ain't gonna win any awards but this soundtrack supports the modest production well. The 2.0 track remains front and centre when played straight through a 5.1 amp but kicks into surround when channelled through ProLogic II or similar.

No subs alas, so if you're hearing imapired go for the BD imports from Lionsgate USA ('B-').

Extras


Startup Trailers:
- Anti-Life (1:40)
- Willy's Wonderland (0:57)

The usual promos for other Signature Entertainment releases presented in 2.39:1 and Dolby Digital 2.0 stereo sound.

Packaging


Standard black DVD Keepcase.

Overall


A throwaway programmer gets the barebones DVD treatment here in the UK despite BD releases being available elsewhere around the world. Decent image and sound for DVD and no extras to speak of. The disc is cheap on day one and worth a punt for those who like disposable action fare to accompany beer and pizza on a Friday night.
| | | | | |
| --- | --- | --- | --- | --- |
| The Film: C- | Video: B | Audio: B- | Extras: E | Overall: C |

---
Rewind DVDCompare is a participant in the Amazon Services LLC Associates Program and the Amazon Europe S.a.r.l. Associates Programme, an affiliate advertising program designed to provide a means for sites to earn advertising fees by advertising and linking to amazon.co.uk, amazon.com, amazon.ca, amazon.fr, amazon.de, amazon.it and amazon.es . As an Amazon Associate, we earn from qualifying purchases.