Unsuitable Job for a Woman (An) (Blu-ray) [Blu-ray]
Blu-ray ALL - United Kingdom - Powerhouse Films
Review written by and copyright: Rick Curzon (20th February 2022).
The Film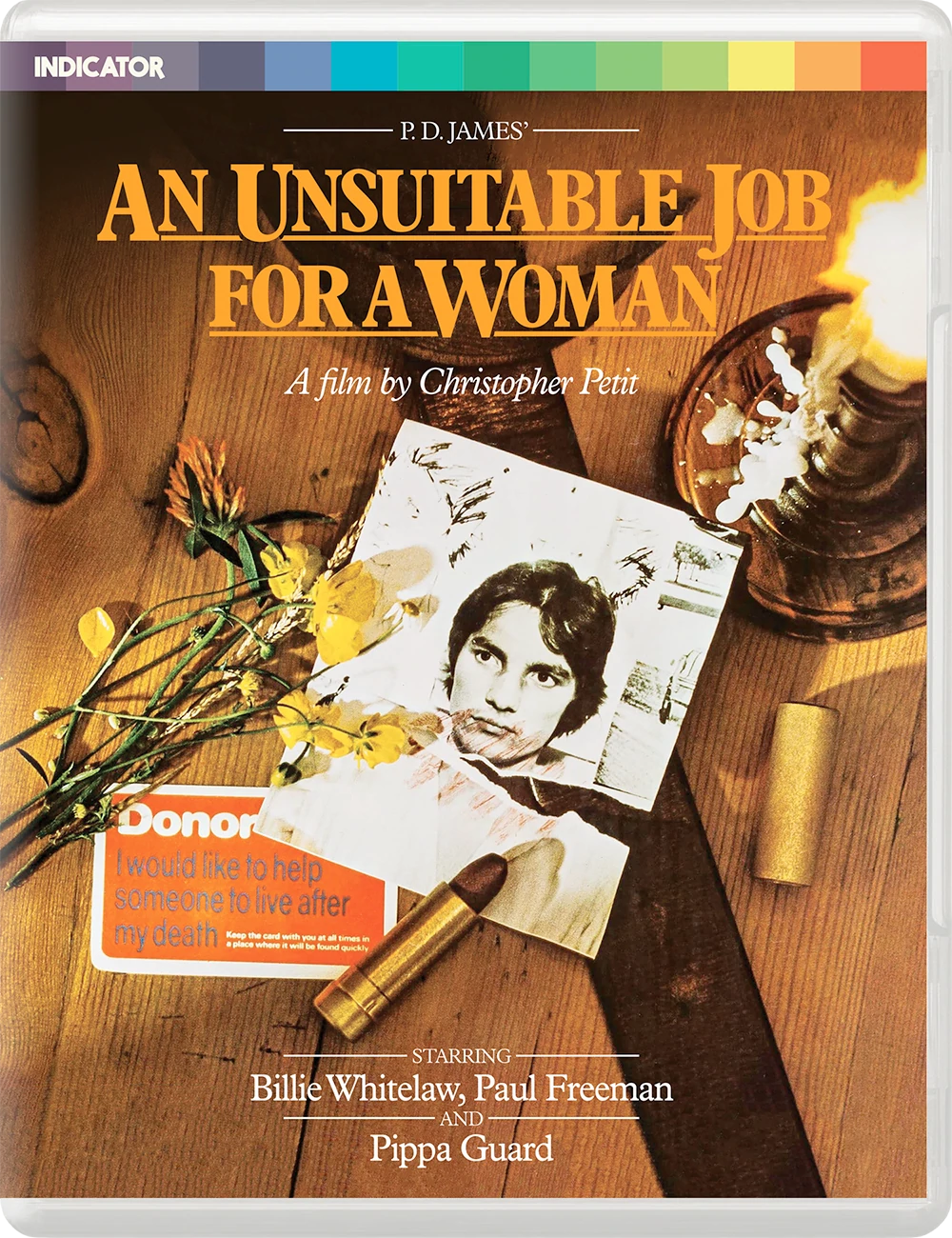 Adapted from P D James' classic crime novel, this stylish, little-seen thriller stars Billie Whitelaw (The Omen, The Krays), Pippa Guard (The Country Diary of an Edwardian Lady), Paul Freeman (Raiders of the Lost Ark), and Dominic Guard (Absolution).

After finding her boss dead in his office, Cordelia Gray (Pippa Guard) takes over duties at his private detective agency. When a woman asks her to investigate the apparent suicide of a young man, she takes on her first case and gets entangled in a web of dark family secrets.

Presented in a brand new restoration from a 4K scan of the original negative, this powerful, unconventional thriller from filmmaker and novelist Christopher Petit – director of the cult classic Radio On – makes its worldwide debut on Blu-ray accompanied by new interviews with cast and crew.

Video


Powerhouse Films have given this long out of circulation film a lavish 4K restoration based on a scan of the OCN and are brininging to both the UK and USA in a limited edition.

This is a long forgotten home counties thriller that uses it's locations, both natural and made made, to play on the popular heritage look and feel of UK made and set period pieces that were so popular in the USA at the time and ongoing. I found the twists in the story fairly obvious but the direction is mostly pretty good although Petit either can't handle or isn't interested in action so those few moments are the weaker aspects. Pippa Guard, although too old to play P. D. James' 22 year old protagonist (in the film she's 23), manages to hold interest in her only feature film role. Apart from one utterly ludicrous scene that damages credibility (involving Pippa's character and a noose) this is solid, decent entertainment if no world beater.

A richly coloured production with healthy flesh tones and a mostly warm overall cast. The natural surroundings look lush and verdant with lots of strong greens, browns and tans. If I had to guess, I'd say there's a slight purple bias to the overall grade but that fits in with many transfers I've seen from the era.

Black levels and contrast are strong with plenty of shadow detail, in fact detail on all focal planes is generally excellent obviously coming off strongest in closeups. The encode (and a dual-layered disc and high bitrate) handles the healthy grain field nicely keeping it filmic and natural with no clumping. I could see no signs of print damage nor could I detect any digital tinkering. This is a well funded, well shot film made on 35mm and the transfer via the restoration looks a peach. About as good as it could possibly be shy of a UHD BD release ('A').

1080p24 / AVC MPEG-4 / BD50 / 1.85:1 / 94:13

Audio


English LPCM 1.0 (48 kHz)
Subtitles: English HoH

Robust mono track gets the job done with no major issues to report. It's well balanced and mixed with some decent base, no distortion and dialogue is always clear and to the fore. At it's strongest when quietist and the score is allowed to build atmosphere. Sound effects play nicely in the sound field, a ringing phone in the first five minutes made me jump. Increase volume and it holds it's own, ambiance is well handled lso helping the mood which is the strongest aspect of this modest film.

Hard of hearing subtitles are excellent and very welcome as always ('B')

Extras


"Absolute Fascination: Don Boyd on An Unsuitable Job for a Woman" 2022 interview (31:12)
"Mise-en-scène of the Crime: Christopher Petit on An Unsuitable Job for a Woman" 2022 interview (29:36)
"A Bridge Too Far: Dominic Guard on An Unsuitable Job for a Woman" 2022 interview (12:47)

73:35 worth of new interviews about the film. All are interesting and give a fair amount of insight into the production covering alternate casting choices, production woes, adaptation of the book, Guard working with his relative as star etc. Presented 1080p24 1.78:1 with the sound in LPCM 2.0 surround.

Theatrical Trailer (2:59)
VHS Trailer (4:29)

Both have LPCM 1.0 sound with the theatrical trailer being in genuine 1080p24p and 1.85:1. The VHS trailer is a very soft and fuzzy upscale from standard presented in 1080p24 1.33:1 (open matte). The trailers make the film look much more like conventional, moderately hard-boiled detective tale.

An Unsuitable Job for a Woman Image Galleries:
- Original Promotional Material (27 images)
- Original Unit Photography (112 images)

Extensive HD galleries are not in the same league as those on say The Lord of Rings (2001-03) but for a film in the Indictor series, pretty extensive.

36-page liner notes booklet by Claire Monk, an archival essay by Christopher Petit, production reports on the making of the film, an overview of contemporary critical responses, and film credits

Excellent hardcopy companion that provides the usual topnotch contextual dded value and is stylishly lid out.

Packaging


Clear BD Keepcase.

Overall


A long forgotten P. D. James adaptation gets the deluxe treatment from Powerhouse Films. Image and sound are as strong as can be for the format and resolution with some very solid extras to back up this attractive package. Powerhouse continue to unearth obscure British films and present them on their best behaviour and I suspect that fans will lap this one up. Highly recommended.
| | | | | |
| --- | --- | --- | --- | --- |
| The Film: C+ | Video: A | Audio: B | Extras: B+ | Overall: B+ |

---
Rewind DVDCompare is a participant in the Amazon Services LLC Associates Program and the Amazon Europe S.a.r.l. Associates Programme, an affiliate advertising program designed to provide a means for sites to earn advertising fees by advertising and linking to amazon.co.uk, amazon.com, amazon.ca, amazon.fr, amazon.de, amazon.it and amazon.es . As an Amazon Associate, we earn from qualifying purchases.