Bartleby (Blu-ray) [Blu-ray]
Blu-ray ALL - United Kingdom - Powerhouse Films
Review written by and copyright: Rick Curzon (26th February 2022).
The Film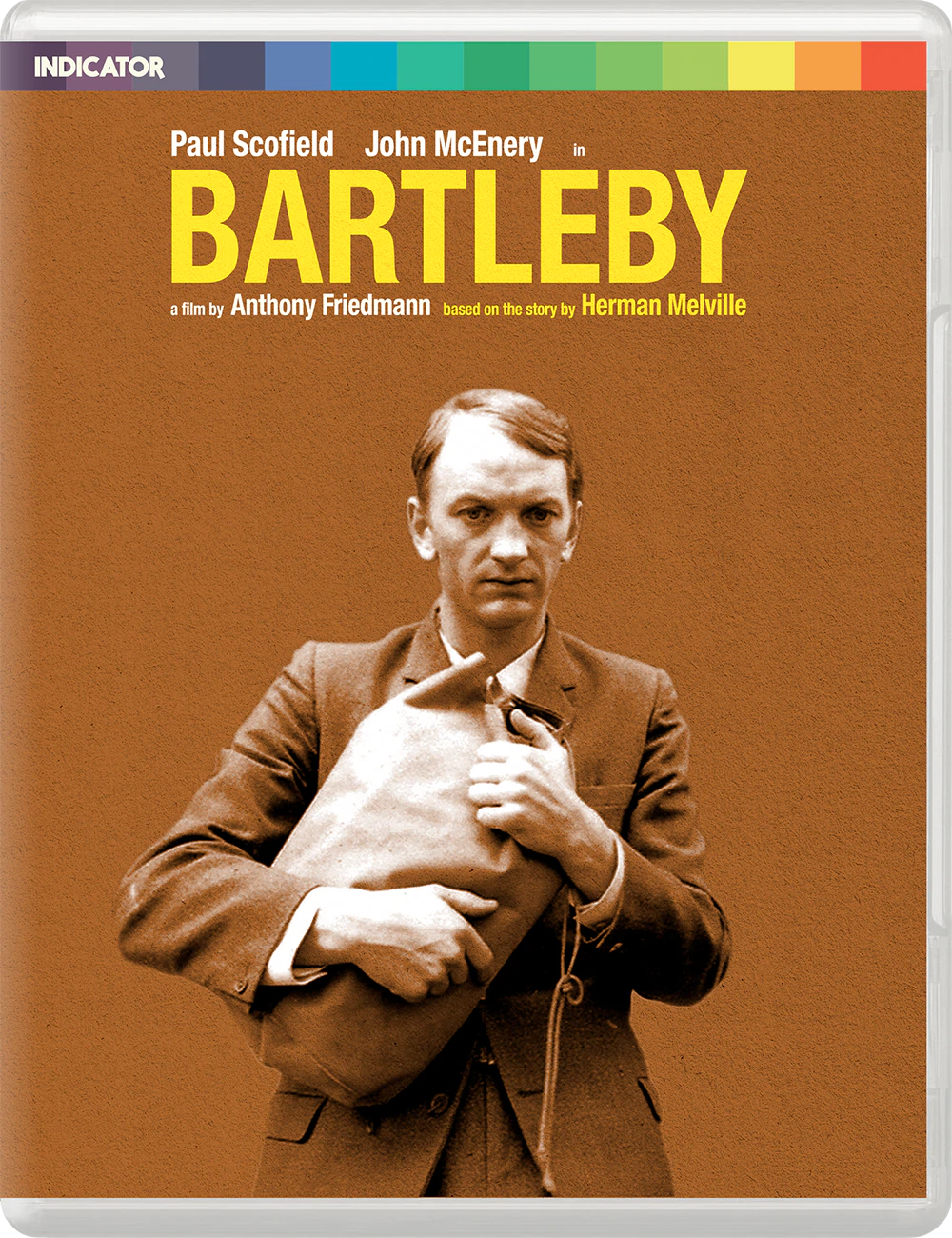 Based on Herman Melville's celebrated short story 'Bartleby, the Scrivener: A Story of Wall Street', Anthony Friedmann's unduly neglected film relocates the action to 1970s London and stars Oscar-winner Paul Scofield (A Man for All Seasons), John McEnery (Franco Zeffirelli's Romeo and Juliet), and Thorley Walters (Hammer's The Phantom of the Opera).

When a young office clerk, Bartleby (McEnery), becomes increasingly defeated by the pressures of modern life, he gradually opts out of all forms of social engagement and his frustrated employer (Scofield) does all he can to stop him from withdrawing entirely into his own world.

Superbly acted and exquisitely photographed, Bartleby is a rare gem of 1970s British cinema. Presented in a brand new restoration from a 4K scan of the original negative, this wry and complex drama makes its worldwide debut on Blu-ray accompanied by a range of new and archival extra features.

Video


I'd not heard of the original short story nor this film adaptation before so it was all new. Another case of a largely forgotten film gets revitalised by a welcome Powerhouse Films restoration.

The colour palette is deliberately lowkey and naturalistic and mostly driven by interiors. Costume choice, production design and set dressing are all working towards the films central themes to create a drab little world of one man's withdrawal from the world in which he moves. Flesh tones are pinkish and primaries are relatively rare (buses, phone boxes, the occasional lapel flower ... it is set in London business world after all). Exteriors are brighter with some lush greens but this is largely a subdued image. When stronger colours do show up they don't stand out with the palette not favouring deep saturation.

Black levels are deep and true with supportive if lowkey contrast. The image doesn't kick out but shadow detail is excellent and highlights remain solid with no loss of fine textures. The exquisite encode handles the ever present grain field expertly always maintaining a filmic texture. A strong image that delivers a faithful rendition of the original ('A').

1080p24 / AVC MPEG-4 / BD50 / 1.85:1 / 78:28

Audio


English LPCM 1.0 (48 kHz)
Subtitles: English HoH

A simple mono track that does nothing unexpected as the film is largely dialogued based with score backing. It's surprisingly robust and gets the job done well. It's got the standard closeted sound one expects but the score still managed to trigger the LFE in the opening credits a little with some of the deeper notes and again at a couple of points in the second half. Ambient effects are well represented building atmosphere when needed. I noticed no distortion or any signs of age related wear and tear, no pops or clicks and only the expected amount of analogue hiss when I cranked the volume up.

Hard of hearing subtitles are typically comprehensive and full, therefore overall a strong presentation ('B+').

Extras


Audio interview with Anthony Friedman (conducted on 7 December 2021) (14:32)

A caption prepares us for limitations in this track due to it being conducted via the internet. It's a lossy Dolby Digital 2.0 mono with lot of mild distortion that makes it feel as if it's slightly underwater. You know the score if you've any experience of Team calls. Friedman discusses his career, how he got started, influences, aims, how he came to be interested in Bartleby and how he approached the material.

"Bartleby's London" 2022 featurette (3:37)

Short piece comparing the London locations in 1969-70 and in 2022. Presented in 1080p24 1.78:1 with uncompressed LPCM 2.0 mono sound.

Theatrical Trailer (1:41)

Vintage promo piece presented in 1080p24 1.85:1 with uncompressed LPCM 2.0 sound that is much, much louder at the same volume level than the main feature.

Bartleby Image Gallery: Original Promotional Material (27 images)
Bartleby Image Gallery: Original Shooting Script (31 images)

The usual, solid HD still gallery.

"Beat the Bomber" 1975 short film (16:09)

Public information film written and directed by Friedman. It's disturbing the think that such films had to be made. Presented in 1080p24 1.37:1 with uncompressed LPCM 2.0 mono. Colours are a little faded, black levels are decent as is contrast. However at a guess this os from a lesser source. It was probably made in 16mm and I suspect a print was used rather than the A and B roll negatives.

Bartleby (2017):
- Play Film (11:25)
- Timelapse Videos (0:26)
- Trailer (0:44)
- Bartleby Image Gallery: Original Promotional Material (7 images)

Short claymation version of the short story plus extras. Lensed in digital HD according to IMDB this looks typically clean and pristine. Presented in 1080p24 1.78:1 with uncompressed LPCM 2.0 stereo.

36-page liner notes booklet by Jeff Billington, archival interviews with star Paul Scofield and writer-director Anthony Friedmann, an overview of contemporary critical responses, new writing on Beat the Bomber and Bartleby (2017), and film credits

Excellent hard copy supplement to provide extra value for those inclined.

Packaging


Clear BD Keepcase.

Overall


Another welcome restoration of a little seen film brought back to the public stage via the new restoration and this highly anticipated BD release from Powerhouse Films in the UK for release in both the UK and the USA. Image, sound and extras are all strong so buy with confidence.
| | | | | |
| --- | --- | --- | --- | --- |
| The Film: B- | Video: A | Audio: B+ | Extras: A | Overall: A- |

---
Rewind DVDCompare is a participant in the Amazon Services LLC Associates Program and the Amazon Europe S.a.r.l. Associates Programme, an affiliate advertising program designed to provide a means for sites to earn advertising fees by advertising and linking to amazon.co.uk, amazon.com, amazon.ca, amazon.fr, amazon.de, amazon.it and amazon.es . As an Amazon Associate, we earn from qualifying purchases.