The Film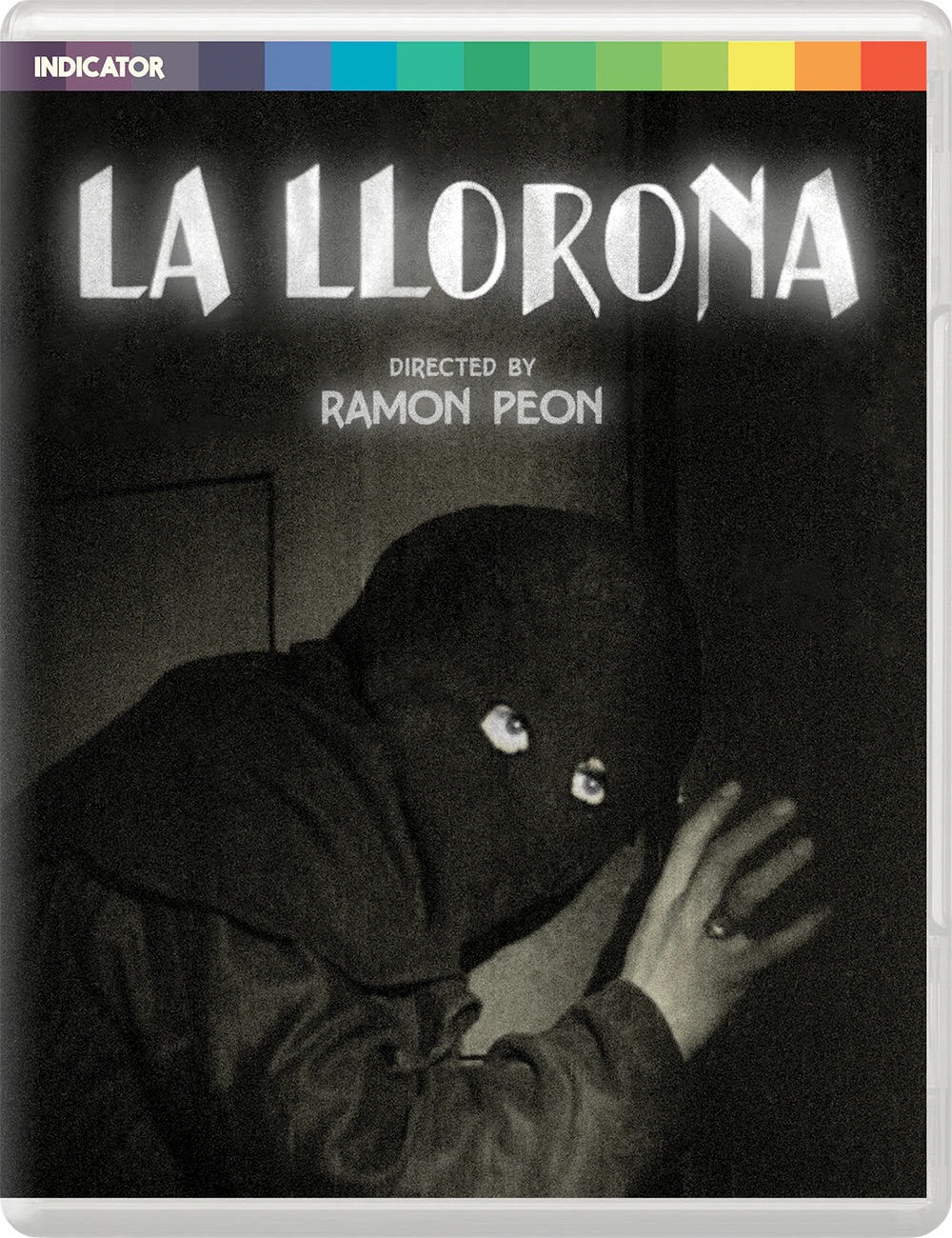 An early horror classic drawn from Mexico's rich tradition of folklore, La Llorona recounts the chilling tale of the 'wailing woman' who kills herself and her child before returning to haunt the living.

Expressionistic, lyrical and atmospheric, Ramón Peón's film draws on the influence of Universal Pictures' contemporaneous horror cycle and incorporates elements of period melodrama and romance. This landmark production in the evolution of Mexican cinema has been newly restored from the only surviving film elements, and is presented here with a selection of essential extras.

Video


This long lost, recently restored and much anticipated Mexican horror film gets a high quality release from Powerhouse
Films in the UK for a worldwide BD premiere in both the UK and the USA.

I only wish I enjoyed the film more. The first 39 minutes are pure period melodrama setting up the legend as a flashback as the tale is told to a modern doctor. The spookiness and horror don't turn up till the last thirty minutes and even then are very mild even for a 1930s horror film. This early sound production is technically very primitive (lots of out of focus shots) and clumsily directed when set against contemporaneous horror films from Europe and the USA. Pacing is non existent with plenty of slow patches. There are a couple of spooky, atmospheric moments but they're few and far between.

Shot on 35mm but no elements survive in that gage, only a 16mm print which - based on the opening credits - is severely cropped at the top and on the left. There's plenty of print damage throughout and being a 16mm down conversion the image is significantly softer and lacking in detail.

However, the top notch encode handles the restored master perfectly with excellent grain management which is grand because it's heavy and constant. There are lots of density fluctuations whenever optical scene wipes occur or fades, of which there are many.

Gamma is perfectly balanced with no colour bias spoiling this monochrome film. Blacks are solid and deep but there's plenty of crush throughout this atmospherically shot, dark production. I suspect much of this will be down to the downconversion from 35mm. Contrast fluctuates from scene to scene but the restoration team and Fidelity in Motion do their best to even things out as much as possible. I didn't notice any particular blown out highlights.

This is a compromised version of a rare film and is presented here in the best possible way considering it's survival history ('C'). Fingers crossed better elements turn up someday. I doubt a 4K presentation with HDR will improve much on what we have here.

1080p24 / AVC MPEG-4 / BD25 / 1.37:1 / 70:18

Audio


Spanish LPCM 1.0 (48 kHz)
Subtitles: English (optional), English HoH

Sound is very low and tinny with plenty of hiss and crackle but it's the best we can hope for given the source elements. I suspect some of the poor quality will be down to the sound recorded on the 16mm downconversion. It is what it is folks and about as good as it's gong to get until better quality elements turn up. There's distortion at the high end, no base at all, tinny, distant scoring which may well have been placed live on set rather than added later.

Subtitles come in two flavours: Standard English for those who can hear and hard of hearing for those with difficulties, both are excellent ('C').

Extras


Audio commentary by Stephen Jones and Kim Newman (2022)

The usual excellent, chatty and informative yaktrak from Jones & Newman. They chart the Mexican history of the mythology, how Mexican cinema is very much based on family, the connection to old dark house mysteries, discussion of cast and director etc. A full and rewarding track presented in lossy Dolby Digital 2.0 stereo.

"La Llorona: Ghosts of the Past" 2021 featurette (17:01)
"Transcending Time: Abraham Castillo Flores on the Origins and Legacy of La Llorona" 2022 interview (17:49)

Two new pieces presented in 1080p24 1.78:1 in lossy Dolby Digital 2.0 stereo. Firstly we have Viviana García Besné discussing her producer great grandfather Jose Calderon. In addition to his career, she covers the legend of the Weeping Woman, it's connections to the Spanish conquistadors and the Aztecs and the lineage of her great grandfather's 1933 film. Most interesting was the history of the creation of a Latino film culture south of the border. In the second new piece we have Flores (in a killer shirt - I'd love to know where to get one!) covering in detail the backdrop to the film, the legend and how it also maps onto other myths from around the world. Plenty for fans to enjoy.

"Lunas y Estrellas" 2022 featurette (1:38)

A collection of theatrical cue marks that told projectionists to get ready to change reels. They have traditionally been removed by modern restorationists but oddball shapes were used on this film (strs, moons, crescents etc) so some are presented here for viewer enjoyment. 1080p24 1.37:1 with lossy Dolby Digital 2.0 mono sound.

40-page liner notes booklet with a new essay by Emily Masincup, an archival article on the legend of La Llorona, Valeria Villegas Lindvall on the many cinematic interpretations of La Llorona, an archival newspaper report on the film's premiere, an overview of contemporary critical responses, Peter Conheim on the restoration of La Llorona, and film credits

Slightly expanded (most Powerhouse booklets are 36 pages) hardcopy companion to the film.

Packaging


Clear BD Keepcase.

Overall


A long lost and significant film, the first sound horror film made in Mexico gets the Powerhouse Treatment here in the UK (and in the USA) as part of their beloved Indicator Series. Image and sound are as good as can be given the highly compromised surviving source. Extras are solid and informative not to say more enjoyable than the rather creaky film, at least for this viewer. Still, a must for all fans of horror and especially for fans of Mexican cinema. Highly recommended.
| | | | | |
| --- | --- | --- | --- | --- |
| The Film: C- | Video: C | Audio: C | Extras: B+ | Overall: B- |