The Film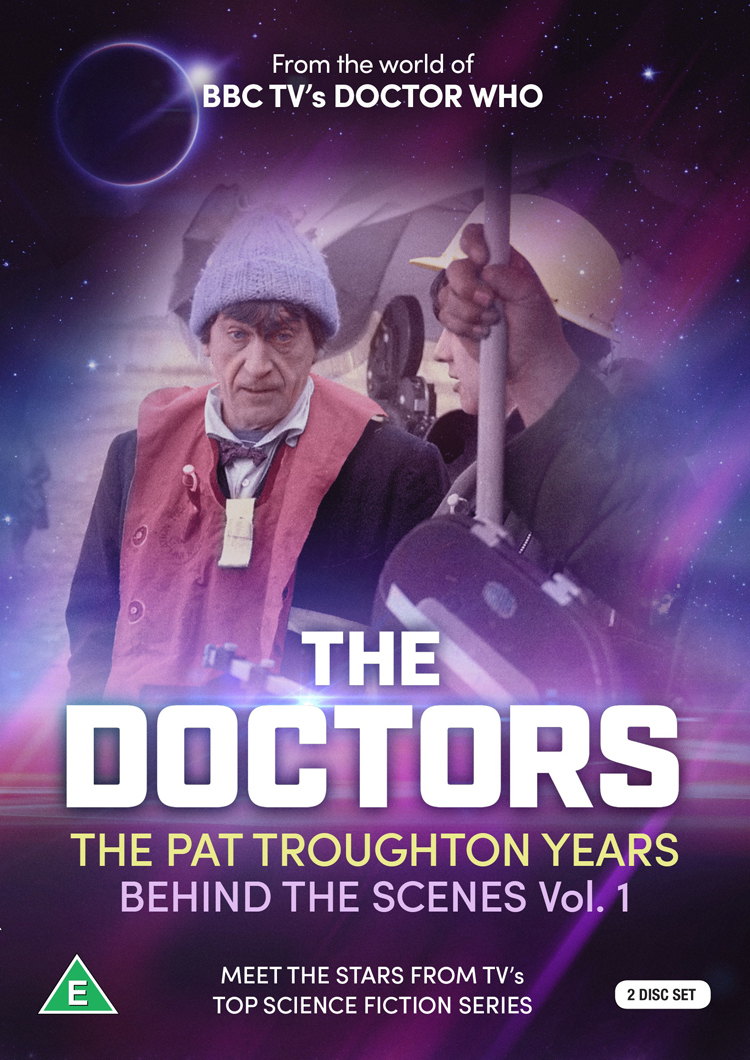 The Doctors: The Pat Troughton Years Behind The Scenes Vol. 1 brings together six in-depth documentaries with the team who brought the Pat Troughton era of the show to life: Shaun Sutton (Head of Drama), Victor Pemberton (Script Editor) and Derrick Sherwin (Script Editor) ever undertaken! Plus special productions featuring Innes Lloyd (Producer), Peter Bryant (Producer), Michael Craze (Ben) and also actors Beryl Braham, Anthony Colby, Martin Cort, John Greenwood, George Leyton, Raymond Llewellyn, Sonia Markham, Christopher Robbie, Peter Roy, Ralph Watson and Reg Whitehead.

Certificate: E Limited Edition: 1000 copies each

The Doctors: The Pat Troughton Years Behind the Scenes Volume 1 is available on 2-disc DVD 7 February 2022.

Video


Video on these Reeltime discs is variable to say the least with older material evidencing combing due to conversion from the native PAL to NTSC. Reeltime have presumably gone the NTSC route to pander to the American market which is unable to play PAL material. Reeltime own the worldwide rights to the material so it sadly makes sense to go with NTSC as it's a format playable on UK equipment (TVs and players).

Colours vary from strong to washed out based on the quality of the original footage. Black levels re generally fine although occasionally they can be dark gray. Contrast is mostly adequate but can be dull sometimes. Detail is adequate for the format and for the home video nature of the original shooting, even if it was professional in quality.

Image is as good as can be given the original source masters and given that we're looking at PAL > NTSC conversions.

PAL / 1.33:1, 1.78:1 / 325:17

Audio


English Dolby Digital 2.0 Mono / Stereo
Subtitles: None

Fairly basic 2.0 mono and stereo soundtracks that get the job done. The mono lack much depth at all but pep up during the theme music bits on the opening and closing credits. Dialogue is always clear which is what these Myth Makers releases from Reeltime are all about. The stereo bits will play as basic front 2.0 stereo or as surround when channelled through a 5.1 amp using ProLogic II or similar. There re no subtitles ('B-').

Extras


"Myth Makers: Shaun Sutton" 1998 interview (51:18)
"Myth Makers: Victor Pemberton" 1989 / 1996 interviews (54:19)
"Myth Makers: Derrick Sherwin" 1998 interview (61:42)

Disc one contains older programmes from the '80s and '90s, all of the interview subjects are no longer with us so these programmes are especially valuable..

"Myth Makers: The Innes Lloyd Team" 2005 featurette featuring 1986 interviews with Innes Lloyd, Peter Bryant, Michael Craze, Victor Pemberton conducted by Mark Wyman (51:50)
"Myth Makers: Flight Through Eternity, the Sixties: Vol. 1" 2007 featurette featuring interviews with Reg Whitehead, Raymond Llewellyn, Ralph Watson, Sonia Markham and Beryl Braham (51:59)
"Myth Makers: Flight Through Eternity, the Sixties: Vol. 2" 2007 featurette featuring interviews with Martin Cort, Peter Roy, George Layton, Anthony Colby, John Greenwood and Christopher Robbie (54:09)

The 21st century recordings are sharper image wise and presented in widescreen. The 1986 segment is, again, populated by people no longer alive so extremely valuable. The more recent ones also have a couple no longer alive.

All interviews ask good, pertinent questions and add great value to collectors of the episodes on DVD and BD because many of those interviewed were dead before the DVD range had begun and the production of extras.

Packaging


Black DVD Keepcase.

Overall


Another unmissable collection of interview programmes that fans won't want to miss especially considering many of the subjects are dead now and din't contribute to the official BBC home video releases. Only 1,000 copies of this disc have been pressed (yes, a proper pressed disc!) so snap one up whilst you can.

Highly, highly recommended!
| | | | | |
| --- | --- | --- | --- | --- |
| The Film: A+ | Video: C+ | Audio: B- | Extras: A+ | Overall: B+ |