The Film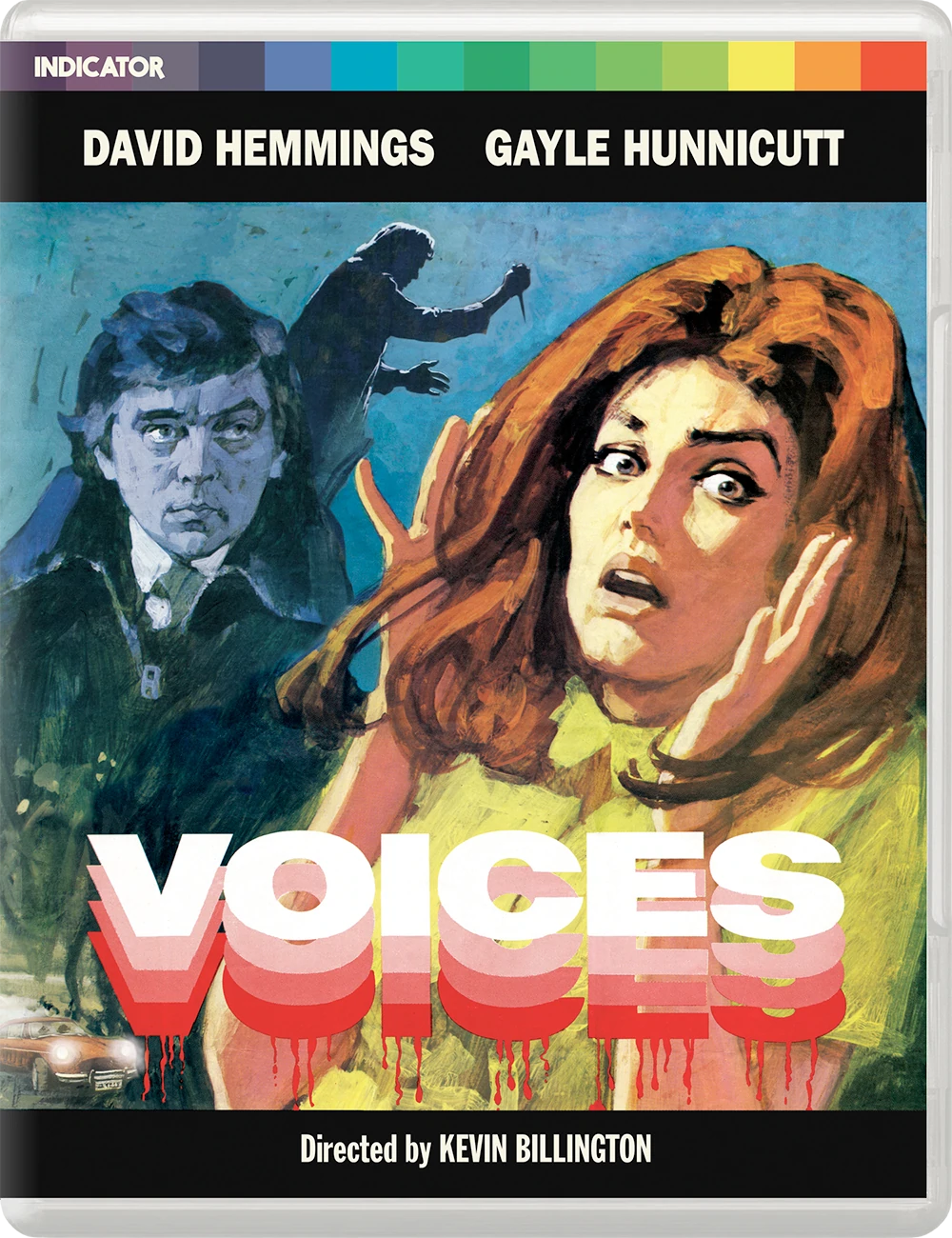 Real-life husband and wife David Hemmings (Blowup, Deep Red) and Gayle Hunnicutt (Eye of the Cat, Fragment of Fear) star in this tense British shocker from director Kevin Billington (The Rise and Rise of Michael Rimmer).

After a tragic family accident, Claire (Hunnicutt) suffers a mental breakdown. In an effort to help her recovery, Robert (Hemmings), her husband, takes her to convalesce in a grand country house, but her already fragile sanity is soon threatened by ghostly apparitions and terrifying visions.

Shot on a mixture of film and video, this superb chiller is presented in a brand new restoration from a 4K scan of the original separation masters by Powerhouse Films. Making its worldwide debut on Blu-ray, Voices is accompanied with a selection of newly produced extras and a comprehensive booklet.

Video


This decent but marginal, long forgotten British horror thriller gets the deluxe treatment with a full restoration from Powerhouse Films in the UK for both UK and US market. A worldwide BD premiere.

The opening 18 minutes and the closing four minutes were shot on 35mm film and matted in projection to 1.66:1. The remaining 69 minutes (bar the odd flashback to the films opening still being on 35mm) is shot on 1.33:1 video, and I assume PAL video as the film was made in the UK. The video was then telecined to 35mm and then matted in projection to 1.66:1 along with the native 35mm opening and closing. A very odd approach and one that makes Voices feel like any one of the contemporaneous film and video mixture TV productions made for UK TV at the time.

The filmed material is very stable with solid '70s colour values favouring browns, grays and greens with some decent primaries and flesh tones. Grain is ever present as these are mostly overcast exterior daylight shots. Always looking like film and beautifully graded and encoded with maximum respect to the intentions of the filmmakers. Black levels and contrast work beautifully together to give the image in these 22 minutes of 35mm a solid filmic texture. Detail is very good on all focal planes.

The telecined video material is a completely different kettle of fish. Being PAL it would be 576 lines of definition shot at 40 fields per second and would therefore have a fluid video look. To convert to 35mm it's been telecined which means that the makers would've had it all transferred by playing it back on a flat screen monitor and them filming it using colour 35mm cameras. The 40 fields per second would then be converted to 24 frames per second film and the difference betwixt the 40 fields (=frames) and the 24 would be lost in the process. This makes the video footage look filmised and creates all sorts of artefacts such as chroma issues, softness, noise, flatter contrast and detail is limited by the format and the process.

It is what it is.

It's a crying shame that the original video material probably doesn't exist but if it did the difference in the two processes would look even more startling to viewers than it already does now. However, the video stuff would look much sharper and many of the artefacts wouldn't be present or would at least be minimised. In any case, the makers wanted it to look this way so there we are.

Powerhouse have done a superb job though in presenting this film as well as it's humanly possible to do given the production methods and given the materials available to them. It's got a hefty bitrate on a dual layered disc so the transfer can breathe and it looks as good as possible shy of a 4K UHD BD release ('B').

1080p24 / AVC MPEG-4 / BD50 / 1.66:1 / 91:18

Audio


English LPCM 1.0 (48 kHz)
Subtitles: English HoH

Sound is rock solid and has a surprising mount of depth given the limited source. Very much a photographed TV play so dialogue centric. There is some hiss here and there with some mild crackle, particularly in the studio taped scenes, but it's not a major issue. Music is occasionally tinny in those sequences and I noticed the odd clipped effect but I suspect that's baked into the source. Once gain, given the materials Powerhouse had to work with, they've done a bang up job.

Hard of hearing subs are excellent and welcome ('B-').

Extras


Audio commentary with journalists Barry Forshaw and Kim Newman (2022)

A strong commentary that covers the production well, the origins of the play and subsequent productions (both UK and USA), where this film fits in with other films using similar premises, the lead actor's personal and professional relationship, technical aspects and where the film sits in the pantheon of horror cinema. Both commentators are well known for their previous work both literary and in DVD / BD land and are warm presences who know their subject and obviously are friends. Presented in lossy Dolby Digital 2.0 stereo.

"Wide Boys: Vic Pratt on John Daly, David Hemmings, and Hemdale Film Corporation" 2022 interview (17:45)
"Mon Brave!: Filmmaker Peter Crane on David Hemmings" 2022 interview (7:26)
"Voices from the Past" 2022 featurette (3:39)

28:50 worth of new interviews with first two covering the key creatives. The last piece discusses the restoration in some detail and the various problems the team encountered. All are in 1080p24 1.78:1 with lossy Dolby Digital 2.0 stereo sound. Pride of place does to Pratt's excellent overview of Hemdale a company set up by David Hemmings (1941-2003) and John Daly (1937-2008) that ran from 1967 to 1995 and was responsible for such high profile films as Tommy (1975), The Terminator (1984), Salvador (1985), Platoon (1986) and The Last Emperor (1987).

Voices Image Gallery: Original Promotional Material (27 images)

Very solid HD gallery.

36-page liner notes booklet by Julian Upton, archival interviews with actors Hemmings and Gayle Hunnicutt, a look at the source play, an overview of contemporary critical responses and film credits

Unbeatable hard copy companion to the film provides the usual contextual added value.

Packaging


Clear BD Keepcse.

Overall


I'd not consciously been ware of this film before and as usual Powerhouse Films have brought a long marginalised film into the light where it'll hopefully find more admirers. Image and sound are as good as can be for the format and especially given it's odd mix of 35mm film and telecined video. Extras are very good indeed and are the icing on the cake. An essential purchase for anyone who loves horror, '70s or British films.
| | | | | |
| --- | --- | --- | --- | --- |
| The Film: C+ | Video: B | Audio: B- | Extras: A | Overall: B+ |