Zeros and Ones
R2 - United Kingdom - Signature Entertainment
Review written by and copyright: Rick Curzon (5th March 2022).
The Film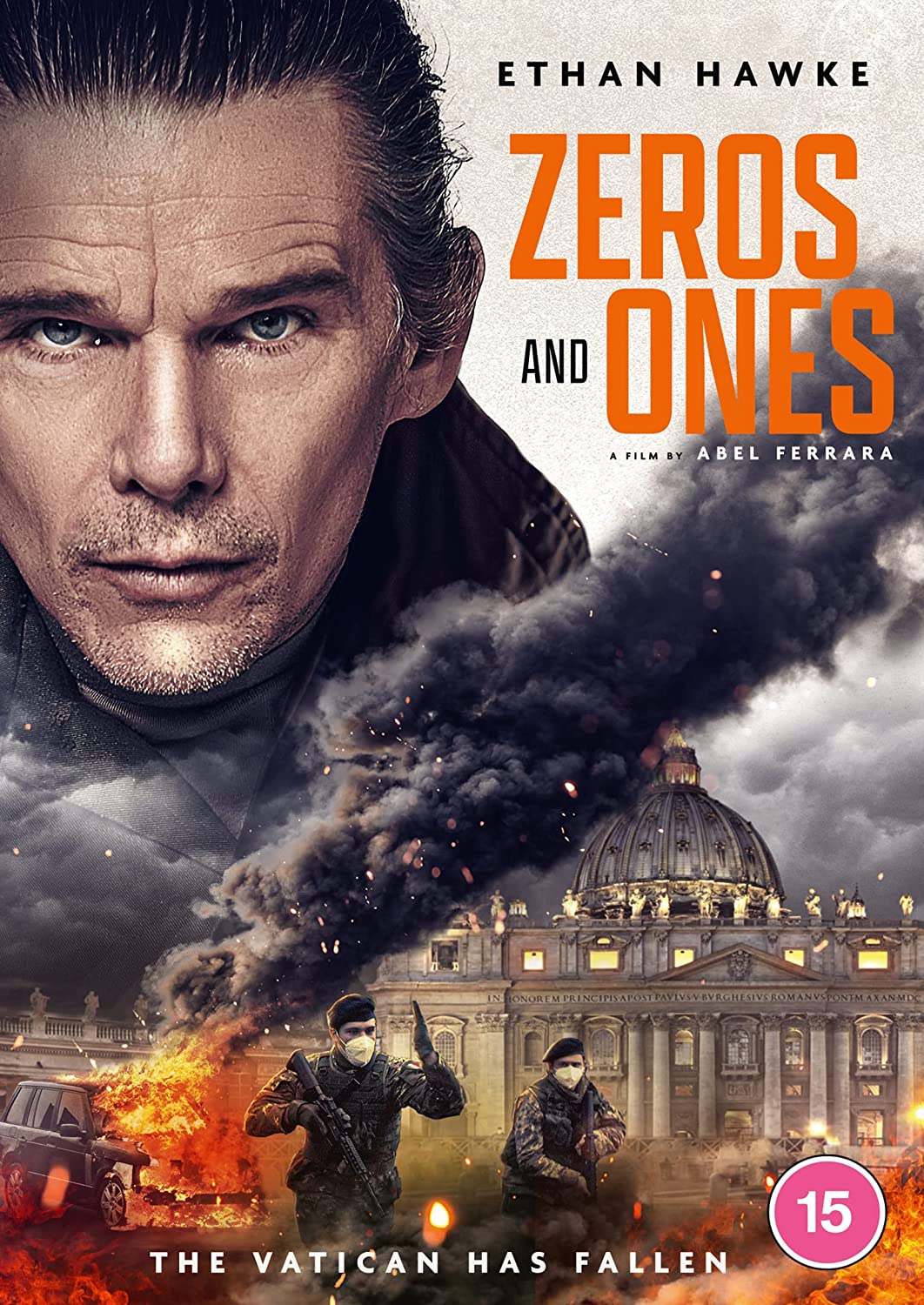 Zeros and Ones is a high stakes, gritty and tense action thriller from legendary director Abel Ferrara (The King of New York, Bad Lieutenant) and starring Academy Award nominee Ethan Hawke (Training Day).

Called to Rome to stop an imminent terrorist bombing, soldier J.J. (Hawke) desperately seeks news of his imprisoned rebel brother, Justin (also Hawke), who holds knowledge that could thwart the attack. Navigating the capitalís darkened streets, J.J. races to a series of ominous encounters, hoping to keep the Vatican from being blown to bits.

Video


An arthouse thriller - completely il-served by the key art cover which makes it look like a sequel to Olympus Has Fallen - that will be of interest to fans of Abel Ferrara's work (The Driller Killer, Fear City, King of New York, Pasolini). The plot is murky and hard to follow but the film has it's rewards for those so inclined. This film was shot fast and cheaply from Late 2020 into early 2021 and is set very much in a post COVID world.

Ferrara's latest Italian-American co-production is debuting on DVD here in the UK from Signature Entertainment but sadly no BD is planned. It's shot digitally in the scope aspect ratio of 2.39:1 and generally has a rich if naturalistic colour palette. As many have commented it's a dark, claustrophobic film owing to it being mainly set at night and shot in a tight hand-held way favouring closeups.

Primaries are rare but vivid when they do appear, flesh tones tend towards orange due to the overall grade favoured by Ferrerra and cinematographer Sean Price Williams. Blacks are rampant throughout and always solid although there are signs of crush it's never really unintended. I didn't notice any noisy patches in the darkness on my 55" 4K display but no doubt if you try and project this image weaknesses will be evident.

Contrast is very low key as befitting the films murky netherworld of soldiers, terrorists and gangsters. There are few bright patches in this film but I saw no overt signs of blowouts. It's a murky, dark film and the encode does it's best with a problematic source. There's no doubt that a BD or UHD BD with HDR would make massive improvements on this modest presentation but that isn't likely to happen here in the UK and I've not noticed any 4K release being available anywhere else.

This has a modest bitrate on a single layered disc but the short running time means that's it's still handled well for the format ('B').

MPEG-2 / DVD5 (single-sided, single-layered) / 2.39:1 / 83:11 PAL

Audio


English Dolby Digital 5.1
English Dolby Digital 2.0 Stereo
Subtitles: None

A modern 5.1 track done for a low budget thriller that favours ambiance and atmosphere over loud bangs and action. However, when required this track delivers the goods. At the 50 minute mark an explosion tested the mettle of the subwoofer. It had a satisfying rumble momentarily. The low key score plays across the sound field throughout the running time and sound effects ply around in the surrounds. Dialogue is mostly front and centre. This isn't your usual multiplex superhero workout but I was generally impressed with the sound design even if it didn't have me out of my seat.

The 2.0 track is an adequate down-mix but lacks the same level of immersion due to the mono surrounds. Played straight, it only inhabits the front sound field. If channelled through ProLogic II or similar you get full surround. However, the 5.1 is much more preferble.

Sadly, there are no subtitles for the hearing impaired but there are some burned in English subs for sections of non-English dialogue ('B')

Extras


Startup Trailers:
- Shattered (1:15)
- Confession (1:52)

The usual trailers for forthcoming films from Signature Entertainment, neither looks especially promising although the sexond is minutely more interesting. Presented in anamorphic 2.39:1 with Dolby Digital 2.0 stereo sound.

Packaging


Standard black DVD Keepcase.

Overall


A new Abel Ferrara film is always welcome and to be celebrated. One of the key cult directors working since the 1970s he always manages to make something interesting and worthwhile, Zeros and Ones being no exception even if it's far from his best. Sadly, here in the UK we're only getting a DVD and not a BD but this short little film is still well served by Signature Entertainment's single layered standard def presentation. Image and sound are about as good as the format can do. Sadly, there re no film specific extras ('C+').
| | | | | |
| --- | --- | --- | --- | --- |
| The Film: C- | Video: B | Audio: B | Extras: E | Overall: C+ |

---
Rewind DVDCompare is a participant in the Amazon Services LLC Associates Program and the Amazon Europe S.a.r.l. Associates Programme, an affiliate advertising program designed to provide a means for sites to earn advertising fees by advertising and linking to amazon.co.uk, amazon.com, amazon.ca, amazon.fr, amazon.de, amazon.it and amazon.es . As an Amazon Associate, we earn from qualifying purchases.