The Film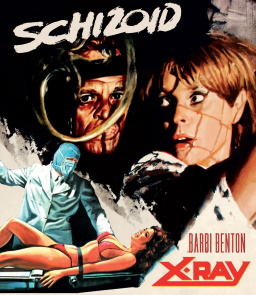 Schizoid: A scissor-wielding killer is stalking the female members of a therapy group run by Dr. Pieter Fales (Crawlspace's Klaus Kinski). When advice columnist and group member Julie (Messiah of Evil's Marianna Hill) recognizes a Jane Doe as one of her fellow group members, she and the police – Trancers' Richard Herd and Murphy Brown's Joe Regalbuto – wonder if the killing is related to a series of threatening letters. Suspects include Julie's ex-husband and current boss Doug (Ghost Story's Craig Wasson), Dr. Fales, his daughter Allison (Angel's Donna Wilkes) – who resents Julie (and other members of the group) for sleeping with her father – as well as creepy but "red herring"seeming janitor Gilbert (Clue's Christopher Lloyd) who is also in the group and gets assigned to do work at both Julie's apartment building and her office.

Schizoid was one of a trio of slashers from Cannon's 1980 slate when Menahem Golan and Yoram Globus took charge of the troubled company and turned it into the schlock-churner of the eighties. Like Cannon's New Year's Evil, Schizoid is less of a slasher than a stalker thriller peppered with a couple none-too-suspenseful stalk-n-slash scenes. As with their other slasher X-Ray, the weird behaviors of various characters – including the common reason for their lack of alibis – is emphasized to such a degree (although Kinski is pretty much being himself) that it becomes quite easy to narrow down the identity of the killer. It also helps that we get just enough of a view of the killer's face in a car's rearview mirror to be sure that it's definitely not who the director wants us to think it is. More intriguing is that the writer of the letters seems to possess seemingly multiple copies of the ad mat for "The Killer Behind the Mask" – director David Paulsen's earlier (and more brutal) slasher pic released by pre-Golan-Globus Cannon as Savage Weekend – from which to extract the word "murder!". Hill, Kinski, Wasson, and Wilkes are at least watchable even if the script itself is going through the motions, but the whole "it's the one you least expect" doesn't really work here. Apart from the stalking scenes, composer Craig Huxley (Alligator) takes the lyrical "psychological thriller" bent in his score while cinematographer Norman Leigh (The Brinks Job) exploits the environs of Kinski's character's picturesque villa for all its worth.





X-ray: When young Susan (The Blues Brothers' Elizabeth Hoy) laughs off a Valentine from class outcast Harold (Hoy's Bloody Birthday co-star Billy Jacoby), he gets back at her by impaling her brother David (Michael Romano) on a coatrack. Nineteen years later, Susan's (now Playboy Playmate Barbi Benton, Deathstalker ) Valentine's Day is about to be ruined again. Her boyfriend Jack (Tourist Trap's Jon Van Ness) drives her to the hospital to pick up the results of her routine physical. Unbeknownst to her, a psychopath in scrubs has murdered her doctor and altered her test results to convince Drs. Beam (Den Surles) and Saxon (Love Scenes' John Warner Williams) that she is terminally ill and needs to be kept under observation. Intern Harry (Syngenor's Chip Lucia) suspects that something's not right and does some investigating, but everyone else whose actions might lead to Susan getting out of the hospital are being called up to the closed-off-for-fumigation ninth floor for vivisection. When Susan receives a severed head in a box from an unknown admirer, the doctors interpret her hysterics as a seizure and decide to proceed with surgery; however, the killer has another kind of operation in mind for Susan on this very special Valentine's Day.

There is absolutely nothing subtle about X-Ray – originally titled "Be My Valentine… or Else!" – beyond its title (and that was changed right before US release to "Hospital Massacre"). The red herrings – including Susan's ex-husband who is seen several times fondling a knife even though he's nowhere near the hospital – are so obvious in Marc Behm's screenplay (yes, the guy who wrote Charade also wrote this) that of course the only character who behaves normally is the killer. Benton's Susan is not a particularly likable character from the start, but the only reason the audience can identify with her is because the script amps up the phobias and paranoia about hospitals to a ridiculous degree. The killer is no silent phantom; he rants, roars, and raves during the killings so much that it's surprising no one notices (although this is also a hospital whose hallways become deserted when convenient for the killer or whoever discovers his latest victim). In spite of the immediate presence of the killer in the hospital, the film repeatedly cuts away to Susan's ex-husband (The Black Room's Jimmy Stathis) at home with their daughter playing with knives.


New Year's Evil and Schizoid were fairly bloodless, but X-Ray has truly in its favor a number of splattery kills – courtesy of make-up effects artist Allan Apone (Friday the 13th Part III) – that might have lost some of their impact to the MPAA but still give the film a bit of an edge (especially when one considers that all of Cannon's slasher films seemed to be aimed at older audiences through their use of adult characters rather than the usual teenagers). The film's clunkiness is initially off-putting but becomes quite amusing as it goes on. The cinematography of Nicholas Von Sternberg (Slaughterhouse Rock) – junior, that is – is slick and moody, particularly during the ninth floor scenes (and a couple cool shots of the killer descending on his victims, including neat but overlong one bit that seems to anticipate a more disturbing shot during a hospital scene in William Peter Blatty's The Exorcist III), and the bombastic score of Arlon Obler (The Incredible Melting Man) features some chanting voices that are more The Omen than Friday the 13th.

Video


First released by MCA in the early 1980s and then reissued in 1988 by the short-lived Cannon Video, Schizoid bypassed DVD and made its Blu-ray bow stateside by Scream Factory in a double-feature with X-Ray which also made the leap directly from big box MGM cassette – in which the reissue title "Hospital Massacre" had been video-burned (presumably it was hand-spliced into prints) – to the high definition format. In the UK, 88 Films appears to use the same HD master for Schizoid but matted to 1.85:1 while the former were opened up to 1.78:1 (88 Films' Blu-ray of X-Ray is listed as being framed at 1.78:1).


Vinegar Syndrome's 4K restoration of Schizoid – on a separate UHD platter in 2160p24 HEVC 1.85:1 widescreen with an HDR10 static layer compatible with both Dolby Vision and HDR10+ televisions, and sharing a standard 1080p24 MPEG-4 AVC 1.85:1 widescreen Blu-ray disc with X-ray and extras for both films – reveals that in spite of the quick shooting schedule, there is some gloss to Norman Leigh's photography that gives it the feel less of a "slasher" and more like an adult thriller – anticipating some of the non-Death Wish Charles Bronson, non-Missing in Action/Delta Force Chuck Norris Cannon vehicles to come in the mid and late eighties – with the enhanced textural detail highlighting for the first time just how recently future divorcee Julie has moved into her apartment, an enhanced sense of environment in the city and suburban settings that seemed less-considered and more convenient before, and a contrast between the clean environs of the newspaper office and the doctor's home and the grit of other settings where murder is imminent. The newer presentation reveals an anomaly in which the skintones of women in the hot tub go from pink to reddish momentarily but, since this happens in both 4K and 1080p, it is not an issue with the HDR grading, and it only happens in the shots of the freeze frames that reveal they are being secretly photographed so it appears to be a side effect of the optical printing. The killer's identity is still as easy to identify in a couple shots during the first stalking sequence as they were in the older master, seeming even less likely that a stand-in was employed for this bit.

X-ray's 2160p24 HEVC 1.85:1 widescreen and 1080p24 MPEG-4 AVC 1.85:1 widescreen encodes pop from the start with red credits lettering sharp and vivid enough that it could easily be mistaken for a new overlay if not for the coarsening grain with each appearance of a credit. The opening flashback sequence no longer looks like it was photographed through gauze, just with natural light and perhaps some light diffusion, and the optical printer registration jitter during the "19 Years Later" card is still as unsteady as before. What stands out stunningly in the film proper is the predominant use of deep blues, greens, and the contrast to the whites of nurses' uniforms, doctor's coats, and corridors as well as the lighter blues of scrubs. A murky and smokey sequence in which Susan's boyfriend climbs the stairs to his fate now looks noir-ish in its use of horizontal blind shadows while the formerly noisy blues are now a shade less saturated with more readable detail. Nicholas Joseph von Sternberg's photography now stands out as one of the previously underrated aspects of the film.

Audio


Both films sport DTS-HD Master Audio 2.0 mono tracks on both 4K and 1080p presentations. Both mixes are professionally recorded and mixed, with X-ray being the more adventurous mix in terms of deployment of foley effects and the Obler score (it is unfortunate that Ultra Stereo was not an option at the time). Optional English SDH subtitles are provided for both films.

Extras


For Schizoid, Scream Factory featured an interview with actress Wilkes while 88 Films' disc had a commentary by Mondo Digital's Nathaniel Thompson and film historian Troy Howarth, interview outtakes with director Paulsen from Mark Hartley's Cannon documentary, and a print interview with actress Flo Lawrence. Unfortunately, both options may be more preferable to Vinegar Syndrome's new interviews which suggest interference from MGM. In "Shooting by March" (6:43), writer/director Paulsen who briefly covers working with Golan and Globus in Israeli and European productions before losing touch with him, running into Golan's wife in a Los Angeles restaurant and calling him up; whereupon the producer asked him if he had any ideas for one of three pictures with which Golan was launching the newly-purchased Cannon Films and that he could write and direct it with the stipulation that it start shooting in March (the offer being made in mid-January), the two week process of writing the script, and the film's casting (Kinski was required by contract). Unlike the Hartley interview outtakes, he does not mention here his falling out with Golan over his request for a day of pickup shots to finish the film and Golan instead bringing in X-ray's Boaz Davidson to finish it instead.

In "Hide the Scissors" (5:21), actress Wilkes recalls being starstruck by Kinski and not realizing that the film was a cult movie until she attended conventions for Angel. Not even mentioned here is her observation that a lot of Kinski's infamous on-set behavior may have been solely for shock value. In "Blood in the Jacuzzi" (7:02), makeup artist Erica Ueland (Halloween) recalls having worked with associate producer Christopher Pearce pre-Cannon in some Florida films before reconnecting with him in Los Angeles, doing the cosmetic make-up and stab wounds, as well as Paulsen, his wife, and the film's crew accommodating her when she was in a car accident during the production. In "A Wellesley Graduate" (5:58), actress Gerrish recalls her friendship with Pearce who accompanied her when she did research on stripping and the closed set for her stripping and her sex scene with Kinski. Not mentioned in this interview but present in the last one are the actress' allusions to discomfiting experiences with Kinski on the set. The disc also includes the film's theatrical trailer (1:39). Oddly, whenever the film is mentioned in the interviews, it is illustrated with the Schizoid title graphic for American International's release of A Lizard in a Woman's Skin rather than the one for the film which can be seen during the credits and on the cover.


For X-ray, Scream Factory Blu-ray's featured an interview with director Davidson which is carried over here in "Bad Medicine" (13:01) in which Davidson – who has since retired from directing to become producer and head of development for Millennium Films (a division of former Cannon regular Avi Lerner's Nu Image) – discusses his beginnings making 8mm films in Israel, returning to make shorts after film school in London, producers Golan and Globus affording him the opportunity to make features in Israel (including the Lemon Popsicle sex comedies), and then stateside with the drama Seed of Innocence with X-Ray his first film for Golan-Globus after they acquired Cannon. Davidson likes slasher films but had never been afforded to opportunity to do one before this film, and was only offered the film after the film's original director failed to make good on his promise to bring in some funding from Austria (presumably co-writer Behm). He recalls working with Benton and the night shoots at the abandoned hospital location, as well as an encounter with a representative from Cannon's UK distributor – who cut the film by eight minutes (expository scenes) – who found the film funny.

New to the Vinegar Syndrome release is "Ultra Violet Vengeance: The Talent & Technicians of X-Ray" (26:47) featuring actors Van Ness and Stathis, cinematographer Von Sternberg, make-up artist Apone, wardrobe supervisor Carin Berger (Xtro 3: Watch the Skies), focus puller David Boyd (The Laughing Dead), and gaffer Alan Caso (Runaway Train). Van Ness recalls being recommended by Von Sternberg, Davidson's desire to have the actors pause during exchanges to arouse suspicion – scaring him and Williams during their first scene by suddenly screaming "Wait!" and leading them to anticipate it in subsequent scenes – his kill scene where a blade made of cardboard in the bone saw still managed to slice through his jacket and nearly injure him, and the "head in the box" scene. Von Sternberg recalls Davidson wanting a lot of smoke and color gel lighting, and his own influence from film noir, as well as noting that there was more gore in the film than originally scripted. Boyd recalls developing a rapport with Benton since he had to both keep the camera focused close on her and grab her by the throat since the shot was so tight that the other actor could not get in between the camera and the actress. Apone recalls that the film was the first credit for his Makeup and Effects Laboratories company and Davidson allowing him to introduce some "artistic flair" into the death scenes as well as the shots of discovered bodies. With the interviews edited together, it seems less evident that MGM might have intervened other than the overall impression that the film seems to have been a pleasant experience for everyone with no major issues.

Packaging


The cover is reversible and the first 5,000 copies ordered directly from Vinegar Syndrome comes with a special limited edition embossed slipcover designed by Earl Kessler Jr.

Overall


With Schizoid and X-Ray previously released on Blu-ray with somewhat more informative extras, Vinegar Syndrome goes the extra mile with new 4K restorations, UHD discs, and seemingly curtailed interviews with cast and crew personnel not previously interviewed, but it's the transfers that really give these two lower-to-middle tier slashers new life.