The Film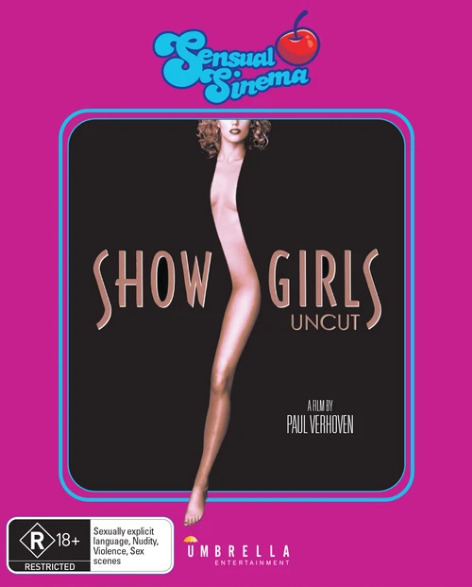 "Showgirls" (1995)

Nomi (played by Elizabeth Berkeley) is a new young dancer at the Las Vegaas strip club The Cheetah. Through her friend and roommate Molly (played by Gina Ravera, she is introduced to the world of showgirls, where large scale stage performances become a new inspiration. At the top is Cristal (played by Gina Gershon) who immediately sees Nomi as a possible successor and rival, and looks to having her become part of her stage show while also taunting and tormenting her. Will Nomi bare everything and reach the top with her skills or will she have to backstab her way to reach the goal?

Director Paul Verhoeven was at the top of Hollywood with his string of critical and commercial hits with "RoboCop" (1987), "Total Recall" and "Basic Instinct" (1992), all having gratuitious violence and sex that brought controversy yet appeal for R-rated cinemagoers. He was well known for pushing the envelope of content even before his work in Hollwood, as his earlier Dutch films were filled with controversy as well. He was readying a historical epic for production company CarolCo entitled "Crusades" with Arnold Schwarzenegger in the lead, they decided to place that production on hold to first finance their expensive production of "Cutthroat Island", so Verhoeven had to settle on making a less expensive project for CarolCo that was being produced, and that was "Showgirls". Writer Joe Eszterhas was at the time the highest paid screenwriter in Hollywood, with works such as "Flashdance" (1983), "Jagged Edge" (1985), and "Betrayed" (1988), as well as "Basic Instinct" (1992). His script for "Showgirls" on one young girl's rise and fall and the obstacles she needed to overcome, set in the glitsy and seedy world of Las Vegas, and it seemed like a perfect match for him and Verhoeven, as their previous collaboration on "Basic Instinct" became quite a stir in the world of cinema, blending sex and violence in a perfect balance. But something unexpected happened with their second collaboration. The finished film was reviled by critics, lambasted by cinemagoers, and became legendary as one of the worst movies ever made. But is "Showgirls" really that bad? Well, yes and no.

The story and plot of "Showgirls" is one of the key weak points of the film. Eszterhas' original script felt basically a retread of "Flashdance" a bit too much, with the exotic dancer, her rise to stardom and the troubles she encountered. The rise and fall have been done to death, with masterpieces like "Citizen Kane" and "All About Eve", in which the latter was a clear inspiration in the stage rivalry between the Nomi and Cristal characters. But while those films had intriguing characters, great dialogue, twists and turns, and well constructed pacing, none of that seemed to apply to "Showgirls". Nomi's character is set as a mystery as to where she came from, but because none of her background is revealed until very late into the film, the bitchiness and selfishness of her character is not explained for the audience to sympathize with her. Even with her unlikeable attitude, she somehow has the power of attraction. Molly lets her stay in her trailer home until she can get back on her feet, yet even after Nomi has a job there is no intention of Nomi moving out at all. But then again, Molly is the only positively good person and assumingly just lets Nomi leech off her. The character of James (played by Glenn Plummer is an odd one as well, who is attracted to Nomi's dancing that he sees at a nightclub, and wants her to become his dance partner in an artistic stage performance. Yet at their first encounter he tells her bluntly that her dancing is awful, yet he has no intention of giving up on wanting her, even after getting kicked in the balls and losing his job. With a main character that has an unlikeable atttitude by always pushing away anyone that comes close to her, there is little for the audience to sympathize with. And in addition to that, the dialogue can sometimes be truly awful. It's not as if Eszterhas was known for witty or brilliant dialogue, but a lot of the spoken content can truly be awful. The female characters strangely keep talking about their nails, potato chips, and shopping which never quite meld into anything plotwise, and the most bizarre is when Cristal and Nomi find the odd common bond of knowing and liking the taste of Doggie Chow dog food. This also never returns as a plot or subplot point, and is a headscratcher of sorts. The callbacks are inconsequential, the flow and the wordplay is utterly uninspired, and seems like there was a mistake made in the accounting department. Was Eszterhas really the highest paid screenwriter at the time? Obviously his rate must have gotten lower after "Showgirls", as the copy and paste plotline and the awful dialogue could not be any less inspiring. Unless the inspiration was what not to do for a serious drama and instead an unintentional comedy. But if the film is looked at as an unintentional comedy, the extremely horrific rape scene and later revenge scenes are highly out of place and questionably in bad taste. As mentioned, Molly, the only good natured character in the film gets brutally raped and it comes completely out of nowhere. It is not at all through karma or for major plot reasons, and if it were cut out of the film it would still work fine. Verhoeven's 1980 film "Spetters" also had a shocking rape scene, although it was there in context with the story and the character. Not at all in "Showgirls" and feels more sickening than anything else.

But not all is terrible in "Showgirls". The cinematography by Jost Vacano can be breathtaking with the desert vistas as well as the intricate stage performances with extravagant lighting and setpieces. There was a lot of effort with the set construction as well as the choreography with the large number of dancers on stage. It's an absolute visual delight all the way through, and it captures a slightly different Las Vegas compared to what is seen in other films. There are very few night scenes which Las Vegas films are known for as "Showgirls" has a lot of daytime scenes outdoors, showcasing the desert heat rather than the neon soaked nightlife. The dialogue may be odd and the plot may be cliched, but the underlying themes of power, greed and jealousy against the American dream is played in a non-conventional way with the world of strippers and showgirls. Verhoeven was always interested in the underlying message, from the effects of corporations and government in both "RoboCop" and "Total Recall", the military industrial complex in "Starship Troopers", masculinity in "Spetters" to name a few. As for performances, the one person that comes out unscathed is Gina Gershon, with her catlike performance as stage vixen Cristal is a knockout. She is always one step ahead of everyone and has the presence to take control, as she does with Nomi in addition to Kyle MacLachlan's character Zack. A commanding presence, it would have been much more interesting to see the film from her character rather than Nomi, as Cristal is easily the more intersting character to follow. How she got to where she is and how to is able to puppet everyone around her is the story that should have been told.

As the film was going to have an incredible amount of nudity, CarolCo and distributor MGM/UA was ready and willing to release the film in US cinemas with the NC-17 rating, and would become the first Hollywood produced film to intentionally be released with the rating. Due to the controversial rating, it limited the advertising that could be done for the film as some theaters refused films with the rating and some media publications also refused to cover the film. MGM promoted it as an incredibly "sexy" film which was easy to do considering the film focused on exotic dancing. But for the film itself, "Showgirls" may be the least sexy film to feature a large amount of nudity. Nomi's dancing is closer to flailing, like an inflatable tubeman rather than sensual, and this also goes for the sex scenes, as her dancing and lovemaking are oddly interchangeable. The pool sex scene is not at all sexy, but the audience should wonder if Nomi is going to drown or not with the insane body splashing. In addition, the character of the heavy set Henrietta (played by Lin Tucci) and the tooting horn sound every time her breasts pop out of her dress is possibly the opposite of sexy. As there is so much nudity from the on stage scenes as well as backstage, viewers will eventually get tired of seeing skin in the film. It is not a bad thing, but it does lessen the "sexy" factory that MGM was going for. Verhoeven has even said that he wasn't particularly looking to make a sex film or a sexy film with "Showgirls" but a tale about one's trials in the ranks of show business that happened to have a lot of nudity. Whatever the case, the film's release was not exactly positive.

"Showgirls" opened theatrically in America on September 22th, 1995. The film opened at #2 grossing $8 million at the box office behind "Se7en" which opened the same time and grossed $14 million that weekend. "Se7en" being rated R and having bigger marketing and more theatrical screenings made it an easy winner, so the fact that "Showgirls" grossed that amount was fairly respectable. But critics were extremely negative against it, lambasting the acting, the writing, and the gratuitious nudity and viokence. While "Se7en" was able to hold the top spot for four weeks and becoming a critical and commercial phenomenon, word of mouth for "Showgirls" was extremely negative, falling out of the top 20 after its seventh week and only grossing $20 million. Internationally the film grosed another $17 million, but even with that factored in, it would not cover the $40+ million production cost, falling in the red and costing CarolCo another financial disappointment. It was a leading factor for the production company to file for bankruptcy in November, and that would be further cemented with their $100 million budgeted film "Cutthroat Island" opening in December that grossed a paltry $10 million internationally. At the 1995 Golden Raspberry Awards, "Showgirls" had the most nominations, with 13. It was awarded Worst Actress for Berkeley, Worst Screen Couple, Worst Director, Worst Screenplay, and Worst Original Song for "Walk into the Wind". As a first for any director, Verhoeven received the awards in person at the Razzie awards. Even with the financial and critical disappointment, Verhoeven seemed to be quick to embrace what the film had become, but it's not quite clear through the various interviews and talks given over time. Whether it was a serious drama, a tongue-in-cheek satire, or an excess comedy, the film is one that is all over the place. An inconsistent mess that has good ideas unfortunately buried in awfulness. But is it enjoyable? In a so-bad-it's-good way, it sure is.

"Showgirls" went on become an easy target for jokes for comedians as well as in films and television, from works like "The Fresh Prince of Bel Air" and "Scream 2" making sly references to the film to late-night talk show hosts constantly mentioning it. In the home video years the film became a cult favorite, inspiring revival screenings, a stage musical adaptation, and even a sequel film "Showgirls 2: Penny's From Heaven" in 2011 which didn't quite have the same gravitas as it featured few of the original characters. While many other bad or average movies come and go, "Showgirls" continues to baffle and mystify audiences and critics, with quite a few coming out to defend it as well. It is by no means a misunderstood masterpiece, nor is it ahead of its time. With so many factors working against it, it's one of the most watchable movies in its genre due to its car-crash like nature of awfulness with glitz, glamor, and bitchiness that can be copied by others but can possibly never be topped.

Note this is a region ALL Blu-ray

Video


Umbrella Entertainment presents the film in the 2.35:1 aspect ratio in 1080p AVC MPEG-4. The transfer comes from a 4K restoration by Pathe from 2015, carried out by Technicolor and L.E. Diapason. Verhoeven's longtime cinematographer Jost Vacano beautifully captured the golden brown colored landscapes of Las Vegas as well as the neon lit stage shows of the stage shows wonderfully, and this transfer does show the work incredibly well, with the vast color palate with golden hues. Damage marks are basically unseen, detail is exceptionally strong, and film grain is kept intact with this restoration.

When compared to other previous editions of "Showgirls" on home video, there are a number of differences. The old MGM DVD and Blu-rays had very blown out colors which sometimes led to less detail, and had some issues with grain structure being digitally blocky. The German Blu-ray and 4K UHD from Capelight Pictures which smoothed out the grain structure to have a less than filmlike quality to the picture. The transfer for the Umbrella Blu-ray is what was featured on the French Blu-ray from 2016, and is the best the film has looked with a natural yet stylized pristine transfer.

The film's runtime is 131:16.

Audio


English DTS-HD Master Audio 5.1
English DTS-HD Master Audio 2.0 stereo
Both 5.1 and 2.0 stereo tracks are presented lossless here. The soundtrack is quite lively, with the left, right, and surrounds getting a workout with the various music cues from the score as well as in the stage show settings. Echoed effects in the large halls, thumping music in the clubs, and balanced cues for the score. Dialogue is almost always centered and is very well balanced against the music and effects. There are no particular issues with noise, hiss, or damage in the audio track. An excellent job on the sound restoration here by L.E. Diapason and transfer by Umbrella Entertainment.

There are optional English HoH subtitles in a white font that are well timed and without errors.

Extras


"The Greatest Movie Ever Made" audio commentary by David Schmader
Writer David Schmader started hosting screenings of "Showgirls" with annotated commentary from him in 1999, in which he would point out the wackiness, the flaws, the portions which he loved. A few years later he received a call from MGM which he thought would be a cease and desist order, but was in fact an invitation to participate in an audio commentary for the then upcoming special "V.I.P." edition DVD. Schmader's commentary here doesn't quite have all the fun of the stage screenings, with a number of gaps in the commentary and some nervousness even though he states that he had seen the movie a large number of times already. Some of the comments are genuinely funny in the MST3K sense, but other times they fall a bit flat by just pointing out what is happening on screen or just him chuckling away.
in English Dolby Digital 2.0 without subtitles

"You Don't Nomi" 2019 documentary (91:34)
"You Don't Nomi", directed by Jeffrey McHale is an interesting retrospective look at "Showgirls", from the making of to the aftermath and cult following it has made over the years. Rather than having a bunch of talking heads, the documentary is made up of clips with narrated audio interviews from various critics including both fans and detractors. There are discussions on the tinkering of the script, the career of Berkeley before and after the film, comparisons to other unintentional comedy favorites, the Broadway stage production, and much more. A very entertaining and unique documentary that is a very welcoming addition to the Blu-ray here.
in 1080p AVC MPEG-4, in 1.33:1/1.78:1/2.35:1, in English Dolby Digital 5.1 without subtitles

Interview with Paul Verhoeven (23:40)
In this 2016 interview, Verhoeven looks back at the film after more than twenty years. He recalls the changes made to Eszterhas' script, the financial situation, the difficulty of casting due to the amount of nudity, the themes the film explored, the very negative reception including the Razzie awards, and much more. Note this was available on the French Pathe Blu-ray from 2016.
in 1080p AVC MPEG-4, in 1.78:1/2.35:1, in English Dolby Digital 2.0 with burned-in French subtitles for the film clips

"A Showgirls Diary" featurettes
- "Scene #7/8" (2:50)
- "Scene #19" (2:24)
- "Scene #30" (3:27)
- "Scene #43" (2:10)
Presented here are a number of behind the scenes featurettes, which include the scene in the casino, the nightclub scene, and Henrietta's first stage appearance which are intercut with script notes and finished film scenes. Note this was first available on the 2004 US MGM "VIP Edition" DVD and also available on various other DVD/Blu-ray editions.
in 1080p (upscaled) AVC MPEG-4, in 1.33:1/2.35:1, in English Dolby Digital 2.0 without subtitles

Speech by Paul Verhoeven at the Razzie Awards (1:33)
A clip of one of the speeches given by Verhoeven at the Razzie Awards following his "wins" for the film. Note this was available on the French Pathe Blu-ray from 2016.
in 1080p (upscaled) AVC MPEG-4, in 1.33:1, in English Dolby Digital 2.0 without subtitles

Theatrical Trailer (1:55)
The original red band US theatrical trailer is presented here.
in 1080p AVC MPEG-4, in 1.78:1, in English Dolby Digital 2.0 without subtitles


The film has been released numerous times on DVD, Blu-ray as well as on 4K UHD, and each has had some differing extras. There are some extras, such as some featurettes from the US MGM Blu-ray or the vintage interviews from the German Capelight Blu-ray/UHD that are not available on this release, but Umbrella Entertainment has done a great job by including many of the better extras for the film on this disc.


Other notable clips:

An excerpt from the film (in standard definition) courtesy of Umbrella Entertainment.


Due to age restriction the following cannot be embedded:
- Official Trailer in HD courtesy of Umbrella Enterainment

Siskel & Ebert review of "Showgirls"


'Showgirls' Q&A | Paul Verhoeven & Gina Gershon from 2017 at the Lincoln Center


"You Don't Nomi" trailer


Packaging


This is #1 in Umbrella Entertainment's "Sensual Sinema" series, which includes a uniform pink slipcase. The keep case inlay has unique Japanese theatrical artwork.

The slipcase states the disc is region B only but is in fact region ALL.

Overall


"Showgirls" doesn't quite need a new introduction. It's sleazy, bitchy, has a cliched plot and questionable dialogue plus lots of nudity. Equally awful yet highly entertaining, it's the definition of an unintentionally bad movie with cult value that somehow stands the test of time. Umbrella Entertainment's Blu-ray features a great transfer of the 4K restoration with a great amount of extras including the excellent retrospective documentary "You Don't Nomi" from 2019. Highly recommended.
| | | | | |
| --- | --- | --- | --- | --- |
| The Film: C | Video: A | Audio: A | Extras: B+ | Overall: B |