Coach to Vienna [Blu-ray]
Blu-ray ALL - United Kingdom - Second Run
Review written by and copyright: Eric Cotenas (3rd April 2022).
The Film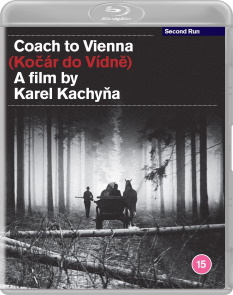 In the last days of World War II, two soldiers of the German occupation of Czechoslovakia – young Hans (The Joke's Jaromír Hanzlík) and wounded Günther (Spring Waters' Ludek Munzar) - demand young Krista (Morgiana's Iva Janzurová) drive them to the Austrian border in her horse cart. The soldiers are unaware that Krista has just buried her husband who was hung by the Germans as an example to the locals for stealing bags of cement. As the trio move deep into the forest wary of the Germans as well as Czech and Slovak partisan fighters, Hans attempts to communicate with Krista who either does not understand German or refuses to acknowledge him. He tries to assure her that they will not harm her – in spite of delirious Günther likening her to Russian women who he thinks of as dangerous animals – but Krista may indeed understand more than she appears. As they traverse the harsh terrain, Krista takes advantage of frequent stops to maintain the horses and remove obstacles to discard the soldiers' defenses piece by piece, all the while hiding an axe and slowly taking the carriage off course from the border.

Slight at just eighty minutes and sparse in dialogue, Coach to Vienna seems to be keeping its cards close to the vest after stating its central premise as a simple scrolling text before dropping the viewer into the fraught journey. A viewer going into the film with the knowledge that the film met the ire of the Soviet communist government for challenging polarized notions of the evil German soldier and the good communist resistance fighter; and the climax is likely to take newer audience members as off-guard as the censors of the time since before that we are shown a very human emotional conflict as Krista does not so much sympathize with her passengers as come to the realization that killing two strangers because they wear the same uniform as her husband's killers is not much of a revenge; that the two end up "sleeping" together seems less like a romantic plot contrivance than a desperate moment between two people starved of intimacy (the text avers that her husband's execution was recent but it does not clarify how long he was in custody and whether she was ostracized by the village or given sympathy, although it seems likely that she would refuse charity). However "craven" Hans might appear and Günther pathetic in his delirium, they pale next to the thuggish-ness of the Czech resistance fighters, and their implied rape of Krista seems to contradict the leader's claim to Hans that they are not like the Nazis before executing him (after dragging him several miles behind the carriage). Krista's disposal of the soldiers' weapons is illustrated with a sideways tracking shot off the road to the weapon – posed in a position impossible for the way in which it was cast aside – lushly scored by Jan Novak, and this is mirrored by Han's own discarding of his "German identity" with a similar camera movement – the act just as covert as Krista's but he is hiding his "shame" from Günther who is also deserting but unrepentant – however, Hans seems no more capable of shedding his identity than Krista of being anything but "Hitler's whore" when the widow is caught in the presence of Hans by her fellow countrymen. Director Karel Kachyna and co-writer Jan Procházka next collaborated on the more overtly critical The Ear.

Video


Little seen outside of restricted release in Czechoslovakia, the Karlovy festival, and a few European countries – with the US release not occurring until 1998 through the Pacific Film Archive – Coach to Vienna first turned up on English-friendly DVD in the Czech Republic in 2008. The film was recently the recipient of a 4K restoration from the original 35mm camera negatives and Second Run's 1080p24 MPEG-4 AVC 2.35:1 widescreen Blu-ray is simply stunning. All blemishes have been removed, damage repaired, and the clarity of the image is sometimes startling for those accustomed to sixties Eastern European films either looking less than pristine or making stylistic use of diffusion. Adding to the chamber play feel of the film is the fact that during the carriage stops, the image is so crisp and clear that it almost appears as if these sequences were shot on a sound stage even though they were shot on location.

Audio


The only audio track is an LPCM 1.0 mono track that has also been rigorously cleaned with no evidence of damage, piercing silences, clear post-synched dialogue, pointed use of sound design, with only the music recording occasionally sounding dated. Optional English subtitles are free of errors.

Extras


The film is accompanied by an audio commentary by Projection Booth podcast film historians Mike White, Samm Deighan, and Kat Ellinger who note the dearth of background material on the film, its sparse release history, and the various reasons speculated for its banning. They also cannot help but touch on the film's gothic and fairytale elements with Krista taking on qualities of the ferryman taking travelers to death – with emphasis on the bookending passages through the same gateway – and make the case that Kachyna and Procházka not overturning communist depictions of good and evil with regard to the Nazis and the German occupation for shock value but making a statement about human nature.

The disc also includes Kachyňa's and Vojtěch Jasný's 1949 semi-documentary graduation film "It's Not Always Cloudy [Není stále zamračeno]" (68:15) which seems a parody of communist propoganda films as an economics expert travels to the countryside to make a go at farming as part of an effort to rebuild rural areas after the war and deals with inexperienced young volunteers – their lack of practical experience an effect of years of German occupation – lackadaisical and corrupt bureaucratic functionaries, and mercenary self-interest. The disc also includes the film's theatrical trailer (1:37) and an image gallery.

Packaging


Packed with the disc is a 20-page booklet featuring a new essay on the film by author and Czechoslovak cinema specialist Jonathan Owen in which he analyzes the film, discusses the censors' and critical reaction to the film, and how both Kachyna and Procházka fared professionally once they parted ways after The Ear.

Overall


A combination of "chamber drama and rustic 'road movie' of revenge - to quote Jonathan Owen in the disc's enclosed booklet, Coach to Vienna is alternately tender and despairing in its depiction of human nature.

---
Rewind DVDCompare is a participant in the Amazon Services LLC Associates Program and the Amazon Europe S.a.r.l. Associates Programme, an affiliate advertising program designed to provide a means for sites to earn advertising fees by advertising and linking to amazon.co.uk, amazon.com, amazon.ca, amazon.fr, amazon.de, amazon.it and amazon.es . As an Amazon Associate, we earn from qualifying purchases.