The Film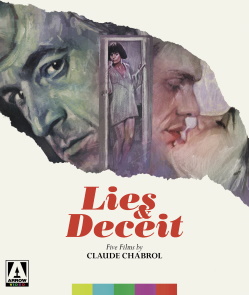 "Too often overlooked and undervalued, Claude Chabrol was the first of the Cahiers du Cinema critics to release a feature film and would be among the most prolific. The sneaky anarchist of the French New Wave, he embraced genre as a means of lifting the lid on human nature. Nothing is sacred and nothing is certain in the films of Claude Chabrol: anything can be corrupted, and usually will be."

Cop au Vin: Young postman Louis Camo (Wuthering Heights' Lucas Belvaux) is about to lose it. He and his invalid mother (The Champagne Murders' Stéphane Audran, director Claude Chabrol's ex-wife) are being bullied by a trio of local businessmen – butcher Filiol (Le Professionnel's Jean-Claude Bouillaud), attorney Lavoisier (Malpertuis' Michel Bouquet), and Dr. Morasseau (Cold Sweat's Jean Topart) – who have formed the property company Filamo with the intention of "rehousing" the pair from their family home and developing the land. His only confidante is sexpot postmistress Henreitte (L'amour Braque's Pauline Lafont), but she comes on strong and his mother is constantly accusing him of being like his late father who she simultaneously blames for causing her accident and uses her son to relive happier days before another woman turned her husband's head. Louis has been using his position at the local post office to obtain information on the three businessmen for his mother, but so far they have only uncovered an apparent affair between Morasseau's wife Delphine (Downtown Heat's Josephine Chaplin) and a unknown lover named Tristan, with her best friend and Lavoisier's divorcee lover Anna Foscarie (This Man Must Die!'s Caroline Cellier) serving as go-between. While his mother believes he is out carousing with "sluts", Louis has been spying on the three men and engaging in acts of petty vandalism. In his snooping, he crosses paths with Anna who is being stonewalled by Morasseau and long-suffering housekeeper Marthe (Z's Andrée Tainsy) about Delphine's sudden trip to Switzerland just as Anna was convinced that Delphine was leaving her husband for good. When Louis filling Filiol's gas tank with sugar leads to a crash, Paris detective Inspector Lavardin (La Cage aux Folles creator Jean Poiret) turns up to investigate the apparent "backfired prank" which is followed quite rapidly by another fiery crash that takes the life of Delphine Morasseau, even Henriette wonders if Louis has moved from accidents to cold-blooded murder. Louis becomes increasingly paranoid about Lavardin's questions about his and his mother's dealings with the three businessmen – and his own twilight wanderings which include a roll in the hay with Henriette on the Morasseau property where they witnessed some bizarre behavior from the new widower – but the sudden disappearance of Anna and some accusatory letters from the mysterious Tristan suggest property may indeed be a motive for murder.

The first of two Chabrol films adapted from the novel by co-scripter Dominique Roulet, Cop au Vin – the witty English title for a film whose title actually translates as "Chicken in Vinegar" – actually features little screen time for the detective with more of a focus on Chabrol's trademark depictions of French provincial behavior and bourgeoisie vices under the long shadow of German occupation/collaboration and French resistance. Since the only chicken dish consumed onscreen is a gratin, the film's title may be symbolic of its more "innocent" or at least purer of motive characters – Lavardin describes the act of putting sugar in a gas tank, however, deadly, as that of a "brat" – "pickled" by influences manipulative, abusive, ruthless, and venal. The plotting is so casual as to seem half-baked, with things seeming set to resolve themselves (albeit tragically) with Lavardin's function to provoke and upset the social order – sometimes with physical violence – that allows people to turn a blind eye to abuse and accept accidents and disappearances at face value. Once the more serious crimes are punished, the rest are left to the film's undertone of black humor that suggests that Lavardin is unconcerned with the whole story and only with establishing guilt – laughing off what might have been a secondary, contributing motivation for a murder – and being either ignorant or not caring at all about the Oedipal underpinnings of Louis' relationship with his mother as he sends him off into the arms of a comelier if equally-smothering alternative.

Inspector Lavardin: The day after the body of esteemed ecclesiastical writer Raoul Mons (Classe tous risques' Jacques Dacqmine) is found naked on the beach with the word "Pig" scrawled on his back in lipstick, Inspector Lavardin (Poiret) arrives in Brittany and is surprised to discover that the writer's widow is Hélène (Masques' Bernadette Lafont), the one that got away from him twenty years ago. Although Hélène seems less than perturbed about her husband's death, she reveals that it was a marriage of convenience for the sake of her daughter fourteen-year-old Veronique (Hermine Clair) and her "gay" divorcee brother Claude (A Woman is a Woman's Jean-Claude Brially) whose wife Jeanne perished in the same boating accident that took the life of Hélène's first husband Pierre. It soon becomes apparent that not only did Veronique and Claude detest Mons but there are many others that felt the same – including a theatre troupe whose play "Our Father Who Farts in Heaven" was banned from local performance by Mons on the charge of blasphemy – and that the writer lead a double life with connections to a local nightclub run by Max Charnet (Revenge of the Musketeers' Jean-Luc Bideau) where he picked up girls and may have bought or dealt drugs. The investigation carried out by Lavardin and his locally-appointed "Watson" Vigouroux (The Bridesmaid's Pierre-François Dumeniaud) is as obfuscated by Veronique's frequenting of the nightclub when she is supposed to be staying the night with a schoolmate as well as her nighttime meetings on the beach with a mysterious older Scottish gentleman, Claude's involvement with the junkie stage manager of the theatrical troupe Francis (The Color of Lies's Florent Gibassier) and his concealing and enabling Veronique's nighttime habits from her mother, a pushy journalist and photographer looking for a scoop – their own assertion that Mons was a hypocrite seemingly sensationalist cynicism rather than anything along the lines of what Lavardin has uncovered – and the question of just how much Hélène does or does not know about the secret lives of both of her late husbands.

A follow-up to Cop au vin based on an original story by Chabrol and novelist Roulet, Inspector Lavardin puts its detective up front within the first five minutes; a superior choice to bringing him in roughly forty minutes into the first film so that the other characters are established from his perspective rather than the first film where the viewer was either waiting for Lavardin to discover what had already been established or to surprise the suspects by revealing that which he already knows and how. Chabrol's cynicism about the intersection of religious authority and local bureaucracy, the secrets and vices of the bourgeoisie – particularly those who either affect or cling on to vestiges of being landed gentry – is such that Lavardin immediately suspects that Mons was hiding something beneath his respectable image and that anyone who claims to have held back information so as not to tarnish the man's reputation is actually hiding their own dirt. It is in this world more so than that of Cop au vin that Lavardin's willingness to pervert the course of justice and divert guilt from a less culpable party onto indirectly responsible – as with the first film, it is not a good idea to threaten to use powerful connections to intimidate the detective – seems even more reckless yet dramatically-satisfying. Poiret landed a spin-off TV movie series The Secret Dossiers of Inspector Lavardin but further adventures of the character were cut short by his death.

Madame Bovary: Recently-widowed country doctor Charles Bovary (In the House's Jean-François Balmer) responds to a call to the farm of Monsieur Rouault (Le Professionnel's Jean-Claude Bouillaud) who broke his leg. His near-spinster age daughter Emma (Abuse of Weakness' Isabelle Huppert) has been running the farm ever since her mother died and first comes across to Charles as cold as she is efficient; however, she gradually thaws in the novel presence of a relatively-younger man from the village. Her father approves of the courtship and Emma gets something close to her dream wedding. Emma discovers that village life is not quite the adventure she had anticipated and falls into a bout of depression, losing interest in her passions for art and music. She perks up when the her husband surprises her with an invitation to the ball of the local marquis, but soon the "most wonderful" night of her life comes to an end and Charles makes the "great sacrifice" of moving to the larger village of Yontville and setting up a new practice. Although life quickly settles into another routine that now includes evenings at the house of outspoken chemist Homais (Le Boucher's Jean Yanne), Emma enjoys the unrequited romantic attentions of young clerk Leon Dupuis (Cop au vin's Lucas Belvaux) and find distraction in the decorating their home on credit from merchant Lheureux (This Man Must Die's Jean-Louis Maury). When Emma falls into another depression, Charles encourages her to take up the suggestion of local bachelor landowner Rudolphe (Cry of the Owl's Christophe Malevoy) to take up horse-riding. Rudolphe, it turns out, is a serial seducer of women, and he easily taps into Emma's secret resentments about the constraints of provincial life. Over the six months of their affair, Emma's passion grows but Rudolphe starts to tire of her. Emma nevertheless feels guilty about her growing hatred of her husband; that is, until Homais convinces Charles to try a new surgery to straighten the club foot of crippled servant Hippolyte (Inspector Lavardin's Florent Gibassier) which is dismissed by consulting doctors as a quack cure when the young man's leg as to be amputated at the knee. As Charles' business declines in the wake of his failure, Emma is ready to run off with Rudolphe only to discover that he has abandoned her. The debts that she has incurred decorating her home and subsequently in buying new luggage in a plan to start over elsewhere become a web of financial entanglements as Lheureux's solutions threaten her family's ultimate financial and social ruin.

Previously filmed by Vincente Minnelli in 1949 and subsequently as a BBC adaptation in 2000 and more recently in 2014 by Sophie Barthes, Claude Chabrol's take on Gustave Flaubert's novel attempts to be stringently-faithful to the source novel but it is oddly cold and dispassionate, as if Chabrol was more interested in taking his dispassionate observational approach from his thrillers to the nest of vipers that are nineteenth century French provincial society from the venal Lheureux and his notary compatriots and more ruthless careerists like Homais to the frivolous Emma and Rudophe (with the likes of Charles and Leon as either innocents or willing to look the other way). This approach seems to extend to Huppert's cool performance in which she seems to deliberately resist conveying the passion that narrator describes in her gaze even as Jean Rabier's camera pushes in closer and closer. The incessant narration seems necessary because Emma has no confidantes – certainly not other women while the men in her life seem aghast at peeks inside her mercenary mind – and can only think aloud so many times. Huppert's Emma is much more effective at her most cynical, whether she is accurately or unjustly accusing one man in her life or another of being all the same. Perhaps in this adaptation more so than others, one can interpret Emma's willingness to sleep with Leon or Rudolphe for money to cover her debts but not with Lheureux or the notary (Diva's Etienne Draber) has less to do with the relative appeal of the men than her refusal to let the latter two (or even the former two) have power over her. Chabrol is less successful at portraying the other characters and their conflicts as anything but complications that flit in and out of Emma's point-of-view (with Homais' more sly ruthlessness suffering in its depiction to the point of the narrator's final comments on him having little to no resonance as they relate to the fate of the Bovarys). While the film's themes are not entirely alien to Chabrol's world, the film is best regarded as a cross between a change of pace and a more overt prestige picture.

Betty: Trying to drink and chain-smoke herself into oblivion in the dive bar Le Trou (The Hole), Betty (Deep in the Woods' Marie Trintignant) is rescued from the attentions of a junkie ex-doctor (Comedy of Power's Pierre Vernier) with a mania for microscopic parasitic worms by middle-aged regular Laure (Cop au vin's Stephane Audran) and her bar owner lover Mario (Le battant's Jean-François Garreaud) who put her to bed in the suite adjoining Laure's at the nearby respectable hotel Trianon. Just as one addict recognizes another, Laure attempts to get Betty to open up about herself by telling her own tale of self-destruction, a former nurse who descended into alcoholism after the death of her husband, fleeing Lyon for Versailles for a recuperative stay at Trianon only to end up staying there for the last decade. She fills in her own story with those of Le Trou's regulars, including chauffeur turned gigolo Mario whose fortunes turned when his employer's family intervened. These stories trigger an outburst from Betty who tells Laure that she "sold" her children for 200,000 francs. Through her piecemeal confessions to Laure and her own alcohol-addled flashbacks, Betty recalls her stultifying marriage to attorney Guy Etamble (Tous les matins du monde's Yves Lambrecht), her boredom and frustration as her mother-in-law (The Story of O's Christiane Minazzoli) dictates her duties as a mother – consisting of "not giving in" to her children whose care is largely the responsibility of a strict au pair – and one of her few satisfactions being that her marriage is not like that of Guy's older brother Frederic (The Color of Lies' Pierre Martot) and his wife Odille (The Swindle's Nathalie Kousnetzoff). When she takes a lover in saxophonist Philippe (La Cérémonie's Yves Verhoeven), she reveals that he is not the first, as she has always been what her mother calls a "dirty girl" who her observant college lover Schwartz (Chabrol's and Audran's son Thomas) surmises will eventually either end up in a nuthouse or the morgue.

Adapted from one of detective Maigret author Georges Simenon's non-policier roman durs, Betty is at once part of Chabrol's latter day pictures focusing on the lives of women and the forces that drive them to drastic acts of liberation or self-destruction (or both) including such film as The Story of Women and Madame Bovary, but also looks back to his string of sixties thrillers and dramas like La Rupture – in which Audran plays a woman equally victimized by her husband who is going mad and his bourgeosie family who try to ruin her when she leaves – but more specifically Les Biches in which Audran plays a wealthy woman who chooses as her lover a young model who breaks down psychologically when cast aside for a man (Trintignant's father Jean-Louis). For viewers unfamiliar with Simenon outside of his Maigret novels and the television adaptations – Maigret's roman durs novels seeming to have attracted more interest in recent years with two adaptations of The Blue Room – the impulse may be to seek out an ulterior motive in Laure's hospitality and Betty's receptive passivity. With Chabrol always more interested in the whys than the whos of suspense material, Laure's enabling behavior is ultimately a self-delusion of care and companionship – parallels can be drawn between Laure's care of Betty and Betty's claim that Guy cared more for his image of her as the mother of his children than for herself, that is as Elizabeth rather than Betty – while Betty seems not to have "become" Laure by draining her in a Persona-esque fashion, with her betrayal being both an attempt by the younger woman to grasp onto offered affection as it is "business as usual" for a woman who has convinced herself from childhood that she "soils" everything she touches (she even tells Guy that it is not her fault that she hurt him but that she is sorry nonetheless). While Betty liberates herself from her previous life at the cost of her almost non-existent relationship with her children, it is open to interpretation whether she is better off or continuing down a path of self-destruction. The bittersweet ending has unfortunately become overshadowed by Trintignant's murder at the hands of her abusive rock singer boyfriend in 2002.

Torment: For fifteen years, Paul Prieur (Tell No One's François Cluzet) has been saving up to open up his own hotel, spending his inheritance and indebting himself to the banks to purchase a lakeside hotel in the South of France after which he proposes to pretty Nelly (La Belle Noiseuse's Emmanuelle Béart) who soon gives birth to a son. As the years pass, they have built up a clientele among repeat visitors and lake-lounging locals, but Paul is constantly preoccupied with the business and competition from yuppie upstarts nearby and Nelly seems to spend more time socializing with the guests, particularly the junior Martineau (Frankenstein 90's Marc Lavoine) of the local father-son garage that repeatedly service his increasingly unreliable car. With Nelly taking more trips to town to visit her sick mother, Paul starts to suspect that his wife is cheating on him. In his attempt to catch Nelly in the act, however, Paul is always seemingly a step behind and Nelly always has an explanation that seems logical. Tormented by visions of his wife's infidelity, Paul spirals between jealousy and doubts about his own sanity until he explodes into violence.

Not a remake but a reworking of the screenplay for Henri-Georges Clouzot's famously unfinished film "L'enfer" – known in English as "Inferno" as Chabrol's "L'enfer" is called Torment – Chabrol's take on the material forgoes the visually-audacious, psychedelic lighting tricks and opticals tantalizingly glimpsed in the documentary Henri-Georges Clouzot's Inferno (distilled from hours of raw footage of various tests shot by Clouzot in 1964 and made public by Clouzot's widow in 2005) in favor of a seemingly more realist approach. The detached perspective on Paul's dilemma – to the extent that he does not have voice overs but mutters aloud to himself – serves to heighten not only how maddening is his inability to find proof but also show the viewer everyone else's perception of Paul shifting from controlling to violently paranoid. The only thing that keeps Paul sympathetic is his growing realization that even when he comes to believe it is all in his head, new doubts surface and burrow into his brain. As the film moves towards its end, Paul's visions have become more subjective and hallucinatory while Nelly transforms from ambiguous and beguiling to frustrated and then victimized – causing viewers to reassess her "threat" that she may just give Paul something to be jealous about – with Béart effectively conveying her dawning understanding of her husband's jealousy as pathological when he projects his doctor friend's (Le Havre's André Wilms) concern about his mental health onto his wife. In the finale, the viewer becomes as confused as Nelly as to whether Paul has trapped her in their bedroom to keep the men in white coats from taking him or to prevent her from escaping in preparation for her institutionalization. Chabrol is best at conveying Paul's inner world by relying on Clouzet's performance, stumbling when Paul's visions become more overtly hallucinations than possible-to-misconstrue sights; however, he devastates the viewer in the end by taking Paul's jealousy seemingly to its natural conclusion only to then flip things again, with the final images not bringing a sigh of relief that what happened did not really happen but the realization that the hell of L'enfer is Paul's mind and the torment is inescapable. The fraught relationship between Paul and Nelly is contrasted with an older couple (The Discreet Charm of the Bourgeoisie's Jean-Pierre Cassel and Betty's Christiane Minazzoli) who find their enjoyment of returning to the hotel yearly tainted after Paul's outburst.

Video


Cop au vin and Inspector Lavardin first hit home video stateside courtesy of arthouse distributor Kimstim whose DVD releases were handled by Zeitgeist Films, and the PAL-to-NTSC conversions exacerbated some of the weaknesses of the SD master when it came to the murk of both films' night scenes and the occasional spikes of saturated color in the second (particularly the reds of Mons' flat). When Cohen Media licensed the MK2 Chabrol titles in 2014, they put both films together in the Blu-ray set The Inspector Lavardin Collection – which also included two of the four Lavardin television episodes – and Arrow Video uses the same masters for their 1080p24 MPEG-4 AVC 1.66:1 widescreen transfers with some adjustments. While Cohen's transfers looked fine at the time given Rabier's photography with his preferences for light tones and contrasts – perhaps following the early advice of photographers transitioning from monochrome to early, grainier, slower color film to create contrast with color rather than lighting – but the Cohen transfers look "ungraded" (although not to the extent of their disastrous Nightcap release) while the Arrow versions look a shade darker with more pop in the instances of saturated color from Henriette's red scarf (redder than Louis' own but perhaps suggesting her influence early on) and the greater instances of color in wardrobe, décor, and gel lighting in the second film. Bits of damage and reel change marks that Cohen left untouched have also been fixed here.

Madame Bovary was picked up stateside by The Samuel Goldwyn Company and distributed on VHS and laserdisc by Republic Pictures in a fullscreen transfer. After MGM acquired Goldwyn in 1997 as their art film sub-distributor, they released the film to DVD in 2002. Being a 1.66:1 film in the early days of DVD, MGM elected to release it as a non-anamorphic letterboxed transfer. Arrow Video's anamorphic DVD from the same year was not much of an improvement, being a 16:9 upscape of a tape master cropped to 1.78:1. Koch Lorber's 2008 DVD was also an anamorphic 1.78:1 transfer but somewhat of an improvement as an actual digital transfer; however, the 1.66:1 framing of Chabrol's films and his use of close-ups within them was always rather exacting. It is no surprise, then, that MK2's new 4K restoration – which made its debut last year in France from Carlotta Films – is a massive improvement with the combination of the wardrobe, locations, and décor color schemes and Rabier's subtle lighting techniques coming together more so than in any of his other Chabrol's collaborations. The naturalness of the look is such that interjections of blue during Emma's more dreamlike moments (mentioned by Chabrol in the selected scenes commentary) are surprising. Viewers playing around with the different looks offered by their televisions should leave it be variations on the "vivid" setting will at first give the colors more pop but to a ruinous effect on skin tones, the aforementioned blue lighting, and gives the high-quality costumes the look of a school play.

Betty was also released by Kimstim and Zeitgeist Films on VHS and DVD in another PAL-to-NTSC conversion that stretched the French DVD's 1.66:1 image to 1.78:1. Cohen's Blu-ray – a three-disc set with Torment and The Swindle (which will be in Arrow's next Chabrol set) – looks a shade lighter than Arrow's 1080p24 MPEG-4 AVC 1.66:1 widescreen transfer (a 4K restoration which also came out last year from Carlotta Films in France), and the increased contrast of the latter is superior but the image has also taken on a subtle yellow-green tinge that is noticeable in all of the whites from Betty's dress to the walls of hers and Laure's adjoining rooms. It will probably not be an issue for casual viewers unless directly compared (we have no idea if this was introduced by Arrow or is also present on the French edition).

Torment benefitted greatly in the upgrade from the horrid, orange-tinged Fox Lorber DVD to Cohen Blu-ray, with the intentionally-overexposed sunny exteriors no longer looking bleached out – so much so that some of the white credits were hard to read on DVD – and the earlier HD master has a naturalistic look in keeping with the MK2 DVD. Arrow's 1080p24 MPEG-4 AVC 1.66:1 widescreen transfer – from a new 4K restoration – also released in France last year by Carlotta Films – also has a yellow-ish tinge that at least has one wondering if the otherwise awful Fox Lorber transfer had some semblance of an intended grading and the MK2 master disregarded such decisions. In direct comparison, the Cohen looks nicer if a tad flatter, but the difference is probably not worth seeking out the earlier release to supplement this set than if it had been a solo release.

Audio


The first four films in the set were mixed in mono, and Cop au vin is the only one encoded in DTS-HD Master Audio 1.0 while the other three are LPCM 1.0 – which may have been due to the authoring being farmed out to different entities or perhaps the minimal savings in space was necessitated by the inclusion of more extras on the first disc than the others. In Cop au vin, the sync-sound dialogue and sedate use of ambience stands out against a few instances of canned sound effects while the scoring of Matthieu Chabrol – Chabrol's son with his first wife – is typically supportive and unnerving with more dramatic underscoring in sequences like the tense dinner between Louis and his mother and the three story strands intercut during the climax utilizing other sources. Inspector Lavardin has a bit more umph due to the crashing waves of the seaside setting and the discotheque music of the club, with only the clicks of the paparazzi photographer intruding on the ambience of the Mons household.

Madame Bovary has more dramatic scoring, forceful source music including the clichéd "The Blue Danube" – clichéd in terms of cinema ball scenes but apparently as common during the time period as the "Macarena" is at weddings – and the crowd noises of the market sequence and the hustle and bustle of Emma's Rouen excursions (it is actually a pit that the film was not mixed in Dolby Stereo film considering how French cinema was a pioneer in utilizing Dolby Digital in non-action/sci-fi films). Betty's mix of dialogue and ambient effects is proficient as expected and Matthieu Chabrol's scoring is typically supportive without calling attention to itself. The use of source music here is more effective than in other Chabrol films, with Philippe's sax solos and the various Le Trou juke box tunes speaking effectively of longing, particularly the stirring use of Michel Jonasz's "Je voulais te dire que je t'attends" (even in mono it bring goosebumps). Torment was mixed in Dolby Stereo, but Chabrol in keeping his approach to his protagonist's psyche does not go wild with the broader soundscape, although one wonders indeed what Clouzot might have done with the option of multichannel audio for his more surrealistic, kinetic and proto-psychedelic version. The optional English subtitles on all films are free of any noticeable errors.

Extras


Cop au vin and Inspector Lavardin are each accompanied by an audio commentary by film historian Ben Sachs who notes that the first film was seen by critics as a comeback after a string of flops after parting ways with his previous producer André Génovès (Innocents with Dirty Hands). Cop au vin was the first Chabrol film produced by Marin Karmitz of MK2 and, while it and its follow-up revisit certain themes of provincial intrigues and hypocrisy, Sachs notes that Chabrol seems to have mellowed to the "discreet charm" of the bourgeosie. In contrasting the long setup and introducing Lavardin late in the first film as his "trump card" and the more traditional mystery setup of the second film, Sachs notes that Chabrol in spite of being identified primarily with the policier genre is actually little interested in the whodunit element of the thriller and more in the mindset of the characters who commit crimes, using the genre elements as a means of observing behavior but also giving the audience credit to fill in the gaps. He also notes that both "comeback" films reunite Chabrol with stars from his early days including ex-wife Audran, Lafont from Les Bonnes Femmes, Brially from the duo Le Beau Serge and Les Cousins, and Dacqmine from À double tour among others. As with other participants in the set's extras, he notes that Chabrol may be known as the "French Hitchcock" but the director himself cites Fritz Lang as a bigger influence. Sachs also contrasts Chabrol with Brian De Palma in what each derived from Hitchcock, as well as some intriguing analysis of Chabrol's seemingly nondescript use of the camera.

Cop au vin also features an interview with film historian Ian Christie (12:35) reflecting on his impressions of Chabrol, having hosted a BFI interview with the director back in 1994. The aforementioned piece is included in its entirety as "Claude Chabrol at the BFI" (74:35) in which the director discusses his debt to Hitchcock – on which he wrote one of the first books co-authored by Eric Rohmer – and Lang, and earning laughs as he describes New Wave colleague François Truffaut as "Machiavellian" before discussing his own marriage to a woman he later "discovered" was rich, and the use of "conjugal money" to fund his first film (with Christie pointing out that he used the profits from the film to help out his colleagues in their filmic endeavors). He is remarkably candid about his exploits into "trash cinema" and raises more chuckles when claiming a Brechtian distantiation in his approach to projects he knew would be bad, including the HBO production of Simone de Beauvoir's The Blood of Others in which he notes the toll Hinkley's assassination attempt of Reagan had on star Jodie Foster. In discussing the period before his comeback with Cop au vin, he notes the effect of the lack of a regular producer on his creativity, as well as contrasting himself with Hitchcock in his preference for the shooting period over the planning, and when the formula became such that he no longer enjoyed the filming.

Also on the disc is "Claude Chabrol, Jean Poiret & Stephane Audran in Conversation" (29:37), a 1985 Swiss TV interview for "Special Cinema" featuring the aforementioned trio as well as fellow guests director Francis Reusser and star Isabel Otero from Deborence then competing in Cannes – to which Chabrol did not expect to be invited with his film – and won a Cesar the following year. In addition to Chabrol and Poiret discussing Lavardin's character and Audran her string of eccentric character roles, the piece has the co-host summing up Chabrol's ouevre nicely as "the discreet turpitude of the provincial bourgeosie." Ported from the MK2 DVD is the introduction by film scholar Joël Magny (3:14) who describes the comeback effort as "an old recipe carefully rehashed." Also ported are the selected scene commentaries by director Claude Chabrol (21:43) in which he notes the handheld long take during the credits, the mirroring "traps" in the film set for Lucas by the two women in his life, as well as how music is used during the finale to link three separate plot threads together. The disc also includes the film's theatrical trailer (2:16) and the image gallery.

In addition to the commentary, Inspector Lavardin us accompanied by "Why Chabrol?" (16:07), an interview with film critic Sam Wigley who posits some reasons that Chabrol is not as identified with the French New Wave as his colleagues, his exploration of different genres and embracing the role of French popular filmmaker, as well as his interest in female psychology and actress muses including Audran and Isabelle Huppert (noting the ways in which the heroine of Madame Bovary fits in with his other female protagonists). Ported from the MK2 DVD is the introduction by film scholar Joël Magny (2:46) who notes the film's initial appearance as a "banal whodunit" and how the story would be "dreadfully sentimental" with a less cynical detective. Also ported over is the selected scene commentary by director Claude Chabrol (33:58) in which he discusses how the film crosses over from detective story to film noir and how that is hinted at early on in the staging, particularly in the use of camera as it moves from observer to active participant. The disc also features the film's theatrical trailer (2:14) an an image gallery.

Madame Bovary is accompanied by an audio commentary by film critic Kat Ellinger in which she notes that the film was both a personal obsession for Chabrol going back to his childhood sexual awakening – noting Chabrol's first love was a redhead like Audran and Huppert – as well as the commercial appeal of the "heritage film" in the eighties and nineties. Although the novel has become synonymous with eroticism, she notes that the source novel and Chabrol's film are more concerned with social satire, with the novel and Chabrol's filmography shraring themes around bourgeosie hypocrisy. Ellinger also notes the places where Chabrol's professed faithful adaptation condensed or dispensed with information, contrasts sequences of the novel and Chabrol's approach to them with the more stylized Minelli adaptation, and also notes the tendency to judge Emma while overlooking Charles' downplayed spinelessness and stupidity (shedding light on the ways in which Charles is just as delusional as his wife in other areas).

"Imagining Emma: Madame Bovary on Screen" (16:06) is a visual essay by film historian Pamela Hutchinson who provides a survey of Bovary adaptations and their different approaches: from the Minelli version prefaced by James Mason's Flaubert defending his novel and "diagnosing" Emma's almost clinically and the pre-code Unholy Love which was the first to update and transpose the setting to Manoel de Oliveira's Abraham's Valley in which the heroine is seen reading Flaubert's novel, Aleksandr Sokurov's Save and Protect, or the Bollywood Maya Memsaab which frames the story as a thriller and introduces surreal elements, as well as parodies and homages like the graphic novel Gemma Bovary and its screen adaptation.

Ported from the DVD is the introduction by film scholar Joël Magny (2:31) which covers Chabrol's personal connection to the novel, Flaubert's and Chabrol's shared obsessions, and the concept of "Bovarism" as well as the selected scene commentary by director Claude Chabrol (37:59) in which he discusses his dedication to a faithful adaptation, contrasts his approach with the Minelli version – particularly in relation to the ball sequence – how the length and rhythm of Flaubert's prose dictated his use of the camera and editing, as well as his use of blue lighting to denote Emma's waking dream world (that is, scenes in which she fully embodies the heroine of her own story). The disc also includes the film's theatrical trailer (1:22) and an image gallery.

Betty is accompanied by an audio commentary by film critic Kat Ellinger who discusses the film's themes of addiction, codependency, and consumption. She makes the intriguing observations that Betty is a "project" for Laure and Mario, and that Betty has learned to "weaponize" helplessness, drawing parallels between her performance of passivity as a wife and the apparent skewed power dynamics of the relationship between Laure as host/carer and Betty as guest/patient whose physical privacy is invaded while she holds the mystery of her past as a means of compelling Laure to continue caring for her. Ellinger also discusses the film's fidelity to the novel, Chabrol's additions, and the aforementioned similarities to Les Biches. "Betty, from Simenon to Chabrol" (16:16) is a visual essay by French cinema historian Ginette Vincendeau who contrasts the uses of sex and drinking in Simenon's roman durs and crime novels, as well as the autobiographical elements of Simenon's broken marriage that crept into his novels around the same period as Betty, and the equivalence of pared down styles and observation of human nature that make Simenon and Chabrol suited to one another while also noting the shortcomings of both in depicting women and their liberation outside of sexual relationships to men.

The disc also includes a new interview with Georges Simenon translator Ros Schwartz (15:21) who spent dropped out of school and spent eight years in France working a variety of jobs from factory to clerical, observing a broad range of French life, returning to England with no job experience and launching herself as a translator (having taught English to corporate executives in French companies for a time), and being recommended when Penguin undertook its project of retranslating all of their Simenon properties including fifty Maigret novels and Betty among others. She was beside Chabrol during his UK press tour and present at the National Film Theatre panel with Ian Christie (present on the Cop au vin disc), and recalls that Chabrol spoke fluent English but was only comfortable doing so with her at his side when he could not come up with an English equivalent of a French word (her biggest contribution to the NFT panel being translating "asshole" for him). Ported from the DVD is the introduction by film scholar Joël Magny (2:57) – who notes the common theme between Simeon and Chabrol is that "even the most monstrous individual is a human being at heart" – and the selected scene commentary by director Claude Chabrol (32:21) who discusses coming up with a visual means of conveying Betty's inner tension, the transition from Betty's subjectivity to a "false objectivity" (scenes of Betty being watched and judged as if in a fishbowl being her projection), the aquarium motif, and confirms that Betty inviting her lover into her home to be be caught was an act of provocation or a "suicidal" gesture. The disc closes with the film's theatrical trailer (0:52) and an image gallery.

Torment is accompanied by an audio commentary by film critics Alexandra Heller-Nicholas and Josh Nelson who discuss the context of Clouzot's unmade film and how the script came to Chabrol, Chabrol's feelings about Clouzot's approach, and the astute observation that Chabrol has claimed in the past that he is more indebted to Lang than Hitchcock (both Clouzot and Chabrol having been labeled "the French Hitchcock" by critics). Hogan observes that in Torment, Chabrol seems to have abandoned his distantiated approach to a more subjective approach to the paranoia and madness of the characters in his filmography. Heller-Nicholas suggests that Chabol was making an attempt at reinventing himself just as Clouzot was attempting to reinvent himself after being dismissed as out-of-touch by the Cahiers du cinema crowd who would also turn on Chabrol during his period of genre experimentation. They also point out that Clouzot's earlier La prisonnière is an indicator of what Chabrol was attempting in his "L'enfer", sharing the same interest in kinetic art, visualizing delirium, and rapid-fire montage.

Ported from the DVD is the introduction by film scholar Joël Magny (3:15) in which he also covers the Clouzot project and Chabrol's adaptation, as well as noting that Clouzot had intended to adapt a Frédéric Dard novel that was eventually filmed by Chabrol as Death Rite. "On Henri Georges Clouzot" (11:44) is a 2002 interview with Chabrol in which he reveals that he used to play bridge with Clouzot and knew his first wife (Les Diaboliques star Vera Clouzot) but not his second wife Inez who knew that Clouzot had sent him screenplays and entrusted him with the project through producer Karmitz. He reveals that he had access to three rejected drafts and only liked the first one which evidenced Clouzot's rigorous psychological research while the latter two fragmented the narrative and moved in the more visual direction; indeed, he states that he found the elements shared between the script and La prisonnière to be least successful in the case of the former.

Also ported over is the selected scene commentary by director Claude Chabrol (39:25) in which he discusses the element of the home movie filmmaker Duhamel (Fantomas' Mario David) and the use of zoom shots both by amateurs and professionals, the transitions between Paul's subjective perspective and reality, as well as the change from Clouzot's story that took place over a couple days to his which took place over a couple years but used the expansion of time onscreen to emotional and psychological effect. There is also an interview with producer Marin Karmitz (25:49) who recalls meeting Chabrol in 1968 during the Paris riots, Chabrol's difficulty finding a producer after parting ways with Génovès, and the director's inability to say no to offers with some "trash" following his back-to-back hits Cop au vin and Inspector Lavardin and his own decision to rein in Chabrol with an exclusive arrangement, paying him a regular salary, insisting that Chabrol organize his detailed notes (particularly when using a script written by someone else) as evidence of Chabrol's personal connection to the material, and handling aspects of the production for which Chabrol cared little (including approving sets and locations, surprisingly). The disc also includes the film's theatrical trailer (1:21) and an image gallery.

Packaging


Not provided for review are the limited edition packaging featuring newly commissioned artwork by Tony Stella or the fully-illustrated 80-page collector's booklet of new writing on the films by film critics Martyn Conterio, Kat Ellinger, Philip Kemp, and Sam Wigley plus select archival material.

Overall


Although constrained in their exploration of Chabrol's thematic obsessions by the use of only MK2 titles, the films in Lies and Deceit - Five Films by Claude Chabrol do effectively convey the shifts in the director's oeuvre and approach in the mid-eighties to the mid-nineties, being just different enough but still suggestive of the old Chabrol (hopefully Arrow will be able to delve into his earlier filmography which has not as yet been remastered).