The Film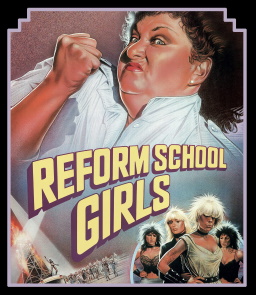 Hoping to skip town and her abusive father, Jenny (Back to the Beach's Linda Carol) serves as getaway driver for her boyfriend when he robs a warehouse; however, he gets into a shootout with a guard and she is the only survivor. The judge spares her being tried as an adult and sentences her to three years at the Pridemore Juvenile Facilities. Arriving with mentally-unstable foster care abuse victim Lisa (Impulse's Sheri Stoner, later the voice of Slappy the Squirrel on Animaniacs), serial runaway Nicky (Laurie Schwartz) and her girlfriend Kelly (Lovelines' Robin Watkins), Jenny realizes that this may not be so merciful an option as they are stripped, showered, sprayed with DDT, and given a probing examination by butch, sadistic matron Edna (Foul Play's Pat Ast) who immediately separates Lisa from her emotional support stuffed bunny and puts Kelly in with the dorm run by Nicky's enemy Claudia (Black Fist's Denise Gordy). Jenny immediately loses her privileges when she tries to defend Lisa and gets into a fight with Edna's favorite Charlie (Plasmatics singer Wendy O. Williamssinger Wendy O. Williams), the leader of Dorm 14's gang to which Edna shows favoritism for serving as her unofficial enforcers in her stated mission to reform by breaking her charges and establishing complete control. Lisa, who is cracking up under Edna's cruelty, Charlie's lustful advances, and her own traumatic past, confides to the facility's compassionate psychiatrist Dr. Norton (Hardcore's Charlotte McGinnis) but the concerns she voices fall onto deaf ears as sermonizing warden Sutter (Julie Darling's Sybil Danning) who relies on Edna to maintain order. Jenny earns the admiration of some of her dorm mates for standing up to Charlie, but that extra attention threatens to erode Edna's stranglehold over the dorm and she leans on Charlie to get rid of the troublemaker with the approval of Sutter.

Although Reform School Girls was advertised as New World Pictures' entry into the women-in-prison genre – Hellraiser-era New World Pictures, that is, as Roger Corman's incarnation of the company had been one of the companies associated with the genre in the seventies, and Corman's Concorde/New Horizons company would not return to the genre until a couple years later – it was actually Hell Night director Tom DeSimone's affectionate tribute to the reformatory-focused JD (juvenile delinquent) films of his youth after his more conventional WIP entry The Concrete Jungle and his lesser-seen but much-talked about 3D film Prison Girls (a softcore film made during DeSimone's earlier period as a gay adult film director under the name "Lancer Brooks"). Without slipping into parody, the film knowingly ticks off WIP tropes from the shower scenes, invasive examinations, sadistic wardens and guards, predatory sexuality and sexual favors, gang conflicts, girl fights, escape attempts, a sacrificial lamb, and a climactic riot against corrupt powers once even the favorites learn that they are regarded as puppets and as expendable as anyone else. The execution, however, is uneven, with campy elements like Ast's matron Edna and Williams' delightful Charlie – who wears her leather boots in the shower and wears only a bra and thong underwear even while in the fields doing hard labor – highlighted while the plotting necessary to drive the narrative (essentially the same as the equally campy and more entertaining Chained Heat) are underdeveloped at the expense of some sincere performances by Carroll, Stoner, and McGinnis, nuance such as a tender moment of shared sympathy between Nicky and Claudia as the latter stops the former from intervening in Charlie's terrorizing of Lisa, or emotional resonance during the climax. Superficially, the lack of Sybil Danning nudity may be a disappointment, but an equally valid complaint is her cameo status which is nowhere near as iconic as her version of the Charlie role in Chained Heat. Even if one cannot enjoy Reform School Girls for the director's intents at homage, it is still miles better than Tim Kincaid's Bad Girls Dormitory.

Video


Released theatrically and on home video and laserdisc by New World, Reform School Girls looked rather dull on video until Anchor Bay's anamorphic DVD (we currently have no specs for Image Entertainment's double feature with Fraternity Vacation). The film made its HD debut in Germany courtesy of Wicked-Vision. We have not seen that release but Vinegar Syndrome's 1080p24 MPEG-4 AVC 1.85:1 widescreen Blu-ray comes from a new 2K scan of the film's 35mm interpositive which looks far crisper and less diffused than the DVD edition given the film's use of slow film stock, a predominance of moody interiors, night interiors and exteriors, "steamy" shower sequences, and plenty of smoke during the finale. There is more depth to the image although even cinematographer Howard Wexler (Angel III: The Final Chapter) mentions that the slow film stock necessitated more of an illusion of depth in layered compositions and the use of smoke and contrasting lighting setups (he describes the film as being part of his "blue moonlight" period). Fine detail is flattering to some of the actresses – thirty-seven year old Williams may not convince as a minor but she could play a youth who has lived hard while Ast's grotesque performance is aided by the texture of her skin beneath some garish rouge – but also may subtly reveal what is described in the extras as a "lack of sexualized nudity."

Audio


The sole feature audio option is a DTS-HD Master Audio 2.0 mono track – the back cover and menu incorrectly cite stereo audio – but dialogue, effects, and scoring are clear while the songs do seem mixed lower than needed to give the film scenes umph when they function as underscore (apparently, this was a complaint of Williams in regard to the film according to the extras). Optional English SDH subtitles are provided.

Extras


Extras start off with the audio commentary by writer/director Tom DeSimone, moderated by humorist Martin Lewis recorded for the DVD. DeSimone only briefly mentions his adult filmmaking past in reference to the softcore Prison Girls but goes back farther to his childhood fascination with TV star Anne Francis and seeing her in the early women-in-prison film So Young, So Bad, his dissatisfaction with The Concrete Jungle and his more parodic approach with Reform School Girls. He also discusses the casting – he wanted Ida Lupino or Mamie Van Doren but New World's executives had no idea who they were and replacing Mary Woronov with McGinnis – difficulties with Ast who had to be fed some of her lines, Williams' macrobiotic diet (the real reason she is seen eating fresh fruit in the dinner hall scenes), the nudity requirement for the actresses and peppering the shower scene with extras hired solely for nudity (including a young Michelle Bauer), a female-heavy crew for the benefit of the cast, and how Carroll not realizing the film was a comedy aided her performance. Lewis is not as off-putting here as he was in attempting to bring some levity to the tracks for Anchor Bay's Ilsa set but he does come close to sounding more "an earlier time" chauvinist next to DeSimone who seemed concerned with balancing the film's exploitation requirements with a sensitivity to his actresses.

There is also a new audio commentary by queer film historian Elizabeth Purchell who notes that discussion of DeSimone's earlier career as a gay adult filmmaker is usually a homophobic punchline ("Did you know the director of Hell Night made a film called Sons of Satan in which the vampires sucked semen?") but that a serious discussion of DeSimone's career must take into account his adult films since he was there during the softcore days when gay films moved from naked guys jumping on pogo sticks towards the more narratively-ambitions and explicit, that some of his more acclaimed plot-driven efforts like Catching Up, The Idol, and Skin Deep were what attracted producers like Bruce Cohn Curtis – who produced DeSimone's R-rated Chatterbox! – Irwin Yablans (Halloween), and the producers of Reform School Girls to offer him mainstream jobs, and because he continued making adult films while making mainstream films (as well as walking off of Savage Streets because of his concerns over its nastiness).


"So Young, So Bad, So What" is a four-part documentary (10:13 + 11:47 + 16:08 + 16:18) in which critic Peaches Christ and critic/screenwriter Michael Varrati discuss the camp, drag, and queer appeal of the film – it did very well in San Francisco where screenings invited viewers to come dressed as their favorite character – and liken the tower in the yard as a "giant dick" from which the warden reaffirms the patriarchy through sermons while the ending riot echoes struggles for queer liberation. DeSimone appears along with Wexler, composer Dan Siegel , and actresses Darcy DeMoss (Friday the 13th, Part VI: Jason Lives), Tiffany Helm (Friday the 13th: A New Beginning), Lorrie Marlow (The Borrower), and Winifred Freedman (The Nake Gun's student driver Stephie), as well as extras casting coordinator and extra Laura Lee Kasten (Road House) who discuss the film's nudity, the shower scenes, the climax, as well as memories of Williams – who was injured on set but told them that her fans expected her to bleed – and Ast, with Marlowe providing an intriguing anecdote about Ast's reputation as both funny and vicious.

In "Pat Ast Superstar" (7:34), theatrical producer Alan Eichler discusses his working relationship with playwright Tom Eyen (Dreamgirls) who was a fan of women-in-prison films and came up with "Women Behind Bars" in which Ast – a hanger-on and occasional model for fashion designer Roy Halston – originated a role later played by Divine when the show moved Off Broadway. He recalls her snobbishness and seeming delusions of stardom but recalls her being very different when he met her again once they had both separately moved to Los Angeles. "Ode to Wendy" (6:44) is an interview with author and critic Breanna Whipple who writes about trash cinema and metal music. Within a short space of time, she makes a case for Williams' importance in the genres of punk, hair metal, and "shock rock" as well as how she was sexually aggressive but for herself rather than the titillation of others. The disc also includes poor quality video footage from the play aforementioned play "Women Behind Bars" (72:07) with Ast – in which one recognizes similarity between her character here and Reform School Girls' Edna – and two theatrical trailers (2:21 + 0:56) for the film.

Packaging


The first 5,000 units ordered directly from Vinegar Syndrome includes a special limited edition embossed slipcover designed by Earl Kessler Jr.

Overall


Tom DeSimone follows up Prison Girls 3D and The Concrete Jungle with Reform School Girls and replaces crudity with over-the-top camp.