Superhost [Blu-ray]
Blu-ray ALL - United Kingdom - Acorn Media
Review written by and copyright: Eric Cotenas (12th April 2022).
The Film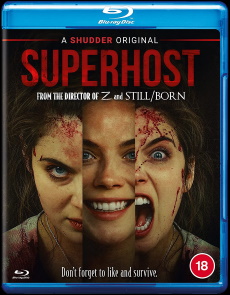 High-strung Claire (The Vampire Diaries' Sara Canning) and easygoing Teddy (2012's Osric Chau) are vloggers whose channel Superhost documents their stays at various vacation rentals, the latest of which has been reviewed by previous occupants as "life-changing" and seems like just the thing since the pair have been losing subscribers ever since their drama with hostess Vera (From Beyond's Barbara Crampton) who they have branded "The Bitch from Draper" in their series of vlog entries on their stay at her rental home. Quirky hostess Rebecca (Fright Night's Gracie Gillam) comes on strong in her eagerness to accommodate them and her distress at little issues like a non-functioning door code, security cameras in every room, and a backed up downstairs toilet. In spite of Claire snapping at him throughout the shooting and editing of the first day of content, Teddy is determined to go through with his plan to propose to her at the end of the stay (a plan of which he has informed their audience through videos recorded outside her presence). The next day, however, brings new stresses when they wake up to discover that their channel has been suspended, and Rebecca's cheery appearances become grating. While Claire is distracted with their channel, Teddy is becoming more unnerved by a series of occurrences including the toilet which finally fixes itself when a pair of dentures floats up, a rock thrown at the living room window during their shoot, and Rebecca popping in at the crack of dawn to make them pancakes. When Rebecca reveals that she is indeed watching and listening in on them through the house's intercom system, the pair make the mistake of calling her "crazy" on their latest vlog. After she proceeds to show them just how crazy she is when they have an unexpected and irate visitor in Vera, Claire and Teddy discover that trying to skip out on their rental early is as much a mistake as the previous renters who tried to stay a few extra days.

Although the film does not directly address the pandemic during which it was shot like the lockdown Zoom session horror film Host, Superhost may still resonate with viewers effected economically and psychologically. Rather than broadly sketching the vloggers as the sort of entitled influencers scamming freebies who only become known to the less social media-focused when exasperated business owners put their correspondence on blast, the film not only acknowledges the dichotomy in their on- and off-camera personalities but also the effect of the downturn of their once-fun, moneymaking "side hustle" on their relationship (and a bit of "The Boy Who Cried Wolf" with the phenomenon of click-baiting). Although it is quite obvious that Rebecca is nuts and will eventually snap, there is still something relatable about the idea of a person not only opening up their home to guests but also the awkwardness of the implied requirement of becoming a personality to interact on social media and on camera with renters whose ratings could have a detrimental effect on continued business. The film never truly teeters into camp but there are some amusing moments like the climactic moment that Teddy and Claire go from terrified to simply dumbfounded, and insane Rebecca's refreshing lack of the sort of delusions potential victims in other films would use to fool the killer into letting their guard down with an offer of friendship. Superhost is ultimately an entertaining if minor effort that might have been better served exploring in more detail the nuances of characterization it merely suggests.

Video


Shot with the RED Gemini camera for the body of the film and a Canon DSLR for the vlogging scenes, Superhost looks quite slick on Acorn's 1080p24 MPEG-4 AVC 2.40:1 widescreen Blu-ray with much of the digital effects work seamless until an unfortunate bit of CGI that is supposed to shock but will provoke guffaws.

Audio


The sole audio track is a DTS-HD Master Audio 5.1 mix that is generally front-oriented given the often intimate nature of the three-person narrative with occasional directional and rear channel jump noises as well as some more subtle surround ambience. The optional English SDH and Spanish subtitles suggest that the disc is identical to RLJ Entertainment's American Region A Blu-ray edition (as has been the case with other Acorn Shudder titles).

Extras


The film is also accompanied by an audio commentary by writer/director Brandon Christensen who discusses the origins of the project in his experience at a rental home during a film festival trip to Toronto and the awkward interaction with the owner over a clogged toilet, as well as the influences of Creep and Green Room. He also discusses learning by doing in making a film during the pandemic – noting that the original concept had more characters and potential victims – and how the budget for a required on-set medic precluded the hiring of an assistant director, production assistant, and a smaller grip and gaffer crew. He notes that the vlogging concept allowed for a different means of conveying some of the film's exposition, concerns about Claire's likability, getting Crampton onto the project after an earlier film fell through, and Gillam being a recommendation of Sierra McCormick (VFW) who was unable to do the role due to another film.

"Behind-the-Scenes of Superhost" (10:31) conveys much of the same information as the commentary with the added input of Canning, Chau, and Gillam while "Shooting in a Pandemic" (6:39) is an on-set piece created by Christensen for the 2020 Nightmares Film Festival. The disc also includes bloopers (3:36), "Superhost Visual FX" (2:46) – in which we see the painting out of location elements to make it seem more remote, replacing license plates and phone screens, adding blood, and both stabilizing some shots and making others shakier – a behind the scenes photo gallery (1:32), as well as two "Scaredycats" shorts – "Bunk Beds" (1:21) and "Creepy Clown Doll" (2:39) – starring children who are either Christensen's own or possibly younger siblings.

Overall


Superhost is ultimately an entertaining if minor effort that might have been better served exploring in more detail the nuances of characterization it merely suggests.

---
Rewind DVDCompare is a participant in the Amazon Services LLC Associates Program and the Amazon Europe S.a.r.l. Associates Programme, an affiliate advertising program designed to provide a means for sites to earn advertising fees by advertising and linking to amazon.co.uk, amazon.com, amazon.ca, amazon.fr, amazon.de, amazon.it and amazon.es . As an Amazon Associate, we earn from qualifying purchases.